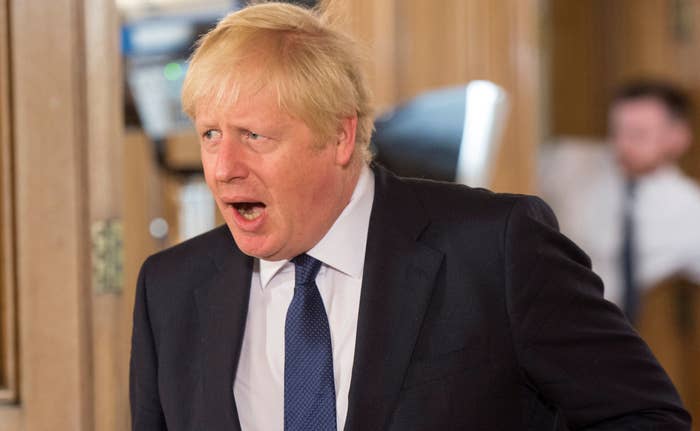 On Tuesday and Wednesday, MPs will vote on whether to wrestle control of the House of Commons away from Boris Johnson's government and pass a law seeking to block him from taking the UK out of the EU without a deal.
If the rebel MPs succeed in their plan to stop no-deal, Downing Street says Johnson will call an election — likely towards the end of this week.
Crucial to the outcome of the crunch votes in Parliament will be the band of Conservative rebels opposed to a no-deal Brexit. Johnson has said that any Tory MPs who do not vote with the government this week will have the Conservative whip withdrawn and be deselected.
Johnson's administration currently has a working majority of just one. He is likely to secure the votes of a small number of Labour rebels this week, but the number of Tories willing to vote against him looks set to put the UK on course for a general election on Oct. 14.
So, which MPs are planning to vote against Johnson? BuzzFeed News contacted each of the potential Tory rebels and is keeping a rolling list of their answers.
Confirmed voting against the government: 16
David Gauke: The former justice secretary told BuzzFeed News on Monday night that he will vote against the government on Tuesday and Wednesday. He is set to lose the Conservative whip as a result.
Rory Stewart: Told BuzzFeed News that he hopes he will also lose the whip when he rebels.

Justine Greening: Also confirmed to BuzzFeed News that she is rebelling this week.
Dominic Grieve: Worked on the legislation aimed at forcing the prime minister to seek an extension to Article 50.
Oliver Letwin: Another key architect of the anti–no-deal legislation.
Philip Hammond: Supporting the bill attempting to force Johnson to delay Brexit.
Antoinette Sandbach: Indicated to BuzzFeed News that she will rebel. "I voted to leave on 29th March with a deal three times. I have always been consistent that I can not support a no deal Brexit," she said.
Alistair Burt: Told BuzzFeed News he will rebel.
Richard Harrington: The former minister told BuzzFeed News on Monday night that he is "currently voting against the government".
Guto Bebb: Said he will be voting to do everything he can to stop no-deal.
Caroline Nokes: Told the BBC: "My constituents mean a whole lot more to me than keeping the Conservative whip."
Margot James: Told BuzzFeed News: "I am planning to vote against the government tomorrow."
Sam Gyimah: Told BuzzFeed News on Tuesday morning that he is voting against the government.
Nicholas Soames: Told the Sun he will vote against the government unless Johnson can assure him a deal will be done.
Phillip Lee: His name is on the anti–no-deal motion. He crossed the floor to defect to the Liberal Democrats while Johnson was speaking in the Commons on Tuesday afternoon.
Richard Benyon: Backed the rebel motion on Tuesday evening.
Undecided: 8
David Lidington: Theresa May's de facto deputy prime minister told BuzzFeed News: "I've not made any public comment about my position and haven't myself agreed to my name being on any of the lists now floating around. I met the PM today and shall look forward to his statement tomorrow [Tuesday]."
Ed Vaizey: Told BuzzFeed News he is undecided.
Steve Brine: "I haven't said either way. I wrote to the PM last month of course which is where the list comes from. I will decide tomorrow. Saw PM this evening 1-1".
Jonathan Djanogly: Told BuzzFeed News he hasn't decided yet.
Greg Clark, Ken Clarke, Stephen Hammond, and Anne Milton have not yet responded to requests for comment.
Voting with the government
Caroline Spelman: Despite being included on a list of potential rebels, she insists she is not voting against Johnson.
Sarah Newton: Was also included on a possible rebel list but told BuzzFeed News: "I am not voting against the Govt" because "I want the PM to have the chance of securing an 'amended agreement' — one that works for the EU and UK."
Alan Duncan: Told BuzzFeed News he will vote with the government.
Theresa May: Said she is voting with the government.