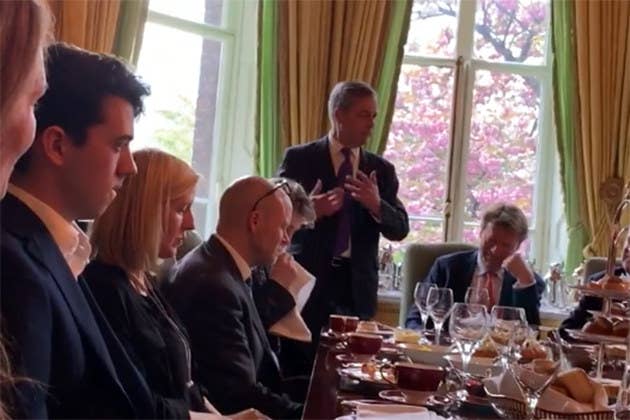 New footage reveals Nigel Farage privately sought money and help for his new Brexit Party from fringe right-wing figures including a millionaire Putin cheerleader and a self-proclaimed "influencer" who has posted a string of anti-Islam remarks online.
Videos posted on Facebook show the Brexit party leader addressing a closed-door gathering at London's five-star Ritz hotel on April 9, organised by key backers of a pro-Trump political group, Turning Point UK.
Farage was among the guests at the event, which was described by the organisers as a "tea party" and not a Brexit Party fundraiser. But in a five-minute speech, he asked the small group for "any help, any support, whether it's verbal, whether it's getting your friends involved, whether it's giving us money, whatever it is, we need all the help we can get".
Farage has previously publicly vowed that the Brexit Party "will be deeply intolerant of all intolerance" and would not "even be discussing Islam", but he has been forced to distance himself from several of the party's senior officials in the last few weeks over their anti-Muslim comments.
Recordings of the Ritz tea party were posted by another guest, John Mappin, a pro-Kremlin cheerleader who has repeatedly posted about conspiracy theories — including about vaccines and the widely debunked paedophile conspiracy known as QAnon — while also spreading far-right videos and memes about George Soros, claiming the Jewish financier controls the media, banks and US politicians.
Mappin, a Scientologist, was quoted by the Mail on Sunday as saying "being friends with Putin is very smart. We love him." He also questioned the UK government's account of the Salisbury Novichok attack, echoing a Kremlin talking point.

He has separately said Putin "should be commended for his noble deeds", commented that the Russian leader has "the sort of qualities we want to see in world leaders", and invited him to a hotel he owns in Cornwall.
One of the hosts for the event was Amanda Eliasch, an artist and "influencer" who was present at the Turning Point UK launch in December last year. In a series of posts online, Eliasch endorsed Enoch Powell's 'Rivers of Blood' speech and claimed "ethnic diversity is a huge problem" in Britain.
According to Mappin, the other host of the event was Ferzana "Fizzy" Barclay, the wife of Telegraph Media Group chairman Aidan Barclay, the publisher of the pro-Brexit Daily Telegraph newspaper. There is no suggestion she shares any of the views posted online by Eliasch.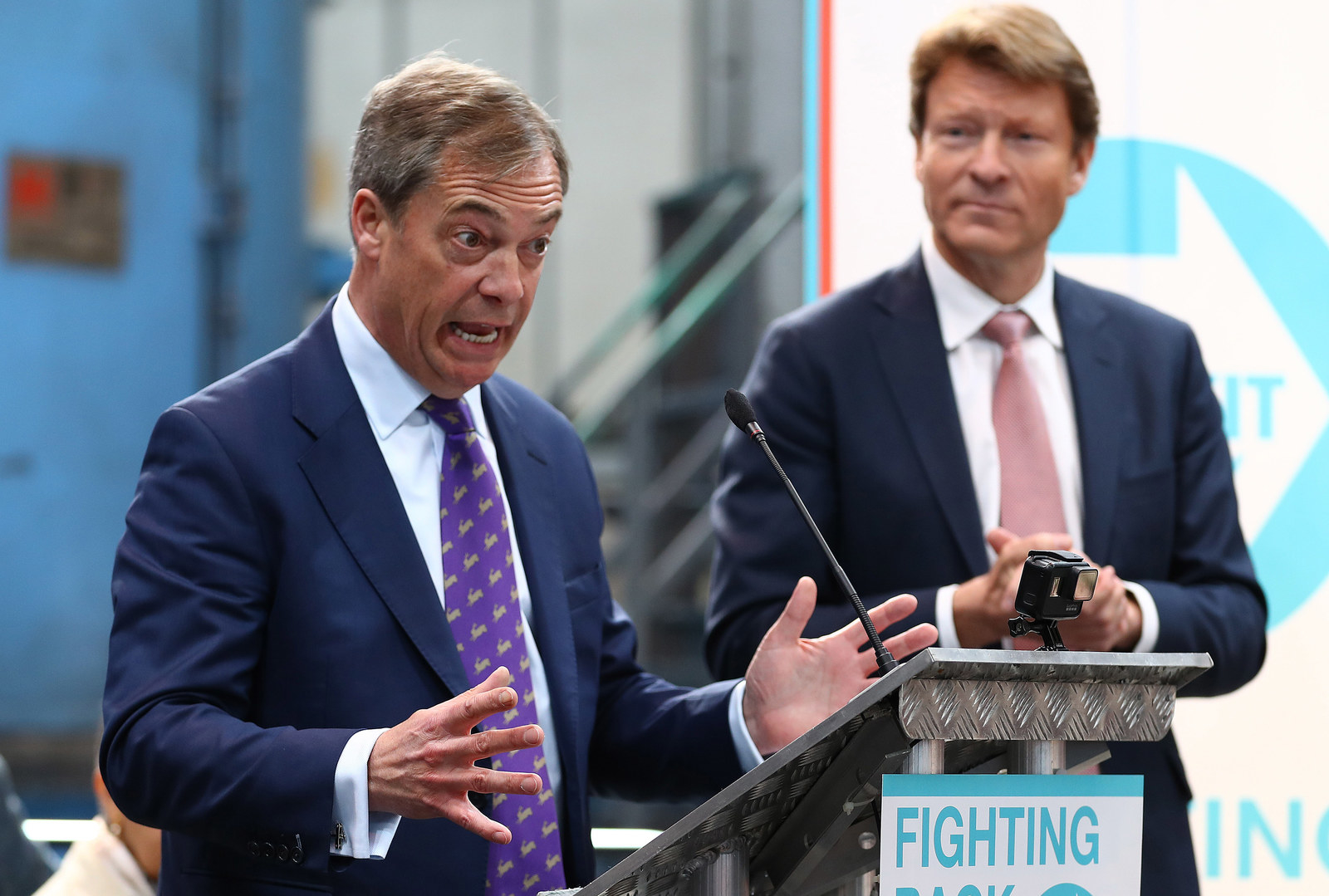 Also present were Brexit Party chairman Richard Tice, Turning Point UK CEO Oli Anisfeld, Brexit Party chief digital strategist Steve Edginton, newly announced Brexit Party candidate Lance Forman, and Spectator commentator Toby Young.
Dubbing the guests the "Ritz Rebels" and the "cream of political intellect of the UK", Mappin said in his Facebook post: "History tells of small dedicated groups that have shaped the past and the future. In a thousand years some poor school boy will almost certainly be studying all about this afternoons [sic] meeting."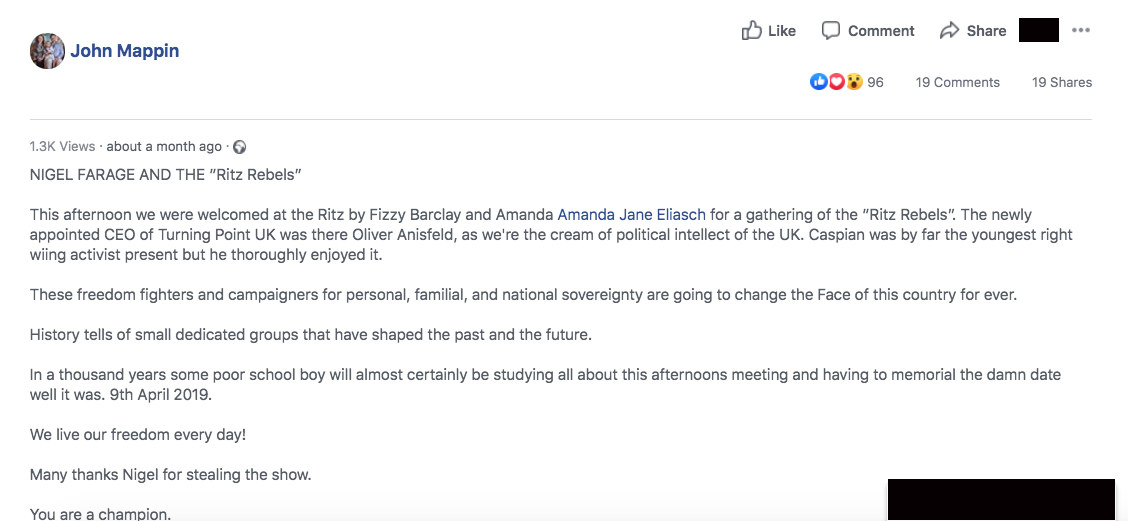 He added: "Many thanks Nigel for stealing the show. You are a champion."
Mappin has posted on Facebook that George Soros is "the real power behind the establishment", which he said includes "the press, the Federal Reserve, and it's extension, the Wall Street, the whole Democratic party, and a good size of the Republican party. Bought and controlled".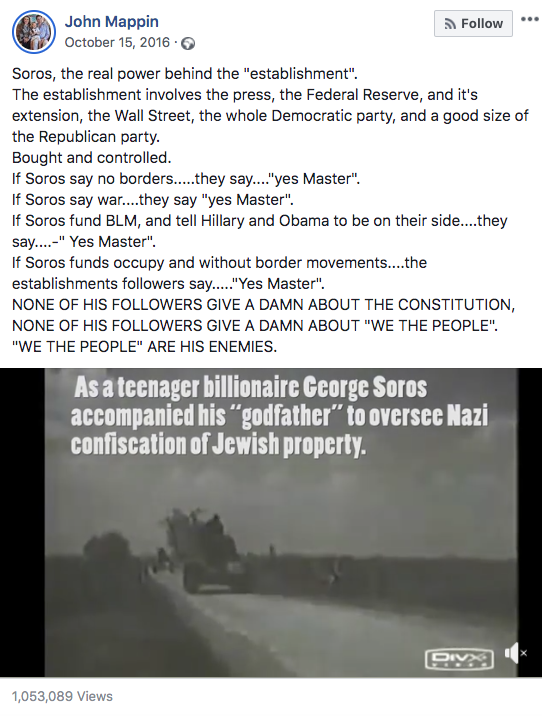 During a phone interview with BuzzFeed News about the gathering, Mappin said "it was simply a tea party" with supporters of Turning Point UK and he later invited Farage along.

"The purpose of that meeting was not about supporting the Brexit party," Mappin said. "Is it true that some of the ideas voiced at that meeting, and some of the philosophy communicated at that meeting has become the principle narrative? That is probably true.
"It was more a meeting of intellectuals rather than a fundraiser. Behind any political party is an intellectual thrust. What you saw in that room are some of the great conservative thinkers of the age."
He added: "It's not a state secret that if you're running a political campaign you need resources, BuzzFeed needs resources, any activity needs resources. I don't really see it's a big mystery."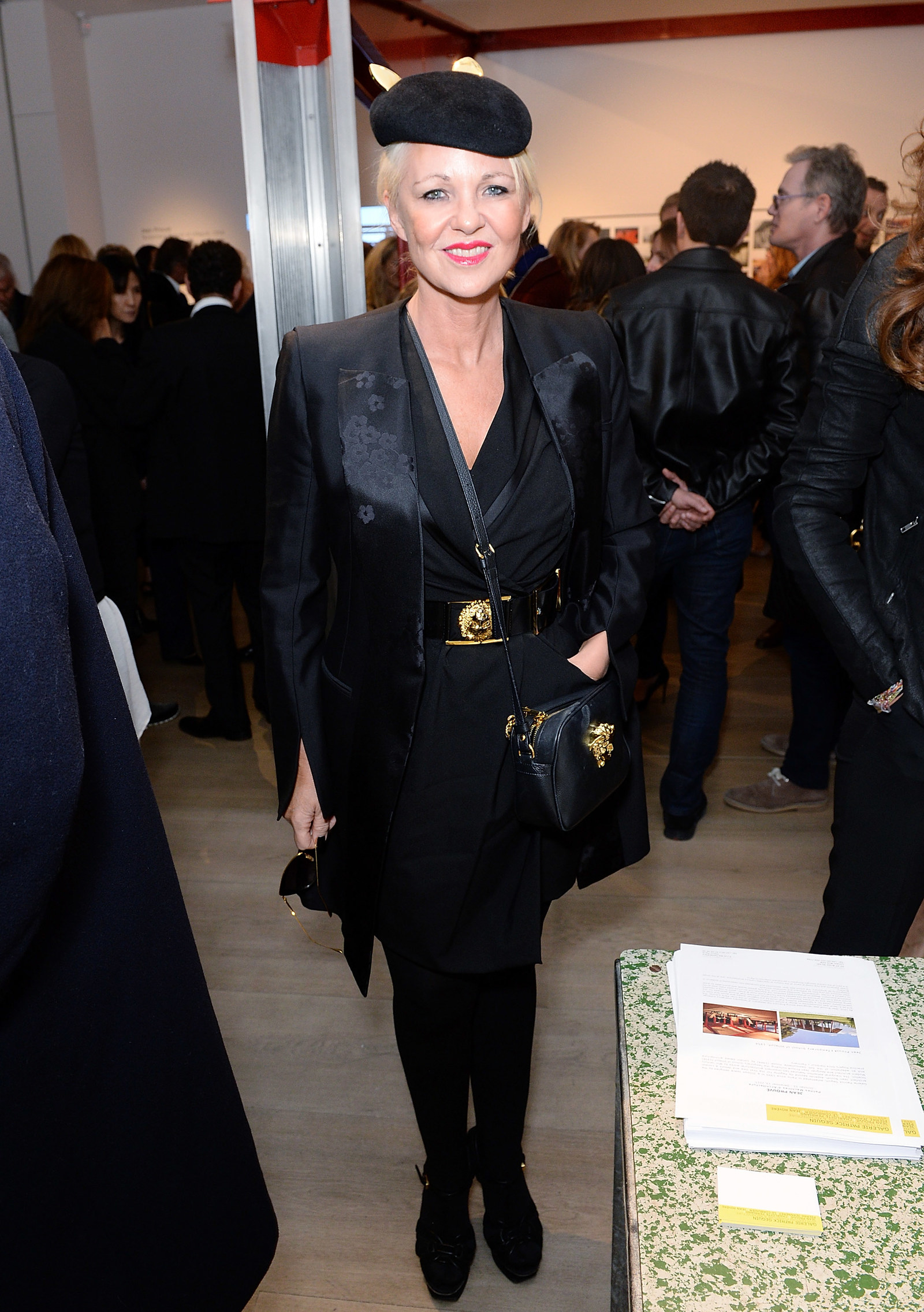 Over several years, Eliasch has posted a series of remarks about Islam on Facebook on and her personal blog called Rat's Tales.
In 2017, three days after the London bridge attack, Eliasch blogged under the title "THE FOX IS IN THE CHICKEN SHED", claiming that Muslims lived an "isolated indoctrinated life" that is "not compatible with ours".
"It is not fair on the English population to accept the behavior of violent jihadists any longer," she wrote. "The Muslims choose to live an isolated indoctrinated life that is not compatible with ours and which is bang up to date for 672AD. They are uneducated using the Quran as their backbone which might be wise to modernize."
She also called for Muslim women to take off their Islamic garmets, and asked why anti-Islam commentator Katie Hopkins had been sacked when London mayor Sadiq Khan still had his job.
"The Muslims wear clothes that are not compatible with our way of life in England, Scotland and Wales, and are violent and abusive to women and gay men, our population here, The USA and in Europe are attacked regularly. This week is the final straw. It is enough. We will fight back. We are fed up and those that do not want to integrate, they should leave for countries that suit them and be honest. Certainly not take subsidies and live here for our health service etc.
"They have encouraged our fear of 'political correctness' which is nonsense. Katie Hopkins lost her job but Sadiq Kahn has not? They have lived off our fear of being accused of racism but enough is enough. A Muslim of this sort cannot be welcome in this country. Take off the burka, take off the Hajib, take off the Nihab, show your face and join in or get out. They have had support, they have had our money for education and help.
"Let's wake up and know that a 'Fox is in the chicken house'."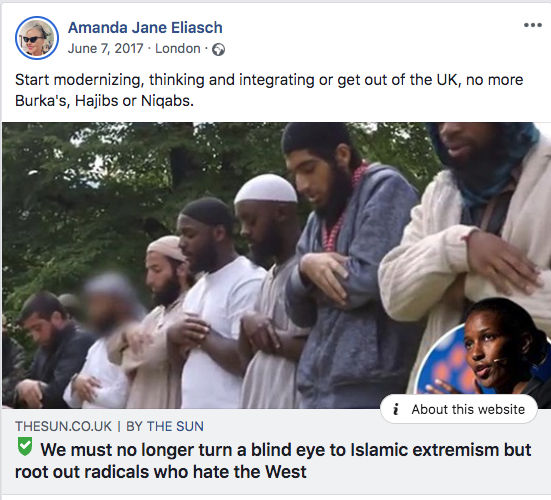 A day later, Eliasch again posted on Facebook about Muslims: "Start modernizing, thinking and integrating or get out of the UK, no more Burka's (sic), Hajibs (sic), or Niqabs."
Responding by phone to questions from BuzzFeed News about the event and her previous postings about Islam, Eliasch said she hosted the tea party, but didn't know Farage would be attending.
"I just gave a tea party and Nigel turned up," she said. "That's it. Why did I give the tea party? I gave it with a friend because there's no democracy in this country right now.
"We all had an election three years ago, and you're not English either, so why are you worried about this?"
She strongly denied being anti-Muslim. "You're being rude to me. You've accused me of being anti-Islamicist [sic] when I have an Islamic driver who I absolutely adore.
"How dare you. I lived in Marrakech. How dare you do that."
After BuzzFeed News spoke to Eliasch, the blog entry was deleted.
Eliasch also said the 2017 post and Facebook status update were being "taken out of context".
"You're taking everything out of context because it's not the time for terrorism," she said. "Nobody has gone and bombed the bridge this week have they?"
Eliasch went on to add that she had "put a wide variety of things up online" in recent years, but the posts should be considered in the context of 2017.
"I don't feel that way anymore," she said. "I put many different things on there. All sorts of ideas."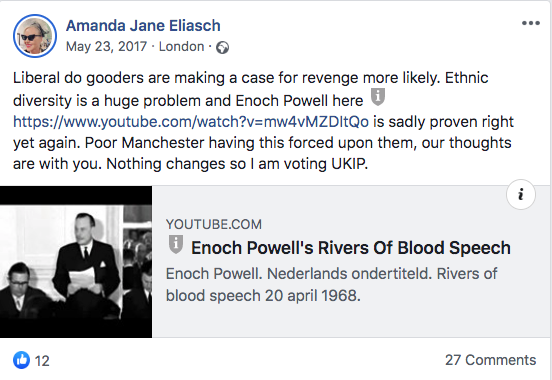 Another Facebook post in 2017 by Eliasch featured a video of Enoch Powell's 'Rivers of Blood' speech, above which she wrote "ethnic diversity is a huge problem".
She has also repeatedly spread conspiracy theory videos by David Icke, posting 54 Icke videos on Twitter since 2011, including one recently titled "Reptilians, Obama and the New World Order" in which Icke claims "there is a political system orchestrated, created and controlled to this day by the Rothschilds called Zionism."
She also shared an Icke video titled "9/11 was an inside job" and two of his videos about Pizzagate, a widely debunked conspiracy theory which went viral during the 2016 presidential election that falsely claimed senior Democratic party figures were involved in a paedophile ring centred on a Washington DC pizza restaurant.
Eliasch told BuzzFeed News in response to questions about those posts that she shares "loads of different posts".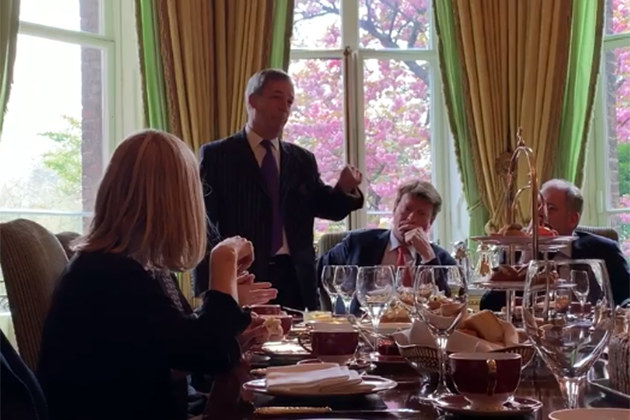 In his remarks to the tea party guests, which mostly featured his attack lines that he'd later use for stump speeches at Brexit party rallies and public forums, Farage also boasted that his former party UKIP was a "very successful vehicle" but "a one man band".
"UKIP was a very successful vehicle," Farage said. "But perhaps UKIP didn't attract enough other talent and so it was seen to be a bit of a one-man band.
"We did change the course of British politics. I said in 2012 I was going to cause an earthquake in British politics. I think we can quite safely say that was achieved. The ambition now is much higher. The ambition now is to cause a revolution in British politics."
He also attacked the media, calling the BBC "the enemy", foreshadowing the Brexit party leader's BBC-bashing which would feature during his campaign weeks later.
"We're taking on the big battalions again," Farage said. "We are taking on the political establishment. We are taking on the big multi-national businesses.
"We know who the enemy are, and the BBC, I nearly forgot we're taking on the BBC because I think now they are worse now than they have ever been at any point during all of this."
Labour MP Ian Murray MP, a leading supporter of the People's Vote campaign, told BuzzFeed News that Farage's Brexit Party "is determined to fuel the politics of bigotry and hatred".
"If his party tops the poll on Thursday the answer cannot be to out-Farage Farage, but to recognise that we have to be clearer than ever that his vile politics must opposed at every turn," he said.

Nigel Farage and the Brexit party declined to comment.