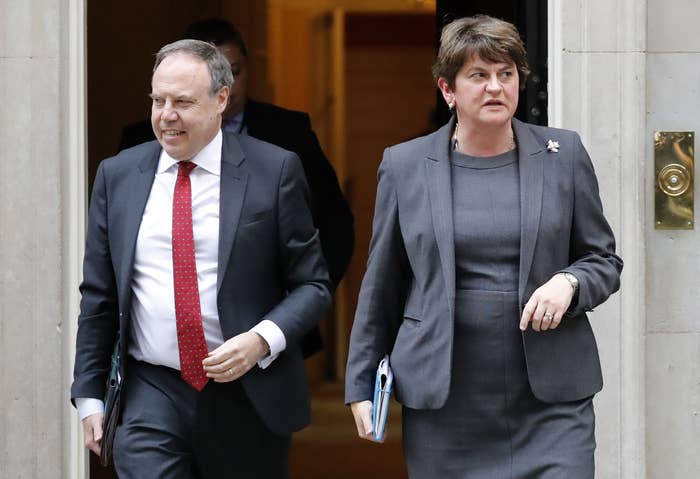 The Democratic Unionist Party is split on whether to back prime minister Boris Johnson's proposed Brexit deal with the European Union, according to two sources familiar with the party's internal discussions over the last 24 hours.

DUP representatives were holding another meeting in Downing Street on Wednesday morning as Johnson kept up attempts to convince them to endorse a deal.
Michel Barnier, the EU's chief Brexit negotiator, told EU commissioners on Wednesday morning that a deal was still possible today, but several issues, including consent, were yet to be solved.
BuzzFeed News can reveal that there is a significant difference of opinion within the DUP over whether the party should oppose or support a deal.
DUP leader Arlene Foster and her deputy Nigel Dodds met with the UK prime minister for several hours on Monday and Tuesday night, where Dodds made clear the party could not yet support Johnson's proposals.
The chief concern raised at Tuesday night's meeting in Number 10 was consent, the source said, with Dodds, the party's Westminster leader, essentially demanding a veto on Northern Ireland's future arrangements with the EU.
The EU and Ireland have previously rejected such a request. Johnson's original plan was to hand Northern Ireland's executive — which has been suspended since January 2017 — and its assembly the power to reaffirm or drop the arrangements every four years, an idea seen as problematic by Brussels and Dublin.
But one source said that the DUP's 10 Westminster MPs were split 7 to 3 in favour of backing a deal.
A second source said that the main opponents of a deal within the DUP are Dodds and the party's Brexit spokesperson, Sammy Wilson.
It is unclear where Foster stands personally on the UK proposals. The DUP is likely to maintain a united public front, and Dodds' position will be integral.
Although the DUP had repeatedly said that it would oppose a customs and regulatory border down the Irish Sea — an arrangement also opposed by Johnson's predecessor Theresa May — Dodds' opposition to Johnson's proposals is not understood to be based around customs, but rather the principle of consent.
The issue is of primary concern for the DUP in terms of domestic politics ahead of the next election, but a Stormont veto on future customs arrangements is likely to remain unacceptable to the EU, one of the sources said.
The UK government has prepared a significant financial package for Northern Ireland as an incentive, but a DUP source insisted that their opposition was not about money.
Instead, it is the issue of consent that is of primary concern in terms of domestic politics ahead of the next election, the source added.
A DUP spokesperson described claims of a split as "nonsense".