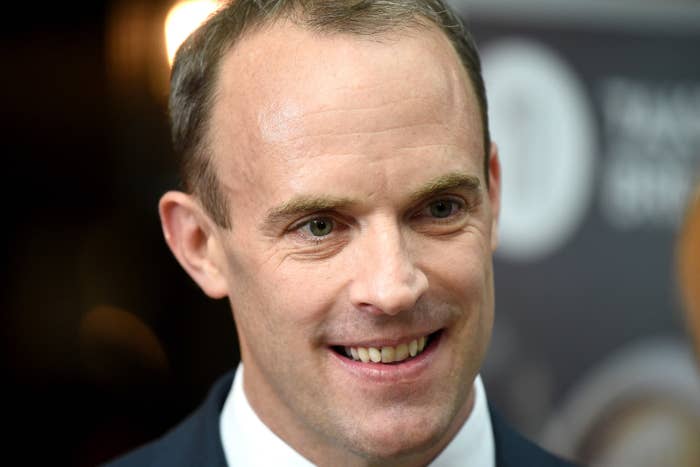 Brexit secretary Dominic Raab once entered into a settlement agreement containing confidentiality provisions with a female staff member.
It is one of the dozens of confidentiality clauses agreed in Westminster in recent years. The agreements — commonplace between employers and departing employees — are the subject of scrutiny amid the debate about the workplace culture in parliament.
Earlier this year BBC's Newsnight reported that £2.4 million had been spent on nondisclosure agreements for former House of Commons staff since 2013.
Fifty-three departing staff members signed contracts requiring them not to reveal information.
According to publicly available court documents, Raab's confidentiality clause was agreed back in August 2007 — before he became an MP — when he was working as chief of staff to David Davis.
The documents said both Raab and Davis entered into a "compromise agreement" with a woman who also worked in Davis's office.
The agreement brought to an end both the woman's employment with Davis, and a claim she had made at an employment tribunal, according to a letter from Raab's solicitor that is quoted in the court documents.
In 2011, Raab's solicitor wrote to the woman warning that if she breached the terms of the agreement she would "be required to repay the sum [she was] paid in consideration for the confidentiality obligations". She made clear she had no intention of breaching the agreement.
In 2012, Raab won an apology from the Mail on Sunday after it published "unfounded" allegations about his behaviour.
Raab and Davis were approached by BuzzFeed News for comment. There is no suggestion of any misconduct.
Other confidentiality agreements signed by Commons staff have become public in recent months.
In August, the Telegraph reported that Labour MP Khalid Mahmood had signed a nondisclosure agreement with his assistant after settling an employment tribunal claim out of court.
John Bercow's former private secretary Angus Sinclair said he was given a £86,250 payoff in 2010 as part of a deal that required him to sign a nondisclosure agreement.
Update: Dominic Raab said in a statement: "I am subject to confidentiality obligations from a previous job. In 2012, I successfully sued a tabloid newspaper in libel for smearing me in relation to that role. The paper paid compensation, apologised and accepted that the claim was unfounded."