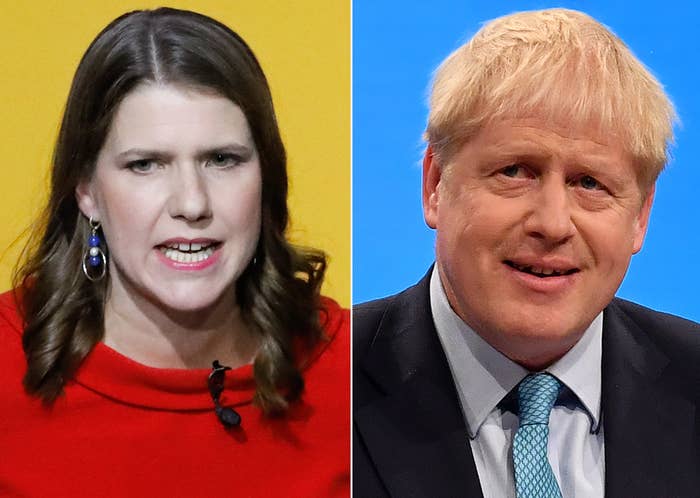 Boris Johnson has been accused of stoking "the politics of division and nationalism" after Conservative election strategists urged their candidates to tell voters the Liberal Democrats "are not proud to be British" and would "make our country more vulnerable to terrorist attacks".

The inflammatory attack lines are contained in an internal opposition research document sent by Conservative headquarters this weekend to Tory candidates who are contesting seats where the main rival is a Liberal Democrat.
The particularly hostile nature of the document obtained by BuzzFeed News reveals how the Tories are planning to use cultural and personal issues to go after their opponents during their election campaign over the next six weeks.
The Conservative party is under pressure from Liberal Democrat challengers in a host of Remain-voting seats across the country. Five former Tory MPs have defected to the Lib Dems in recent weeks, and internal Tory polling has shown that several incumbent Leave-supporting Conservative MPs are likely to lose their seats to the anti-Brexit party.
In a sign that the Tories will be employing an increasingly aggressive strategy to try to hold onto these seats, their private briefing note laying out the "lines to take" for Tory candidates in Lib Dem marginals is headed: "The Liberal Democrats don't share people's values."
"The Liberal Democrats are not proud to be British — and want to scrap the promotion of 'British values," it alleges, claiming: "The Liberal Democrats are out of touch with the British people."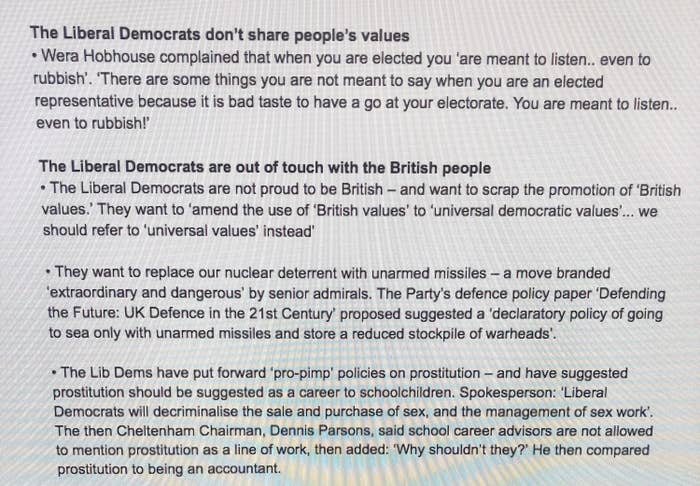 Another page of the document urges Tory candidates to make a series of dubious and controversial allegations about Liberal Democrat policies.

It claims the Lib Dems would "make our country more vulnerable to terrorist attacks", urging Tory candidates to tell voters that "Liberal Democrats think ISIS fighters should keep their British citizenship" and "want to let hate preachers off – allowing them to spread extremism".
It goes on to state, "The Liberal Democrats would make our streets more dangerous", claiming: "The Liberal Democrats will stop sending people to prison for carrying knives and acid."
The document also alleges that "The Lib Dems have put forward 'pro-pimp' policies on prostitution — and have suggested prostitution should be suggested as a career to schoolchildren". But the note later admits that this allegation refers to a single local Lib Dem party chair in Cheltenham, rather than the central party or its official policy.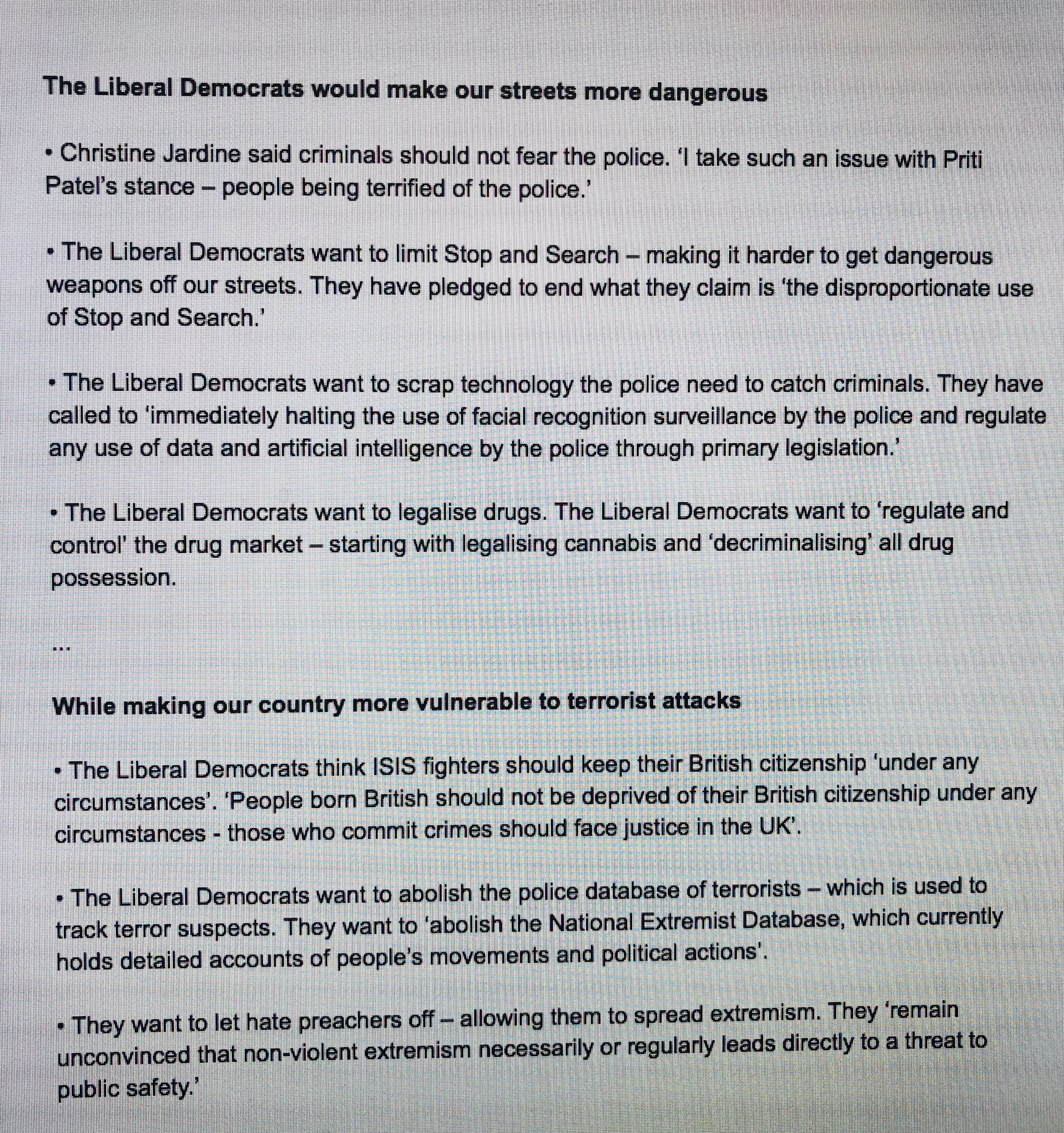 A page of the briefing document is devoted to personal attacks on the Lib Dem leader, Jo Swinson.

It reveals that the Tories are plotting to accuse Swinson of hypocrisy, telling their candidates to say: "Jo Swinson holds others to a higher standard than she holds herself". The evidence the note provides for this claim is that Swinson has criticised Labour over anti-Semitism, but "she has failed to tackle antisemitism in her own Party". It offers just one instance of alleged anti-Semitism within the Lib Dems.
The Tory note also claims that "Jo Swinson wants to stop people from doing things which she does herself,'' because she has supported a frequent flyer tax despite the fact that, the note says, "she took thirty-eight flights herself last year".
Liberal Democrat deputy leader Ed Davey told BuzzFeed News that he hoped voters would "reject the politics of division and nationalism".
"If this is the best the Conservatives have got to throw at the Liberal Democrats this election, then it is clear why Boris Johnson is running scared of Jo Swinson," he said.
The Conservative Party has been approached for comment.