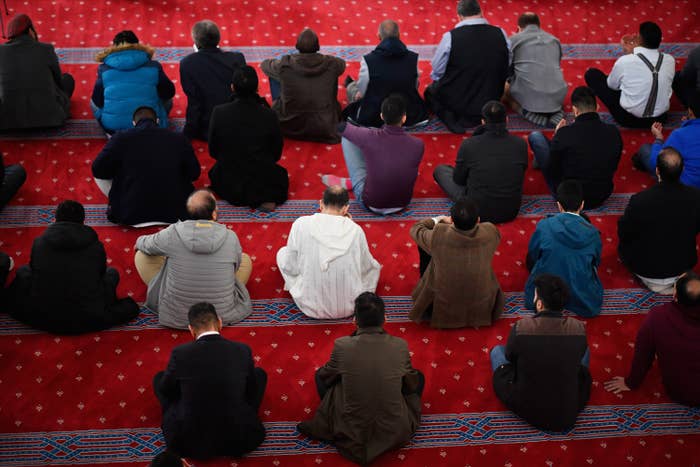 British Muslims are being targeted with WhatsApp messages from a group urging them to vote out 14 Conservative candidates they accuse of "supporting Israel".

The messages also allege that the Tories — who are each fighting to hold onto marginal seats with significant numbers of Muslim voters — are "Islamophobes" and "supporting Modi's assault on Kashmir", although no evidence is provided for these assertions.
Home secretary Priti Patel condemned the WhatsApp campaign, telling BuzzFeed News it was "shocking and divisive".
The messages are part of the Muslim Public Affairs Committee's "Operation Muslim Vote", which is encouraging Muslims to vote for the Labour Party. MPAC has previously been criticised for its record on anti-Semitism.
A crowdfunder page for the campaign on the FundAmal website says: "Allah loves those who fight in His cause in a row as though they are a single structure joined firmly."
The campaign is the latest controversial attempt to use WhatsApp to target religious groups during the election.
Earlier this month, it was reported that Hindu voters had received WhatsApps encouraging them to vote against Labour, claiming that the party was "anti-India", "anti-Hindu" and "anti-Modi". The messages were widely condemned for seeking to inflame tensions between Hindus and Muslims ahead of the election.
MPAC's effort to target Muslim voters uses comparable tactics, but instead urges Muslims to vote against 14 Tory MPs. One of the messages seen by BuzzFeed News said: "This is the Muslims' opportunity to kick Islamophobes out of power!
"We intend to mobilise the Muslim communities and punish the Tory party for their blatant Islamophobia.
"We have targeted 14 Tory marginal seats who have MPs that have a record of enabling Islamophobia, supporting Israel and/or supporting Modi's assault on Kashmir.
In ALL of those seats, Muslims can vote them out of power and hit the Tories HARD!"
The WhatsApp message includes a link to an MPAC crowdfunder page that explicitly explains: "We target marginal seats where the Muslim vote is larger than the current MP's majority vote. In these seats, Muslim can make a definitive difference and have the biggest voices during and after elections."

It includes a list of the 14 Tory MPs being targeted. Some of those on the list, such as Boris Johnson, Zac Goldsmith and Bob Blackman, have been criticised for their record on Islamophobia. But most of the 14 MPs have not been involved in any Islamophobia scandal.
MPAC's crowdfunder page provides no explanation for its claims that these MPs are "Islamophobes", "supporting Israel" or "supporting Modi's assault on Kashmir". It alleges that the MPs are "working against the interests of British Muslim communities".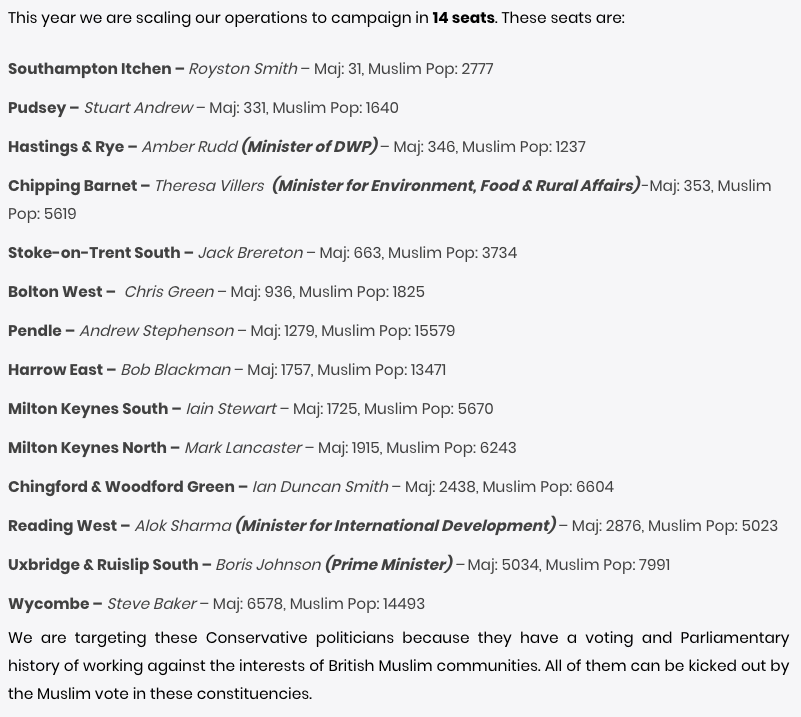 MPAC spokesperson Imran Shah said earlier this month that the group is urging Muslims to vote Labour.
"Muslims have to choose which side they are going to back. Are they going to let the Tories back in by not voting or are they going to back Corbyn who has put his neck on the line for Palestine and Kashmir and issues like Islamophobia and Prevent? We have someone who is on our side like never before, so if you're not going to vote for Corbyn then when are you going to vote?" he said.

But the group has long been criticised for its rhetoric and its record on antisemitism.
Its founder member Ashgar Bukhari was revealed in 2006 to have sent money to the historian and holocaust denier David Irving. A statement on MPAC's website says this was a "mistake" by Bukhari and an "innocent gesture of support".
The all-party parliamentary inquiry into anti-Semitism the same year found that MPAC's "rhetoric is often extremist". MPAC denies being extremist or anti-Semitic.
Priti Patel condemned MPAC's attempt to use claims about Israel and India to encourage Muslims to unseat Tory MPs.
"This is a shocking and divisive campaign that highlights just how deep-rooted anti- Semitism has become under Jeremy Corbyn's leadership," she said, adding that "his complete failure to tackle anti-Semitism has bred division rather than uniting communities."
Former Tory chairman Sayeeda Warsi — who has been a vocal critic of Islamophobia within her party — also blasted the WhatsApp messages.
"To label the likes of Stuart Andrew, Andrew Stephenson or Iain Stewart as Islamophobes is absolute nonsense and I will be out campaigning for them to be re-elected," she said.
Rasmus Kleis Nielsen, director of the Reuters Institute at Oxford University, told BuzzFeed News he had been closely watching whether WhatsApp would have a similar impact on the UK election as it has in other countries' political processes.

But so far, powerful political interests have not weaponised the platform to distribute disguised political messages on a grand scale here in the way they have in Brazil and India, he said. Klein pointed to the fact the MPAC's WhatsApp message is a consistent theme across the group's social media channels.
"A lot of our research suggests that people who may feel as though there will be negative consequences for them to speak up in public life because their views may differ from majority views or majority groups resort to more private environments where they have more control over who sees what they share.
"In that sense, if it's the case that some parts of the Muslim community in the UK may not feel that their views are as welcome in public life as other citizens', I can see why people would feel more comfortable engaging in political dialogue in WhatsApp."
MPAC did not respond to a request for comment.