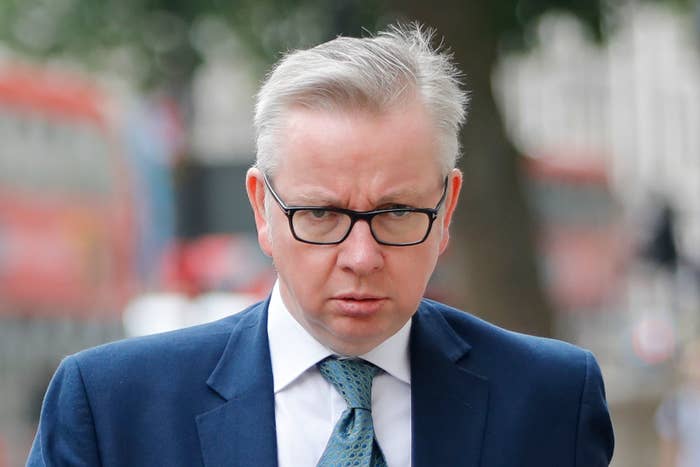 Eurosceptic Tory MPs have launched a co-ordinated move to target Michael Gove, one of the leaders of the Leave campaign, and discredit his attempts to defend the government's Chequers proposal.

BuzzFeed News has been told the "Get Gove" strategy was discussed by members of the European Research Group of Brexiteer MPs following the environment secretary's appearance on the Andrew Marr Show on Sunday.
Gove told Marr he backed Chequers as the right plan "for now" and insisted a future government could change the deal after the UK leaves the EU. This enraged ERG members who are determined to force the prime minister to ditch Chequers now.
As one of the Leave campaigners who stayed in the cabinet post-Chequers, Gove is seen by Number 10 as the key weapon in convincing Brexiteer MPs and voters to support its plan. Downing Street believes Leave voters who agreed with Gove during the referendum campaign will listen to his endorsement, and has been using him to lobby MPs behind the scenes.
On Wednesday, three senior Eurosceptic Tory MPs mounted separate public attacks on Gove in an attempt to derail his case for why Leavers should back Chequers. Allies of Gove immediately hit back, telling BuzzFeed News the co-ordinated public criticism was an act of disloyalty and part of a plot that would only harm the Conservative party.
On Wednesday morning, Jacob Rees-Mogg, the chairman of the ERG, wrote in the Daily Telegraph that there was a "clear inconsistency" in Gove's argument that MPs could support Chequers then attempt to change it at a later date.
Another senior ERG MP, Steve Baker, went further in The Sun, writing that he is "appalled" by the suggestion that the deal could be changed later on. Baker, who resigned as a Brexit minister over the Chequers plan, branded Gove's argument "ridiculous", "ludicrous" and "wrong".
Then, speaking on BBC Radio 4's Today programme, former Brexit secretary David Davis, another Leaver who quit the government over Chequers, also offered a withering assessment of Gove. "Michael Gove is a very clever man and sometimes clever men miss the obvious," Davis said.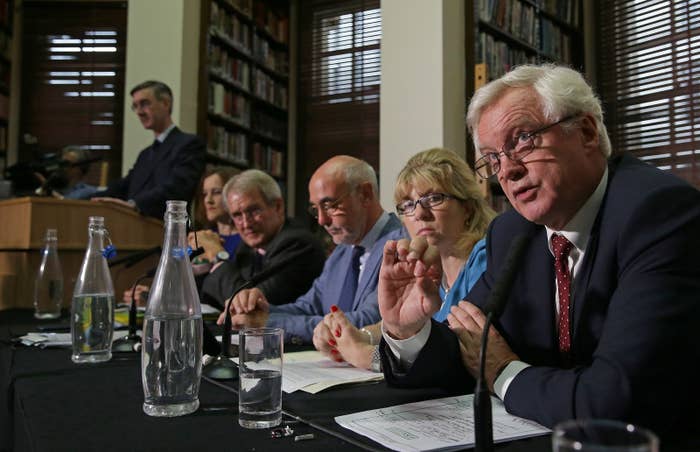 A senior member of the ERG confirmed to BuzzFeed News that Eurosceptics would remind voters of Gove's betrayal of Boris Johnson during the 2016 Tory leadership contest as a reason not to listen to him on Chequers.

The MP said: "Gove and Number 10 are not going to convince any sceptics. It is not going to work. Ultimately people don't trust him and remember that if he hadn't stabbed Boris in the back we wouldn't be in this situation."
They added: "Number 10 have done this for two years, taking Brexiteers into the government to sell their version of Brexit. Every time those Brexiteers lost their credibility, and now Gove has lost his".
A second senior ERG MP said: "What Michael is trying to do is convince us we will easily be able to change an international treaty agreed with the EU. He knows that would be incredibly difficult. The best chance of securing the Brexit people voted for is getting it right first time".
Leave-supporting Tory MP and Gove ally Zac Goldsmith told BuzzFeed News: "I'm no fan of Chequers, but it is completely wrong for people to attack Michael like this. Reasonable people can have honest disagreements, but Michael was one of the heroes of the leave campaign, and without him we might not even have won the referendum."
Andrew Percy, another Brexiteer Tory MP, also criticised those in the ERG moving against Gove. He said: "These people are becoming the useful idiots for those who wish to stop Brexit. By their actions, they are actively increasing the chances of us not leaving the EU at all and aiding those who wish to block the will of the British people."
He added: "People like Michael Gove get the reality of parliamentary arithmetic. It is delusional to think that Parliament would ever back a no deal Brexit. The only way we will leave the EU next year is under the deal the PM negotiates and some of those in the ERG should stop deluding themselves into thinking otherwise."