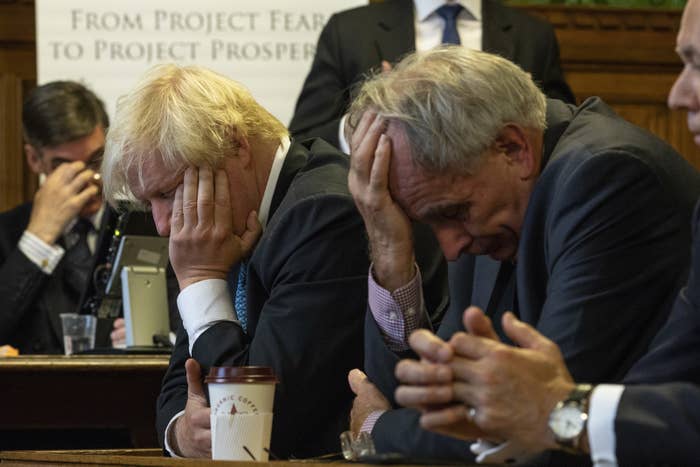 Ten days ago, members of the European Research Group of Eurosceptic Conservative MPs were feeling upbeat about their prospects, believing the tide was turning away from Theresa May's Chequers deal and towards their preference for a harder Canada-style Brexit. And then came the week from hell.
Allegations about Boris Johnson's private life plastered across the newspapers kept the Brexiteers' talisman firmly off the field of play in what was supposed to be the week the ERG mounted its challenge to Chequers.
Instead, two public meetings held by senior Leavers to put forward an alternative Brexit plan were judged a damp squib both inside and outside the ERG camp. A meeting of the Economists For Free Trade group was remembered only for an FAQ sheet handed out to guests which answered questions such as "Wouldn't Foreign Direct Investment into the UK inevitably fall?" simply with the word "No".
As they licked their wounds at the end of a bruising week, dismayed members of the ERG told BuzzFeed News that they may have blown their big chance to seize control of Brexit.
While the detail contained in their plans for the Irish border, unveiled at a lacklustre press conference on Wednesday, was not immediately debunked, there was little pickup in the media and they have been unable to successfully sell their message.
"If I am honest, I despair," one senior ERG MP told BuzzFeed News: "After what I saw my heart sank."
"We have no actual PR operation whatsoever," the MP said. "We haven't got any money. We are a research group with enough funding for one researcher."
There are concerns that there is no media strategy in place for the ERG to keep their plan in the news over the next two weeks. "That was it," confirmed one ERG insider with knowledge of the group's workings.
Under the new editorship of Geordie Greig, on Wednesday the Daily Mail newspaper backed Chequers and mocked the "Brexiteer disarray" of the ERG operation. Another MP said: "The abiding image of our week is that photo of Boris, [Jacob] Rees-Mogg and Peter Bone with their heads in their hands".
A prominent Leaver who is not a member of the ERG told BuzzFeed News they were not surprised by the group's shortcomings. "It was totally predictable that the ERG would fuck it up. This is why Vote Leave did not allow Bernard Jenkin and Owen Paterson anywhere near the campaign. It would have been two months of a shitshow like this week".
At a meeting of the group of Tuesday night, around six MPs spoke openly about attempting to remove May. As one present recalled, "no one in the room stuck up for her", though most stayed silent. But the news of the open revolt chatter quickly leaked out of the room and onto ITV political editor Robert Peston's Facebook page, ignited another backlash against the group from Tory ministers and backbenchers who accused them of going too far.
On Wednesday, with that story still dominating political coverage, it overshadowed the ERG's own much-trumped event to launch their solution to the Northern Ireland border question, forcing Rees-Mogg to publicly slap down any talk of toppling May.
"I have long said, and repeated again and again, that the policy needs to be changed but I am supporting the person," Rees-Mogg said, while other leading Brexiteers such as Iain Duncan Smith toured the studios to deny there was any plot.

In fact, as BuzzFeed News reported last week, the group remains split on whether to put their letters in to 1922 Committee chairman Graham Brady now, next month, or after March. MPs suspect that if the letters reached the 48 threshold before party conference, Brady would delay any announcement until parliament has returned from recess to prevent conference from descending into chaos.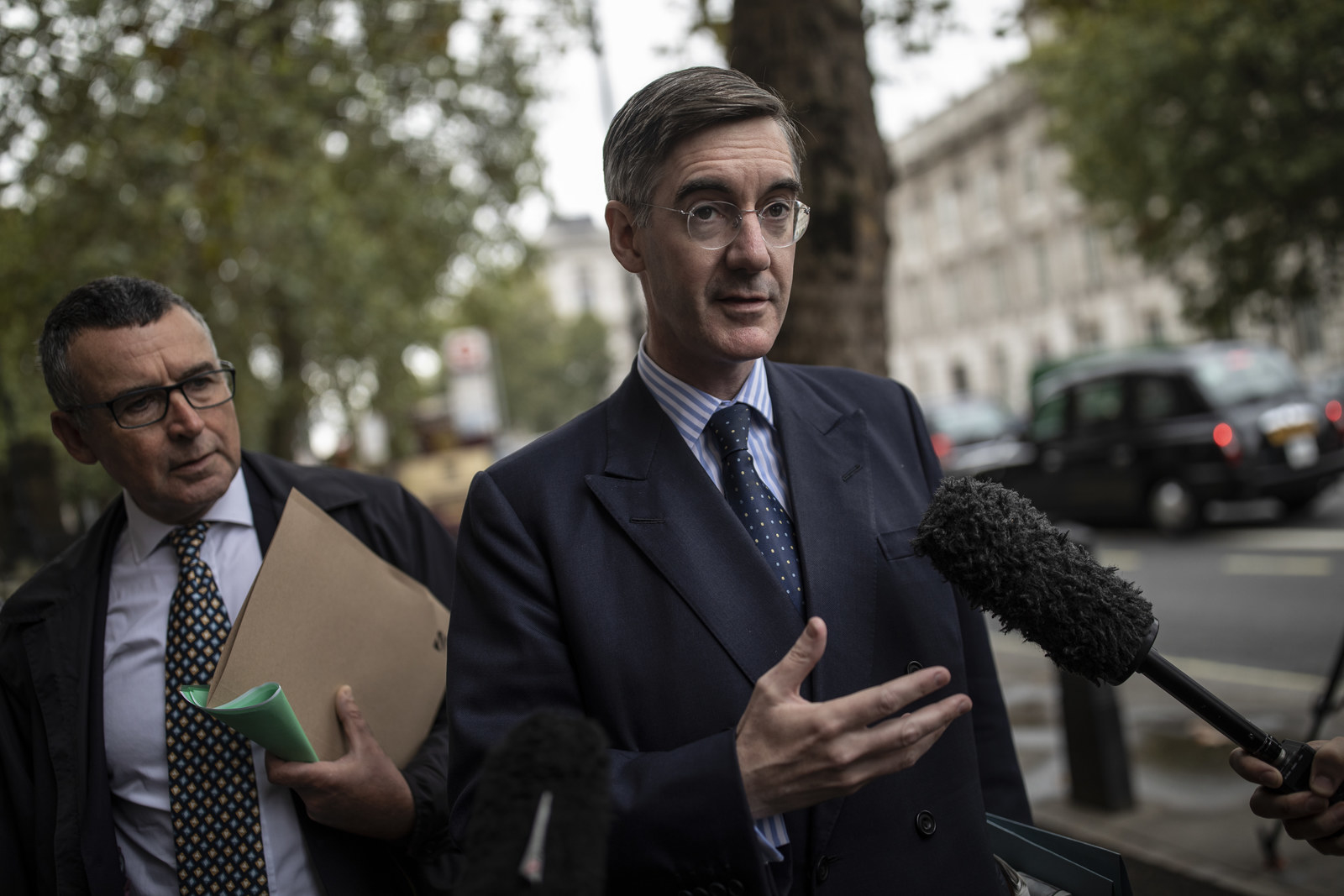 Some Leavers say the absence of Johnson as the figurehead of this week's Brexiteer fightback counted against them. If news of his marriage breakdown had not emerged, his leadership would have given the Brexiteers' plan a different dynamic and generated better media coverage, some members of the ERG believe.
They let Downing Street know their thoughts on the matter in no uncertain terms. May's chief of staff Gavin Barwell would have been quietly pleased with the back-and-forth he was having with nine Eurosceptic Tory MPs in one of Number 10's dining rooms on Tuesday night, until the conversation turned.
Over a meal of tomato and mozzarella salad, braised beef with red onion chutney and dauphinoise potatoes, plus plenty of decent French wine, Brexiteer MPs who oppose Chequers plan grilled Barwell over their suspicions that Number 10 has been behind the press stories about Johnson's private life.
Privately, May's chief aides had already acted to determine if their team was responsible. As the finger of suspicion pointed at one of the PM's junior advisers, the aide handed her phone over to her superiors to attempt to prove she was not behind the vicious briefing.
Barwell vehemently denied that anyone in his team had anything to do with the coverage. His guests were not convinced. As one rebel MP said, "They're all sweetness and light when they're having us in for dinner and plying us with drinks, but we only have to look at the papers over the last week to see what will happen to us if we try to block Chequers".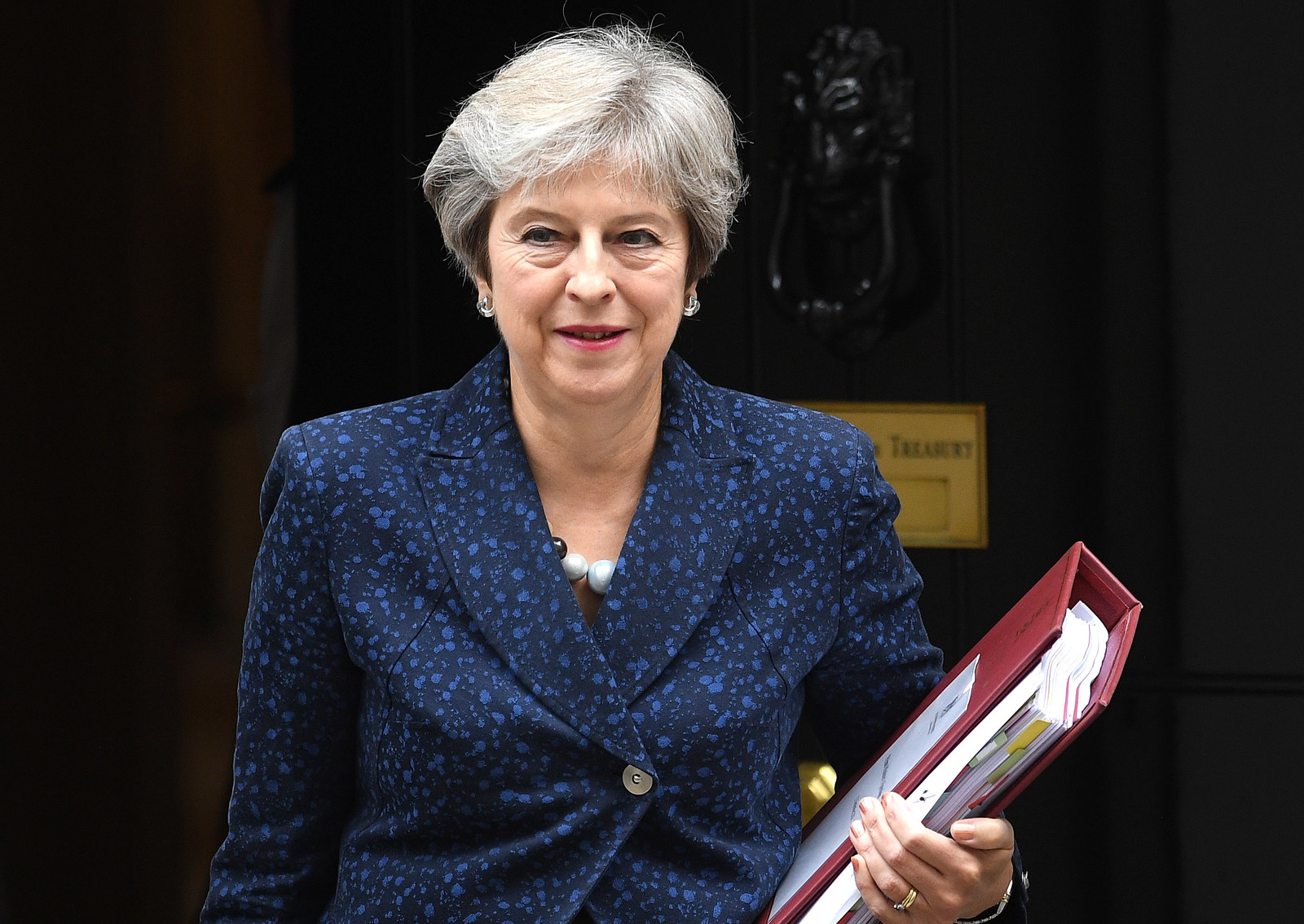 Downing Street hosted three dinners with different sets of Tory rebels this week, a routine that is now going to take up the evenings of two of her top aides for some time. Number 10 had originally planned nine of these dinners, but they will now take place every Monday, Tuesday and Wednesday, with Barwell and May's director of communications Robbie Gibb taking turns to woo colleagues.
Those who attended this week told BuzzFeed News the dinners were largely polite and informal if ultimately unconstructive, and saw MPs air their grievances with Chequers before Barwell and Gibb tried to win them round. "We've heard it all before and Gavin and Robbie are only changing people's minds in their dreams," said one MP. "But I am happy to drink their wine."
The dinners form part of a four-pronged effort launched by Downing Street to sell Chequers. Aside from convincing sceptics in the parliamentary party, May's team will be hosting receptions for Tory party members and association chairmen, with every cabinet minister ordered to hold two 'membership engagement' meetings each at Conservative party conference later this month. This is described by one MP as "Number 10 trying to prevent a slow hand clap in the auditorium during the PM's speech".
On Monday night, May will seek to secure the support of the public in a BBC Panorama special with Nick Robinson. May allowed the programme unprecedented access to film inside her Chequers residence, as well as letting the cameras into the Europe room in Number 10 during a meeting between the PM, her top Brexit aide Olly Robbins and Brexit secretary Dominic Raab.
Then there is the matter of convincing the EU. Number 10 insists there is still a lot of work to do to secure a deal, but in one-on-one meetings with Brexiteers Downing Street aides are adamant an agreement will be struck with no more concessions.
Their confidence has led Eurosceptics to conclude that a deal has been secretly sewn up with EU leaders. "It is a done deal," said one former minister. "I really believe they have signed it all off with [Angela] Merkel and the ongoing negotiations are just a charade to keep her in power and get Chequers over the line, which suits the EU down to the ground". A second MP reckoned: "They're all sitting there in the negotiating room playing cards to pass the time".
That level of distrust does not bode well for the next month, which will be crucial for both May and the Brexit hardliners on her own backbenches.