The Brexit Crystal Ball, Explained For People Who Want To Know What The Hell Is Going On
Everything you need to know about the latest circle of political hell.
by
,
Today in Westminster is one of the busiest days in recent political history.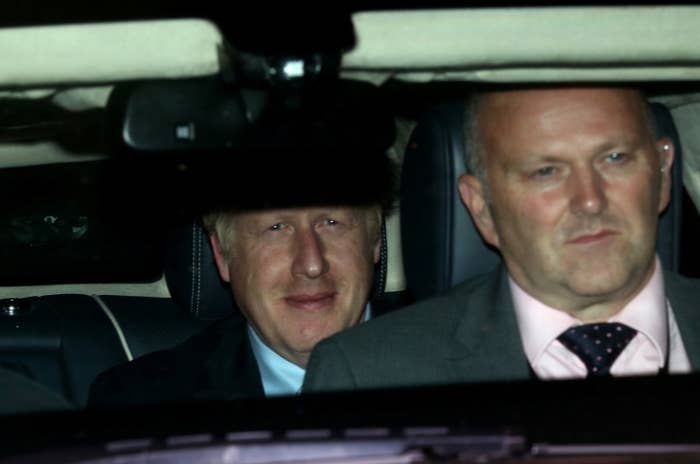 Prime minister Boris Johnson is facing Jeremy Corbyn at Prime Minister's Questions, chancellor Sajid Javid will be announcing the government's new spending plans, rebel MPs are tabling a bill to block a no-deal Brexit — oh, and then Johnson is holding a vote on whether to call an election.

We've taken a look into our crystal ball to find out what could happen over the next few days, what you need to be looking out for, and how things could soon get even crazier.
1. There's going to be a huge, consequential vote in the afternoon.
Last night, Johnson's government "lost control of the order paper", which means that the government is no longer telling Parliament what it should debate. The "rebel alliance" — all of the anti-no-deal Brexit folks, including Labour, the SNP, and Lib Dems — is now in control.
So first up in the House of Commons, those rebel alliance MPs will start a debate and then vote on their bill, which seeks to block a no-deal Brexit.
That'll be between 3 p.m. and 7 p.m. (BST).
The rebel alliance won last night's vote by 27 votes, and that majority should hold up.
2. Now bring on the Lords filibuster!
Let's assume the bill passes and it goes to the House of Lords. The rebels want it to get through the upper chamber by Friday, before Parliament is prorogued on Monday next week, by which point it would be too late.
But we're expecting Conservative, pro-Brexit peers in the Lords to attempt all sorts of trickery to stop the bill from passing.
They are planning to add a ridiculous 90-odd amendments to the order paper motion, which is all about stalling and wasting everyone's time — potentially all through the night, for several nights, until the weekend.
That's why some peers are taking duvets to work today...
If the bill is successfully "filibustered", it will not become law and the rebel alliance will have failed. The UK will be on course for no deal. But look out for other trickery to counter the trickery. A trickery sandwich.
Johnson has said that sometime later on Wednesday, possibly as late as 11 p.m., he will ask MPs to vote on whether to hold a new general election.
Under the Fixed-term Parliaments Act, Johnson needs a two-thirds majority in the House of Commons to make that happen.
However, Corbyn says he doesn't trust Johnson. He's apparently worried that if he gives Johnson the chance of an election, the prime minister will fix the date at some point after Oct. 31, which is the Brexit deadline. That would mean we leave the EU without a deal.
This is why Labour will block it until the rebel alliance bill wends its way through the House of Lords and becomes law. Labour could even amend Johnson's motion tonight, to say the party will allow an election once the bill has gone through.
4. Deep in no-man's-land...
If Johnson can't get the two-thirds majority and loses the election vote, there's still a way for him to override the Fixed-term Parliaments Act — by putting forward a new motion and winning with a simple majority.
Considering the scale of the defeat on Tuesday, Johnson may not have the numbers to achieve this.
It would mean we'd be in what Westminster insiders are calling "parliamentary purgatory".
If he can't call an election, Johnson might ask the Queen not to grant royal assent to the rebel alliance legislation — the Queen basically needs to approve any new laws coming out of Parliament — which would create (even more of) an unprecedented, absurd constitutional crisis than we're currently in.
Alternatively, Johnson might even be so desperate that he could deliberately lose a confidence vote, which would trigger an election.
Once the anti-no-deal legislation has passed, Labour could decide to call a vote of no confidence in Johnson, which, if it won, would give Corbyn the chance to try to form a government of his own.
Senior Labour figures like Keir Starmer and John McDonnell have hinted that this might be the plan.
If Johnson lost that vote, then Corbyn — or another MP, maybe the newly independent Ken Clarke? — would have 14 days to try to form a new government.
Then, if no new government could be formed, there would be an election.
It is likely that at some point, an election will be called. Johnson's Conservative party apparently wants it to be held on Oct. 15.
If the rebel alliance bill goes through, it'll mean that Parliament hasn't voted on any real progress on Brexit — that's either for a deal or against a no-deal. Whoever becomes prime minister will need to ask the European Union for another extension.
If no one secures a majority in the election and there's a hung Parliament, Johnson will remain prime minister until he agrees to hand over power. But he also will be forced to seek an extension on Oct. 19.
If Johnson wins a majority, the UK is full steam ahead toward a no-deal Brexit. If Corbyn wins, Labour has said it backs a second referendum on any Brexit deal negotiated with Brussels.