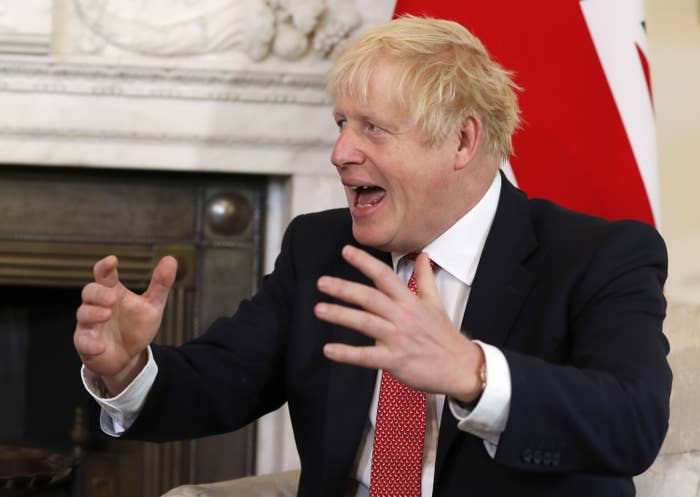 It feels like longer, but just 14 months have passed since Boris Johnson, then foreign secretary, sat in the great hall at the prime minister's Chequers country residence to hear details of Theresa May's Brexit plan that would cause him to resign from her government.
That historic location was not lost on the guests when, last Friday, prime minister Johnson hosted 10 Conservative MPs in the same room. His message was not dissimilar from his predecessor's: Johnson was "absolutely resolute that he is going to get a deal", one MP present said, and it was clear he was laying the groundwork to convince them to hold their noses and vote for it, even if they found it unpalatable.
If a deal can be done, BuzzFeed News can reveal Downing Street is putting into place a strategy of inducements and political pressure to win over rebel MPs and the Democratic Unionist party — which one Cabinet minister said is "desperate" for a deal — and then asking Brussels to rule out another extension and pose MPs with a choice of a deal or no deal on Oct. 31.
If no deal is struck, Number 10 is plotting to "go straight through" rebel legislation aimed at forcing Johnson to delay Brexit by attempting to ensure the EU does not offer an extension. In such a scenario, Downing Street is expecting a second and final Supreme Court showdown in the last two weeks of October, with an emergency budget also being prepared to eat up parliamentary time.
The optimism on the UK side that a deal is getting closer is starkly at odds with the EU's response to initial Number 10 proposals presented this week, which European officials said should be "openly and clearly discarded", according to a diplomatic note seen by BuzzFeed News.
Johnson has embarked on a large-scale charm offensive with Tory MPs in the last two weeks, telling them he wishes he could "just get Brexit done" so he can deliver the radical domestic policy changes he believes the UK needs. BuzzFeed News has spoken to several Tory backbenchers who have been wooed by Johnson in recent days.
In one of many parallels with the May premiership, several of the 28 so-called Brexiteer Spartans who voted against the last PM's deal have been invited to meetings with Johnson.
The Whip's Office has been ringing round potential rebels on an almost-daily basis to try to gauge any shift in opinion on a deal. One Spartan said they keep being asked: "How are you feeling about a deal?"
The operation has provoked rising fears among the most hardline Brexiteers that Johnson will respond to the EU's rejection of his initial proposals by shifting further towards a version of the Northern Ireland–only backstop based on a regulatory border in the Irish sea, with the rest of May's withdrawal agreement intact.
Fundamental to whether such a deal can be struck with the EU will be how much the UK government is willing to move from its current position that the details of what replaces the backstop should be decided during the transition period. But go too far and Johnson can expect the Spartans to brand his deal the Northern Ireland–only backstop in everything but name.
That is where things are headed, according to one Brexiteer MP who has spoken to Johnson in recent days. "I came away very worried. It is obvious that, with the amount of time they have left, any deal they come back with will be putting lipstick on a pig."
Government whips hope several of the Spartan MPs who have large majorities in their constituencies will back a new deal, even if it means further compromise. These MPs are safe from the threat of Nigel Farage's Brexit party, so there is little to gain from them dying on this hill, the theory goes.
Number 10 also has the means to convince Spartans in marginal seats who are under threat from Farage. These MPs have let it be known that they need more financial and campaign support from Conservative headquarters ahead of an election.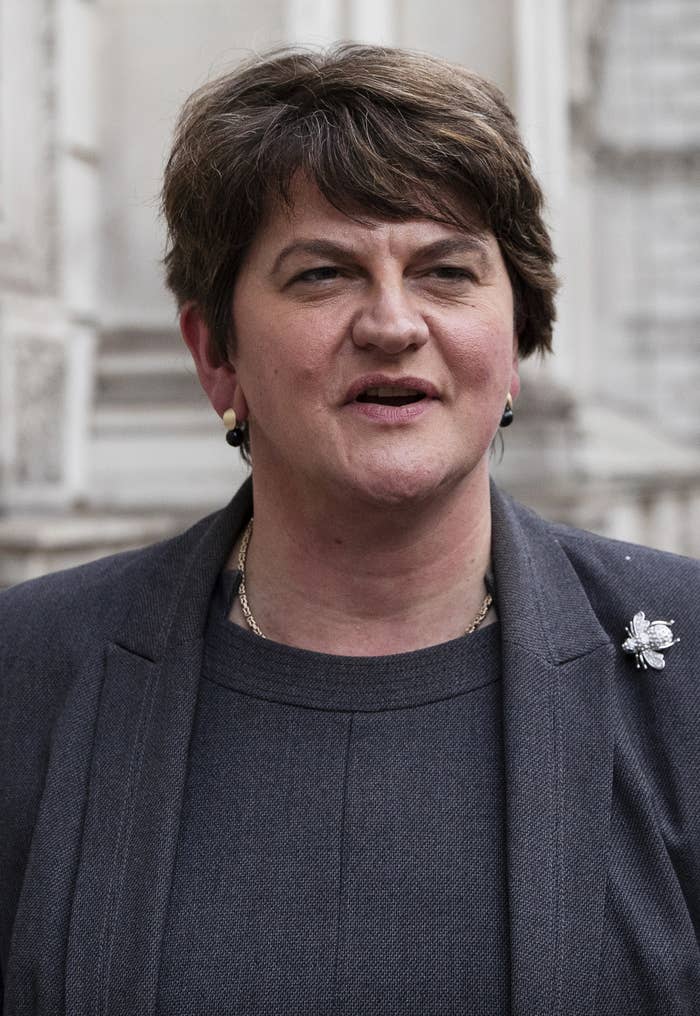 Ministers are also increasingly hopeful that Johnson can do what May never managed: Convince the Democratic Unionist party to back a deal. A Cabinet minister who spoke to DUP leader Arlene Foster recently said they believed she is now "desperate" for a deal.
Another Tory MP who is close to the DUP put the shift down to their desire to avoid a damaging no-deal Brexit, and their fears about losing seats at the next election.
There is an expectation that the 21 Remainer rebels who lost the Conservative whip, plus Cabinet resigner Amber Rudd, will be let back into the Tory party if they vote for a deal.
Whitehall sources confirmed to BuzzFeed News that the PM is looking at asking the EU to rule out a further Brexit delay if a new deal is agreed around the European Council on Oct. 17.
A senior government source said that, if a deal is agreed, the EU could help Johnson create a choice for MPs in the Commons between voting for that deal or effectively voting for no deal. The only other option left to opponents of the deal would be voting to revoke Article 50.
This would head off any attempt by opposition MPs to vote down a deal on the basis that they could secure a delay. Removing the option of another extension at that point would ensure the deal passes Parliament, the source said.
May's deal ultimately failed to pass in part because it was rejected by hardline Brexiteers, but also because opposition MPs believed they could vote it down safe in the knowledge that the EU would agree to extend Article 50.
Should the UK and EU reach a deal before the October European Council, a senior European government official told BuzzFeed News that the 27 leaders "could well" agree to no extension — or a very short delay only for the purpose of ratification — if Johnson makes the point that such an approach could help the agreement get the approval of MPs. "He might sell it," the official said.
A senior EU official added, however, that even in a scenario where a deal were reached by the mid-October Council, it would be "very likely" that a short extension would be needed to allow for the two sides' respective ratification processes. "It would be very tight even if we are very quick," the official said.
The senior official explained that the details of any new agreement would need to be analysed by the 27 capitals, go through lawyers, translators, as well as the European Parliament. "Some leaders will also need to explain to their parliaments what they're signing up to," the official added.
Since Hilary Benn's legislation forcing the government to request an extension to Article 50 if it cannot reach a deal, Westminster has been consumed by speculation that Number 10 aides had found a secret loophole.
But government sources indicated to BuzzFeed News that they intended to "go straight through" the legislation, rather than around it.
The law requires the government to seek an Article 50 extension from Brussels if no withdrawal deal has been agreed by Oct. 19. What it cannot do is force the EU to offer the extension.
If it cannot agree a deal, Downing Street believes the EU will ultimately not offer an extension if the UK government does not request one, regardless of what Parliament wants.
The EU position on providing a further extension to Article 50 will in part be shaped by what the UK requests: The 27 leaders will react to a UK ask. They are unlikely to proactively propose a delay to Brexit if the UK government doesn't ask for one.
The EU27 has consistently said that any extension needs to be justifiable with a precise reason, for example, holding an election or needing time to complete the ratification of an agreement in Parliament.
A Whitehall source said this outcome would inevitably end up in the Supreme Court, where the government would argue that the legislature cannot force the executive to make what is constitutionally an executive decision.
At a meeting of government special advisers on Friday night, Johnson's chief aide Dominic Cummings said that if a deal is not reached, then Brexit would be decided in court at the end of October.
A pro-Brexit lawyer who was part of the Vote Leave campaign said such an argument could come down to: "Is there a line that the legislature cannot cross that is the preserve of the executive?"
With a Supreme Court case potentially taking place in the last two weeks of October, the Treasury is also drawing up plans for an emergency budget.
One potential benefit for the government of a budget would be that it takes up parliamentary time with days of Commons debates, at a potentially pivotal moment as the clock winds down to no-deal.
While some in government have been talking up the prospects of a deal, others were more downbeat, putting their chances at around 30%.
"Everyone needs a deal, the question is, how can he sell it?" a Whitehall source said.