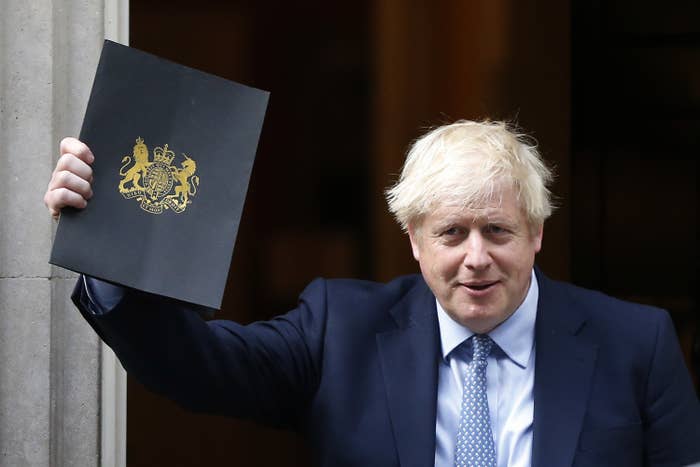 The government was unrepentant on Thursday about prime minister Boris Johnson's language about in Parliament on Wednesday night, in the face of intense criticism from both opposition MPs and some Conservatives who warned him that such inflammatory language could put politicians at greater risk of attack.
Johnson provoked widespread outcry from across the House of Commons — including from his own Tory MPs — as he repeatedly used the phrase "Surrender Act" to describe legislation passed by rebel MPs aimed at stopping a no-deal Brexit.

He also received stinging criticism for claiming that delivering Brexit was "the best way to honour the memory" of the murdered MP Jo Cox, with several women MPs telling BuzzFeed News that his rhetoric was putting their lives in danger.
With even some senior Conservatives — including cabinet minister Nicky Morgan — voicing concerns about his handling of the Commons debate, the question on Thursday morning was whether Downing Street would feel that he had gone too far.
But three government sources told BuzzFeed News that Johnson should ignore the calls to apologise and double down on the strategy.

One government source claimed to BuzzFeed News that the opposition was attempting to prevent the Tories from using the "Surrender Act" attack line.
"It is no coincidence that the one phrase they want to ban is one of our main attack lines for the election they are too cowardly to call," they said.
A second government source compared the furious debate to Vote Leave's use of the £350 million figure during the referendum campaign, when Brexiteers claimed the UK was sending the EU that figure each week, but used the gross number rather than net.
"It's like with 350m. If it hadn't cut through [to the public] before, Surrender Act definitely has now," they said.
A third government source suggested that senior Tories were not taking the outrage seriously.
They told BuzzFeed News: "I've renamed my imaginary dog 'Labour support the surrender act'. Unfortunately, he's gone missing so I've spent the morning running around east London having to shout 'Labour support the surrender act'. I do hope they don't find this offensive."
Addressing journalists in Westminster later on Thursday, a senior government source warned that abuse of MPs would get worse if they pursued a second Brexit referendum.
"These guys want a second referendum right, what do they think is going to happen? They're complaining about abuse that they get. Well, this is not that complicated. They promised to respect the vote before it happened then they spent three years messing around — and outside the M25, people think the referendum should be respected and a lot of people here don't want to respect it and that's why there's a crunch," the source said.
The source told BuzzFeed News they feared there would be "negative consequences" for the country if Brexit did not happen.
"It seems to me clear that this building taking a wrecking ball to basic democratic politics by refusing to respect the referendum vote is very big potatoes and would have a lot of very negative consequences.
"Temperatures have risen inevitably over the last three years and the country's become more polarised. If this place turns round in the end and says after all this, 'we're not going to do it', what do you think will happen?"
"It's not going to be a calmer happier country," they added.
But a former member of the government hit back at Johnson and his allies: "It's a murdered mother they're showing such contempt for. Stomach-churning stuff.
"Even if they are happy to mobilise the angriest corners of society to better their chances of a majority, can they do it twice? Not a sustainable vote base."
Johnson has received criticism even from within his own cabinet.

Following last night's debate, Morgan, the culture secretary, said that "we all need to remind ourselves of the effect of everything we say on those watching us", in a tweet that was widely assumed to be a message to the prime minister.
On Wednesday night, Tory minister and Johnson supporter Johnny Mercer said the outrage over Johnson's remarks was "ridiculous". But this morning he said that, having watched the exchanges about Jo Cox, "Boris will watch again and I'm sure want to have made his point better".
Speaking on the BBC's Today programme on Thursday morning, however, Conservative party chairman James Cleverly defended Johnson's behaviour.

"The frustration which is distilled in the House of Commons but exists right across the country is not going to be resolved until this issue is resolved," he said.
He also insisted that when Johnson responded to Labour MP Paula Sheriff's intervention referencing Jo Cox and the death threats received by MPs by saying "humbug", "he was responding to specific accusations made in that exchange which were inaccurate".