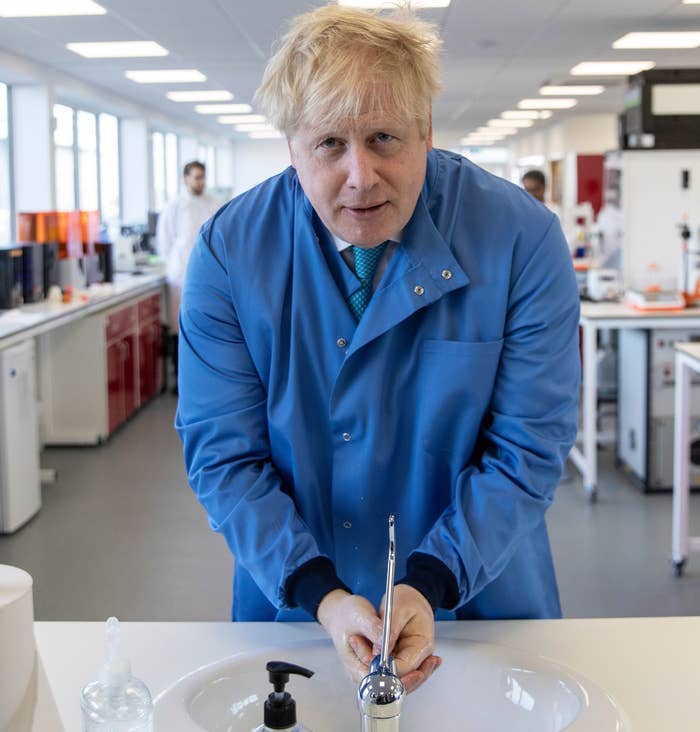 Boris Johnson's government will use the coronavirus outbreak and next week's budget to refocus its attention on "the people's priorities", his allies have said, conceding that Downing Street has at times become "distracted" in the three months following his election win.

Ahead of the new chancellor Rishi Sunak's first budget on Wednesday, senior Conservatives told BuzzFeed News that the UK's response to the virus has persuaded Number 10 that demonstrating good governance on issues that people care about must be their first priority — after a series of internal rows and public controversies that have marred the first 100 days of this administration. They predicted a change in style from Downing Street over the next 100 days.
The coronavirus has also fully convinced Johnson and his aides of the merits of expert advice and support from officials.
Number 10's handling of the virus, from a political perspective, was slow off the mark, allies admit. His chief aide, Dominic Cummings, initially did not see it as a top priority and did not think there was much Downing Street could do about it, and that it was best left to officials to handle, multiple sources told BuzzFeed News. A Number 10 source said Cummings felt it was important that the communications side be fronted by science and medical advice — and that this has been a successful approach.
In the early days of the outbreak, Johnson received widespread criticism from the media and the opposition, with Labour branding him a "part-time prime minister", for waiting too long before he chaired an emergency Cobra meeting.
The same charge was levelled at the prime minister when he decided against visiting flooding victims in February.
There are also concerns across government departments about what will happen as a result of the escalation of cases in the coming months. The main cause for worry is whether the National Health Service will be able to cope, especially in terms of hospital beds, with doctors warning of shortages of critical care beds if, as expected, hundreds of thousands of Britons or more catch the virus.
The next major area of concern is food chains. On Friday, Defra's Food Chain Emergency Liaison Group, which comprises agri-food–sector trade associations, met to discuss contingency measures if imports become affected by a global pandemic.
But government sources have defended the UK's overall response so far. Whitehall believes that the contingency measures put in place by civil servants and the NHS to deal with a potential pandemic are already showing results, especially when compared with the remarkable failure to test for COVID-19 in the United States or to contain it in Italy.
"Not to disparage the US or EU, but it is plain to see that we've done a pretty good job of getting on top of this when you see how some others have struggled," one official said.
And those initial shortcomings have since allowed the prime minister to "get a grip" on his wider operation — in the wake of a raft of bad news stories, from bullying allegations against home secretary Priti Patel to damaging public fallouts over government advisers.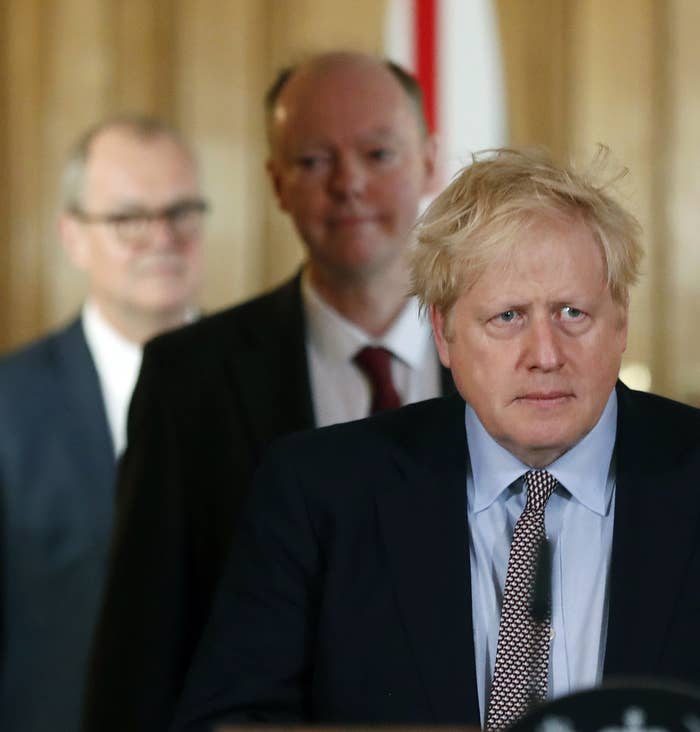 The turning point was the criticism Johnson received last weekend for waiting until Monday to hold his Cobra meeting. Since then, Downing Street has been at pains to ensure blanket coverage showing the government is managing the situation appropriately.
Tory sources are full of praise for England's chief medical officer, Chris Whitty, and the government's chief scientific adviser, Patrick Vallance, who flanked Johnson at a press conference on Tuesday. Their authoritative performance was so well regarded by Johnson and Number 10 that they were encouraged to keep making media appearances throughout the week.
Several senior Tories told BuzzFeed News that this was the week the government got back on track following the bombshell resignation of home office permanent secretary Philip Rutnam — a story which has slightly died down for the moment — as well as unforced errors in the treatment of special advisers by Downing Street, leading to Sajid Javid's resignation as chancellor, and the hiring and ensuing downfall of controversial aide Andrew Sabisky.
Ministers previously raised the alarm about Johnson's Number 10 operation being "untenable" following a series of headline-grabbing rows.
Another minister told BuzzFeed News this week that the success of the last few days had shown Johnson the benefits of a public-facing focus on expert officials rather than on political advisers.
They noted that "the people's government", as Johnson's team styles itself, has been better off showing it can deliver on "the people's priorities", such as the coronavirus, rather than fighting with the BBC or being featured in stories about bullying or aides.
A Number 10 source dismissed articles about special advisers as "bubble stories" that "people don't care about", and said the government was focusing on things that mattered to the public, such as the coronavirus and the budget.
Sunak's budget is expected to include a range of measures that are aimed at reassuring families and businesses over the virus, and that as a result deliver a different policy platform than envisaged before the outbreak.
But it is also a test for Cummings, given the wide belief that Number 10 took control of the budget-writing process when Javid quit his post.
One former Tory aide offered this comparison: "A budget is like the coronavirus. You only know you're in the clear after two weeks, and older people are most at risk from complications."