How Boris Johnson Sided With "Doves" Over "Hawks" In His Government To Slow The UK's Exit From Lockdown
Some Number 10 advisers, cabinet ministers, top civil servants, and "a clear majority" of Tory MPs initially lobbied for a "rival" exit strategy, BuzzFeed News can reveal.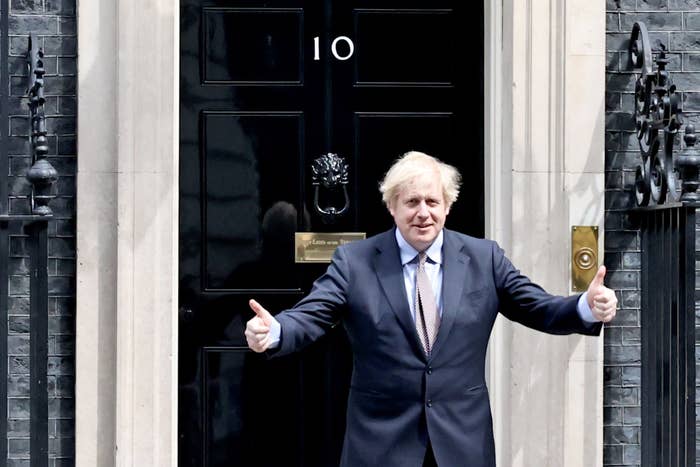 BuzzFeed News has reporters across five continents bringing you trustworthy stories about the impact of the coronavirus. To help keep this news free, become a member and sign up for our newsletter, Outbreak Today.
Cabinet "doves" have claimed victory in a monthlong battle that has raged at the top of government, securing a more cautious easing of coronavirus lockdown measures than sought by "hawks" who had wanted a rapid lifting of restrictions.
Ahead of Boris Johnson's address to the nation on Sunday evening, where he will give details of a "roadmap" for the phased relaxation of lockdown measures, BuzzFeed News can reveal details of the deeply politicised and at times heated debate across Downing Street, cabinet, and the wider Conservative party that has taken place behind the scenes since the PM was discharged from hospital.
It can be revealed that:
• Some senior Number 10 advisers, cabinet ministers, senior civil servants, and "a clear majority" of Tory MPs had initially lobbied for a "rival" exit strategy, privately arguing that the lockdown should be lifted more quickly than Johnson will announce tomorrow.
• But when Johnson returned after being hospitalised with the virus, he chose to back another group of Downing Street aides, senior ministers, and officials who had called for a "safety first" approach. His chief aide Dominic Cummings' view has also moved in favour of this position over the last few weeks.
• Most of the lockdown measures will remain in place after Sunday, with piecemeal changes to the number of times people can leave their homes and head to open spaces, followed by a staggered lifting of other restrictions, reopening schools and the wider economy over the following weeks if key data improves.
• Senior ministers have expressed fury at what one described as "weeks of insane briefing" to the media, accusing government hawks of trying to force Johnson into relaxing more measures, and claiming some newspapers were pursuing an anti-lockdown agenda because of fears about sales.
When the prime minister chairs a meeting of his top team on Sunday to finalise his announcement to the country that evening, he will face a cabinet, Downing Street, and party that has been riven by disagreement over what to do.

Johnson, who in March was initially extremely reluctant to impose a lockdown on Britain that went against his instinctively liberal political ideology, is now one of the more reluctant to lift it, sources told BuzzFeed News.
While he has been criticised by opposition figures for being "too slow" to enter lockdown, the prime minister is now one of the leading doves — a group of senior Tories who want to prioritise preventing a second wave of infections over reopening the economy and ending restrictions on people's daily lives.
The doves believe they have pushed back the general pace of how restrictions will be eased by around two to three weeks, compared to provisional plans worked on by cabinet secretary Mark Sedwill and cabinet office officials while Johnson was in hospital.
The most vocal member of this more cautious group has been the health secretary, Matt Hancock, whose internal positioning and handling of the government's testing and tracing policies put him deeply at odds with some hawk advisers in Downing Street.
Hancock has been on the receiving end of multiple negative briefings from government figures, including a Sunday Times story calling him "Matt Handjob" and a Telegraph front page that quoted Downing Street sources slamming his 100,000 tests per day target.
The main argument put forward by the doves for a slower easing of measures is that the data shows the UK is simply not ready to come out of lockdown.
The latest advice from experts on the government's Scientific Advisory Group for Emergencies (SAGE) is that the number of new daily cases is still too high to countenance any significant lifting of restrictions without causing an immediate second spike in infections.
Any more than the most limited lifting of some measures would risk sending the reproduction number — the R0 — back above one, which SAGE has said would lead to the virus again spreading out of control.
While the UK's capacity to test coronavirus cases has improved, its ability to contact trace remains inadequate to be able to accelerate the departure from lockdown.
SAGE has said the government needs to be able to test every new case, trace everyone they have been in contact with, test them as well, and then isolate those who have the virus. The government is currently "weeks" away from being able to do so, insiders said, and SAGE has warned it is not safe to drastically release measures until then.

"The last thing we want is a to-me-to-you Chuckle Brothers situation where we have to go in and out of lockdown," a Whitehall source said, adding that ministers will look closely at what happens to Germany as it eases restrictions.

Serology data gathered in the last two weeks has also concerned government experts. While chief scientific adviser Patrick Vallance said back in March that he expected around 60% of the population to eventually contract the virus, achieving "herd immunity", it is currently believed that the percentage of those who have had it is in the low teens or high single figures. This also raises the possibility of an extremely deadly second wave.
Cummings, who at the beginning of the pandemic was said to have endorsed the controversial herd immunity approach, has also become more dovish in recent weeks, allies of the PM's chief aide said.
At one meeting, Cummings told colleagues he had been reading about how countries which lifted their lockdowns following the 1918 flu epidemic had been hit by second waves that caused a larger economic hit than those who kept their restrictions in place. This "conversion" in favour of ongoing lockdown surprised some present.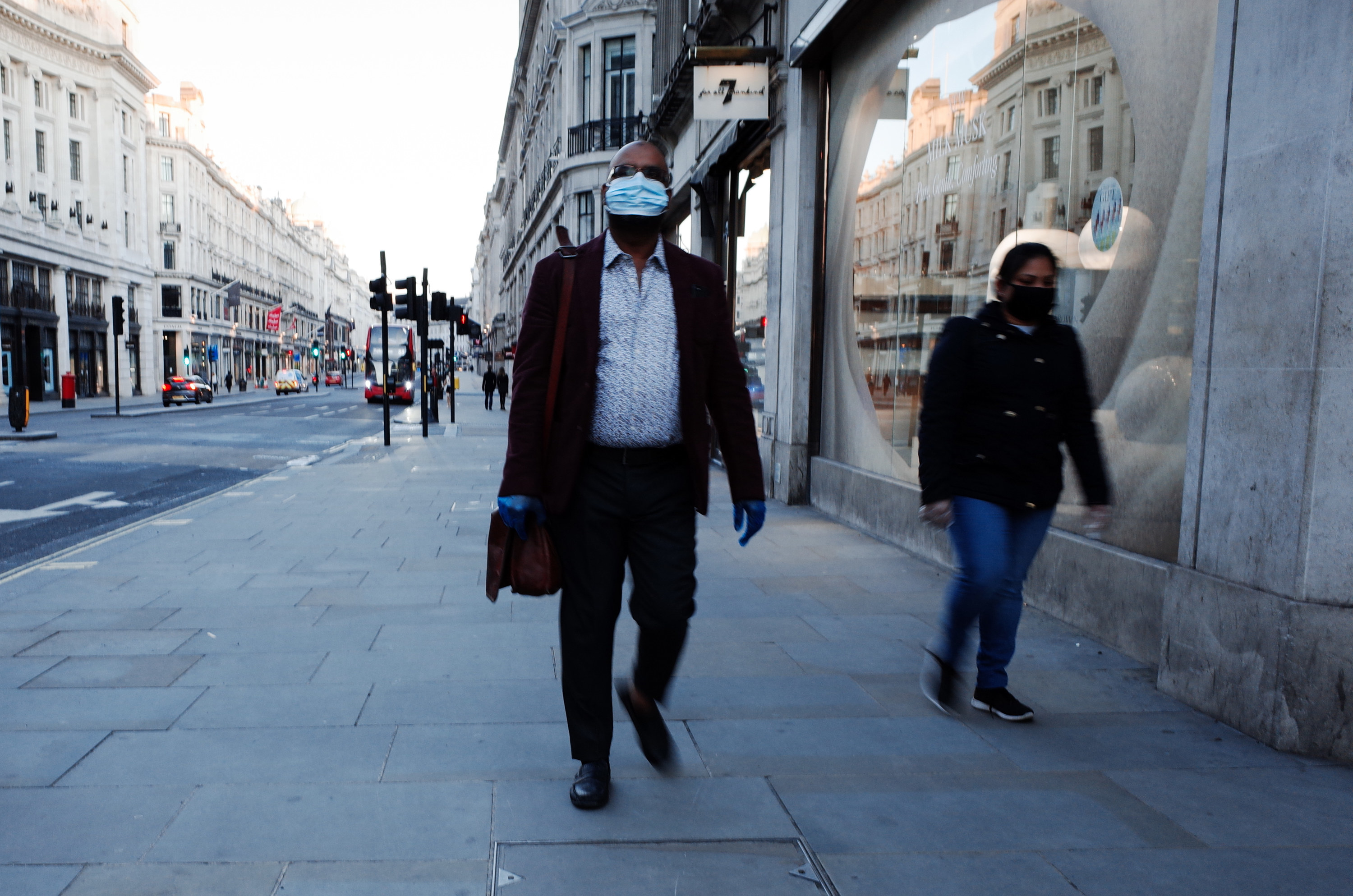 The doves have become increasingly frustrated with a series of wildly speculative newspaper reports over the last month that suggested Johnson was set to announce a much more dramatic lifting of lockdown measures, based on briefings from government sources.
On April 27, the Telegraph splashed a story headlined "Johnson to ease the lockdown this week", based on quotes from an "ally" of the prime minister. Other newspapers were briefed dire economic and health warnings about the ongoing cost of keeping the measures in place.
Ministers have been playing a game of "Whodunnit?" to try to work out where the anti-lockdown briefings are coming from, with one telling BuzzFeed News they suspected hawks in Downing Street or the cabinet were attempting to pressure Johnson into adopting their position via the media. "Someone high up is playing games and essentially briefing against the prime minister to the press," the minister said.
But others in Downing Street and cabinet believe that the anti-lockdown coverage from some usually Tory-leaning papers can be explained by editors attempting to pressure the government to lift restrictions amid concerns that if people continue to stay at home then newspaper sales will plummet to dire levels.
Those papers are likely to be disappointed by Johnson's announcement on Sunday, which will be more limited than they have been calling for.
The plans are still yet to be finalised, though BuzzFeed News is told any initial changes to the rules will likely involve letting people leave their homes for exercise more than the current once a day, and encouraging people to take advantage of open spaces.
Ministers and officials have discussed allowing different households to form "bubbles" where they can socialise, essentially acting as one household, though these proposals have not yet been signed off as Downing Street awaits more data from SAGE.
Earlier this week, BuzzFeed News revealed the government's plans for the workplace, with only a light easing of the current restrictions drawn up.
If the data on daily new cases and the R0 do improve over the next three weeks, Johnson then hopes to make a series of positive announcements on starting to reopen schools, nonessential businesses, and more sections of the economy, towards the end of May and beginning of June.
This timetable is slower than hoped for by the hawks, several of whom occupy senior roles in Number 10, as well as including the chancellor Rishi Sunak and other members of the cabinet.
Sunak, while stressing the importance of protecting lives, has argued for the economic and health benefits of lifting lockdown measures sooner rather than later. Government insiders noted with interest that his position as a hawk put him in a different camp to Cummings, one of his main allies.
Cabinet ministers who support Sunak's position hope they have at least convinced the prime minister to outline in his Sunday address how he intends to further reduce restrictions over the coming weeks.
The chancellor's position had significant backing in other sections of Number 10 and, more unexpectedly, among some senior civil servants who have raised concerns about both the prospect of a devastating economic depression causing worse health outcomes in the long term, and also a rise in mental health issues, domestic violence, and child abuse during lockdown. These concerns are also shared by many doves.

A "clear majority" of backbench Tory MPs agree with Sunak's position, one MP said.
Another hawk told BuzzFeed News they feared a change in strategy at the beginning of March had left the country facing a "worst of all worlds scenario".
"We ditched herd immunity when we got spooked by the Imperial report, by which point the virus had already spread and it was probably too late to get the benefits of lockdown. Now we want to leave lockdown but we have no herd immunity. So we have a vast death toll as well as the perfect storm for an awful second wave," the MP argued.
Others in Downing Street and on the Conservative backbenches have taken a more hardline approach, arguing that Johnson should never have ordered a lockdown in the first place.
Some libertarians in Number 10 and the wider Tory party, such as Steve Baker and David Davis, believed the draconian measures were the wrong strategy from the outset and have questioned the veracity of the Imperial College modelling that led to the restrictions being put in place.
They have been urging the prime minister to follow Sweden's approach to the pandemic, which had no strict lockdown and where social distancing was recommended but not dictated.
These lockdown hawks have been supported by a number of prominent journalists and publications on the right, many of which have close links to senior Tory politicians and advisers in Number 10. The Telegraph and the Spectator magazine have run a series of articles promoting the perceived benefits of the Swedish model. Data analysed by BuzzFeed News showed that many more people were dying in Sweden than in neighbouring Denmark.
Among the hawks on the Tory backbenches, there is another major point of contention: Some MPs are strongly opposed to any ongoing measures that "discriminate" against people based on their age, such requiring people over 70 to follow stricter social distancing rules than the rest of the population.
While some think such proposals are morally objectionable and simply won't be followed, several of these MPs are themselves older and have large numbers of constituents who are older than 70. They would rather measures were eased for everyone regardless of age group, and then brought back in depending on any outbreaks in particular locations.
One self-professed Tory dove told BuzzFeed News that the split had become the next front of a culture war in the UK. The hawks often included more right-wing libertarians who ideologically cannot bear the unprecedented expansion of the state and restrictions on day-to-day life, while the doves tended to be made up of those more on the centre politically.