Boris Johnson Has Said People In England Can Take "Unlimited" Exercise And Sit In Parks From Wednesday
The prime minister unveiled a three stage plan for how he hopes to ease restrictions, with primary schools and some shops possibly reopening in June, and some of the hospitality industry returning in July.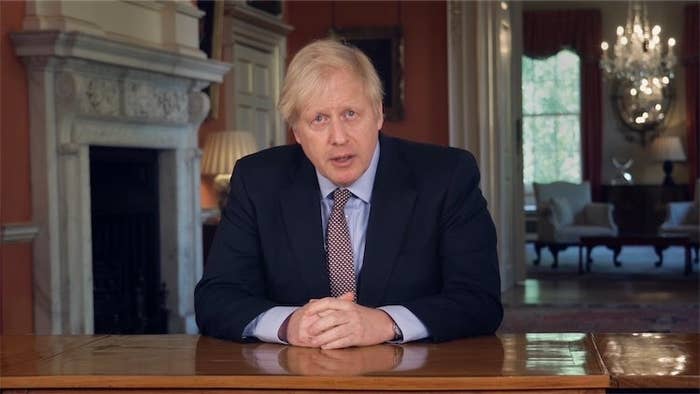 The UK will remain in lockdown this week with only a limited number of changes allowing people to spend more time outdoors, as the prime minister unveiled a three stage exit plan to reopen schools, some shops and the hospitality industry in June and July.

In an address to the nation on Sunday night, Boris Johnson said that from Wednesday people in England will be allowed to leave their homes to take "unlimited" amounts of exercise, to sit in their local park, to drive to other destinations for leisure purposes, and to play sports — but only with members of their own household.
Those in England who cannot work from home, such as people in construction and manufacturing, should return to work from Monday, so long as they maintain social distancing in the workplace, Johnson said.
Quarantine measures will be imposed on people travelling to the UK by air, but travellers from France will be exempt, Downing Street said.
The other lockdown rules which Britons have been living under since March 23 will remain in place in phase one of the UK's exit plan. Fines for those who break the rules will be increased.
Johnson announced a "conditional" three stage plan for how he hopes to lift further measures in England over the coming weeks, if key data allows.

"In step two — at the earliest by June 1 — after half term — we believe we may be in a position to begin the phased reopening of shops and to get primary pupils back into schools, in stages, beginning with reception, Year 1 and Year 6," he said.
"Our ambition is that secondary pupils facing exams next year will get at least some time with their teachers before the holidays."
Step three, the prime minister said, would mean "re-opening at least some of the hospitality industry and other public places, provided they are safe and enforce social distancing". This would take place at the earliest in July, depending on the data.
The changes due on Wednesday represent the most limited easing of restrictions available to the prime minister, after he sided with so-called "doves" in his cabinet over "hawks" who wanted to lift more measures.
Newspaper front pages last week had suggested Johnson was set to announce a much more dramatic lifting of lockdown measures, based on interviews with government sources.
Johnson signalled that he was willing to take a region-by-region approach to lifting other measures in the next few weeks, confirming that data would be monitored at a local, regional and national level.
"If there are outbreaks, if there are problems, we will not hesitate to put on the brakes," he said.
"This is not the time simply to end the lockdown this week. Instead we are taking the first careful steps to modify our measures," the prime minister said in his Sunday evening broadcast.
"From this Wednesday, we want to encourage people to take more and even unlimited amounts of outdoor exercise.
"You can sit in the sun in your local park, you can drive to other destinations, you can even play sports, but only with members of your own household.
But he warned: "You must obey the rules on social distancing and to enforce those rules we will increase the fines for the small minority who break them.
"Anyone who can't work from home, for instance those in construction and manufacturing, should be actively encouraged to go to work.
"We want it to be safe for you to get to work. So you should avoid public transport if at all possible, because we must and will maintain social distancing, and capacity will therefore be limited.
"It depends on all of us — the entire country — to follow the advice, to observe the social distancing and to keep that R [transmission rate] down," he said.
The prime minister said he would use a Covid Alert System run by a new Joint Biosecurity Centre to chart the country's progress.
"Level One means the disease is no longer present in the UK and Level Five is the most critical — the kind of situation we could have had if the NHS had been overwhelmed," he said.
"Over the period of the lockdown we have been in Level Four, and it is thanks to your sacrifice we are now in a position to begin to move in steps to Level Three."
But Downing Street's new messaging — urging the public to "Stay Alert to Control the Virus and Save Lives" — descended into chaos after it was rejected by the Scottish, Welsh and Northern Irish devolved administrations.
In a briefing to the Sunday newspapers, Number 10 said it was dropping its previous "Stay at Home, Protect the NHS, Save Lives" message and replacing it with the new "Stay Alert" slogan.
After intense criticism of the unclear messaging on Sunday, it was forced to clarify that it still wanted people to "stay at home as much as possible".
Scottish first minister Nicola Sturgeon said she had asked the UK government "not to deploy" its new "Stay Alert" message in Scotland because "I don't know what Stay Alert means".
Mark Drakeford, the first minister of Wales, also rejected the "Stay Alert" slogan, tweeting: "My message to the people of Wales hasn't changed. Staying at home is the best way you can protect yourself and others."
Labour leader Keir Starmer criticised the prime minister's statement, saying it "raises more questions than it answers".
"The Prime Minister appears to be effectively telling millions of people to go back to work without a clear plan for safety or clear guidance as to how to get there without using public transport," he said.
"What the country wanted tonight was clarity and consensus, but we haven't got either of those."