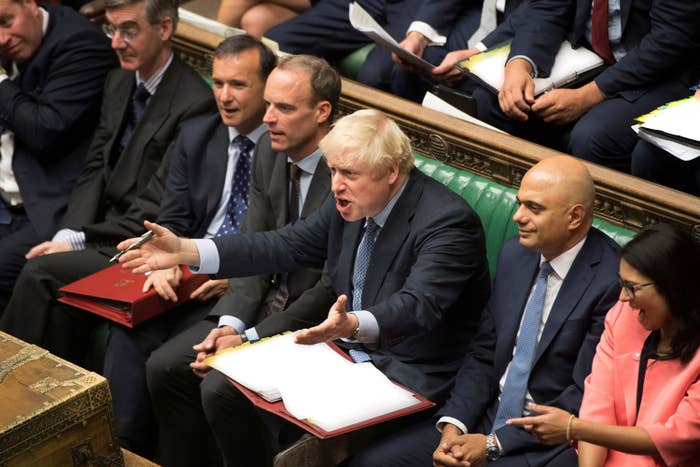 Boris Johnson's attempt to call a general election was denied on Wednesday night as he lost his third major Commons vote in two days — in a further damaging blow to his already ailing authority.

Johnson needed two-thirds of MPs to back his election plea but fell well short after Labour and the opposition parties insisted they would not allow a public vote until legislation preventing a no-deal Brexit is passed. Two hundred ninety-eight voted for the motion and 56 voted against, leaving Johnson 136 votes off the number required.
Britain could still be on course for a snap election if Hilary Benn's anti–no-deal bill gains royal assent before Parliament is prorogued on Monday.
Shortly after 1am on Thursday, Conservative Brexiteer Lords dropped their attempt to block the bill's passage. They had previously threatened to disrupt it from passing through the upper chamber.
Labour leader Jeremy Corbyn said he would back an election as soon as the Benn bill seeking a Brexit delay becomes law. "Let this bill pass and gain royal assent, then we will back an election," he told Johnson at the despatch box.
But Corbyn did not commit to Johnson's preferred Oct. 15 election date and left open the possibility of Labour insisting on an election after Oct. 19, when the Benn legislation states the prime minister must secure a Brexit extension.
In internal party discussions throughout the day, shadow Brexit secretary Keir Starmer and backbench Labour MPs told Corbyn not to accept an election before a Brexit extension. Corbyn's spokesperson insisted the Labour leader would be happy to have an election on Oct. 15, but the party's position remains unsettled.
Johnson's unprecedented streak of parliamentary defeats continued on Wednesday afternoon as Benn's bill passed through the Commons.

The prime minister's chief aide told advisers at a meeting in Number 10 on Wednesday evening that he was confident the government would be able to hold an election on Oct. 15. But the options for Downing Street to secure an election are running out.
CORRECTION
Hilary Benn's name was misspelled in an earlier version of this post.