Boris Johnson Will Seek An Election After Losing Control Of Parliament To MPs Trying To Stop A No-Deal Brexit
But Labour leader Jeremy Corbyn told the prime minister that he would back an election only after legislation had been passed to block no-deal.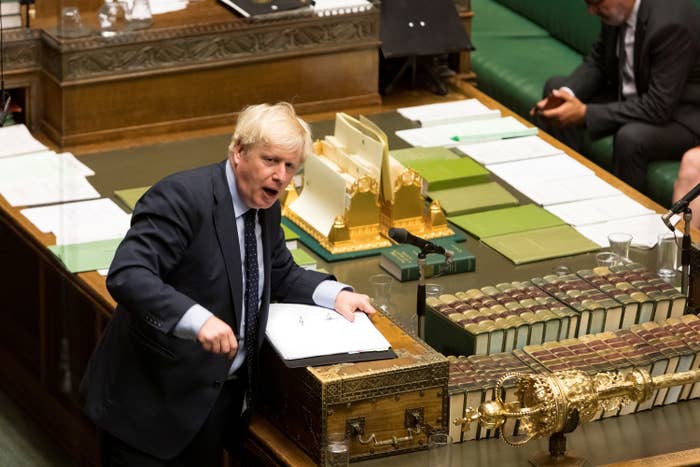 Boris Johnson said he would seek a general election after he lost control of Parliament in a crushing defeat in his first Commons vote as prime minister — that saw him immediately purge 21 rebel MPs from the Conservative party.

Former Cabinet ministers Philip Hammond, Greg Clark, and Ken Clarke — who has sat as a Conservative since 1970 — as well as Winston Churchill's grandson, Sir Nicholas Soames, were among those to have the Tory whip withdrawn as punishment for backing a crunch vote handing control of the House of Commons to MPs trying to block a no-deal Brexit on Oct. 31.
Johnson's government lost the vote 328 to 301, meaning the so-called rebel alliance can table legislation on Wednesday attempting to force the PM to seek another Brexit delay if he cannot secure a new deal with the EU.
Following the vote, Johnson tabled a motion under the Fixed-term Parliament Act seeking an election. The government signalled that if it loses Wednesday's Commons vote on the rebel legislation, it would aim to call a general election for Oct. 15.
But that would require the backing of two-thirds of MPs, and Labour indicated that it would try to block an election at a time of Johnson's choosing because it couldn't trust him not to use a public vote to force through a no-deal Brexit. "Get the bill through first," Labour leader Jeremy Corbyn told Johnson across the despatch box.
Speaking ahead of a vote on Wednesday lunchtime on whether to call an election, shadow foreign secretary Emily Thornberry said "we might vote against".
The proposed election day had previously been slated for Oct. 14, but government sources said it would be pushed back a day to avoid the Jewish festival of Sukkoth following complaints from the Board of Deputies of British Jews. Observant Jews would not have been able to vote on Oct. 14, but can vote after 6:55pm on Oct. 15.
A government source said Johnson would challenge Corbyn to reject an election: "Labour would look like fucking clowns if they vote against so bring it on."
A second government source said they hoped Labour MPs would change their minds at Wednesday's vote on the no-deal legislation. "Tomorrow will focus minds and expect Labour leavers to be considering carefully the choice they have ahead of them — Corbyn or Brexit for their constituents," they said.
In a sign that Tory Brexiteers would seek to filibuster any rebel legislation in the House of Lords, Conservative peers said they would table up to 90 amendments to Wednesday's opposition motion, which would provide time to debate the rebel anti–no-deal law. Tory peers said they were willing to sit through the night to block the legislation.
A Conservative party briefing note leaked to BuzzFeed News revealed that Tory MPs have been ordered to use inflammatory language in their attempts to defeat the rebels in the Commons on Wednesday.
Downing Street is instructing Tory MPs to say the rebel bill is a "shameful document" that could lead to the "permanent cancellation of Brexit". The note also accuses Corbyn and rebels of acting "in Brussels' interest, not the British interest".
Corbyn said he condemned the language being used by Johnson and the government.
The 21 Conservative rebel MPs to have the whip withdrawn are: Guto Bebb, Richard Benyon, Steve Brine, Alistair Burt, Greg Clark, Ken Clarke, David Gauke, Justine Greening, Dominic Grieve, Sam Gyimah, Philip Hammond, Stephen Hammond, Richard Harrington, Margot James, Oliver Letwin, Anne Milton, Caroline Nokes, Antoinette Sandbach, Nicholas Soames, Rory Stewart, Ed Vaizey. Phillip Lee defected to the Liberal Democrats on Tuesday afternoon.
CORRECTION
Anne Milton's name was misspelled in an earlier version of this post.