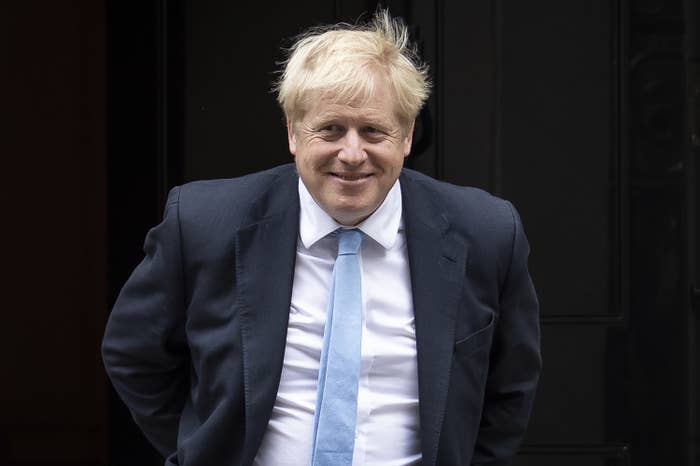 BRUSSELS — Boris Johnson has struck an 11th-hour Brexit agreement with the European Union ahead of today's crunch summit in Brussels — but the prime minister faces an almighty battle to win a House of Commons majority for his deal back at Westminster.

Following days of intense negotiations in the run-up to this week's European Council summit of EU leaders, the UK and the EU announced that they had reached an agreement over the key Irish border issue that would create a customs and regulatory border in the Irish Sea but keep Northern Ireland legally in the UK's customs territory.
Under the terms of the agreement, Northern Ireland would be part of the UK's customs territory; however, it would follow EU customs rules and law, avoiding a customs border on the island of Ireland.
Goods that carry no risks — for example, the personal goods of someone moving house — would be exempt from the dual system. The mechanism also includes a rebate, which allows companies to claim any differences in tariffs on goods imported from Britain to Northern Ireland.

On the matter of VAT, which was was the final part of the deal to be agreed, relevant EU law would continue to apply in Northern Ireland. But the UK would be responsible for collecting VAT and excise duties and may apply in Northern Ireland exemptions and reduced rates applicable in Ireland.

The other key elements of the withdrawal agreement negotiated by Theresa May — citizens' rights, financial commitments, and transition period — remain unchanged.
Meanwhile, on the political declaration outlining the future relationship the UK has requested an explicit reference to its aim of negotiating a free trade agreement with zero quotas and tariffs. However, level playing field (LPF) provisions — the EU's norms and standards on environment and social and workers' rights Johnson was demanding be removed from the agreement — will require a framework for fair future competition after Brussels made clear that LPF guarantees have to be stronger in a trade agreement with the UK because of geographical proximity.
But Johnson's chances of passing the deal in Parliament at a special sitting on Saturday hang in the balance after the Democratic Unionist Party said it would vote against the prime minister's proposals.
In a lengthy statement, the party said: "These proposals are not, in our view, beneficial to the economic well-being of Northern Ireland and they undermine the integrity of the Union."
A DUP source told BuzzFeed News that, after three meetings in three days between the party's leader Arlene Foster, her deputy Nigel Dodds, and Johnson in Downing Street, they were not yet at a point where they could back the deal.

The party's 10 MPs were split on Wednesday over whether they should vote for the deal. Sources familiar with the party's internal discussions told BuzzFeed News that while its MPs will vote as a bloc, privately seven were in favour of a deal and three were opposed. Dodds and Brexit spokesperson Sammy Wilson have been leading internal opposition.
The UK government has prepared a significant financial package for Northern Ireland as an incentive, but the source insisted the DUP's opposition was not about money.
The chief concern raised by Dodds at Tuesday night's meeting in Number 10 was of Northern Irish consent, the source said, with Dodds essentially demanding a veto on Northern Ireland's customs arrangements with the EU.
The issue of consent was of chief importance for the DUP in terms of domestic politics ahead of the next election, they added.
Under the agreement, Stormont would have the opportunity to decide by a simple majority whether to maintain the Northern Ireland arrangements four years after they kick in. Further votes could be held in future if there is cross-community support for these.
If Stormont were to vote against the arrangements, there would be a two-year cooling-off period. And if Stormont were not in a position to hold a vote, the arrangements would stay in place.
The DUP's 10 MPs are seen as fundamental to any hopes the deal has of securing a majority. If they vote for the deal they would be expected to "unlock" the votes of Conservative Brexiteer rebels, but if they oppose it then it is difficult to see how the agreement can pass the Commons.
At a separate meeting in Downing Street on Tuesday, the Eurosceptic European Research Group was given a broad outline of Johnson's plans, but not the full details, Tory MP Iain Duncan Smith told BuzzFeed News.
Most of the MPs present came away from the meeting hoping to endorse the agreement, an ERG source said, in part because they feared that voting down a deal again would lead to a second Brexit referendum, and also because they trusted Johnson, a Brexiteer prime minister, to ensure the UK can diverge from the EU in future.
ERG ringleader Steve Baker said: "I will vote for a tolerable deal. And I'm as ready as ever to vote against an intolerable deal. It all hinges on analysis of the legal text of a proposed deal and its effect. Eurosceptics tend to be tediously meticulous on this point."
But other Tory Eurosceptics including Owen Paterson signalled their scepticism of Johnson's proposals.
A Brexit delay beyond Oct. 31 is still likely whatever the outcome of this week's talks, EU sources said. It is likely that a short extension to Article 50 would have to be granted in order to make time for any deal to be ratified.
Brexit secretary Steve Barclay confirmed on Wednesday morning that the PM would abide by the Benn Act and send a letter to the EU requesting an extension if the deal is not passed in the Commons by Saturday.
He was pressed by Labour's Hilary Benn, who steered the anti-no-deal legislation and chairs the Brexit committee of MPs, on how Johnson could send the letter, accept an extension, and also leave the EU on Oct. 31 as promised.
"We'll cross that bridge in due course," Barclay replied. "There are a number of variables to what is a complex piece of legislation."
Asked what made Johnson's deal different to that of his predecessor Theresa May, Barclay said: "The deal will be deliverable."
The EU's 27 leaders are expected to endorse the agreement and call for its ratification at this week's European Council summit.