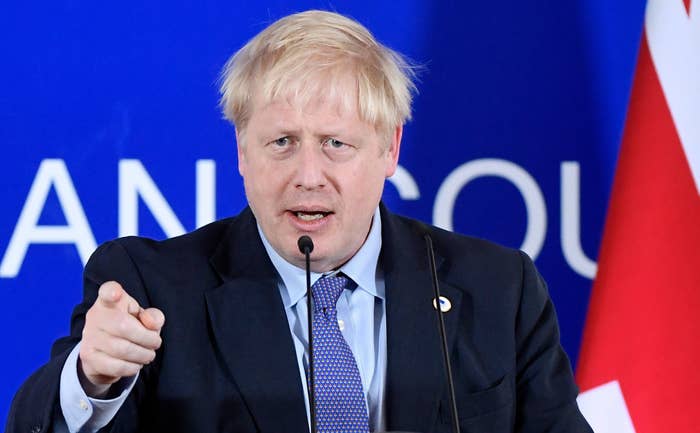 Boris Johnson and his top team are battling to win over opposition MPs on Friday after government whips resolved that the votes of 15 potential Labour rebels would determine if the prime minister's new Brexit deal has a majority in Parliament.

Conservative MPs and advisers have begun a 24-hour make-or-break horse-trading mission with their backbench Labour counterparts as Labour whips piled pressure on wavering MPs to oppose the deal, several former Tory rebels signalled they could vote down the deal, and lines of communication between Downing Street and the Democratic Unionist Party broke down.
The government is preparing new legally binding guarantees on workers' rights and environmental and social protections in order to win over Labour MPs such as Ruth Smeeth, who said yesterday she would vote for the deal so long as workers' rights and environmental rights were not "completely undermined".
BuzzFeed News has obtained an email sent by Labour MP Sarah Champion to a constituent on Friday in which she signalled she will vote for the deal.
"The deal that Boris Johnson has struck is far from perfect. But we are faced with the choice between that deal and a catastrophic no deal Brexit. In these circumstances, and with the views of the majority of my constituents in mind, I can confirm that I will vote for the deal," she said.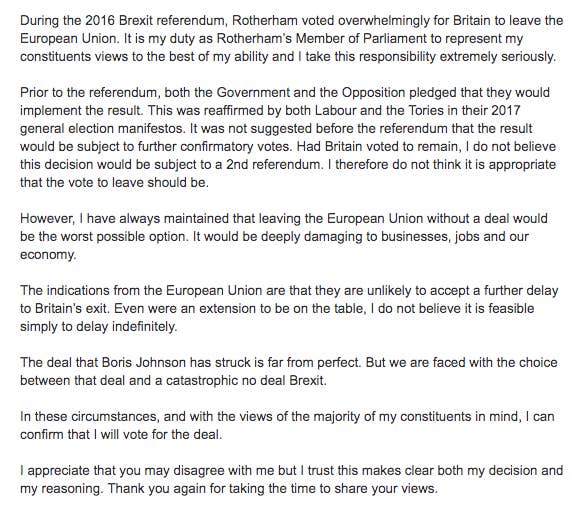 Downing Street is also fighting to nail down the votes of the former Conservative MPs who had the whip withdrawn by Johnson when they voted to block a no-deal Brexit.

It has previously been believed that almost all of the 21 rebels would back the government, but there are now fears that the number of these rebels voting against could remain in the high single figures.
On the other side of the Tory party, the vast majority of the 28 so-called "Spartans" — European Research Group MPs who rejected Theresa May's deal three times — are expected to vote for the deal, although the group's leader Steve Baker is holding back from confirming the group's position.
Though several ERG MPs are still not on board, with Owen Paterson seen as a particular danger.
BuzzFeed News is keeping a rolling list of Tory MPs who rejected Theresa May's deal at the third meaningful vote but who have indicated they will back Johnson.
Tory whips have found themselves in a precarious balancing act. A commitment to leaving the transition period on WTO terms if a free trade agreement cannot be agreed with the EU would guarantee Spartan support. But make that commitment and the former Tory rebels and Labour MPs will fall away.
One Spartan MP said that they and their colleagues were becoming frustrated at a counter-whipping operation led by the DUP's Sammy Wilson, Ian Paisley Jnr and Nigel Dodds, attempting to persuade them to oppose the deal.
The MP said Wilson in particular had been "annoying" the ERG with what they described as overly aggressive efforts to stop the deal from passing. They said he was hell-bent on no-deal.
Relations between Downing Street and the DUP were said to be at an all-time low with contact now cut off.
BuzzFeed News can report details of two arguments Tory MPs have been making to Labour MPs in Leave-voting seats to try to convince them to vote for the deal.
The first is that a general election is around the corner and that if the deal is voted down Johnson will campaign with a "People versus Parliament" message, pitching the Tories as wanting to deliver Brexit and Labour as having blocked it.
Tory MPs have been telling Labour MPs in Leave seats that they would be much more likely to lose their seats in a "People versus Parliament" election about Brexit, than a post-Brexit election next year focussed on other issues.
The second argument being made to Labour MPs in Leave-voting constituencies is that voting the deal through will kill off the threat of Nigel Farage's Brexit Party and the far-right in their areas.
If Brexit is resolved, then the far-right will disappear from their constituencies — if it is not, the threat will grow, Labour MPs are being told.
But potential Labour waverers are coming under significant pressure from the party's leadership and members not to vote for the deal — in a sign that Jeremy Corbyn's team fears more Labour MPs than previously thought are in play.
Labour whips have been applying heavy pressure, with at least one MP seen by friends looking "very upset" following a conversation with their whip.
Momentum's Jon Lansman has warned that any Labour MP who votes for the deal should be deselected ahead of the next election, although Corbyn has told MPs he will not remove the whip from rebels.
With some of the potential rebels still subject to the ongoing trigger ballot process, deselection could be near-imminent, should they defy the whip and be ordered to face a full reselection contest by constituency members loyal to the Labour leadership.
Rather than direct threats of having the whip withdrawn, the Labour leadership is using the friends of possible switchers to try to talk them round with a message that going into election having just helped deliver "Boris Johnson's Tory Brexit" would be fatal for the party and destroy their relationships with colleagues, who are warning them that they will not want to be "the handmaidens to a Tory Brexit".