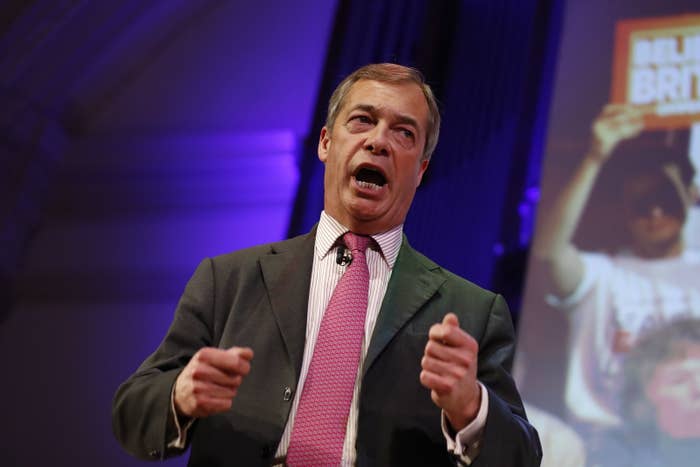 The founder of Nigel Farage's new Brexit party has a long history of making inflammatory comments about Muslims, BuzzFeed News can reveal.

When he resigned from UKIP in December last year, Farage explained his decision by warning that his former party was "turning a blind eye to extremist politics" and had become "obsessed with Islam".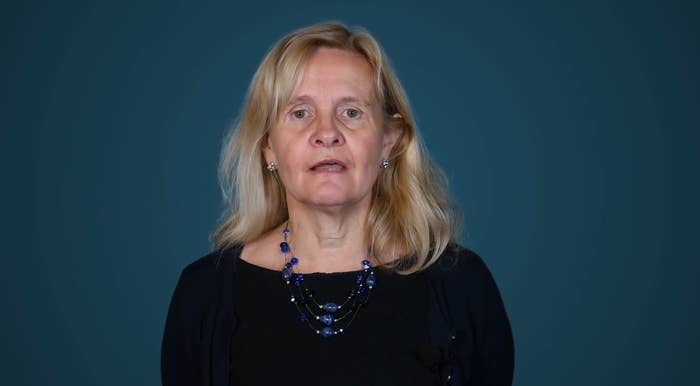 But Farage has now thrown his "full support" behind a new party founded by former UKIP candidate Catherine Blaiklock, who has herself repeatedly made anti-Muslim comments and promoted online material attacking Muslims.
Blaiklock registered the Brexit party with the Electoral Commission on Feb. 5 and is said to be hoping to run candidates in the European elections in May if the UK has not left the EU by then.
The new party has been endorsed by Farage, who said: "This was Catherine's idea entirely — but she has done this with my full knowledge and my full support. If the government goes back on its word and betrays the millions of people who voted for Brexit then we need a party prepared to stand up and fight for it."
Over the last year, Blaiklock has written opinion pieces for a range of right-wing outlets, including the pro-Tommy Robinson news website Politicalite and the conservative quarterly magazine the Salisbury Review. She's also written several pieces for the partisan UKIP website Independence Daily, been interviewed by the Kremlin-backed propaganda site Sputnik News, and in November appeared on Breitbart writer James Delingpole's podcast.
In a blog post titled "Burka's [sic] in Detroit" published on her website in May last year, Blaiklock complained that when she ordered a Thai takeaway meal in the US city it was delivered by a woman in a burka.
"What is happening in a few areas of the United States is truly shocking – and few American's [sic] can even believe it," she wrote. "There are two cities, near Detroit, that have become almost total Muslim enclaves." She was referring to Hamtramck in Michigan, which is said to have been the first Muslim-majority city council in the US, and Dearborn, also in Michigan, where around one-third of the city claims some Arab heritage, according to the Arab American Institute.
Blaiklock then urged her readers to watch a YouTube video titled "Muslim Takeover Of Dearborn Michigan", which she called "fascinating", and another video called "Angry Muslims Taunt To School Board 'We're Going to Be the Majority Soon'".
Blaiklock concluded her article by writing: "There are currently 50 majority Muslim countries in the world. If these people really dislike it so much in the West, why do they chose [sic] to live here? One can only ponder the answer to that question".
In an email to BuzzFeed News, she said: "I was merely stating a personal opinion that is shared quite widely, both at home and abroad, indeed in a series of muslim [sic] majority countries, as the article makes clear."
In an article for the pro-Tommy Robinson website Politicalite in July, Blaiklock backed a Conservative party activist who was suspended for claiming that "radical so-called Islamists" are "raping and impregnating British girls and young women, 'creating' Muslim babies".
In her defence of Carola Godman Irvine, Blaiklock wrote: "If 23% of ordinary British Muslim think Sharia law should be implemented, just think what the really radical think. There is also some truth in the statement that Muslim men were impregnating white British girls to create Muslim babies".
Blaiklock went on: "The real issue, of course, is not what Muslims think, that seems pretty well known. Muslims, particularly in France, have been saying for a while that 'Someday this will all be ours.' The real issue is what do the Conservative Party think they are doing."
Blaiklock told BuzzFeed News that she was merely highlighting "the point about radical Islam not liking our way of life. Is that not entirely uncontroversial?"
In September, Blaiklock wrote an opinion piece titled "Prayer mats or beer mats?" for the Salisbury Review, which lamented the closure of pubs across Britain, while also questioning where money for mosques was coming from.
"According to The British Beer and Pub Association, 10,500 pubs have closed since 2000," Blaiklock wrote. "Just imagine if even a small proportion of these pubs get turned into Mosques. That is what seems to be happening in East Anglia."
Turning attention to the situation in Norwich, Blaiklock wrote, "I doubt that you would ever see a Burka and rarely a Hijab, but it seems that there are enough Muslims to built [sic] a large Mosque."
"You have to question where such a small community gets £1.5m of donations from. It takes a lot of Bangladeshi takeaways dishes at £1 profit a time to raise and save these sort of amounts."
Asked about the article, she said it was simply raising "some questions" about "strange" and "un-investigated" coincidences in East Anglia.
Blaiklock's Twitter account @cablaiklock is also no longer active on the platform. But in a cached version of a tweet sent on Christmas Day found by BuzzFeed News, she commented on a news story about 40 migrants being rescued from boats in the English Channel. Noting the migrants were "all from Islamic countries", Blaiklock wrote: "When will 40 become 400, become 4000, become 40,000, become 4m, become 40m?"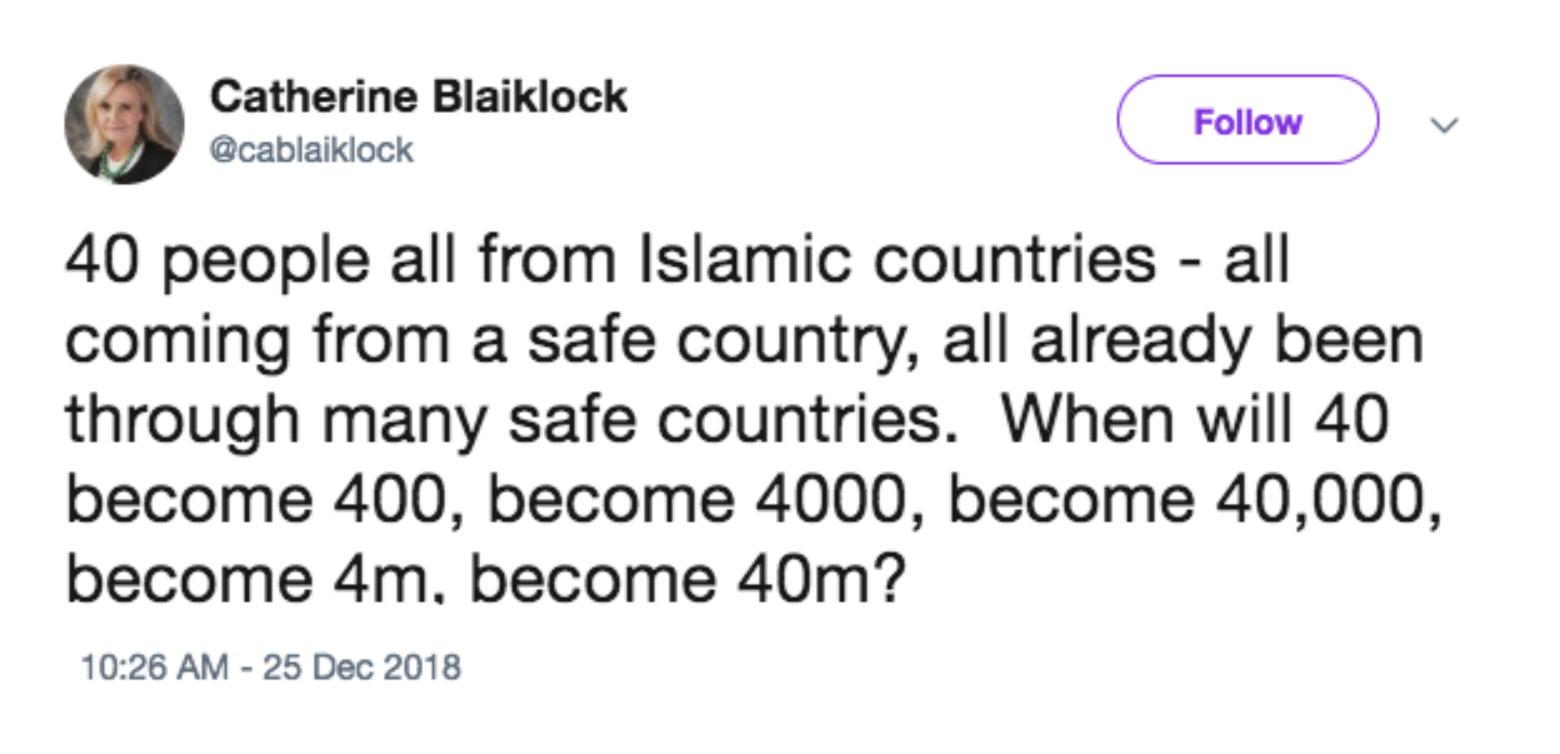 When asked about the tweet, Blaiklock told BuzzFeed News: "The question stands. The answer of course could be never."

Blaiklock's history of inflammatory comment does not just extend to Muslims. In August, she wrote an article titled "Apartheid USA" for the Salisbury Review, in which she gave her account of what she perceived as the inequalities in Boston, Massachusetts.
Recounting a visit to a café called Sweetgreen full of "professional, educated, intelligent and probably Democrat" customers, Blaiklock wrote: "Outside, on the streets, in front of [Sweetgreen] were 5 star hotels, charging £600 per night, (without breakfast), lived an even lower community than the one in Wendy's: The homeless underclass. Pregnant, scared and scarred, drugged white girls mixed with demented older black men. Weird and lost people of all descriptions wandered about".
She told BuzzFeed News the piece was "a criticism of a state of reality in inner city Boston".
In April last year, Blaiklock wrote an open letter to the English Heritage charity about a training programme aimed at BAME candidates. Describing her daughters as "half-Nepalese", Blaiklock asked: "Does that fit your 'Minority Ethnic Heritage' definition? They have both English and Nepalese names: so, if one applied as Zangmu Llama, I presume her application would be accepted? Whereas if she applied as Jane Hawes, may I presume it would be rejected?"
Blaiklock then described one of her daughters as having "Mongoloid" eyes. She wrote: "To complicate things further, one of my daughters looks Asian. She has 'Mongoloid' eyes and an epicanthic fold. My other daughter doesn't — she has white skin and dark hair and eyes. She is often told she looks Spanish or Brazilian. If she were to apply, would she need to prove her ethnic mix?"
She concluded: "Does a Jewish man or woman count as an ethnic minority? You see many Jewish people look exactly like my daughter. Does Spanish count as 'ethnic'? What about my previous husband who was half Singaporean and half British? He and his brother looked completely different: one looked Chinese and the other looked Caucasian. Does 25 per cent 'ethnic' count? Does 12.5 per cent count? Where does 'ethnic' end?"
When asked about the article, she said: "The Brexit party, is not about anything like this, though again I stand by my points in this article. English heritage responded that BAME is defined only by self-identification.
"It is about letting the legacy parties know that if they renege on their promises to the people of this country then they will live to regret it electorally."
Approached by BuzzFeed News, Farage declined to comment on whether he will continue to support the Brexit party in light of its founder's views.

Responding to this story, a spokesperson for the Muslim Council of Britain said:

"Nigel Farage's claim that he left UKIP due to its descent into Islamophobia and its alignment with elements of the far-right, appears untenable given the new revelations.
"Without any immediate action by Mr Farage, many will understandably conclude that given his own personal history, Islamophobia was being used as a convenient political football in his fight against Mr Batten rather than a matter of principle against racism.
Mr Farage must act immediately to disassociate from Ms Blaiklock and The Brexit Party under her leadership."
Iman Atta, director of Tell MAMA, which records anti-Muslim incidents, said: "Blaiklock's comments are jaw dropping and show a penchant for polarised views on Muslims. When Farage resigned from UKIP in December he said that UKIP was "turning a blind eye to extremist politics" and had become "obsessed with Islam". It seems he has backed another organisation whose head is obsessed with Islam and who has a very skewed view of Muslims."
UPDATE
This story was updated to include comments from the Muslim Council of Britain and Tell MAMA.