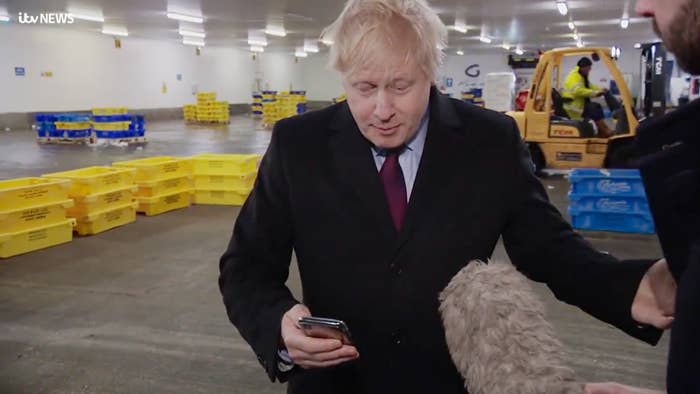 It was billed as the Brexit election, but public anxiety about the future of the NHS under a Conservative government dominated the political conversation online in the run-up to Thursday's pivotal vote, according to an analysis of sharing data.

BuzzFeed News has been closely tracking political content that has been going viral on Facebook and other platforms since the election was called at the end of October. Although this was generally perceived to be a flat, sour campaign, there were plenty of moments that broke through as the major parties and their armies of digital allies poured more resources than ever before into winning hearts and minds online.
The Tories massively improved their social media operation, with Boris Johnson getting vastly more engagement than Theresa May ever did, but it was Labour that framed the online argument, the data shows. We've listed the 10 most-viewed videos across Facebook and Twitter as an illustration of the themes and moments that were most prominent this time in the social media war. The analysis is based on figures from CrowdTangle, an analytics platform owned by Facebook, and on sharing data provided directly by the platforms, as of Dec. 11.
10. Victoria Derbyshire: Stanley Johnson says Britons can't spell "Pinocchio" — 5.8 million views
Appearing on the BBC daytime show Victoria Derbyshire, Boris Johnson's father Stanley tried to defend his son against allegations of lying but ended up insulting the British public, saying, "They couldn't spell Pinocchio if they tried". This clip went viral on Twitter, getting so many views that it just edged his son's most viral campaign video (the one where he wanders around Conservative headquarters answering questions on his tea break) off this list.
9. Jeremy Corbyn: Blame the immigrant — 6.5 million views
This comedy sketch satirising the Tories' arguments on immigration was seen 1.9 million times on Facebook and 4.6 million times on Twitter.
The Labour leader marked the launch of Labour's campaign manifesto with this rapid-fire summary of his policy promises, a format borrowed from the New Zealand prime minister Jacinda Ardern. It received 4.1 million views on Facebook and 2.8 million on Twitter.
The Tories' manifesto promise to have 50,000 more nurses in the NHS in a decade was unravelling, so the culture secretary, Nicky Morgan, was sent on ITV's Good Morning Britain to do damage control. The interview was a mess. Momentum, the left-wing activist group, quickly packaged it into this anti-Tory video which became one of the most-watched on Facebook in the campaign.
Part of a Channel 4 Dispatches series about child poverty, this video was seen 4.8 million times on Facebook and 4.8 million times on Twitter.

Staring directly into the camera, the BBC's feared interviewer Andrew Neil urged the prime minister to stop avoiding a live TV grilling. "It's not too late," he said. Johnson never did it, but this clip of Neil laying down the gauntlet was probably seen as many times on Facebook (2.5 million) and Twitter (7.5 million) as the interview itself would have, had it gone ahead.
Another Dispatches documentary provided an incredibly moving account of how several children are being affected by living in poverty. The programme wasn't explicitly political, but it played to anti-Tory themes about public services and left-wing campaigners shared it widely. It got 6.9 million views on Facebook and 3.9 million on Twitter.
3. Joe Pike, ITV News: "You've taken my phone and put it in your pocket, prime minister" — 11.6 million views
ITV News reporter Joe Pike confronted Boris Johnson with a picture on his phone of a 4-year-old boy lying on the floor of a busy hospital ward, but the Tory leader refused to look at it and instead, weirdly, put the phone in his pocket. The clip became a sensation on Twitter.
Another blockbuster video pushing Labour's claim that the NHS will be privatised under a Tory government, this time featuring the American actor Rob Delaney warning British voters not to take the same approach as the US system. It got 7 million views on Facebook and 6.5 million on Twitter.
In this vox pop, the viral website joe.co.uk surprised British voters by telling them the costs of healthcare under the US system, playing to Labour's key message about the risk of privatisation under the Tories. It was a runaway success, getting 19.7 million views on Facebook and 20.5 million on Twitter.