These Leaked WhatsApp Chats Show Iain Duncan Smith's Pleas For Help After His Seat Was Targeted By Momentum
"We are under attack now from Labour all around us," the former Tory leader told fellow MPs as left-wing columnist Owen Jones plotted to defeat him.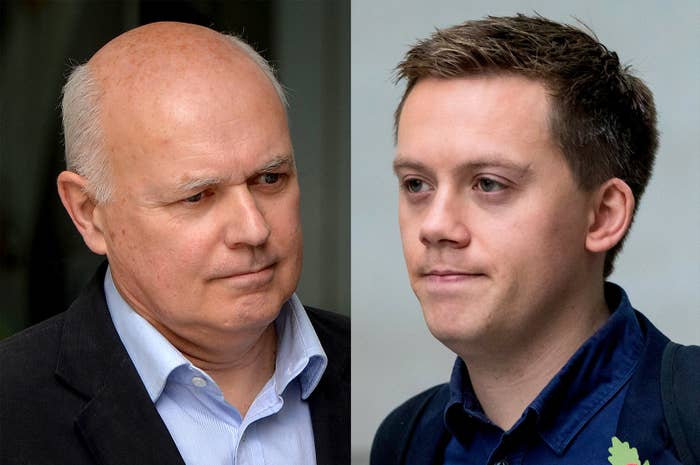 The former Conservative leader Iain Duncan Smith has repeatedly called for help from fellow Eurosceptic MPs to fend off a campaign by the Guardian columnist Owen Jones to unseat him.

Weeks after last year's general election – when Duncan Smith's majority in Chingford and Woodford Green was slashed to 2,438 – Jones announced he would sweep into Duncan Smith's Greater London constituency with a horde of Momentum activists to start building opposition against the Tory heavyweight for the next election.
In response, Duncan Smith made several pleas for backup to members of the European Research Group, an alliance of hardline Tory Brexiteers, according to messages leaked to BuzzFeed News.
The ERG's WhatsApp group was set up to help Eurosceptic Tory MPs support the government's main Brexit departments, but Duncan Smith used it to appeal for help to campaign in his constituency on at least three occasions.
Days before Jones staged a rally in Chingford in July, Duncan Smith told colleagues: "I am giving you all a shout out for help... We are expecting a large number of Momentum supporters to try and get publicity by turning up to show they will get rid of me.
"We are trying to organize an alternative group of conservatives to show we are ready for the fight. We are hoping to get 150 Conservatives together to do a couple of hours of delivery in the areas they are likely to go. These leaflets will focus on the failures of the Labour council and the threat of Corbyn. We will provide lunch. If we get the numbers it will challenge Owen Jones's narrative with a great photo from the start.

"We are under attack now from Labour all around us and help would be gratefully received," Duncan Smith added.
In mid-November, Duncan Smith issued another call for reinforcements, telling the ERG group: "The Labour Party supported by Momentum are continuing to target my Constituency and in response my team has been campaigning nonstop in the constituency."

Duncan Smith wanted to "send a strong message to Labour" ahead of the local elections in May, he told the Brexiteers. "We want to show them that Chingford and Woodford Green is 'not for turning'."

In January, Duncan Smith again asked the other members of the Eurosceptic bloc to join him in his constituency to hand out leaflets and knock on doors.

"This is to get a jump on Momentum," Duncan Smith said. "We will give everyone lunch etc. I hope as many of you as possible bring any activist help. You will be welcome even if some can only come for the photograph at the start."
The WhatsApp messages did not prompt an outpouring of sympathy for Duncan Smith, but several of the MPs turned up to support him. Theresa Villiers, James Cleverly, and Paul Scully were among those who appeared in Chingford in July. In January, he was joined by the Brexiteers Bernard Jenkin, Maria Caulfield, Mims Davies, and Julia Lopez.

Duncan Smith's impromptu calls for help to fellow MPs reflects both the Conservatives' wider anxiety about their support in London and the South East and the weakness of their central campaign machine.
The party performed poorly in the capital in last year's general election and Tory strategists believe several of its biggest names could lose their seats if the trends hold up — including Duncan Smith.

Jones says he targeted Duncan Smith's seat because the reforms Duncan Smith introduced when he was work and pensions secretary remain deeply unpopular on the left. After the first rally in Chingford in July, Jones and Momentum took the campaign to other marginal Tory-held constituencies, including those of Amber Rudd, Boris Johnson, and, most recently, Ben Bradley.
Now Jones is preparing to return for a fresh assault on Duncan Smith's seat, BuzzFeed News can reveal.
Jones is planning a two-day festival in the constituency in the last weekend of June, where "hundreds" of young activists will be entertained by music and comedy in between bursts of campaigning against Duncan Smith. The plans were decided in the last few days and will be announced this week, Jones said.
"The Tories are rattled, they're on the run," Jones told BuzzFeed News. "These Tory MPs are absolutely terrified of our campaign because they know we are going to unseat them if we keep campaigning."
Asked to comment on Jones' latest plans, Duncan Smith insisted there was nothing to discuss. "You are out of date," he said. "He announced those plans last year. Nothing new. A damp squib. Is BuzzFeed now a mouthpiece for Owen Jones and Momentum?"