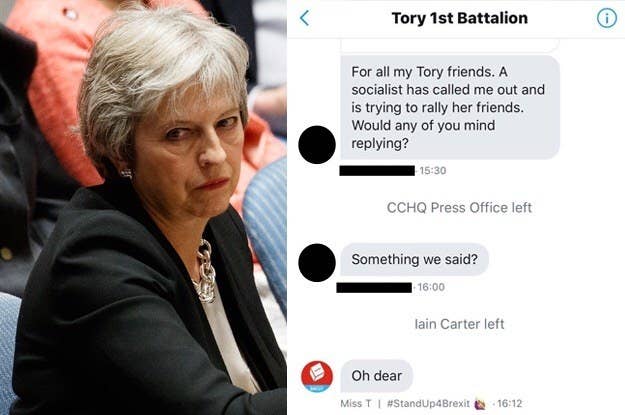 As Labour was thrown into crisis over allegations of anti-Semitism this summer, the Conservatives saw an opportunity to score some rare hits against their political rivals on social media.

Tory headquarters used a private Twitter group called "Tory 1st Battalion" to circulate articles attacking Jeremy Corbyn to dozens of their most active online supporters, in an attempt to replicate the network of "outriders" that have been central to the Labour leader's popularity on social media, according to messages shared with BuzzFeed News and several people with access to the group.
The 1st Battalion, which has about 40 members including Tory councillors, campaigners and former parliamentary candidates, was set up by Tory activists to "amplify" pro-Conservative and anti-Labour messages, to use their terminology.
It became an unofficial extension of the Conservatives' central campaigning operation as staff there sought to improve the party's image on social media, the sources said. The Conservatives' official press office Twitter account was among the members of the private group, and so were several members of the Conservative Campaign Headquarters (CCHQ) staff, including the party's political director Iain Carter.
In the eyes of some in CCHQ, using the 1st Battalion would cheaply boost the party's Twitter presence by giving it a network of active and loyal volunteers who would spread the party's attack lines and campaign messages and alert it to political developments in the grassroots that headquarters would otherwise be slow to spot.
Then came Chequers.
In early July, Theresa May unveiled her new Brexit policy at her country residence. Days later, the 1st Battalion went rogue.
Messages from the private group shared with BuzzFeed News reveal that many of the same activists Tory HQ had relied on to attack Labour set up a breakaway group, where they began coordinating attacks on the government's plans and the prime minister herself.
Those activists strongly support a hard Brexit and regard May's new approach as a betrayal not just of the vote to Leave the European Union, but of their efforts to promote the party under her leadership. "We've all put many hours of our time into our party only to be treated like slime," one of the activists said.
At a time when May most needed the support of her party, more than 30 of the Tories' most active social media supporters were now plotting to undermine her leadership.
They spent the summer openly lobbying Tory MPs to replace her with a Eurosceptic like Boris Johnson who, the activists hope, would abandon Chequers and push for a harder break from the European Union. Some said they would stop circulating the party's campaign messages until May abandoned the Chequers policy.
"If we don't reject this our party will be buried for a generation," wrote one activist.
"The woman needs replacing NOW!!!" said another.
"Everything I've believed in all my life has been destroyed by this incompetent woman," said another.
"We need to create noise," said another activist. "MPs etc need to feel how bad the feeling is."
"It's hard but we really do need to die on the hill for this," that activist added.
"We have to pin the blame for this on the party," said another. "The silent, careerist MPs have to be made to feel that their jobs are at risk if they don't apply pressure."
In August, these discussions led to the widely-publicised StandUp4Brexit Twitter campaign, which became the public face of the anti-Chequers uprising over the summer and has attracted the support of 31 Eurosceptic Tory MPs, including the former Tory leader Iain Duncan Smith and Priti Patel.
That so many activists who had energetically promoted the prime minister and her policies turned so abruptly against her illustrates just how deep the opposition to her Chequers plan is among the Tory rank-and-file. For them, the desire for a full withdrawal from the European Union overrides even their loyalty to their leader.
The rebellion by the Tories' digital activists is a blow to the party's hopes of improving its profile on social media. Senior Conservatives have been preoccupied by their lack of traction on Twitter and Facebook since last year's general election, when young voters overwhelmingly supported Labour.
Tory MPs often complain that their social media operation is nowhere near as effective of that of Labour or Momentum, the pro-Corbyn grassroots network that supports it. One of the first things Brandon Lewis promised to do when he became Tory chairman in January was to "take the fight to Labour" online.
CCHQ's official press office account left the 1st Battalion last week about 15 minutes after it was contacted by BuzzFeed News for comment. Carter, the party's political director, also withdrew.
CCHQ declined to comment.

CORRECTION
The StandUp4Brexit campaign, at the time of writing, had the support of 31 Tory MPs. An earlier version of this article said 26.