People Are Getting Fed Up With Theresa May's Campaign Being So Stage-Managed
The latest concerns about stage-management were raised after a tightly controlled trip to Cornwall.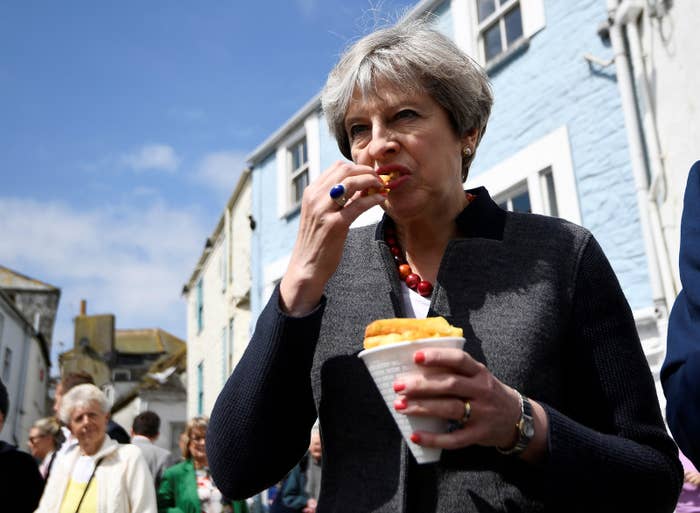 Theresa May says she will "get out there" during the election campaign, meeting voters on the doorstep and listening to their concerns first-hand.
But so far, some critics say, the prime minister's campaign has been so tightly controlled and stage-managed that there has been little opportunity for contact with "real" people or the journalists sent to scrutinise her.

As May swung through Cornwall this morning, one local news outlet complained that a visit to a factory was placed under such "tight media control" that journalists were made to wait in a separate room and were barred from filming the prime minister walking around.
Gareth Bartlett, an editor at the website Cornwall Live, said in a live blog post: "Having covered several high-profile politicians' and royal visits over the years, the level of media control here is far and above anything I've seen before. We're not even allowed to show you her visiting the building."
The complaint plays to a theme that has developed around the campaign in the first two weeks on the road.

May's appearances seem to be tightly orchestrated, with small crowds made up of Tory activists and minimal opportunity for anyone who isn't already a committed supporter to engage with the prime minister.

After May's first event, in Bolton, she was accused in a report in the Bolton News of calling in party activists from as far as 50 miles away and making it look like the room was full of locals. May didn't take questions from journalists at that event, leading some to worry that she would try to hold them at arms' length for the entire campaign.
At campaign events in Leeds, Dudley, Scotland, and Lancashire, the crowds consisted of enthusiastic Tory activists waving blue placards, cheering at May's soundbites, and booing theatrically whenever the opposition parties were mentioned.
Adding to the critics' case, May has refused to debate Jeremy Corbyn head-to-head on live TV. And her stump speeches and interviews have been filled with the same handful of slogans, repeated constantly – notably that Britain needs "strong and stable leadership".

On Tuesday, Tom Watson, Labour's deputy leader, mocked May's controlled approach, saying in a speech: "People are worried about the risk of robots taking their jobs. I fear with this prime minister it's already happened."

Conservative campaign aides reject the characterisation of the campaign as too controlled.

May has taken questions from journalists at just about all of her campaign events, they point out, and has on several occasions gone out knocking on doors to canvass voters. In Cornwall on Tuesday, one aide said, she was out meeting people and handing out leaflets.
The Conservatives have so far been more accessible to voters and the press than the opposition, one of May's aides argued. Pointing to Labour's campaign, he said: "You've got to wonder if a bit of message consistency might be a good thing."

However, according to the Sunday Times, May has complained to senior campaign officials that she hasn't been given enough time on the road to meet ordinary voters.
"Stop trying to limit how much time I'm spending on the doorstep," she reportedly shouted at Fiona Hill, her co–chief of staff. "I'm a doorstep campaigner and from now on I want to spend proper time knocking on doors and seeing people."
But when May has been out to meet "real" voters, it hasn't always gone so well.

On Saturday, May went canvassing in Scotland with a Conservative activist, with a Sky News camera following. Approaching one house, May was told, "No thank you." It became even more awkward when nobody answered the door at the next several houses. "Shall I give you your leaflets back?" she said to the Tory volunteer, and drove off in her convoy.
Last week, on a visit to the Black Country, a 73-year-old man told the prime minister not to bother approaching him. "First of all she asked if she could walk across my lawn and I said no, not really, I have just cut it," Graham Mills was quoted as saying by the Wolverhampton Express & Star.

"She kept giving me stock answers every time – which was that it would be worse under Labour," he reportedly said. "I was really disappointed."