Theresa May Will Campaign In A Battlebus That Barely Mentions The Conservative Party
You can *just* make it out if you squint.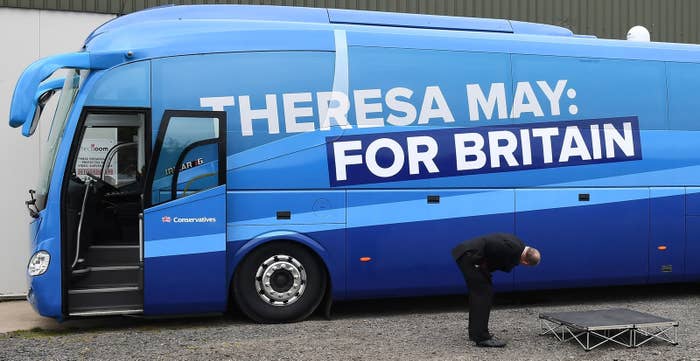 Theresa May will travel around the country campaigning for votes in a blue battlebus that barely mentions the Conservative party.

The first pictures of the bus emerged on Friday afternoon, shortly before the prime minister gave a speech in the North East. Painted on the side is "THERESA MAY: FOR BRITAIN", but you have to look closely to see the party's branding.
May's campaign has been notable for its concentration on the prime minister herself – and her promise to deliver "strong and stable leadership" – to the extent that it has been described as "presidential".
With a double-digit lead in the opinion polls, the Conservatives have been targeting Labour-held seats in areas of the country where they have historically struggled to win support, including Yorkshire, the Midlands and the North. But in making the pitch for traditional Labour voters, it is relying on May's personal appeal – and the apparent unpopularity of her opponent, Jeremy Corbyn.
The bus design did not go unnoticed on social media.
In some working-class areas there is still hostility to the Conservative party, but campaign strategists believe they can overcome that by focusing on a leader whose appeal seems to cut across partisan divides, according to opinion polls.
Speaking in the North East today, May is expected to make a direct appeal to working-class Labour voters, arguing that the Conservatives, not Labour, are now the party best-equipped to improve their conditions.

"I will be reaching out to all those who have been abandoned by Labour and let down by government for too long," May will say, according to remarks that were sent out to political journalists in advance by her campaign. "I will be doing everything I can to earn their trust."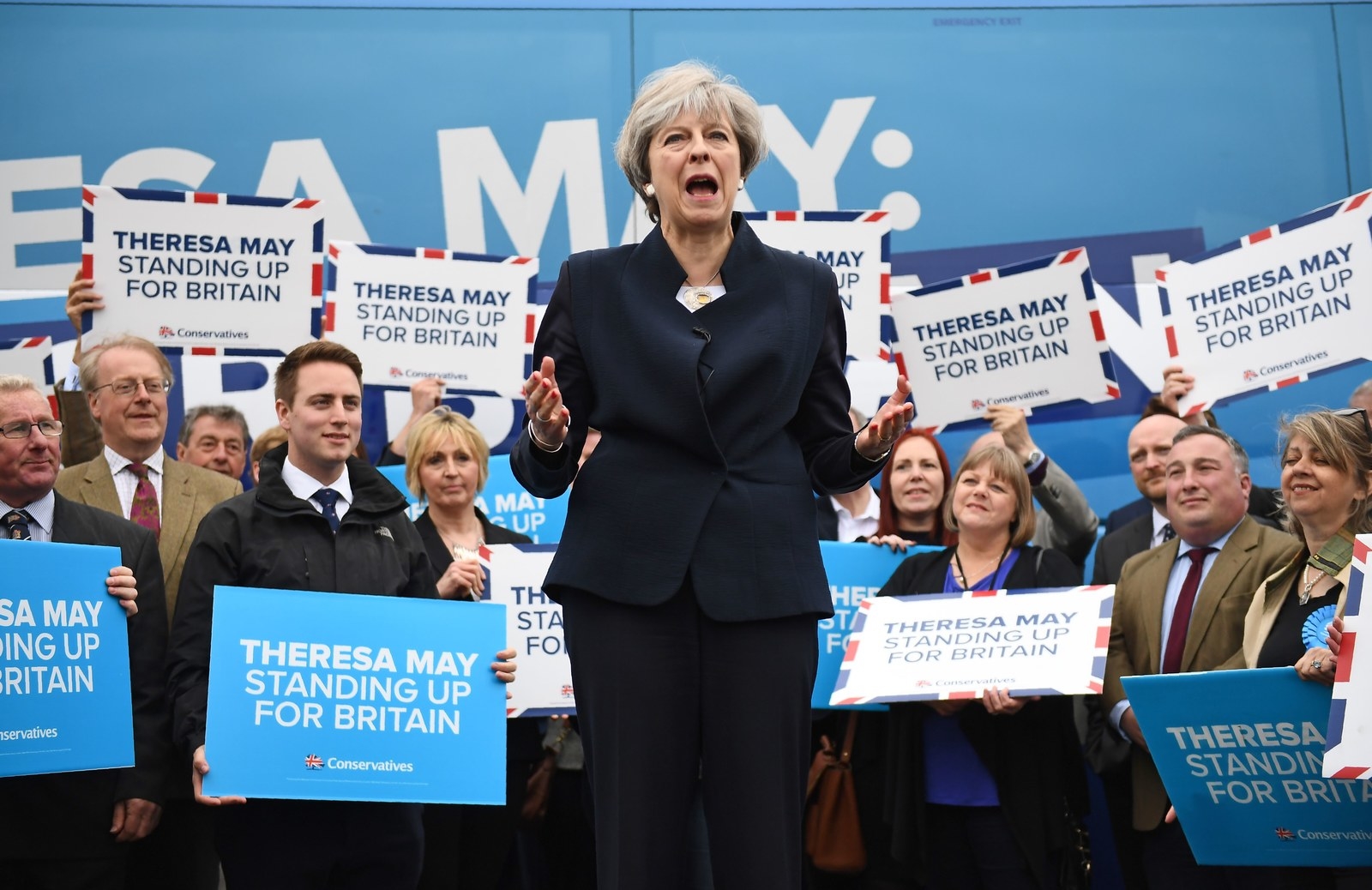 May has been criticised for so far running a repetitive, controlled campaign, with appearances restricted mainly to small, closed events consisting of party activists and candidates. On LBC on Thursday night, presenter Nigel Farage said: "It's been a completely stage-managed Conservative campaign. She's really just not interacted with Joe Public at all."
May's aides are sensitive to such criticism, and point out that she has been knocking on doors canvassing for votes around the country and has taken questions from employees at factories and workplaces in several towns. On Wednesday afternoon, after canvassing in Scunthorpe with the Conservative candidate, the prime minister stopped at a pub there and chatted to locals.
May told BuzzFeed News on Wednesday that she would have a battlebus to take her around the country and that "from time to time we might even have some journalists on it," in what seemed to be a swipe at Corbyn's relationship with the media.