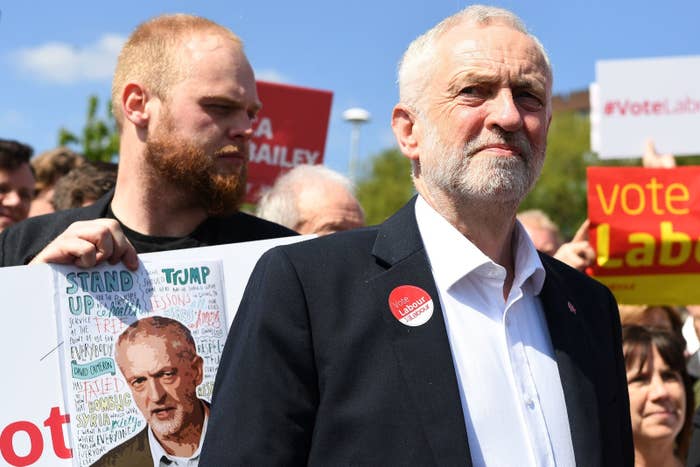 Jeremy Corbyn may be on the brink of an electoral upset on the scale of Donald Trump or Brexit.
That's the surprising argument being advanced on the campaign trail not by the Labour leader's own MPs or Corbyn-supporting "alt-left" websites – but by the Conservatives.
In private, senior Tories are dismissive of Labour's chances. "Nobody thinks Corbyn is going to be anywhere near power after June 8," one told BuzzFeed News.
But in public, the Tories are publicly talking up Corbyn's chances to make sure their own voters turn out and to motivate their candidates.

The party took out advertisements in local newspapers comparing the prospect of Corbyn taking over in 10 Downing Street to the Brexit vote and Trump's election as US president – seismic political events that went against the prevailing wisdom.
"Some people think: Jeremy Corbyn as prime minister is never going to happen," the advertisements said. "ARE YOU SURE?"

"The risk is just too big to take," they went on. "Higher debt, higher taxes, economic chaos."
Opinion polls suggest the Conservative party may be on course for a landslide victory, with Labour trailing by an average of nearly 20 points. And some Labour MPs seem to be distancing themselves from their party leader while they go door-to-door canvassing for votes.
But at campaign events up and down the country, Theresa May has been rallying Conservative activists and candidates by emphasising the possibility of Corbyn moving in to Number 10 on 9 June.
In Dudley, in the West Midlands, May told party activists the opinion polls had been wrong about the 2015 general election and the EU referendum last summer, while Corbyn was a 200-1 outsider to replace Ed Miliband as Labour leader and "look how that went".

In South Wales: "Make no mistake. It could happen."
In Scotland, Lancashire, Bristol – the same message.
In Harrow, north London, on Monday, May repeated the line about Corbyn overcoming insurmountable odds and said she has "learnt over the years that you can't predict election results".
In Nottingham on Wednesday, another group of prospective Tory MPs heard a similar message. They had to knock on every door, turn out every voter, to defeat the threat of Corbyn.
"We can take nothing for granted," May instructed her troops.
"The possibility of a Corbyn-led coalition of chaos is real," the Conservative leader added.
Polls have been wrong in the past and they could be wrong now, as the prime minister said, but nobody has ever defied polling numbers this bad, said Joe Twyman, head of political and social research at YouGov. If Corbyn wins, the pollsters will have been wrong to an unprecedented degree.
The biggest threat to the Tories' chances of winning a landslide is complacency, in the view of several of the party's MPs in marginal seats who spoke to BuzzFeed News.
Historically, turnout drops when elections aren't expected to be close, said Twyman. This time there's also a sense of election fatigue among voters following the 2015 general election, the Scottish and EU referendums, and local elections.
"It's definitely a risk" that turnout suffers as a result, Twyman said.
So the Tory strategy is to pitch the election as a straight choice between May and Corbyn. In press releases to journalists and social media posts on Twitter and Facebook, Tory campaign operatives have hammered Corbyn's policies as "nonsensical" and the leader himself as "weak" and "floundering".

With May enjoying high approval ratings – just under half of voters think she's the best prime minister, according to YouGov, while only 21% think the same of Corbyn – her "strong and stable leadership" message so far seems to be landing.

But on its own it's not enough to guarantee the voters turn up. "You want to win people over to your side," Twyman said. "But you've also got to turn people out to vote."