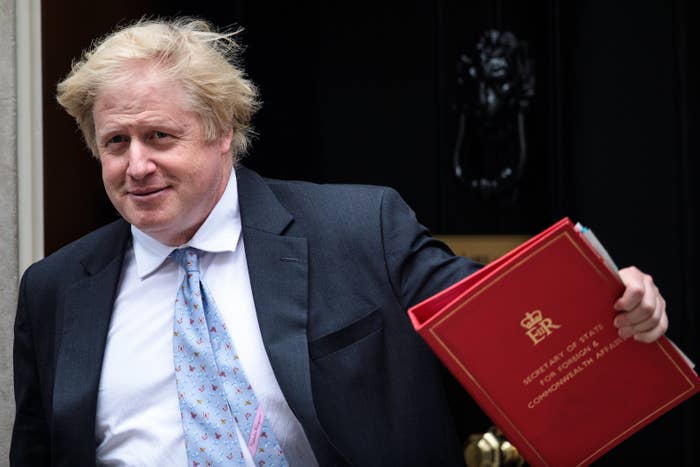 Theresa May has resisted calls to sack Boris Johnson and insisted she still has confidence in her foreign secretary despite his extraordinary leak of private government discussions about Brexit negotiations and a series of high-level foreign policy and security issues.

Opposition politicians called for Johnson to go after BuzzFeed News obtained an explosive recording of a closed-door gathering in which he treated a select group of Conservative activists to a frank run-through of the UK's foreign policy strategy, including his unguarded views on Donald Trump, China and Brexit.
However, asked by reporters on Friday whether the prime minister still has confidence in her foreign secretary, a spokesperson for 10 Downing Street said: "Of course."
The spokesperson would not comment on the specifics of the leak.
Speaking to around 20 members of the Thatcherite campaign group Conservative Way Forward, Johnson revealed that he is "increasingly admiring" of Donald Trump and joked that Trump should negotiate Brexit. He revealed that he'd just spoken to his US counterpart, Mike Pompeo, who had requested British help in dismantling Kim Jong-Un's nuclear programme.
The bombshell recording also captured Johnson's forthright assessment of the Brexit negotiations, in which he revealed grave concerns that the UK will end up with a deal unpalatable to Leavers. The talks were at risk of going into "meltdown" he said. His comments were widely reported on Friday morning.

Earlier, Nicola Sturgeon, the leader of the Scottish National Party, called for Johnson to be sacked.
"I just don't think Boris Johnson is somebody who should be in one of the high offices of state," Sturgeon told BBC Breakfast. "I don't think the way he conducts himself, I don't think the opportunistic way that he puts his own interest constantly ahead of what is obviously in the best interest of the country is behaviour befitting of somebody holding that office."
Chancellor Philip Hammond, whose department was harshly criticised by Johnson in the leaked recording, hit back at Johnson's claim that Donald Trump would be better at negotiating a Brexit deal, saying a "collaborative approach is more productive than a confrontational approach".
Labour's foreign affairs spokesperson Emily Thornberry also called for Johnson to be sacked.

The Labour MP Jess Phillips added: "For god sake sack this man!"
Sarah Wollaston, a senior Conservative backbencher, appeared to suggest that Johnson had hoped his remarks would leak.
"Dressing up publicly broadcast insults under the cover of a (sic) 'private' discussions won't wash," the chair of the Commons' health select committee tweeted.
One of Johnson's aides did not respond to a request from BuzzFeed News for comment on Thursday evening. However, Johnson's allies later put out a statement saying they were disappointed his remarks had leaked.