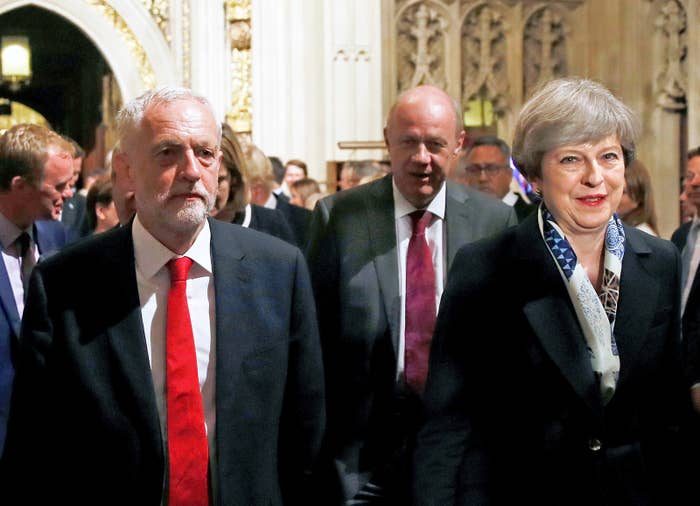 Theresa May came under fire from a newly assertive Jeremy Corbyn on Wednesday as she returned to parliament for the first time since throwing away the Conservatives' majority, while elsewhere a deal aimed at keeping her in power appeared no closer to completion.

In an extraordinary reversal, the prime minister seemed diminished as she returned to the House of Commons to defend the legislative programme her government laid out in the Queen's Speech. In contrast the Labour leader seemed to be transformed, confidently mocking May for putting forward a weakened, "threadbare" set of legislative proposals.

"This is a government without a majority, without a mandate, without a serious legislative programme, led by a prime minister who has lost her authority," Corbyn said.
The contrast to the last time they faced off in parliament, two months ago, was stark. Back then, the Tories were almost cocky, believing they were on course for a thumping majority, and most observers thought Corbyn would be spending the summer fighting another leadership challenge after a historic defeat at the polls.
Instead, it is May whose political future is in the balance. The prime minister and her senior ministers sat glumly on the front benches as they listened to Corbyn run through the various manifesto promises the Conservatives had been forced to abandon because they did not have the votes to get them through the Commons.
"We are a government in waiting," Corbyn insisted.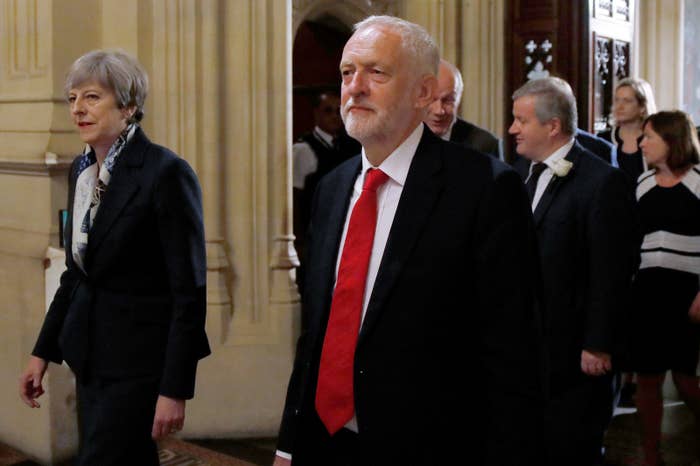 Rising to respond, May was greeted with cheers from Tory MPs who have spent the past two weeks privately discussing how long she should remain their leader. In a lengthy address to the Commons, she was composed and at times humble, apologising to those affected by the Grenfell Tower fire for the government's failure to respond adequately and praising Corbyn for his support for victims of the Finsbury Park attack earlier in the week.

Yet the change of circumstances – and May's political vulnerability – was unmistakable. Toby Perkins, a Labour MP, described seeing the two leaders back in parliament as being like "when I was at school and I didn't see people for six weeks. And then they came back and you thought, Has she shrunk, or has he grown?"
Questions about the longevity of May's administration are still casting a dark cloud over Westminster.
In a sign of just how weak she is after the catastrophic election result, the Brexit-dominated Queen's Speech included very few of the ambitious reforms she had wanted to pass to reshape British society, such as bringing back grammar schools and fox hunting and cutting free school meals for infants.
The prime minister had hoped to set out bold reforms to tackle some of the biggest challenges facing British society, but the non-Brexit legislation put forward is far more modest, including a crackdown on fraudulent whiplash claims and new powers to license commercial spacecraft.
Most of the 27 pieces of legislation proposed by the government are unlikely to be controversial, and will therefore be easier for May to get through the Commons with at best a small majority.
Parliament will be consumed for the next two years by intensive arguments about leaving the European Union. Brexit-related bills accounted for much of the proposed legislation put forward in the speech, including a complicated "repeal bill" that will transfer all EU law onto the UK statute book in one swoop.
Bills on customs, trade, immigration, fisheries, agriculture, nuclear safeguards, and international sanctions were also put forward and will have to be passed if May is to achieve her plans for a so-called hard Brexit.
Opposition parties – and some Conservative MPs who opposed Brexit – are preparing to challenge the government, believing that the upcoming mountain of legislation will give them an opportunity to influence the terms of the UK's withdrawal.
One Conservative MP who campaigned to remain in the EU told BuzzFeed News that the hung parliament has put a "soft" Brexit back in play, and that MPs will use amendments to the upcoming bills to move May away from the "hard" course she has set out.
Soon after the Queen delivered the speech, the Liberal Democrats said they will try to amend it in an attempt to stop Britain leaving the single market and customs union when it leaves the wider union, as May is planning.
MPs will spend the next several days debating the contents of the Queen's Speech before voting on whether to approve it next week.
If May gets that passed, she will then face other significant obstacles in parliament.
Not only will she have to get her planned legislation through a fiercely divided Commons, potentially without a majority, but a House of Lords dominated by peers who oppose Brexit may feel free after the election to pick her policies apart. Government lawyers believe a longstanding convention under which the Lords do not block legislation that has been passed by the Commons will still apply even though there was a hung parliament, a Downing Street spokesman said Wednesday. But the Lords may disagree.
There is also a possibility that the Scottish parliament may have to give consent to the passage of the repeal bill, potentially setting up a constitutional showdown between Holyrood and Westminster over a vital part of May's Brexit plans. Government lawyers are reviewing whether Holyrood has to give consent before the bill can be passed, Downing Street said.
May's political position remained precarious on Wednesday, as discussions with Northern Ireland's Democratic Unionist Party dragged on for another day without any sign of an agreement.
The Conservatives are counting on the DUP's 10 MPs to back them on a "confidence or supply" basis, giving them just enough votes to pass new laws.
Nearly two weeks after the election, however, the Conservatives and DUP still haven't agreed on terms. A spokesman for Downing Street was asked repeatedly by journalists on Wednesday to give an update on the discussions, but said there was nothing new to add beyond an earlier statement that the government hoped to reach an agreement.
May is also facing an exodus of senior advisers in Number 10.
She had already lost her two closest aides after the election, with Nick Timothy and Fiona Hill quitting after they took most of the blame for the disastrous campaign. On Wednesday, BuzzFeed News revealed that John Godfrey, the head of policy, is standing down to pursue other opportunities. Soon after, it was revealed that another member of the policy team is leaving.
At least 10 senior advisers have left or announced their intention to leave Downing Street since mid-April, forcing May to overhaul some of the most important positions in government at a critical time.
Some posts have been filled, with Gavin Barwell, a former minister who lost his seat at the election, taking over as chief of staff, and Chris Wilkins, the head of strategy, moving into the vacant role of head of communications. But Number 10 remains deeply unsettled, according to people with close knowledge of its operations.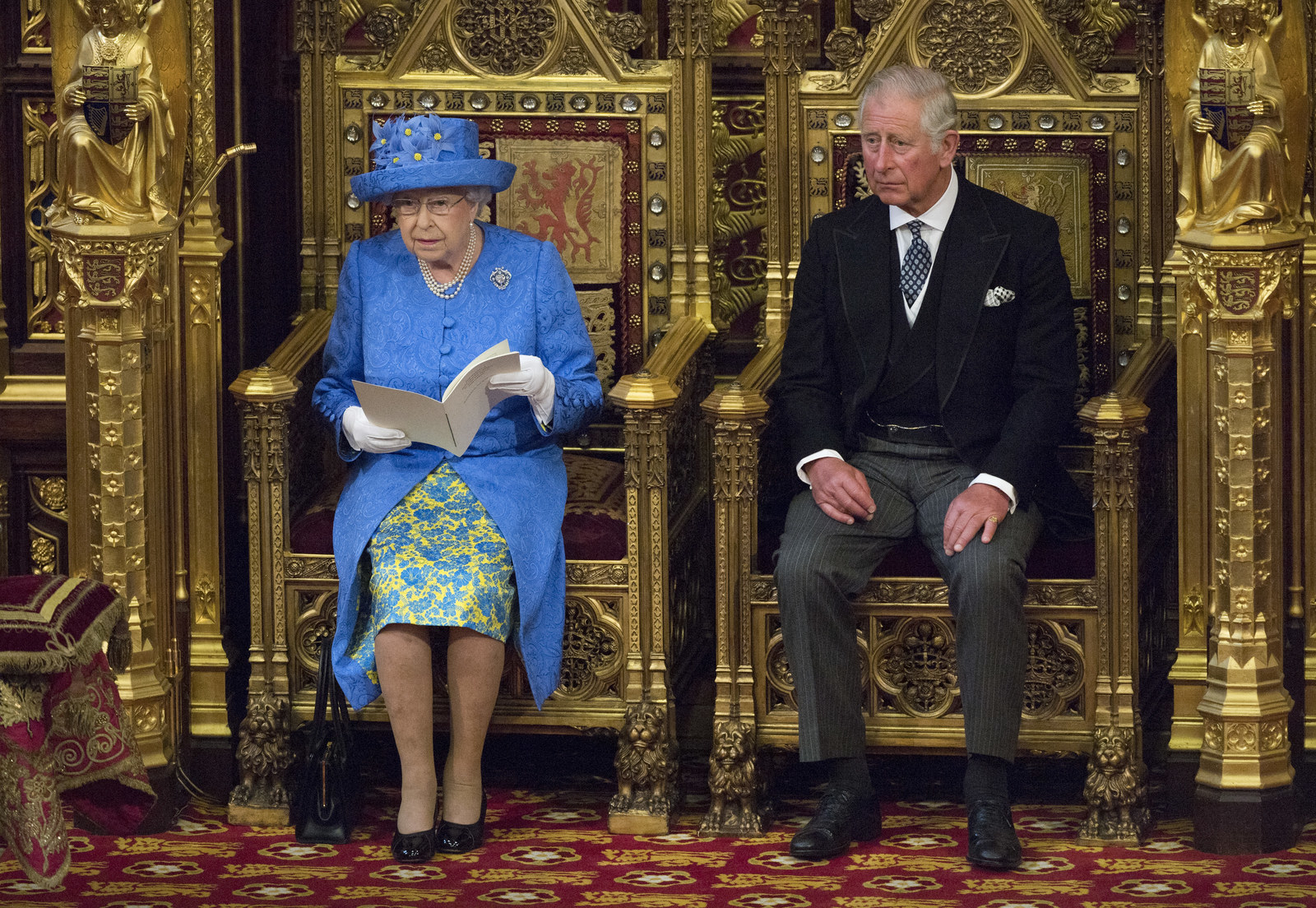 Wednesday's formal opening of parliament, where the Queen reads out the legislative programme set by ministers, was conducted with less pomp and ceremony than usual, with the monarch wearing a dress and hat instead of a robe and crown.

In her speech, the Queen said: "My government's priority is to secure the best possible deal as the country leaves the European Union.
"My government will seek to maintain a deep and special partnership with European allies and to force new trading relationships across the globe."