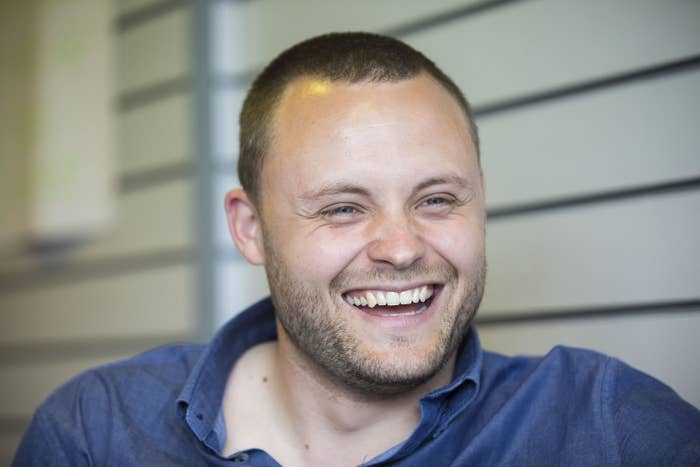 The Tory MP who suggested that unemployed men should have vasectomies also accused public sector workers of being "lost in their own fantasy land" and said they should quit if they were unhappy about their pay.

Ben Bradley, who was appointed by Theresa May this month to win over younger voters, wrote a blog post in 2011 attacking workers for protesting the Conservative-Lib Dem coalition's austerity cuts, which were just beginning to bite at the time.

"I can't believe for the life of me that people in the public sector are so lost in their own fantasy land that they can't see how good they've got it," Bradley wrote in the post uncovered by BuzzFeed News.
"Yes, okay, many teachers and teaching assistants and nurses work hard for their money and deserve to get excellent pay and pensions, but headmasters on seventy-odd grand a year?" Bradley continued.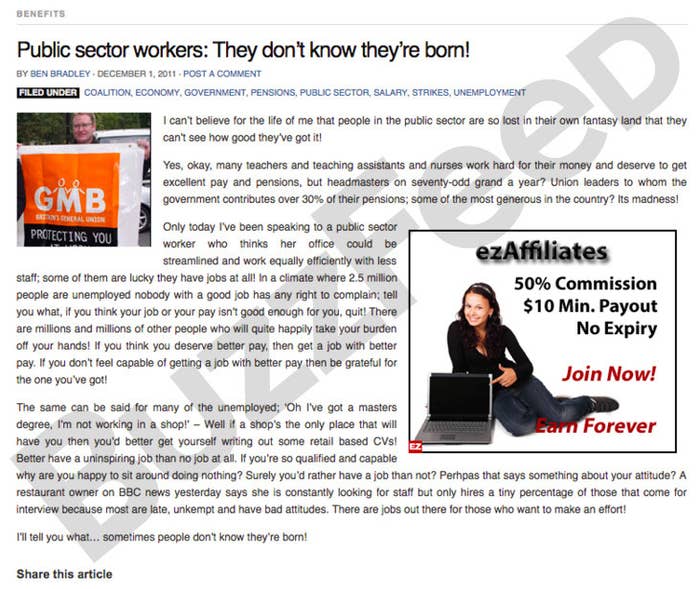 He now earns a basic salary of £74,962 as the MP for Mansfield.

Bradley, who at 28 is regarded as a rising star in the party, wrote the post under the headline: "Public sector workers: They don't know they're born!"
He argued that employees in the public sector shouldn't complain about their pay: "If you think your job or your pay isn't good enough for you, quit! There are millions and millions of other people who will quite happily take your burden off your hands! If you think you deserve better pay, then get a job with better pay. If you don't feel capable of getting a job with better pay then be grateful for the one you've got!"

"The same can be said for many of the unemployed," Bradley continued. "'Oh, I've got a masters degree, I'm not working in a shop' – Well if a shop's the only place that will have you then you'd better get yourself writing out some retail based CVs!"
"Sometimes people don't know they're born," he concluded.
The pay of workers such as nurses, police, teachers, and firefighters is a major political weakness for the Conservatives, and gave Jeremy Corbyn's Labour party one of its most effective attack lines during last year's general election.
Austerity is one of the key reasons many young voters see the Conservatives as toxic. In June, four stories about Tory MPs cheering the defeat of a Commons amendment to increase the pay of emergency service staff were shared online more than 500,000 times, according to a BuzzFeed News analysis, and posts criticising austerity are regularly among the most viral political content.
Some Tory MPs believe that lifting the freeze on public sector pay and convincing those employees that the Conservatives are committed to protecting public services is integral to improving the party's appeal to voters under 40.
Bradley was elevated to vice chair for youth at Conservative headquarters this month as part of May's new year reshuffle.
He is already under fire after BuzzFeed News revealed on Tuesday that he had written a blog post urging unemployed men to have vasectomies.

On Wednesday, Theresa May's spokesperson was asked about Bradley's post about the unemployed. The spokesperson said Bradley "has apologised for those comments" and that "it is right that he did so".
Asked whether the prime minister was aware of Bradley's old blog posts before giving him his current job, the spokesperson said: "I think you can assume no". He insisted he wouldn't "get into hypotheticals" as to whether she would have still given him the job if the posts had been brought to her attention before the appointment.

"It's fair to observe that these views have only just come to light," the Downing Street aide said.

In a post on his personal blog, Consbradders32, in 2012, Bradley supported Iain Duncan Smith's controversial benefit cap and said reducing welfare dependency was necessary to preserve British culture.
"Vasectomies are free," he wrote.
"Families who have never worked a day in their lives having 4 or 5 kids and the rest of us having 1 or 2 means it's not long before we're drowning in a vast sea of unemployed wasters that we pay to keep!" Bradley continued. "Iain Duncan Smith's cap proposal is spot on!"
After he was approached by BuzzFeed News on Tuesday, Bradley deleted the Consbradders32 blog and apologised. "My time in politics has allowed me to mature and I now realise that this language is not appropriate," he said.

However, some of Bradley's posts were published on a right-wing political site, Politics on Toast, which has been deleted but is still accessible through an internet archive.
In November, Bradley told the Political Studies Association he had deleted his old social media accounts after becoming an MP.
"I deleted my Facebook account and started a new one for several reasons; firstly because all of us who have grown up on that platform have said things publicly we regret – nothing offensive in my case but personal things during times of family upheaval – parents' divorce, etc – that would upset members of my family if it were brought up again, and also because we've all been students and teenagers."
BuzzFeed News has asked Bradley and Conservative HQ for comment on his post.