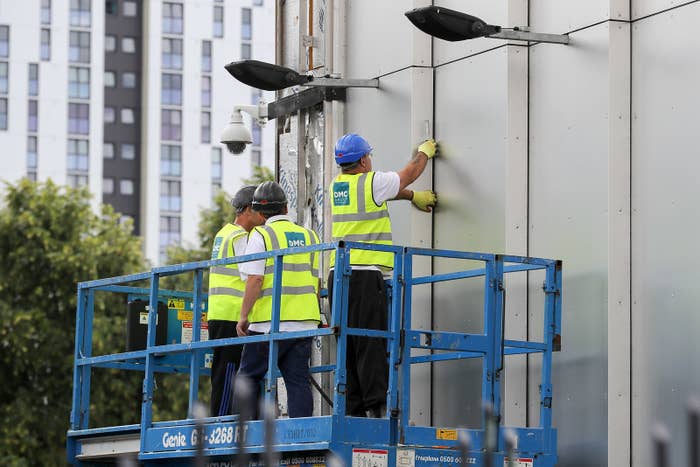 Opposition MPs have urged the government to urgently reveal how many tower blocks have been inspected by the fire department and declared safe, amid confusion about the extent of the fire risk in high-rises across the country.

The Liberal Democrats have tabled a written question in parliament asking the communities secretary Sajid Javid to reveal how many towers have been fully inspected – and not just failed cladding tests, which do not on their own mean that a building is necessarily a fire danger – after officials repeatedly failed to respond to requests by BuzzFeed News for the information.
"The government must urgently tell us whether buildings found to have flammable cladding have been checked and cleared as safe to live in by the fire service," Tom Brake, a Lib Dem MP, told BuzzFeed News.

Two weeks after the blaze at the Grenfell Tower in London killed at least 80 people, the true scale of the fire danger in other buildings across the UK is still not known – and information about the response by landlords and government agencies to warnings about fire safety has been hard to piece together.
Government officials have been regularly giving updates on the number of cladding samples from high-rises that have been found to be combustible. That figure stood at 137 after the latest update on Thursday morning, according to Downing Street.
But flammable cladding on its own is not sufficient to declare a building unsafe, according to the process established by the government after Grenfell.
A failed test is meant to be followed by on-site inspections by experts from the fire service, who will then assess whether there are other concerns that mean a building is dangerous. It is up to those fire experts, not the government, to determine whether high-rises are safe to stay in.

Officials from Downing Street and the Department for Communities and Local Government have been asked repeatedly by BuzzFeed News to say how many of the buildings with combustible cladding have been checked and cleared as safe by the fire department.
They have not provided figures, despite saying several times they would do so.
On Wednesday, when BuzzFeed News pushed again on the matter, the prime minister's official spokesman said the fire brigade was called as soon as a building had failed a cladding test. He "explicitly" assured reporters that those checks had been carried out and all but a handful of buildings were safe.
Asked whether we should assume that because only four towers in Camden have been evacuated that all other buildings have been checked and deemed safe to remain living in, the spokesperson said that was the government's "position".
But he did not have figures. And the spokesperson cast doubt as to whether the government was even following up with local authorities to monitor what safety measures they were putting in place.
"The question is, 'Are they reporting back to us?' Let me find out," the spokesperson said. "I don't know the answer to that."

More than 24 hours later, BuzzFeed News had still not received an answer.
Officials at the DCLG did not respond to several emails, text messages, and a phone call requesting that and other information.

On Thursday, Tim Farron, the Lib Dem leader, tabled a written question in parliament asking Sajid Javid how many tower blocks in each council area have been checked by the fire service and deemed safe or unsafe for residents to inhabit.

Brake, the Lib Dem MP, said: "It is not good enough to simply start an inquiry that will report back in several months' time. People need to know now whether the buildings they live in are safe and, if not, that something is being urgently done about it."
Javid wrote to local authorities and housing associations on 19 June, urging them to urgently send in cladding samples for testing.
The rate of compliance with the request has so far been worryingly slow, with hundreds of buildings with cladding still to be tested despite ministers making repeated pleas for councils to send them samples.
As the number of failed samples grew to triple figures, at a failure rate of 100%, Theresa May called for a "major investigation" into how so much flammable cladding had been put on buildings. She urged councils not to wait for tests to be done before taking safety measures to protect high-rises.
Across the country, local authorities have been responding to the warnings after Grenfell by ordering suspect cladding to be removed from building exteriors, putting fire wardens on patrol, and installing sprinkler systems.

The London Borough of Sutton, for example, said two of its towers with combustible cladding had been visited three times already by the London Fire Brigade, with another scheduled. The buildings were safe for residents to continue living in, according to the experts' assessment.
BuzzFeed News and other publications have been cataloguing these actions by monitoring updates put out by the councils individually. But not all councils have been providing detailed updates.
The lack of centrally available information makes it extremely hard to scrutinise how many buildings have been properly inspected and deemed safe, how many more will have to be checked, whether councils are taking the right measures to address safety deficiencies – and whether central government is managing the situation adequately.