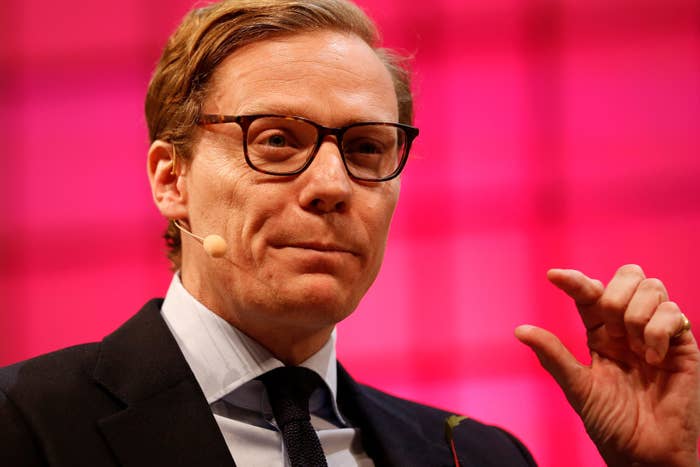 Cambridge Analytica, the collapsed political consultancy at the centre of an international storm over the misuse of Facebook data, had the enthusiastic backing of senior British government officials as it tried to position itself as a player in Donald Trump's Washington, BuzzFeed News has learned.

Emails released under the Freedom of Information Act show that two of the Foreign Office's top officials in the US regarded Cambridge Analytica – which worked on Trump's 2016 presidential campaign – as a British success story worth supporting in its efforts to win a larger slice of the lucrative US data analysis market.
The officials even discussed having Cambridge Analytica feature in a campaign to promote British technology companies, which they called "#dataisGREAT".
"Our job is to help you win new business," Ross Allen, Britain's director of international trade in the US, wrote to Cambridge Analytica on 20 January 2017 – the day of Trump's inauguration.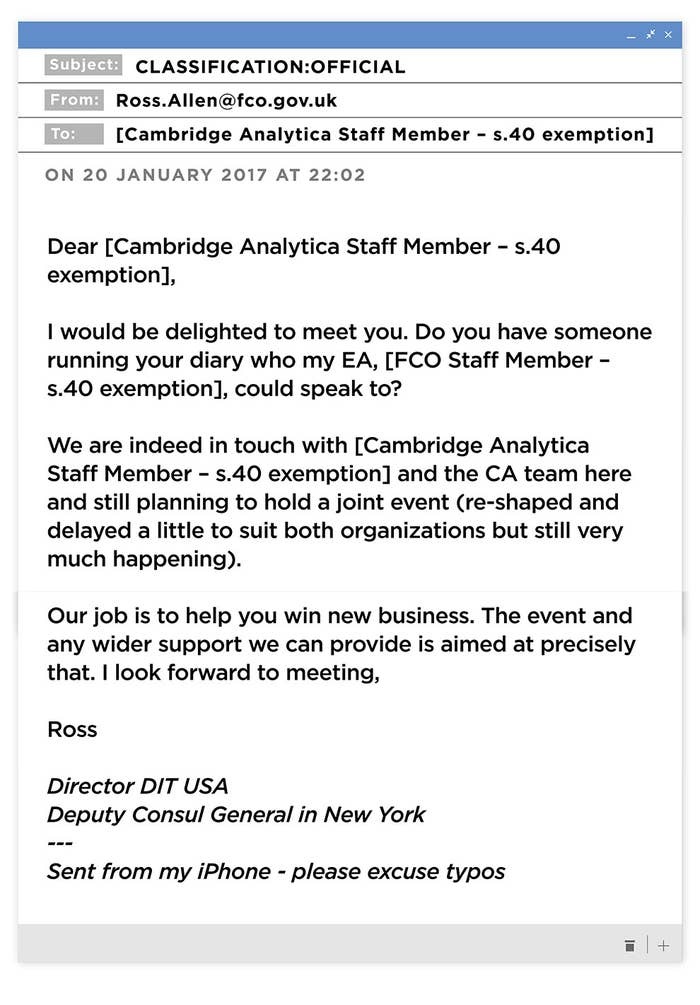 Trump had been sworn in as the 45th US president in Washington just hours earlier.
Allen had been looped into an email communication between Cambridge Analytica and his boss, Antonia Romeo, Britain's consul general in New York, who also seemed to be eager to support the support the London-based political data firm's ambitions to grow in the US.
Romeo – who is now the most senior civil servant in the UK's international trade department in London – had met Cambridge Analytica earlier that week. In an email on the afternoon of 20 January, she told a Cambridge Analytica executive: "As discussed we're keen to keep in touch and help you as you expand into the US." The names of the executive and other employees of the firm have been redacted from the emails released to BuzzFeed News.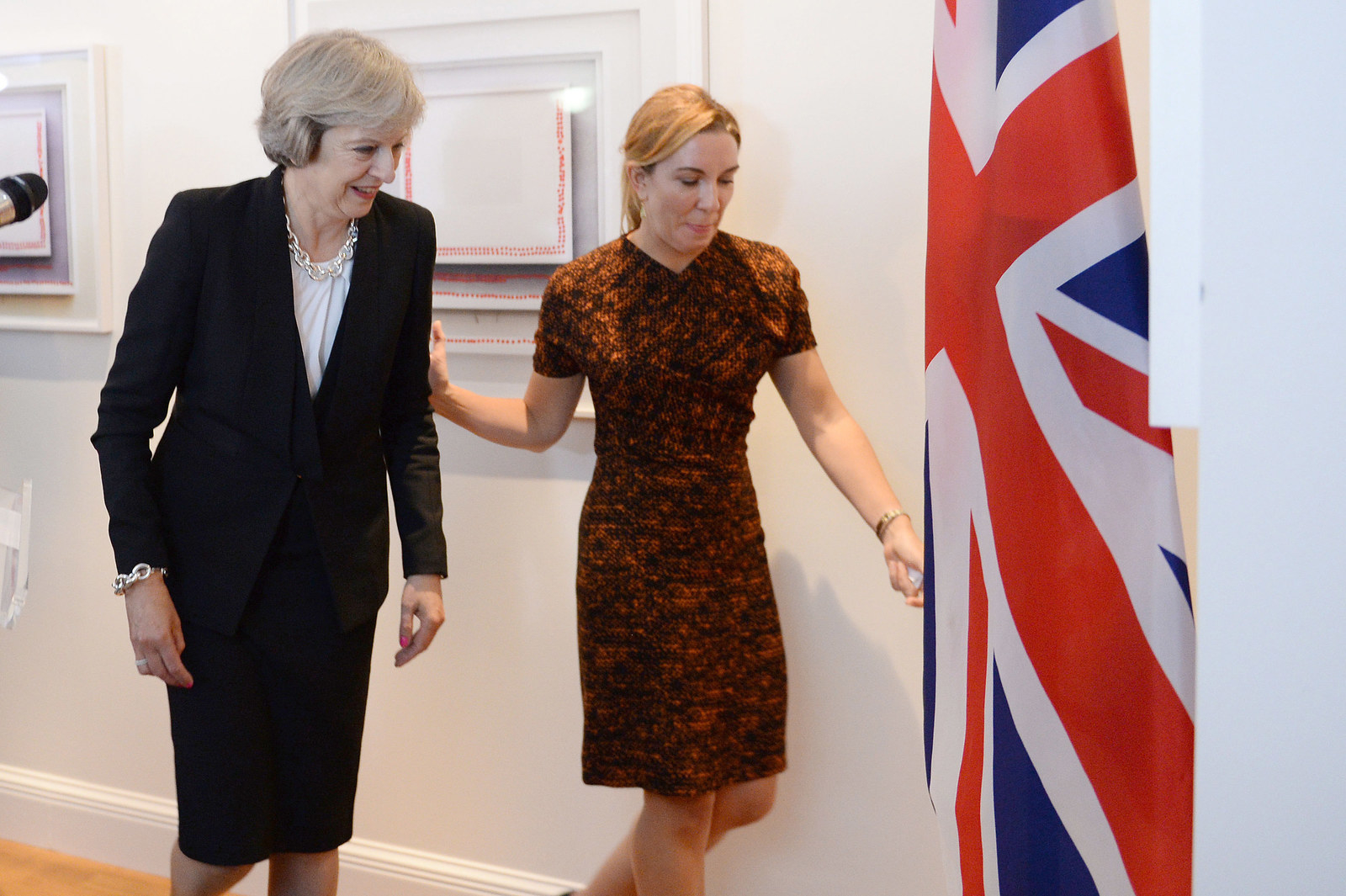 Romeo told Allen she believed Cambridge Analytica could play a prominent role in a campaign to promote digital British companies to potential American customers.
As the highest-ranking officials in the British consulate in New York, Romeo and Allen had a central role in promoting UK exporters in North America. Allen oversaw the "GREAT Britain" marketing campaign, which showcased iconic UK companies such as Aston Martin, Burberry and McLaren to potential US customers.
According to the emails released to BuzzFeed News, Romeo envisaged an offshoot of the campaign promoting technology-related businesses, called "#dataisGREAT". And, she wrote to Allen and the unnamed executive, Cambridge Analytica "might be a good company to help promote" it.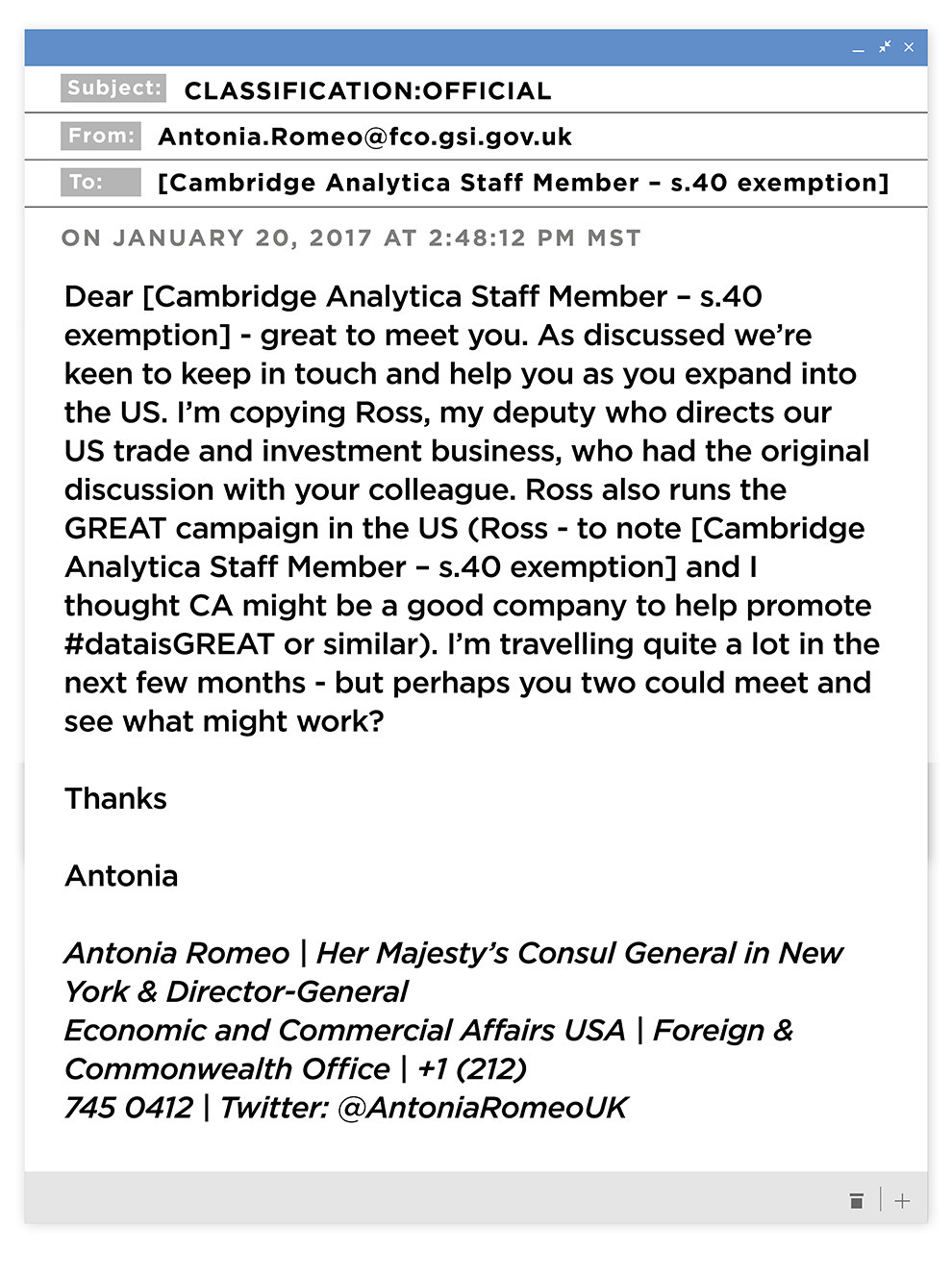 The emails also reveal that the UK government was considering holding events jointly with Cambridge Analytica.
At one point, the Foreign Office and Cambridge Analytica discussed an event to coincide with Trump's inauguration, according to an email from an unidentified Cambridge Analytica employee. It did not happen because "the timing was too short by the time the idea had emerged".
In Allen's email to Cambridge Analytica on 20 January, he said the possibility of a joint event was still on the table. It was being "re-shaped and delayed a little to suit both organizations but still very much happening", Allen wrote.
Cambridge Analytica was eager to be involved. "Following on from our discussion yesterday, we would very much like to work with you, to support the promotion of Great Britain and, ideally to be part of the 'Great' campaign," a Cambridge Analytica employee wrote to Romeo on 19 January.
"I think you coined the phrase 'Data is Great' and if we could help you create a more cutting edge to the campaign then that would be to our mutual benefit."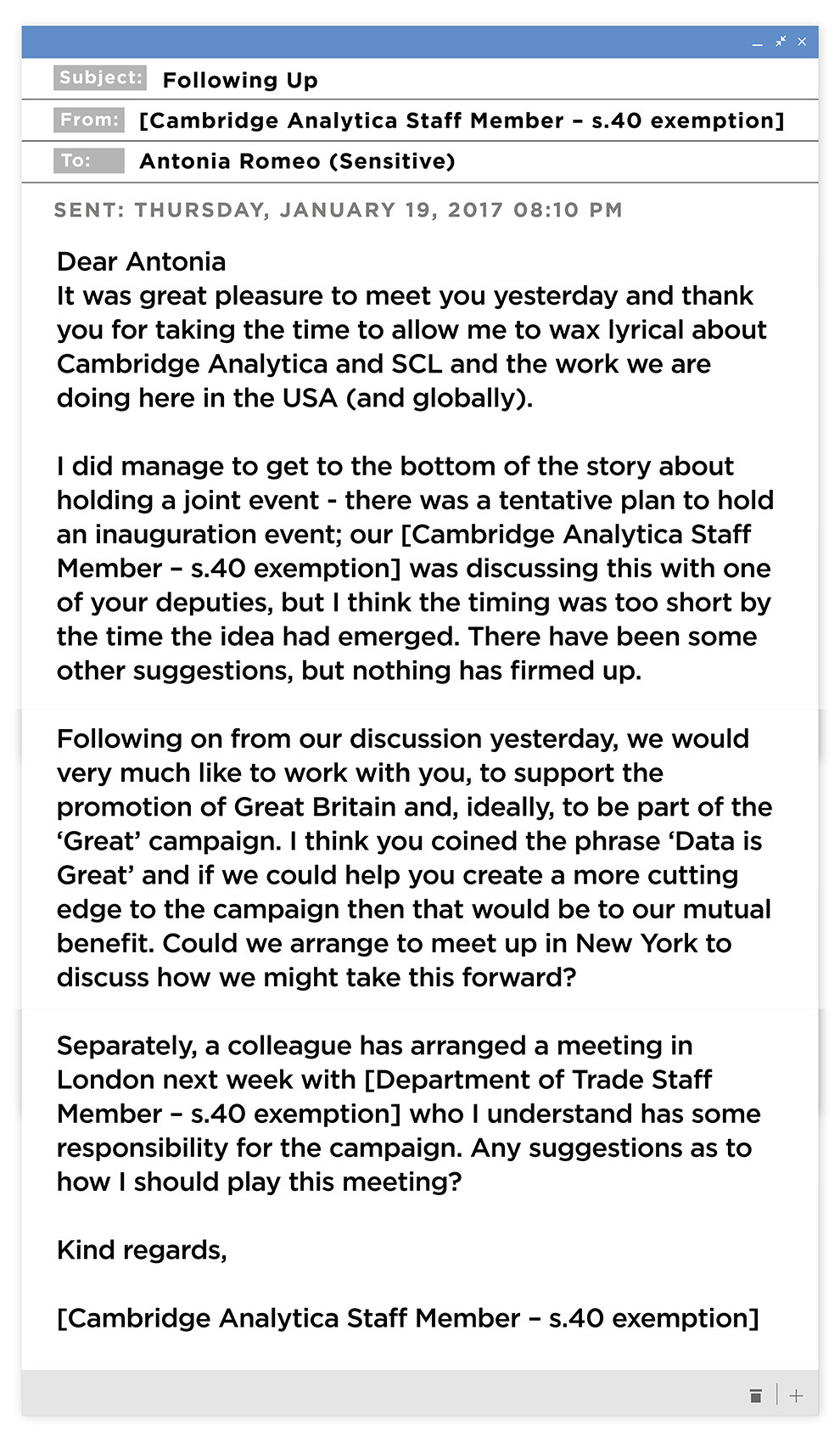 Neither the event with Cambridge Analytica or the #dataisGREAT campaign appear to have gone ahead, but questions will be raised about the eagerness of senior British officials to promote a company whose work has been highly controversial.
At the time, Cambridge Analytica was vigorously trying to capitalise on its involvement with the Trump campaign, touting its supposedly visionary ability to use data to persuade audiences to win new corporate and government clients in the US.
The company seemed to be in a good position to thrive in Trump's Washington, given that the new president's senior adviser Steve Bannon sat on its board and that it had the backing of the powerful Mercer family.
Even so, there were already doubts about the company in American political circles.
In 2015, the Guardian had revealed how Cambridge Analytica was using "psychological profiles" gathered from tens of millions of Facebook users, without the permission of many of them, to help the presidential campaign of Senator Ted Cruz. Some on the Cruz campaign spoke disparagingly about Cambridge Analytica's involvement. And there was scepticism, too, about the company's claims to have made a decisive contribution to Trump's victory over Hillary Clinton.
In March this year, the company imploded. Reports in The Observer and New York Times based on the account of a whistleblower revealed that Cambridge Analytica had "harvested" the data of millions of Facebook users without their permission. An undercover investigation by Channel 4 News filmed the chief executive Alexander Nix claiming credit for Trump's victory and boasting about using dirty tricks to swing foreign elections.
Last month, the london-based data firm announced it would close. It still faces several investigations. In the UK, the Information Commissioner is conducting civil and criminal inquiries. In the US, the Department of Justice and FBI are conducting investigations.
There will be renewed scrutiny in London this week when Nix appears before a parliamentary committee on Wednesday. He is expected to face questions about whether he previously lied to parliament.
Whatever doubts existed about Cambridge Analytica's work, the Foreign Office appears to have seen it as a British company that was going places under the new administration.
In December 2016, Boris Johnson, the Foreign Secretary, and Sir Alan Duncan, the minister for Europe and the Americas, met Nix on consecutive days. According to public records, the purpose of these meetings was to discuss Trump's election and "build senior contacts with the transition team".
BuzzFeed News requested documents relating to these meetings, such as minutes or correspondence, but the Foreign Office said it has nothing on record.
However, the Foreign Office did release the email chain between Romeo, Allen and Cambridge Analytica. The names of the Cambridge Analytica staff were redacted to protect their rights under data protection legislation, the Foreign Office said.
In a statement to BuzzFeed News, a UK government spokesperson said: "It is the job of our overseas staff to work closely with British businesses to promote UK exports into that country, and to identify investment opportunities that create jobs and prosperity in the UK. These discussions were at an early stage and did not result in any joint work."