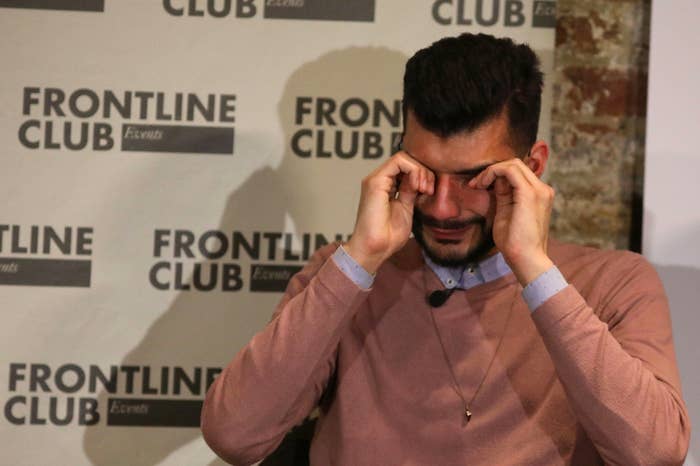 The whistleblower at the centre of explosive allegations against the official Vote Leave campaign broke down in tears on Monday night as he described how a statement from the prime minister's political secretary had forced him to come out as gay to his mother.
During a highly charged appearance at London's Frontline Club, Shahmir Sanni accused senior Number 10 aide Stephen Parkinson of knowing he was not out to his family when he released a statement saying he was once in a relationship with the Leave volunteer turned whistleblower.
"It was fucking shit," Sanni told the audience. "I had to come out to my mum the day before yesterday.
"You know what, he knew, he knew that I wasn't out to my mum."
Sanni accused Parkinson, Downing Street, and Leave campaign chief Dominic Cummings of putting his sexuality in play when statements were released defending the Vote Leave campaign last week in response to his allegations that it had flouted election spending laws during the Brexit referendum.
"Number 10, Dominic Cummings, and Stephen Parkinson have stripped me of the most important conversation for me to have with my mother and my sisters and my family.
"I came out to my mum and she said to me, 'I love you no matter what and they're doing it to shut you up.' I was like, 'Thanks, Momma.'"
Sanni's appearance ratcheted up the pressure on Theresa May to take action against Parkinson, whose statement was sent to reporters by a Downing Street staffer from an official Downing Street email address.
Earlier on Monday, a senior Tory MP told BuzzFeed News that it was "very distasteful" for Parkinson to have revealed that Sanni is gay.
"A number of us have told our whips we think [Parkinson] has to go and should avoid hanging on and becoming an even bigger story," the MP said.
But May is standing by Parkinson, one of her longest-serving advisers. She told the House of Commons on Monday he was doing "a very good job" and would not be sacked.
The PM came under pressure from two Labour MPs, Ben Bradshaw and Angela Eagle, during debate on the European Council to take action against Parkinson for outing Sanni.
Replying to Bradshaw, she replied: "I of course recognise the importance of ensuring that we do recognise that for some, being outed as gay is difficult because of their family and circumstances.
"What I want to see is a world where everybody is able to be confident in their sexuality and doesn't have to worry about such things."
She added: "Any statements issued were personal statements."
But there was confusion over Number 10's involvement in the statement after the head of communications for Channel 4 News tweeted an email from a Number 10 official containing Parkinson's words.
A Number 10 source sought to play this down, telling journalists: "As I understand it, a personal statement drafted by Mr Parkinson was sent to media organisations who had requested a response from him given that they were intending to run stories.
"The statement was also shared with former colleagues of his at Vote Leave and it was circulated for information to a small number of people within Number 10.
"The statement having been posted on [former Vote Leave Dominic] Cummings' blog was subsequently requested by another reporter, and a political member of Number 10 staff sent that on to the reporter saying 'this in the public domain but ... in case it's helpful'.
"And that's the long and short of it. It remains a personal statement and that is what was said in the email to that particular news organisation."
Parkinson, who worked for May in the Home Office before she became prime minister, was a senior organiser for Vote Leave.
In responding to Sanni's claims late last week, Parkinson revealed they had a relationship. According to Sanni's lawyers, this forced him to come out to his family and put his relatives in Pakistan in danger.
Cummings was responding preemptively to allegations put to him about Vote Leave by the Observer and Channel 4 News, which reported Sanni's claims over the weekend.

The PM's official spokesperson declined to comment on allegations that Vote Leave cheated spending limits, saying: "This is a matter for the Electoral Commission."
The spokesperson also distanced the PM from a tweet from foreign secretary Boris Johnson in which he said the cheating claims were "utterly ludicrous".
Asked whether Johnson was speaking on behalf of the government, they said: "He was responding as somebody who played a role in the Vote Leave campaign."