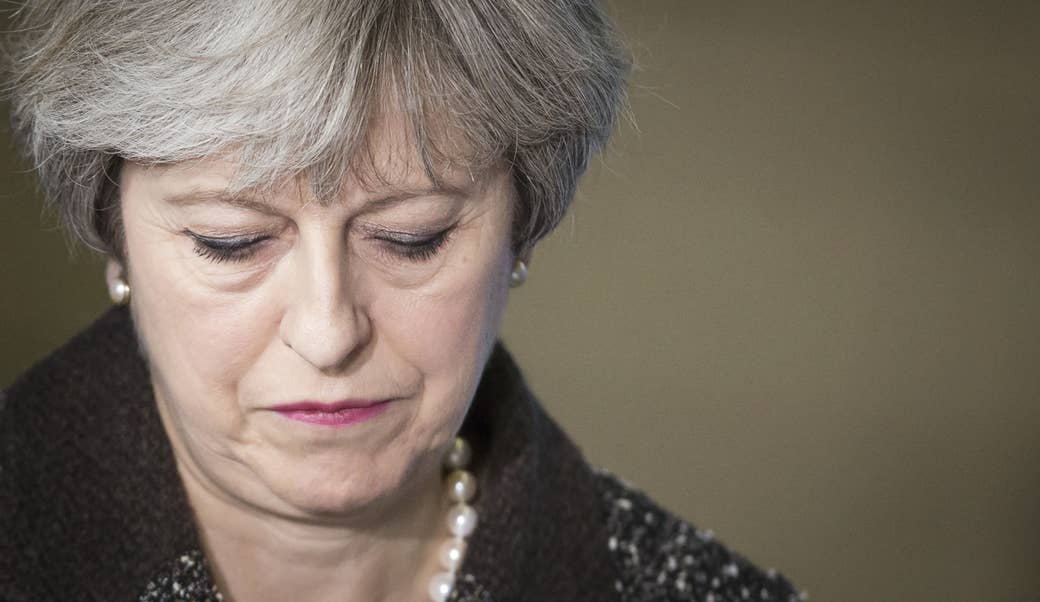 The final stage of the election was meant to be a cakewalk for Theresa May.

But as campaigning swings back into full gear after a suspension for the Manchester suicide bombing, the prime minister faces difficult questions about her record on national security, doubts over her policy manifesto, and a narrowing lead in the opinion polls.
An Observer/Opinium poll, released on Saturday night, said 37% of voters had a more negative view of May than when the campaign began, against 25% who said more positive. That's in contrast to 39% of people who said they had a more positive view of Jeremy Corbyn, and 14% more negative.

Doubts about May's bungling of her social care policy – the so-called dementia tax – haven't disappeared, despite the Tories' campaign reset, and the opposition parties were gearing up this weekend to remind voters of the blunder. Senior Whitehall and Conservative sources told BuzzFeed News that the episode has not only hurt the party at the ballot box, but also exposed a major flaw in the way May's team operates – namely, that major decisions are made in secret by a tiny group of people, without consultation of those who might be able to spot potential pitfalls.
May's loyal enforcers, led by her co-chiefs of staff Nick Timothy and Fiona Hill, should never have put their boss in a position where, four days after launching her vision for Britain, May was made to appear evasive in the national media, a former minister told BuzzFeed News.
"It's too narrow a team at the top," the senior source said. "They don't test the ideas out. That's particularly dangerous in a short campaign."
May was in Italy at the end of the week for the G7, where she tried to bury the manifesto debacle and put the election debate back on her terms. After her disastrous policy wobble, the election was back where May always wanted it: As a straight choice between her projected image of a commanding, experienced leader who thrives in a moment of national crisis, or an opposition leader in Corbyn who is too weak and incompetent to keep the country safe from terrorists.
Corbyn's decision to make a speech on Friday linking the Manchester attack to British foreign policy seemed to play right into the Tories' hands, and May didn't let the opportunity pass. "The choice people face at the election has just become starker [after the Manchester attack]," she said in Sicily on Friday night. "It's a choice between me, working constantly to protect the national interest and to protect our security, and Jeremy Corbyn, who frankly isn't up to the job."
Back in London, the Tory campaign machine was ramping up again, and preparing to unleash a barrage of attacks on Corbyn for being soft on the IRA and nuclear weapons. And yet if the prime minister seemed to be back on favourable ground politically, not everything was as strong and stable as it appeared in Theresa May's team.

As the Tory leader flew back from the G7 to return to the campaign trail, she faced lingering questions about her national security record as home secretary, cuts to frontline policing, and whether the authorities missed warnings before the Manchester attack.
A YouGov poll on Friday morning, the first since the Manchester attack, had put the Conservatives' lead over Labour at only 5 points, down from nearly 20 points two weeks ago. If that was repeated across the country at the ballot box on 8 June, May would have a majority of only 2 seats in parliament – well down on the 17 she had before calling the election, never mind the crushing majority she expected. At a press conference in Italy, even the normally gushing Daily Mail was compelled to ask: "What's gone wrong?"
At Labour headquarters, staff and volunteers took an unexpected break this week while campaigning suspended. They returned knowing the suicide bombing might arrest their advance in the opinion polls and put the debate back on terms that would favour their rivals – but they were buoyed by the startling YouGov poll, and determined to head off the inevitable questions about Corbyn's record on national security, insiders told BuzzFeed News. That's why a speech was arranged for Friday morning and briefed out to the national media on Thursday night, to the dismay of Conservative campaign operatives who thought they had an agreement not to resume campaigning until Friday morning.

The Tories are still expected to win on 8 June. But instead of being a triumphant march to an electoral landslide, the next 12 days look set to be a tough slog for a prime minister whose campaign has so far raised more questions than it has answered.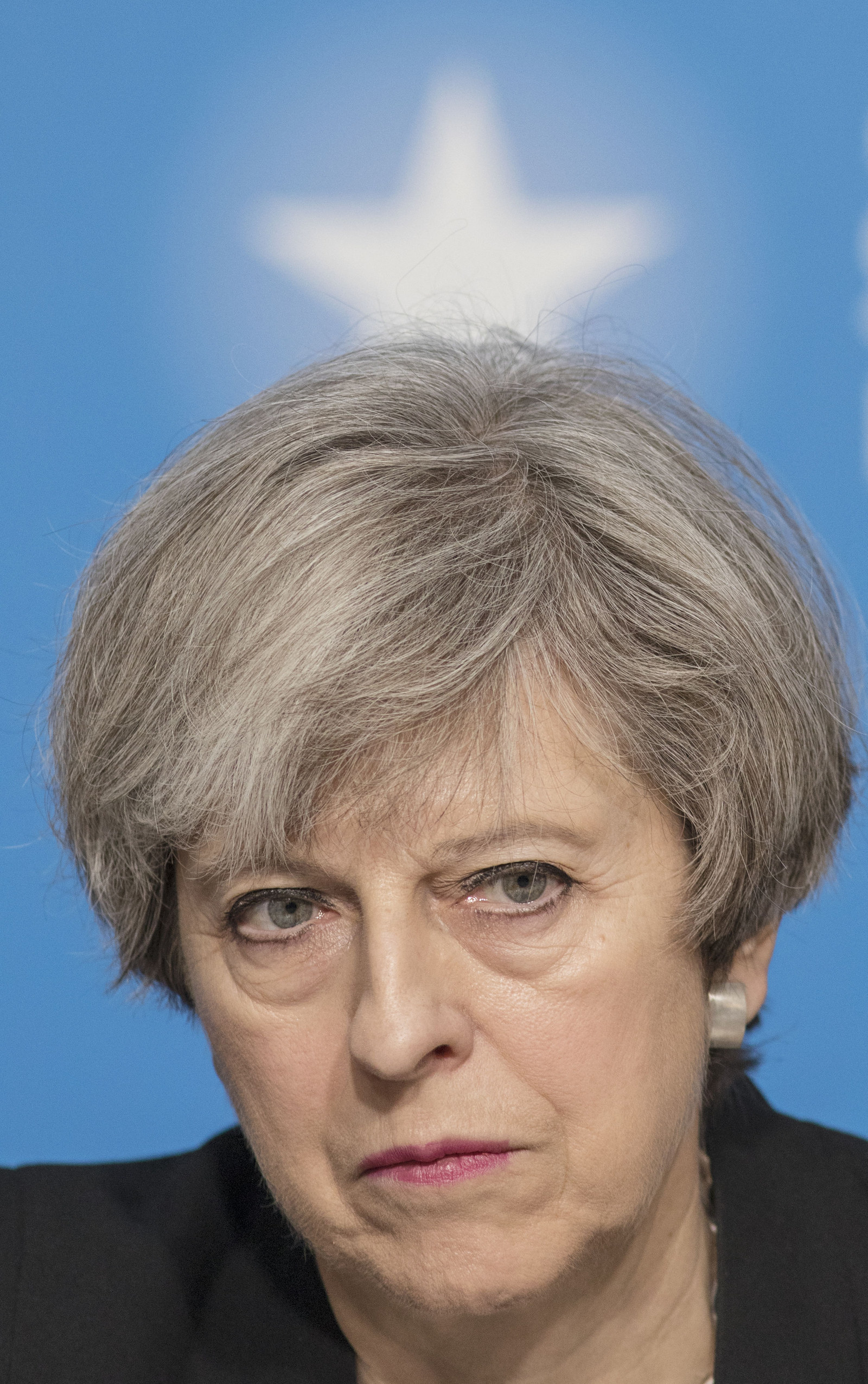 May is, at least, in a better position than in the days after the manifesto, when "strong and stable" became "weak and wobbly".

For the first month after calling the general election, the Conservatives had run a stage-managed campaign focused wholly on the leader's personal appeal. Relentlessly repetitive, it was criticised for being too reliant on soundbites and devoid of policy substance, yet it appeared to be working. And then May launched her policy manifesto in Halifax. An ambitious pitch for the centre ground of British politics, with sweeping promises to tackle social injustice and improve the conditions of "ordinary working families", it quickly began to unravel.
One of the central proposals, under which the elderly would be required to pay for their own social care with only their last £100,000 of assets and property protected, sparked alarm among some Tory MPs, who sensed it would go down badly with the party's core middle-class supporters. Critics labelled it a dementia tax, which stuck. Opinion polls showed Labour narrowing the gap. Four days after announcing the policy, May U-turned.
Social care costs would be capped, the prime minister said, in what she insisted was a "clarification" and not a reversal (even though the manifesto had seemed to exclude the possibility of a cap, and her health secretary, Jeremy Hunt, had explicitly ruled it out in an interview days earlier). At a campaign event in Wales on Monday, May was accused by Michael Crick of Channel 4 News of being "weak and wobbly". A one-on-one interview with the BBC's Andrew Neil that night was even more uncomfortable. It was easily May's worst day of the campaign.
Blame was assigned to Timothy, May's influential co-chief of staff and policy adviser, who had insisted on including the policy at the last minute without consulting widely, the Financial Times reported. One senior Conservative told BuzzFeed News that they held Timothy personally responsible for May's evasive interview with Neil, and that the prime minister's closest aide should never have put her in that position.
It was an extraordinary unforced error that undermined May's central message of strength and stability. And following the reversal on national insurance in the spring, it left Downing Street open to the charge that it buckles under the first sign of pressure.
According to one former senior official who worked with May and Timothy in the Home Office, the abrupt decision to call the election, after months of denying it, meant there was no time to consult civil servants on policies, as Number 10 typically did in the past. "This meant the policy faced the public in the manifesto untested," the official told BuzzFeed News.
"That's what struck me at the time I worked with the team," the source added. "Theresa May is quite a closed person. She doesn't discuss her ideas with a wide circle, and Nick [Timothy] doesn't either.
"The result is a bit like an echo chamber. Followers of Jeremy Corbyn have this effect when they see, say, 10,000 people at a rally and think there's huge support. They don't see the 250,000 outside who feel otherwise. The same is true here: There's clearly been some discussion internally, but not enough wide discussion of the difficulties, the 'what ifs'.
"What this really shows is if you don't actively seek out people who don't agree with you, and if you don't test out ideas, you get this kind of backlash."
May's wobble didn't last long.

The prime minister was in Downing Street on Monday night, a few hours after the frosty interview with Neil aired on BBC One, when an official informed her of an explosion at a concert in Manchester.
It was just after 10.30pm. A night owl known in Whitehall for immersing herself in paperwork until the early hours, May was kept advised on the situation in Manchester throughout the night. At around 4am, she spoke to Corbyn on the phone and they agreed to suspend campaigning until further notice.
On Tuesday, May chaired a meeting of Cobra, the government's crisis response committee, in the morning, then travelled up to Manchester, where she met senior police and fire officials and the city's mayor, Andy Burnham. She visited victims at a hospital and signed a book of condolence at the town hall, praising the city's "unbreakable spirit". That evening, May was back in London for another Cobra meeting and a late TV address, in which she announced the terror threat level had been raised to its highest level (critical), for the first time in a decade.
With campaigning suspended, Labour's head office emptied on Wednesday, with staff using the lull in electoral hostilities to take an unexpected break. "God knows people work hard enough during a campaign," one staffer told BuzzFeed News.
Some meetings continued, but with political journalists no longer phoning constantly with questions, no need to brief shadow ministers on TV and radio appearances, and nothing for the rapid rebuttal team to rebut, there was little to do but wait.
Corbyn attended a vigil in central Manchester on Tuesday, where thousands of people remembered the victims of the suicide bombing. May wasn't present, having returned by then to London, and that fact wasn't unnoticed by some in the crowd. Seeing Corbyn, Burnham, and Liberal Democrat leader Tim Farron onstage but not the prime minister, one man said within earshot of BuzzFeed News: "Theresa May didn't bother to show up, then." Amber Rudd, the home secretary, attended instead.
At Labour headquarters, there was no getting away from the fact that the attack had interrupted Corbyn's strongest period of campaigning. Party strategists realised immediately they would come under a new wave of attacks from the Tories on national security. It was, one said, "very clear" they would have to do an event with Corbyn pre-empting it.
On Thursday, May was in Brussels for the NATO summit and then, on Friday, it was on to Sicily for the G7. Back in London, as national campaigning resumed, Corbyn gave his speech on the causes of terrorism, blaming British foreign policy and the war on terror. The Labour leader didn't stop to answer questions after the speech, and was instead abruptly bundled out of the room by an aide.
Anticipating Conservative attacks on his personal record, including years of engagement with people linked to the IRA, Corbyn ended his speech with a plea to finish the campaign "without impugning anyone's patriotism and without diluting the unity with which we stand against terror".
The Tories – who had sought to exploit Corbyn's perceived weakness on national security from the very beginning of the campaign – seemed to hesitate initially before trying to hit Corbyn on security. A press conference that had been scheduled for 9.30am on Friday morning was abruptly cancelled without explanation. "I think they are very, very wary of being seen to take any kind of advantage," one Conservative MP told BuzzFeed News.
Instead, security minister Ben Wallace was sent on to Radio 4's Today programme on Friday morning to criticise Corbyn for trying to turn the Manchester tragedy to advance his views on foreign policy. The Lib Dems also weighed in, with Farron condemning Corbyn's speech as "putting politics before people at a time of tragedy".
Shortly after Corbyn finished his speech, several of the Tories' heaviest-hitters on defence and security made the rounds of the broadcasting studios, accusing the Labour leader of being soft on terrorism, including Johnny Mercer, a former soldier, and defence secretary Michael Fallon.
Friday night ended with Corbyn appearing on BBC1 for an interview with Neil, where he struggled to answer questions about his historic views on the IRA, nuclear weapons, and NATO. Within minutes of the programme finishing, the Tories put out their attack lines: A vote for Corbyn "puts everything at risk", said a statement from Priti Patel, the international development minister.
On social media, the Tories posted a black-and-white montage of Corbyn's controversial comments about defence and security over the years, including him saying at a rally, "I've been involved in opposing anti-terror legislation since 1983."
Friday was far from a clear win for the Tories, however.

Corbyn's team were buoyed by the poll released by YouGov on Friday morning, the first since the Manchester bombing, showing the party narrowing the gap to its best poll rating since Corbyn became leader two years ago. In particular, they were delighted by an element of the poll suggesting their manifesto policies had been remembered by the public in a more positive manner, while the Tories' manifesto launch was mainly associated with the dementia tax.
And as the Labour leader was preparing his speech about the causes of terrorism, the Institute of Fiscal Studies was poking holes in the party manifestos a few hundred metres away. Labour's policy platform had already been widely criticised for making allegedly excessive promises of vast new spending on education, health and other public services, but now the policy platform of the Conservatives – supposedly the party of economic competence – was picked apart by the respected independent think tank.
Neither party had been honest with voters about the economic impact of their plans, the IFS said. Nor were they really grappling with the country's long-term challenges. May's manifesto would mean another five years of austerity, and her planned spending cuts are probably undeliverable without "serious damage to the quality of public services".
The NHS was facing an "incredibly challenging period". Funding for schools will fall. Keeping a controversial target to reduce net migration to the tens of thousands will cost the economy billions. She is likely to have to raise taxes.
That and the YouGov poll seemingly put Corbyn in a far better position entering the last stage of the race than anyone expected.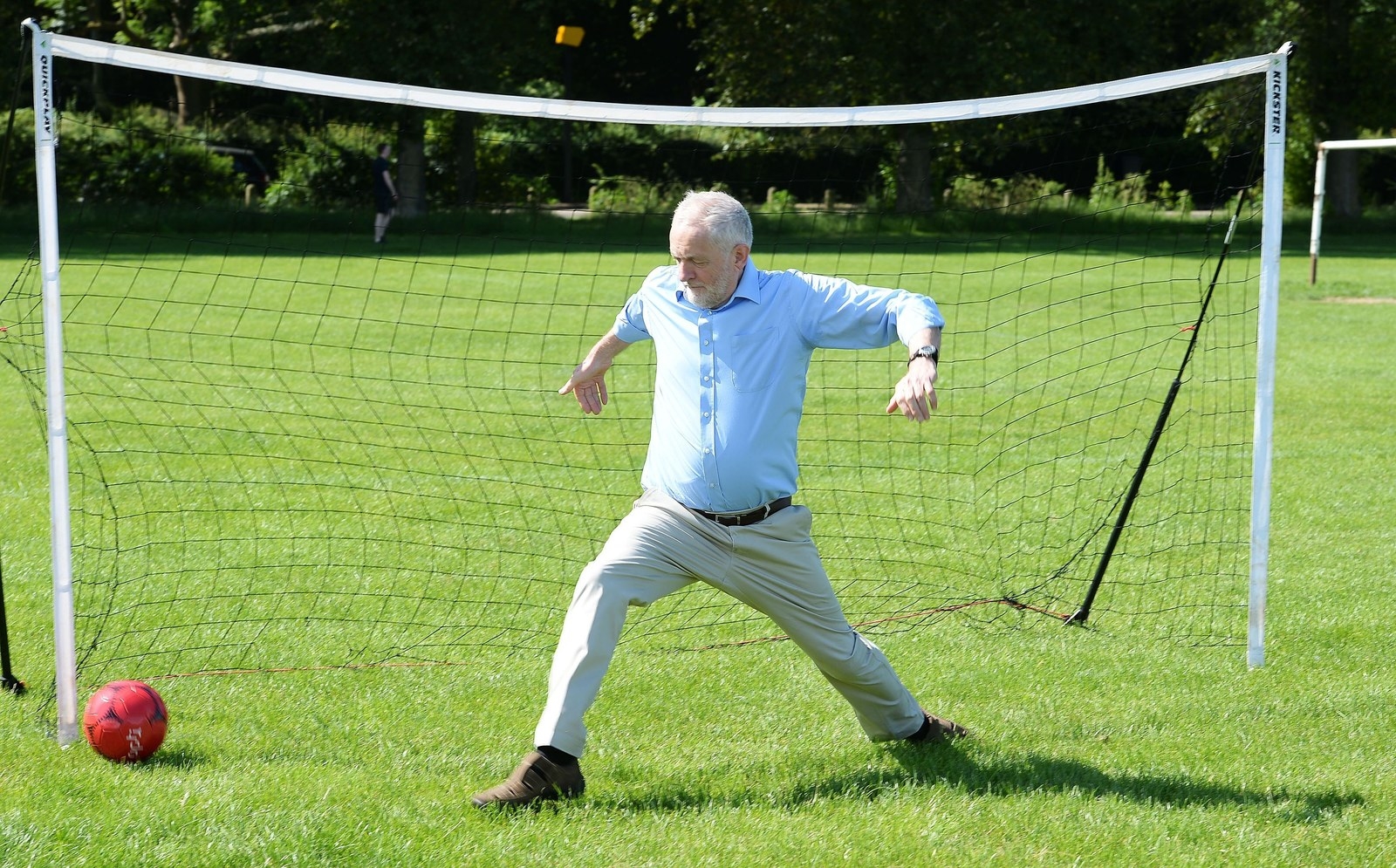 Joe Twyman, head of political and social research at YouGov, warned against being too bullish about Labour's prospects.

The party has surged in the polls recently, narrowing the gap to single digits in some surveys. That may have been a response to the Tories' disastrous manifesto launch, but it's also likely that traditional Labour voters who initially said they might not vote for the party because of Corbyn changed their minds once election day drew closer. It could be that May's initial astonishing leads were never realistic, and that the gap would always have narrowed, giving Labour the appearance of momentum regardless of what took place day-to-day.
Labour would probably have been even further ahead in the latest YouGov poll if not for Monday's attack, Twyman told BuzzFeed News: "That momentum for Labour was continuing until the awful events in Manchester. Then the momentum moved back to the Conservatives because everyone's talking about the government's response. My sense is that what we saw is a move back up for the Conservatives."
Even though YouGov's poll on Friday caused shock in Westminster and led some pundits to speculate that May had blown the election, the Tories are still on course to win, Twyman said. Other polling experts and campaign strategists agreed, pointing out that May has far higher trust and approval ratings personally than Corbyn, including on security and terrorism, which will be important factors in the next week.
Expect the Conservatives to try to exploit that, they said, though they will have to be careful not to be perceived as too blatantly using a tragedy for political gain. "My sense is that the tone will become more attacking over the next few days," Twyman said.
But while May is still highly likely to return to Number 10 after 8 June, the prime minister may still be dogged by questions about her policies and leadership raised during the campaign – including in her own party. Team May will return to Downing Street, said one MP, "but I'm not sure it's going to be the right atmosphere going back into government."

Additional reporting by Emily Dugan.