Senior Brexiteers Are Hoping To Kill Off Chequers In The Next Two Weeks
MPs eager to stop Theresa May's Brexit proposal believe they're running out of time to show that there's a better model.
by
,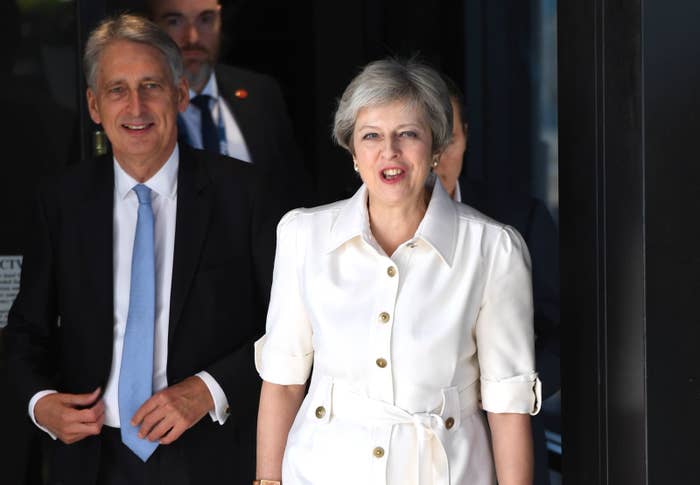 Senior Conservatives opposed to Theresa May's Chequers plan – including cabinet ministers – believe they've got just two weeks left to kill the controversial Brexit policy, according to sources familiar with their discussions.
The prime minister's plan has been harshly criticised by many of her own MPs, rejected by European leaders, and is deeply unpopular among the Tory grassroots. But despite all that, some of the MPs most eager to stop the proposal believe they're quickly running out of time to demonstrate that there's a better model.
If they can't force a change of position in the next fortnight, they fear, the window will close, and Britain could end up locked into a trading relationship with the European Union that, in their view, would be a betrayal of those who voted to leave.

Leavers including Boris Johnson, David Davis, several current cabinet ministers and backbenchers in Jacob Rees-Mogg's European Research Group (ERG) have embraced a free-trade deal based on the European Union's deal with Canada as their preferred model for the UK's future trading relationship with the union.
In the Eurosceptics' view, the Chequers plan would leave the UK too closely aligned to the EU after leaving and beholden to its rules and regulations without any control over them. A Canada-style deal, on the other hand, would end free movement of people, withdraw the UK fully from the EU's single market and customs union, and allow a truly independent international trading policy.

During the summer, some hardliners were discussing a leadership challenge to May in the hope of putting a true believer in Downing Street, who would abandon Chequers and push for a Canada-style deal. But they never had the numbers to win a confidence vote. Now they're focusing merely on defeating the policy rather than removing the leader.
One former minister told BuzzFeed News that May would defend Chequers at the party's conference, but didn't think it would win over the Eurosceptics and urged her to quickly pivot after the event to a Canada-style model.

"It's important to let the PM have conference to sell Chequers, so she can reasonably say she did everything she could to make it work," the MP said. "But then very quickly afterwards there has to be movement, in the next few days and weeks."

"The timetable is for there to be a shift [from Chequers to a Canada-type deal] in the next two weeks," another well-placed Whitehall source told BuzzFeed News.
Many grassroots Tories would support such a move. At the Conservatives' annual conference in Birmingham this week, fringe events where speakers have argued against Chequers have been oversubscribed, while speeches by senior ministers in the main hall have been sparsely attended.
However, the Brexiteers are running out of time to get the prime minister to change her mind and switch to their preferred model. Within a fortnight, they figure, the bruising reception that Chequers received at the Salzburg summit will have faded and the EU and UK will have made more progress towards a deal in the negotiations.
A European Council summit is scheduled for 18 October. If the Brexiteers haven't shifted the the argument by then, and May is edging closer to a deal, it may be too late for them – although that depends on an optimistic assessment of progress in the EU talks.
To force May to change her mind before then, some of the Brexiteers think, depends on persuading enough of their fellow MPs that there is a workable alternative if they reject Chequers.
Crucial to that is persuading them that they've got credible answers to the Irish border dilemma – the biggest sticking point in the Brexit negotiations. Having given up for now on trying to replace May as leader, the Brexiteers are concentrating on making the argument that a Canada-style deal could be implemented without the reintroduction of a hard border between Ireland and Northern Ireland.
Discussions are taking place between senior Brexiteers about how to make that argument, one of the sources said. Cabinet ministers who favour a more detached trading relationship – understood to include the Brexit secretary Dominic Raab – have been discussing how to persuade the prime minister.
Boris Johnson, the most prominent supporter of a Canada-style deal, has been using his public profile to argue in its favour, including in a long essay in the Daily Telegraph last week. The former foreign secretary is expected to again make the case on Tuesday at a fringe event at Conservative party conference.
And senior figures in the ERG are discussing tactics for how to persuade people that it's possible to have a Canada-style deal without reintroducing physical checks at the border. One source claimed the ERG was planning to release another paper on the matter, but this was denied by a member of the group.
However, it's far from clear that they'll be able to convince enough of their colleagues to back a Canada-style model. Speaking to ITV's Peston show last week, the former home secretary Amber Rudd said that around 40 Tories were prepared to vote against any deal along those lines.
If May is devoid of options on Brexit, so too, it seems, are her opponents.
Faced with a prime minister who insists on holding her position, the Brexiteers appear to have few avenues for exerting leverage than those they've already deployed: publishing position papers, doing media appearances, giving speeches, lobbying other MPs.
The Brexiteers' first attempt to put forward a solution to the Northern Ireland border question this month didn't go well. The launch of an ERG paper on the matter failed to shift the debate in their direction. Worse, the rollout was done so badly that it gave the appearance that the Brexiteers are disorganised. One MP in the group told BuzzFeed News at the time that they were in despair at how badly they'd made their case.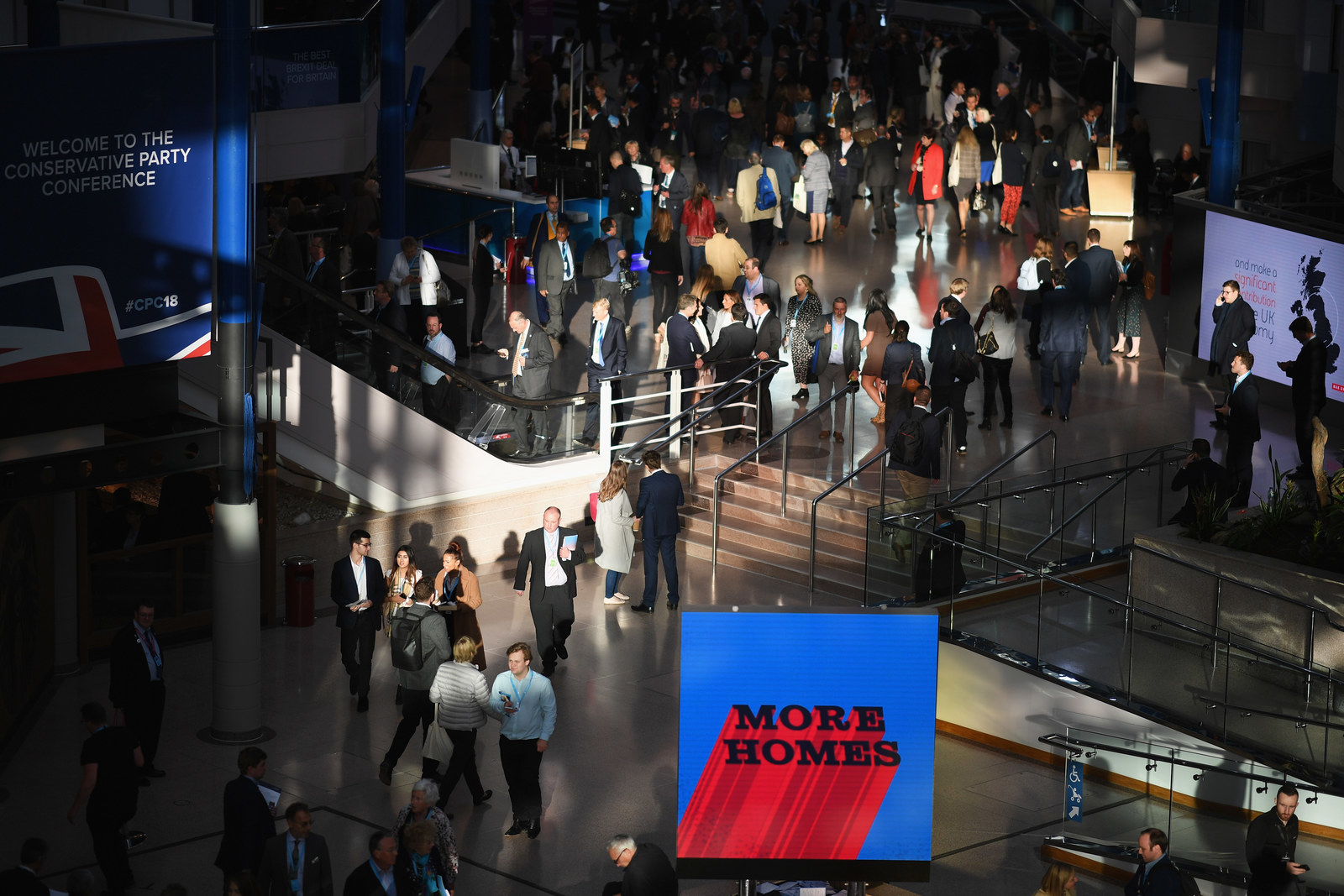 In its Northern Ireland paper, the ERG argued that a hard border could be avoided by implementing technological solutions and carrying out checks on goods before they reach the frontier. The EU insists that it will not accept that, but some Brexiteers think if the prime minister stuck to this argument, she would win.
In their view, the border dilemma has been overblown by Brussels to give it leverage in the negotiations, and they believe the EU will eventually back down if the UK makes it clear that it would walk away without a deal if doesn't.
Before that, however, the MPs would need to convince May to pivot to a Canada-style deal. The prime minister is refusing to budge, so the Brexiteers think their only hope now is to put pressure on her by convincing enough of their fellow MPs to signal they'll vote against a withdrawal agreement when it comes before parliament as long as Chequers is the basis of the future relationship.
The ERG has warned that many of its members – up to 50 MPs, one told the BBC – will vote against any deal that is based on Chequers. But most Tory MPs haven't indicated how they will vote and it's possible that most of them would eventually support the prime minister.
The Brexiteers' worries may seem counterintuitive because, from the outside, it appears that the momentum is against May. European leaders were scathing about the Chequers plan after the summit in Salzburg this month, which made it seem that a deal between the EU and UK was far from being done and may not happen at all.
However, senior Brexiteers think the EU will accept something close to the Chequers proposal after concluding that, for all its flaws, it is actually favourable to them.
And if that happens, they think, it changes the dynamics in Westminster in May's favour. At that point, it will be harder for Tory MPs to oppose Chequers. It would mean rejecting an agreed deal in favour of the unknown. Downing Street will argue that voting it down would create chaos, bring Jeremy Corbyn to power, and even cause Brexit to be stopped. In that situation, the Brexiteers worry, most of their colleagues will be persuaded to swallow their concerns and vote for May's agreement.
Some of May's aides in Downing Street also believe this, and are counting on it.
Even if the Brexiteers get their way, there is one immediate concern: A Canada-style deal would not solve the Irish problem. The two parts of the island of Ireland would be in different customs regimes, which many say would mean there'd have to be physical checks at the border.

The EU and Downing Street have agreed that they won't let that happen, although the chancellor Philip Hammond told a fringe event at conference on Monday that the UK would enforce a hard border if there's no deal, according to Politico.