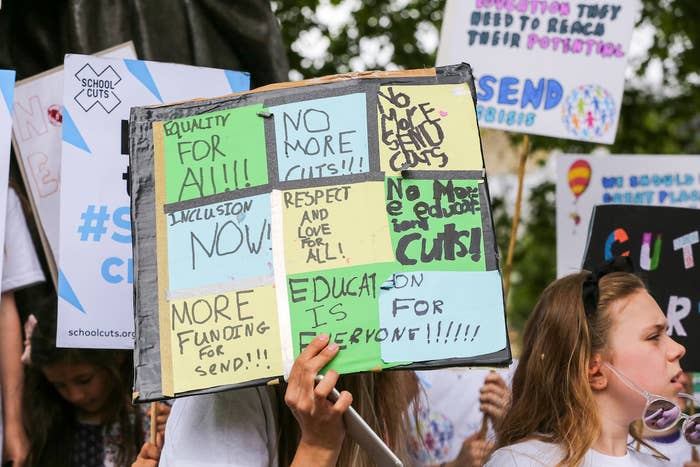 Nearly a year since she last went to school, 12-year-old Sarah Collins' future is now entangled in a gruelling legal dispute with no end in sight.

Sarah, who is autistic, stopped attending her school in the north east of England last summer because of overwhelming anxiety. Her parents want to send her to a special school for children with high needs, but their local authority refused. The disagreement is now the subject of proceedings in a tribunal devoted to cases involving kids with special educational needs and disabilities (SEND).
A hearing was scheduled for October, then postponed because the local authority wasn't ready. In December it was delayed again. Then in January: another delay. The tribunal rescheduled the Collins's case for April, but there's no guarantee that it won't be pushed back again.
"How can we be expected to now do this for a fourth time?" Sarah's mother Nancy wrote in an email one morning recently, as she prepared to rally her daughter for yet another hearing date that may end up being vacated.
The Collins family are among thousands across England who've become trapped in protracted legal disputes in pursuit of vital services they say their kids have been denied because the special needs system is in crisis.
The number of challenges by parents against decisions by local authorities soared by 23% last year to just over 7,000, and has nearly doubled in three years, according to Ministry of Justice statistics, overwhelming the tribunal and creating a growing backlog of cases that is making an already dysfunctional system even worse.
Parents are winning nearly nine out of ten cases, but that is small comfort. Many already feel ground down by years of fighting against an inadequate system, and now, they say, they're being put through a protracted legal process that puts them under more strain and adds to the cruel uncertainty about their children's futures.
Nancy, 37, says the anticipation and uncertainty has been enormously stressful for Sarah and the rest of their family. (Their names and some details have been changed because of the ongoing proceedings and to avoid increasing Sarah's anxiety.)
Every time a scheduled date approaches, Sarah's anxiety peaks and she stops eating, then her spirits crash when they're told they will have to keep waiting for their case to be heard. The longer Sarah is educated at home, Nancy worries, the more socially isolated she becomes and the less hope she has of ever getting an education that would allow her to someday develop to her full potential.
"It's just absolutely gut-wrenching for these families," says Samantha Hale, a partner at Simpson Millar, one of the legal firms which specialise in this area.
The explosion in legal cases is one of the starkest illustrations of a sweeping education reform implemented under David Cameron's coalition government in 2014 which has failed to live up to its promise to improve the lives of disabled kids.
Introducing those reforms, Conservative ministers promised that the new system would be less complicated, disjointed and adversarial, with extended legal rights for children with special needs and families placed at the heart of the process. Six years on, however, those bold ambitions have not been met and the new regime is in turmoil, according to parents, campaigners, academics, policy experts, MPs, and regulators.
Thousands of children have been pushed out of mainstream education, their parents are increasingly isolated and desperate, and public services that were already squeezed by austerity are being put under growing pressure. Regulators and MPs have warned that the system is unsustainable. The Department for Education is currently undertaking a review that is expected to conclude later this year.
As part of a major ongoing reporting project, BuzzFeed News has spoken to more than two-dozen parents across the country in recent months. Several of them have been through the tribunal process, some more than once, while others are involved in ongoing disputes with their local authorities that they expect will eventually end up there.
At the centre of the tribunal cases are documents called education, health and care plans (EHCPs), legal documents granted to around 354,000 children who require a higher degree of assistance than that which mainstream schools typically provide. An innovation of the 2014 reforms, the EHCPs set out each child's special needs and the support they're entitled to receive from schools, health professionals, social workers and other services in their area.
When parents disagree with a decision a council makes about an EHCP, they're entitled to appeal to the tribunal. Last year, just over half the cases related to the contents of a plan, and around 30% stemmed from a council's refusal to assess a child whose parents believe they warrant one.
For the Collinses, Nancy says, there were several objections to the provisions in Sarah's EHCP, but it was the local authority's stipulation that Sarah go to a mainstream secondary school that caused them most concern.
It was totally unrealistic to think she could cope in that setting given her difficulties in primary school, Nancy says.
Nancy sought alternatives and lined up a specialist school which she believed would be nurturing and supportive, with small class sizes, expertise in mental health, and experience of children with Sarah's abilities and challenges. But the local authority refused and insisted that she could return to a mainstream classroom, she says, so they appealed.
And now here they are, all these months later, still waiting for their case to be heard so they can move on with their lives.
The delays the Collinses experienced are not unusual.
In March 2019, the head of the special needs tribunal, Judge Meleri Tudur, submitted written evidence to an inquiry by the House of Commons' education select committee which stated bluntly that the appeal body had been overburdened.
"The significant number of appeals registered, a without a commensurate increase in the workforce, administrative or judicial, has meant that the tribunal is no longer able to cover all the hearings required," the judge said in a written submission, which was not widely reported at the time.
"Since September 2018, the number of appeals which have had to be postponed has had to increase dramatically, not just because of the increase in the number of appeals registered but also the increase in the number of appeals requiring a hearing. As a result, judges consider daily the list of hearings scheduled to take place in coming weeks, to make decisions about which appeals must be prioritised and heard and which can be postponed."
"The situation has now escalated," Judge Tudur added, "to a situation where on some days, only appeals which have been previously stood down are being listed."
Judge Tudur told the education committee that the backlog of cases was such that, even if no more appeals were registered, it would take at least a year to clear it.
In a statement to BuzzFeed News, the Ministry of Justice said it recruited another 48 judges to help with the caseload in 2019, and will hire another 50 by the end of this year.
"We understand the problems postponements can cause, which is why we have introduced a new listing process and are hiring almost 100 extra judges to help manage a significant increase in appeals," a ministry spokesperson said.
But the cases have continued flooding in. By the end of September, the number outstanding had reached a new high of 3,000, according to MoJ statistics.
Talk to families, and they'll say the staggering success rate of the appeals — nine to one — shows the extraordinary failure of local authorities across the country to deliver the ambitions promised by ministers six years ago.
Parents say they're confronted by a cascade of bad and unlawful decisions by overstretched and underfunded councils. Some say the situation is so bad that councils are deliberately withholding services in the hope that families won't have the resources, knowledge or determination to contest the tribunal process, thereby rationing services and saving money.
Hale, the lawyer at Simpson Millar, says the statistics are slightly misleading because appeals are recorded as successful if parents win any changes, even if they don't get most of what they ask for. Even so, she says, her experience suggests that local authorities are floundering.
In many cases, Hale says, councils refuse requests by parents because of short-term financial considerations and then realise much later, deep into the legal process, that their case is weak. It's not unusual for councils to concede just before a scheduled hearing.
For local authorities, the surge in legal dispute has added significant costs to their already stretched budgets. Collectively they've spent around £140 million on appeals since the new system was introduced, according to an analysis by Special Needs Jungle, a campaigning blog run by parents.
Among local government executives and policy specialists, there's a view that the tribunal system is unfairly skewed in favour of families, that judges are prioritising parents' preferences without taking into consideration the consequences for the rest of the system. Tribunals, on this view, don't have a realistic appreciation of the pressure that local authorities are under in trying to protect thousands of needy children on their diminishing budgets.
In submissions to the Commons' education select committee, some local officials suggested that the surge in appeals is being driven by better-off parents who can afford lawyers and "shout the loudest", while children from deprived families miss out. One executive said that some parents are unreasonable in demanding services that are too expensive. Judges, he said, too often award "gold standard" provisions when they're not backed by evidence.
These complaints highlight a fundamental tension in the new system between parents' expectations — encouraged by ministers — that the government will do everything it possibly can to give their kids a better future, and the harsh realities of public services depleted by austerity.
"Councils are doing all they can to ensure that every child has the best possible education and receives the best possible support that parents rightly expect," a spokesperson for the Local Government Association told BuzzFeed News in a statement, "but are reaching the point where they are at risk of not being able to meet their statutory duties."
Those on the families' side bristle at the suggestion that their use of the legal process is anything other than a desperate attempt to force deficient, sometimes intransigent local authorities to provide critical services that their vulnerable children need and deserve.
They describe a process that is arduous, frustrating and stressful; which costs money for lawyers and expert testimony that they often can't afford; which disrupts daily lives that are already complicated and demanding; and which can be confusing, highly technical and scary, especially when the local authorities appoint barristers to defend them.
Nancy Collins says her family doesn't have much money and can't afford full representation, so she has hired a paralegal to help her prepare arguments for the hearing. She is terrified of the process and so stressed-out, she adds, that she recently developed an occlusion in one eye.
She endures it, she says, because Sarah is worth it: "She doesn't deserve to be shoved in a school that can't meet her needs just to save them some money."