Parliament Has Again Failed To Agree On Any Alternatives To Theresa May's Brexit Plan
After MPs rejected all the alternative proposals for the second time in a week, a leading Conservative MP announced he was quitting the party because it "refuses to compromise".
by
,
,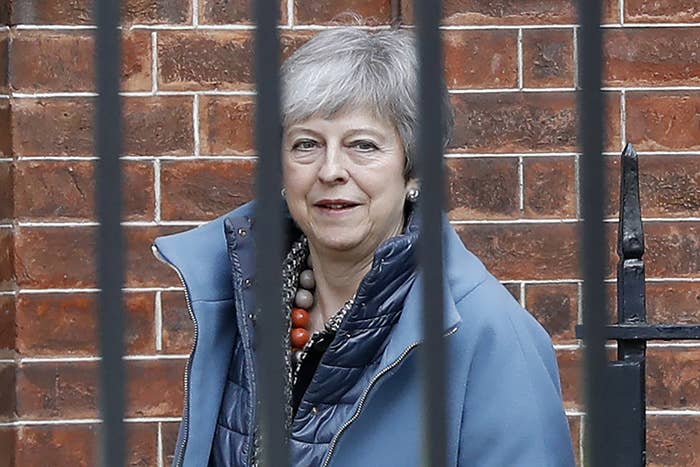 Parliament has again failed to agree on an alternative to Theresa May's Brexit plan, leaving Westminster hopelessly divided with less than two weeks to go before the UK is due to leave the European Union.

On Monday night, for the second time in a week, MPs took control of parliamentary business in an attempt to resolve the gridlock by voting on possible Brexit outcomes, but none of the four proposals received the backing of a majority of the House.
Confounding predictions earlier in the day that the Commons would swing behind a "softer" Brexit approach, a motion put forward by the Conservative MP Ken Clarke was defeated by just three votes, 273 in favour to 276 against.
Motions in favour of a "Norway-style" plan equivalent to staying in the EU's single market, a second referendum, and revoking the Article 50 withdrawal process were also defeated, although by much less than they were in the first round of "indicative" votes last week.

In a sign of the extraordinary tensions the Brexit argument is causing in Westminster, the Tory MP who had championed a Norway-style arrangement used a point of order to announce immediately after the vote that he would leave the Conservative party.
"I have failed chiefly because my party refuses to compromise," Nick Boles told the House. "I regret therefore to announce that I can no longer sit for this party."
A shocked Tory colleague, Huw Merriman, could be heard saying, "Oh Nick! Nick, don't go, come on." Boles was applauded by MPs on the opposite benches.

MPs have been holding indicative votes on Brexit after voting to temporarily take control of the parliamentary agenda, over the objections of the government. The votes are only advisory, but would have put significant political pressure on the prime minister to moderate her Brexit policy had they passed.
The attention will now swing back to May and the government. On Tuesday, the prime minister will hold a marathon five-hour session with her deeply divided Cabinet in an attempt to agree the government's next steps.
Number 10 aides have warned they may have to call a general election if May's deal once again fails to secure a majority if, as expected, it is brought back to the Commons for a fourth time later this week.
Downing Street has not entirely given up hope that MPs will pass the deal, despite having resoundingly rejected it three times. "The deal is not dead," a senior government source told BuzzFeed News when it lost for the third time on Friday, by a reduced margin of 58 votes.
MPs will get another chance to vote on alternative Brexit options on Wednesday.
Some Tories warned that the party would split if Parliament voted for a softer Brexit and May accepted its recommendations.
Clarke's customs union motion was the closest of the alternatives to winning a majority in last week's indicative votes, falling by just six votes, and it was widely thought that it had a good chance of succeeding this time around.

It received the backing of 230 Labour MPs and 37 Conservatives, including the ministers Robert Buckland, Alan Duncan, Tobias Ellwood, Mark Field, Stephen Hammond, Margot James, and Rory Stewart. Opposing the motion were 236 Tories, Northern Ireland's Democratic Unionist Party, the Independent Group, 10 Labour MPs, and five Liberal Democrats.
Some observers believed that the Norway-style "Common market 2.0" plan put forward by the Conservatives' Boles — which would keep the UK even more closely aligned with the EU after leaving — also had a good chance of winning a majority on Monday night. Labour and the Scottish National Party had whipped their MPs to vote for the motion.
However, it fell 21 votes short of winning a majority, with MPs voting 261–282 against the motion.
Among the supporters of Boles' motion were 185 Labour MPs and 33 Tories. Against the motion were 228 Tories and 25 from Labour who resisted their party whip.
A motion put forward by a Labour MP in favour of a second referendum lost 280 to 292. And an SNP motion that would've revoked Article 50 instead of allowing the UK leave without a deal was defeated, 191 votes to 292.
After the vote, Brexit Secretary Stephen Barclay told MPs they would have to present a credible plan to Brussels by next week to get another extension. "This House has continually rejected leaving without a deal, just as it has rejected not leaving at all. Therefore the only option is to find a way through which allows the UK to leave with a deal. The government continues to believe that the best course of action is to do so as soon as possible."
The UK could still avoid participating in European Parliament elections if it agrees to support May's deal this week, Barclay added.
Labour leader Jeremy Corbyn said Monday's votes were closer than those May's deal has suffered, and that MPs should get another chance to vote on the same options this week.
Corbyn said: "If it's good enough for the Prime Minister to have three chances at her deal, then I suggest that possibly the House should have a chance to consider again the options that we had before us today in a debate on Wednesday, so that the House can succeed where the Prime Minister has failed, in presenting a credible economic relationship with Europe for the future that prevents us crashing out with no deal."
The latest failure by MPs to reach a consensus increases the likelihood of Britain either crashing out of the EU without a deal next week, or asking Brussels for a long delay. The latter would require participating in European Parliament elections in May. Both would be extremely divisive.
Speaking in the Commons on Monday afternoon, Clarke told MPs this was their last chance to find a way out of the political crisis and avoid a damaging no-deal exit. "It would be calamitous just to collapse into it just because we cannot reach any compromise between each other," he said.