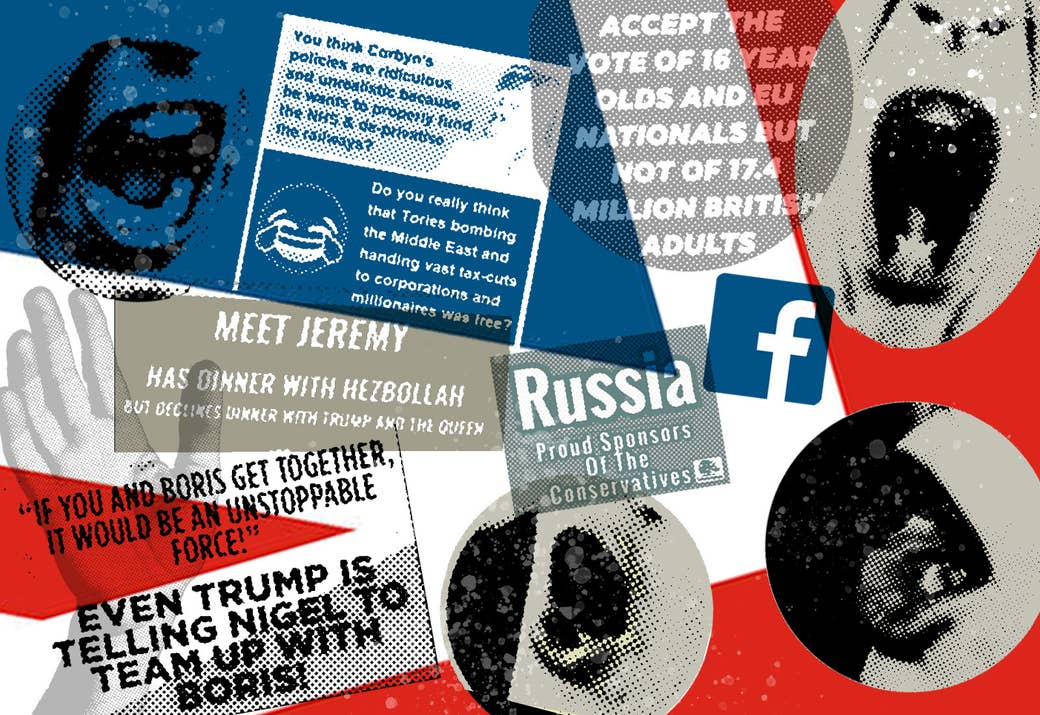 On a Friday afternoon early in the 2019 general election campaign, an obscure Facebook page called Fight4Brexit shared a short video with its followers. The shaky 43-second clip showed a Brexit Party supporter shouting at two elderly Liberal Democrat activists soliciting votes on her street.
"This is how you deal with Lib Dem canvassers," Fight4Brexit's administrator wrote, adding a clapping emoji to emphasise their agreement.
Soon the video was rippling across Facebook.
"We need more of this," one Brexiteer wrote below the post.
"I am just waiting for [the Lib Dems] to come to my door," said another.
On and on they went, the likes, comments, and shares piling up until the video had been watched more than 490,000 times, making it one of the most viral election-related clips in the first two weeks of the campaign.
Not many people will have heard of Fight4Brexit. It won't be on any Westminster political strategist's list of media outlets to target during the campaign. Its founder won't appear as a pundit on any TV shows. The page, started in October 2018, provides little information about its origins, staff or funding; the only named administrator is a young man in Liverpool whose interests, judging by his Facebook profile, include Brexit, Donald Trump, and Darth Vader, and who also edits a viral news site dedicated to extreme weather. He didn't respond to attempts by BuzzFeed News to contact him.
Despite its obscure roots, Fight4Brexit has reached millions of people with a torrent of right-wing populist memes and videos. In the last year, its videos have been viewed more than 54 million times — more than those published by well-resourced media outlets such as the Daily Express, the Sun and the Daily Telegraph.
It is part of an exploding galaxy of hyperpartisan Facebook pages that have taken over the political conversation on the country's most-used social network. Beneath the radar of most politicians and pundits, these pages are now set to have a profound influence on an election next month that some have described as the most important in a generation.
It is well-established that Facebook has an outsize influence on political communication. It has for years been the main route for campaigners to reach big audiences online, and there's been extensive coverage in this campaign of how the parties are using snappy memes and microtargeted advertisements to persuade voters. But this discussion often overlooks the clusters of unofficial satellites that amplify the parties' messages but aren't part of any formal campaign operation.
Yet this activity is much bigger — and, some analysts say, more worrying.
A detailed analysis by BuzzFeed News of political activity on social media, using data from CrowdTangle, an analytics platform owned by Facebook, reveals that a noisy jumble of often amateur-run fringe pages has flourished in recent months while Westminster descended into chaos and acrimony in the process of trying to leave the European Union. Collectively, these pages are generating millions of interactions (likes, comments, and shares) and video views each week at a rate of engagement that would make mainstream media outlets and professional political campaigns jealous.
Two years ago, political activity on Facebook was dominated by the left, but a recent surge on the populist right means that both main parties — the Conservatives and Labour — now have vast volunteer armies to amplify their messages online. Less than a month before the vote on Dec. 12, the various factions are flooding Facebook with highly emotive, sometimes misleading memes and videos that promote their favoured candidates and attack their opponents.
In one section of this landscape, the Tories are ceaselessly derided as greedy elitists in thrall to tax-avoiding billionaires, determined to wreck the NHS for the sake of a trade deal with Trump. "They are shameless," read one recent viral post that was liked more than 15,000 times.
At the same time, in a parallel collection of silos, Labour are portrayed as bungling, unpatriotic socialists who would collapse the economy and allow the country to be overrun by foreigners. "ANOTHER LABOUR CANDIDATE NOT FIT TO BE AN MP !!!" screamed one high-performing post last week.
For many voters — including a striking number who, judging by their Facebook profiles, are elderly — these sectarian pages are now a key source of information about politics, shaping their perceptions of the people who aspire to run the country and their policies.
In these echo chambers, posts that are calculated to provoke visceral responses typically attract hundreds of comments. Trawling through them is a disquieting testimony to the raw anger and frustration in a section of the electorate about the state of British politics. Users who otherwise come across as amiable — their profiles a homely stew of family photographs, updates about their health, charity appeals, and cuddly dog memes — will un-self-consciously, in public, denounce politicians who don't hold their views as "greedy evil people" and "TRAITOROUS scum".
Academics and digital campaigners warn that the sharp growth of this hyper-partisan ecosystem is aggravating cultural divisions, eroding trust in vital democratic institutions, encouraging the spread of misinformation and making it harder to find common ground on issues of national importance — and even to reach agreement upon basic facts.
"The more people participate in online spaces where their news is refracted through a hyperpartisan prism, the more difficult it will be for them to accept any political outcome they disagree with," said Martin Moore, director of the centre for the study of media, communication and power at King's College, London, and the author of Democracy Hacked.
There are few rules in this space and very little oversight.
It exists mainly outside the conventions of professional journalism and the requirements that lawmakers imposed on conventional political campaigns to protect the integrity of elections. There's no obligation on the pages to be accurate and fair in the material they circulate or to be transparent about their activity. Many provide little information about who is running them, their background and motivations, and their sources of funding.
"Almost all of this new activity is off the radar," said Mike Harris, chief executive of 89up, a digital consultancy that has done extensive research into social media activity related to British politics.
Coverage of the "air war" on Facebook tends to focus on the professionally-produced content that the main parties promote through their official pages and targeted advertisements. So far in this campaign, the Conservatives have been portrayed as having the edge. Pundits have praised a brash new approach to memes and videos credited to a pair of young consultants from New Zealand.
This is partly borne out by the CrowdTangle data: In the first few weeks of the campaign, the Tories' Facebook page generated more interactions and video views than those of its rivals. However, in the same period, Jeremy Corbyn's personal page has reached more people than that of Boris Johnson. Labour has spent more money than the Tories on advertisements.
But the parties' central output is only part of the picture.
The sharing data shows that the activity generated by the loosely affiliated pages is vastly bigger. This landscape has evolved significantly in the last few years, in ways that will have a significant impact on next month's election but that have been barely noticed in Westminster.
In 2017, when the UK last held a general election, Labour got an unexpected boost from a loose network of insurgent left-wing publishers. Anti-Tory articles by the likes of Another Angry Voice, the Canary and Evolve Politics — described at the time by BuzzFeed News as the "alt-left media" — were among the most widely shared of that campaign.
In the two years since the election, however, the Corbynites ceased to be the dominant voices in the online political conversation.
To be sure, the key Labour-supporting players that emerged in the last election campaign are still active and reaching a lot of people. And they've been joined by a new crop of left-wing pages that have amassed big audiences: WEAR RED, the Daily Politik, Britain Is the People. But the emergence of a group of hugely popular Brexit-related pages meant that the opposition party no longer has an overwhelming advantage in this arena.
Pages representing diehard views on both sides of the European argument grew rapidly while Westminster ripped itself to pieces arguing about a deal with Brussels, the sharing data shows. The biggest expansion was among the pages advocating a no-deal Brexit, which helped to propel the rise of Nigel Farage's Brexit Party earlier in the year and then boosted Johnson when he became Tory leader in the summer.

They began surging last autumn when then–prime minister Theresa May proposed a controversial arrangement with the EU that prompted a rebellion on the Eurosceptic right of the Tory party. They continued to grow while May's plans unravelled, Brexit was delayed, and she was forced out. They peaked in September when Johnson's new administration clashed with parliament and tried to force an election.
The biggest of these hardline pro-Brexit pages is Leave.EU, founded by the businessman and former UKIP donor Arron Banks. In the last year, its posts generated 30 million interactions — more than the pages of Sky News, ITV News, and the Daily Telegraph attracted — and its videos were viewed more than 150 million times, according to CrowdTangle.
But numerous other pro-Brexit pages have also had levels of activity that are comparable to mainstream media and political outlets. Get Britain Out had 9.3 million likes, comments and shares in the last year; Anti EU - Pro British got 8.3 million interactions in the same period; and Fight4Brexit generated 6 million.
One example of their reach: A single video clip on Fight4Brexit, showing the far-right media personality Katie Hopkins mocking the so-called "Jihadi bride" Shamima Begum, was watched more than 9 million times and sparked more than 40,000 comments.
On the other side of the Brexit divide, a handful of pages run by ardent Remainers have also driven a huge amount of viral activity in the last year. Scientists for EU got 9.3 million interactions, Best for Britain 8.4 million, and Britain for All 6.4 million.
Corbyn's digital outriders began surging again last month when it became clear there would be another election.
In the first three weeks of the campaign, the biggest alt-left pages, including Another Angry Voice and Momentum, generated hundreds of thousands of shares, the CrowdTangle data shows. Only Leave.EU and Best for Britain, a pro-Remain campaign, got more interactions.
Momentum, the left-wing activist group, has been especially prolific so far. Its election-related videos have racked up nearly 15 million views, making it one of the biggest publishers of Facebook video in the UK right now. The most viral of their videos, a clip pushing back on claims about Labour's spending plans headlined "TORIES CAUGHT MAKING STUFF UP", provoked more than 23,000 reactions and 53,000 shares.
The alt-left media sprang into action on Monday morning.
While mainstream journalists waited for the party leaders to speak at a Confederation of British Industry event in London, a band of pro-Corbyn Facebook pages were circulating reports about a 65-year-old man dying in a Job Centre queue in Wales last week. Each put their own spin on the story before sharing it with their followers:
"The Tories persecuted him to his death," said one.
"Vote Labour to save lives," said another.
In another corner of the internet, however, that story was getting much less attention. On the hard-Brexit Facebook pages, the day's big election news was a plan by the Conservatives to charge foreigners to use the health service. In Liverpool, Fight4Brexit's administrator opened a new post: "Pay upfront or you will not be able to use our NHS," he wrote approvingly of the Tory policy, and shared it with his followers.
It wasn't long before the post was going viral. ●