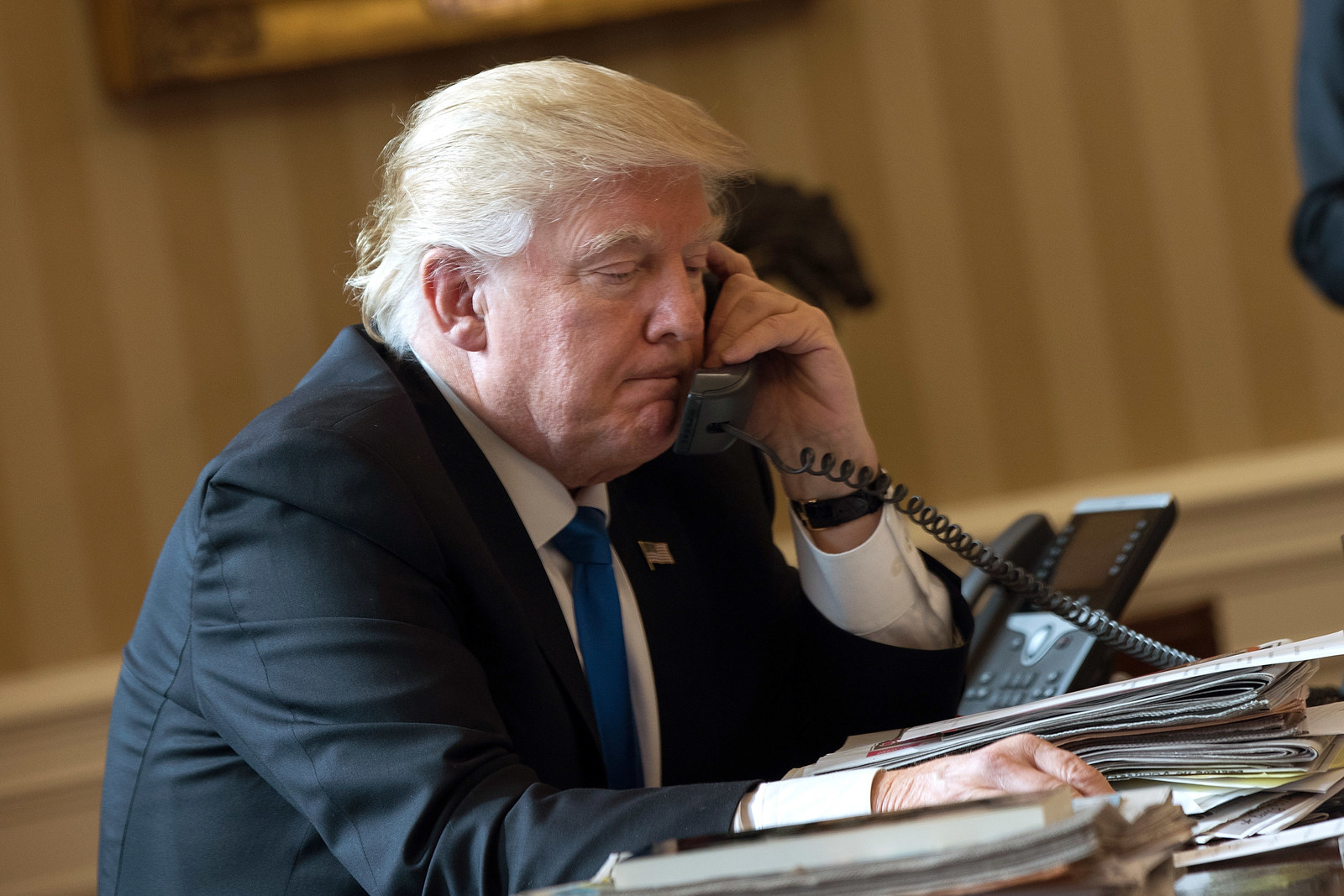 Theresa May should fight to keep economic sanctions in place against senior Russian officials even if it means opposing Donald Trump, an influential committee of MPs said yesterday.

The future of the international restrictions imposed on Russia when it annexed Crimea in 2014 has been cast into doubt by the US president's sympathetic public comments about Russia and its leader, Vladimir Putin.
Britain should take a firm line on the sanctions, which included asset freezes and travel bans, and insist that they remain in place until Russia backs down on Ukraine – even if it means having "uncomfortable conversations with close allies" in the US and Europe, the Commons foreign affairs committee said in a report on the UK's relationship with Russia.
Allowing Russia off the hook in Ukraine would amount to "ceding moral and legal legitimacy to Russia and departing from UK values and standards," the MPs said.
They acknowledged this could put May in a precarious position.
The prime minister has been eager to establish close ties with Trump's administration and a standoff over Russia could undo her early diplomatic work. Britain could end up being even more isolated if support for sanctions in the European Union wavers. In France, two of the leading contenders for the presidency, Francois Fillon and Marine Le Pen, have opposed the restrictions.
The UK risks "becoming an isolated actor supporting a policy towards Russia that is failing," the report said. "This could lead to further damage to Britain's long-term ability to influence Russia."
Crispin Blunt, the committee chairman, told BuzzFeed News he hopes it won't come to that.
So far, Trump's actions in the White House toward Russia haven't matched his rhetoric during the campaign, the Conservative MP said. Although Trump indicated he was minded to remove the sanctions to secure Russia's cooperation on fighting ISIS, there has been no real sign of America's stance changing since he has been in power.
Those figures in the Trump administration who favour a traditional, harder approach toward Russia appear to be winning the argument over those who want a friendlier relationship, Blunt said, adding: "It looks as though the establishment view is prevailing."
May has said the UK won't relax its position on sanctions until Russia fully complies with a ceasefire agreement struck in Minsk in 2015 – and said so at her joint press conference with Trump on her visit to the White House in January.
The foreign affairs committee said it was broadly supportive of May's strategy of engaging with Russia, and trying to improve a diplomatic relationship that has become badly strained, while at the same time being wary of Moscow's intentions.
A spokeswoman for the Foreign Office said: "We have significant differences with Russia, not least over their actions in Ukraine and Syria. But at the same time we engage where it is in our interests to do so, including through high-level talks. Our objectives are clear. We protect UK and our allies' interests, uphold the rules-based international order and global security, promote our values, including human rights, and build stronger links between the British and Russian people. We have increased resources on Russia across government, both in London and overseas, to deliver this policy."

Looks like there are no comments yet.
Be the first to comment!