Theresa May Promised To Tackle These "Burning Injustices". This Data Shows She Improved None Of Them.
Exclusive: A new analysis gives a withering assessment of the outgoing Tory leader's record on the domestic policy priorities she identified in her first speech outside Downing Street.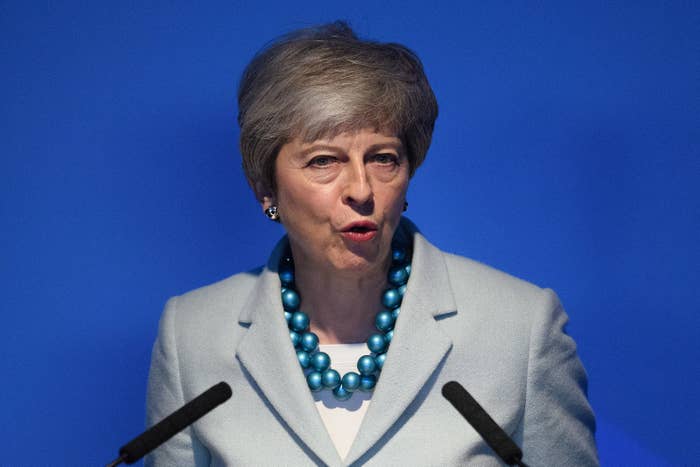 Even now, Theresa May is still talking about ending "burning injustices".

On Tuesday, announcing new measures for people with disabilities, the outgoing prime minister spoke of her determination to remedy unfairness in society, returning to the theme that has underpinned her vision for domestic policy since she took over from David Cameron in the summer of 2016.
In reality, May will leave office having improved none of the pressing challenges she identified in her first speech as prime minister nearly three years ago.
Analysts from the Joseph Rowntree Foundation, an independent social research charity, examined eight social challenges May identified in her first speech outside Downing Street — including disparities in mental health treatment, the housing crisis, and poor education outcomes for white working-class boys — and concluded that she failed to make a real difference in any of them.
Despite her personal commitment, May failed in the ambition she laid out in that speech to make society and the economy fairer for working-class voters who were "just about managing" to get by, the analysts said.
Helen Barnard, the foundation's deputy director for policy and partnerships, told BuzzFeed News: "Theresa May correctly identified the burning injustices as constraints which many families face, but there haven't been the major steps to change the systems that produce these injustices. And some policies have continued which fuel them, such as the benefits freeze."
This is what the analysts concluded:

What May said: "If you're born poor you will die on average nine years earlier than others."

What changed: There are two aspects to this statement: Are more people being born poor? And are they any less likely to die younger than those who are wealthier? On both counts, there hasn't been improvement under the May government, the analysts say. The number of children living in poverty rose steadily under David Cameron's coalition government to more than 4 million, nearly a third of kids, and is still at that level. Those children will probably die younger than their better-off counterparts: The gap in life expectancy between people who live in the most- and least-deprived fifth of areas in England has remained at a staggering 15 years.
Verdict: No improvement.
What May said: "If you're a white, working-class boy, you're less likely than anybody else in Britain to go to university."

What changed: The Conservatives have boasted about spending record amounts on education and increasing the number of good schools. But the "attainment gap", the difference in educational outcomes between pupils from low-income families and their better-off peers, has remained just as bad under May as it was under Cameron. Only 4 out of 10 children from poorer backgrounds achieve five GCSEs A* to C including English and maths at age 16, compared to 7 out of 10 pupils from better-off families, according to Department for Education statistics. (The figures in the chart above include pupils from all ethnicities, but the majority are white British.)
Verdict: No improvement.
What May said: "If you're a woman, you will earn less than a man."

What changed: Since last year, May's government has required large businesses to publish data on the gap between the pay of men and women employees. That has at least shone a light on the issue, the researchers said, but it hasn't so far led to a meaningful improvement. According to the Office for National Statistics, the gap in weekly pay declined from 31.7% to 31.3% between 2016 and 2018, but, the analysts said, this was a "very minor" improvement that they attribute to a 20-year downward trend — not to May's initiatives.
Verdict: No improvement.
What May said: "If you suffer from mental health problems, there's not enough help to hand."

What changed: In her resignation speech last month, May boasted of having "put proper funding for mental health at the heart of our NHS long-term plan". But this is another area where the results on the ground have yet to match the rhetoric, the analysts said. They're particularly concerned that financial pressures on people on lower incomes — May's "just about managing" — will lead to incidence of mental illness actually rising. Between 2014 (when Cameron was prime minister) and 2017 (May's first full year in office, the last year for which figures are available), rates of anxiety or depression increased at either end of the income scale, but particularly among those on the lowest incomes, and the analysts said they've seen no evidence to convince them this trend has been reversed.
Verdict: No improvement.

5. Housing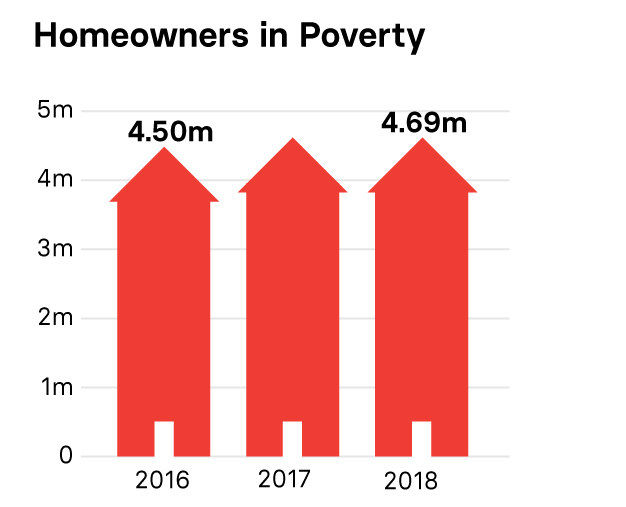 What May said: "If you're young, you'll find it harder than ever before to own your own home." And: "You have your own home but you worry about paying the mortgage."
What changed: Housing is one area where May claims to have improved conditions: "We are building more homes and helping first-time buyers onto the housing ladder," she said in her resignation speech last month. But the analysts are not convinced. There's at least recognition in Westminster of the housing crisis, they said, but there's still a desperate shortage of social housing, forcing many lower-income families into private rentals they can scarcely afford. Many young people with dreams of getting on the housing ladder can't afford to because it's so expensive. Then there's the second of May's housing-related observations: the number of people who own homes but worry about paying the mortgage. As the chart above shows, the number of homeowners living in poverty has risen since May became prime minister.
Verdict: No improvement.
6. Job security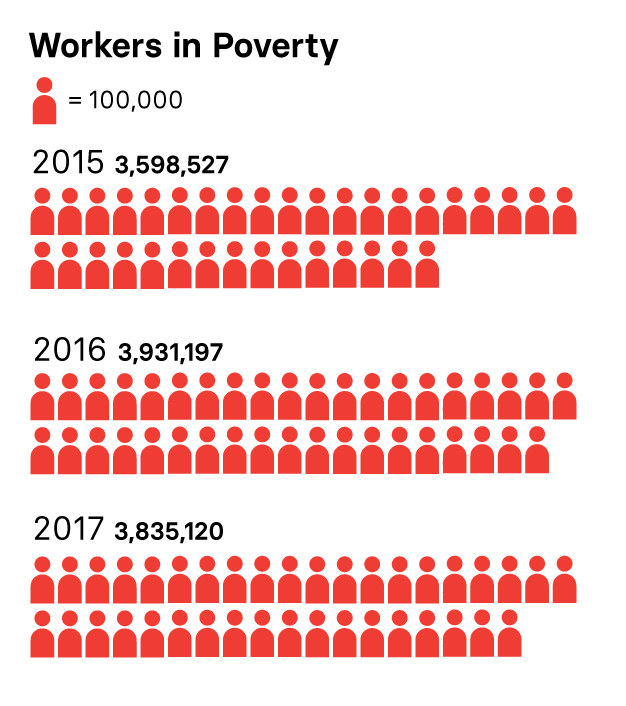 What May said: "You have a job but you don't always have job security."

What changed: The number of people in employment has risen to record levels. However, the researchers point out, many of the positions created in the last decade have been less than secure, such as those based on zero-hours contracts. The upshot is that having a job doesn't necessarily mean you're able to afford a basic standard of living. Despite record employment, the number of people who are working but living in poverty is rising.
Verdict: No improvement.

What May said: "You can just about manage, but you worry about the cost of living."

What changed: Inflation shot up after May became prime minister, partly because of the shock of the Brexit vote; it stood at 1.9% last month. The sharp rise wasn't her fault, but nor has her government done much to mitigate the impact that it has on voters' pockets, the researchers said. It chose not to lift the freeze on benefits and tax credits to protect those who would struggle most to afford the rise in prices. Real incomes, after housing costs, for the poorest fifth of the population haven't improved since 2015.
Verdict: No improvement.
What May said: "When it comes to taxes, we'll prioritise not the wealthy, but you."

What changed: At last year's budget, May's government made a big move on tax, increasing the personal allowance (the level of income at which people start paying income tax) and the higher rate threshold (at which the rate of income tax jumps from 20% to 40%). But this headline-grabbing £3 billion tax cut didn't exactly live up to May's promise to favour those on lower incomes rather than the wealthy. Five out of every six pounds spent on the policy went back into the richest half of households. If the government wanted to help struggling working families, the researchers said, it would've been better to put the money it spent on the tax cut into social security.
Verdict: No improvement.