On Monday, the health secretary Matt Hancock made a big announcement about mental health services that puzzled people in the sector.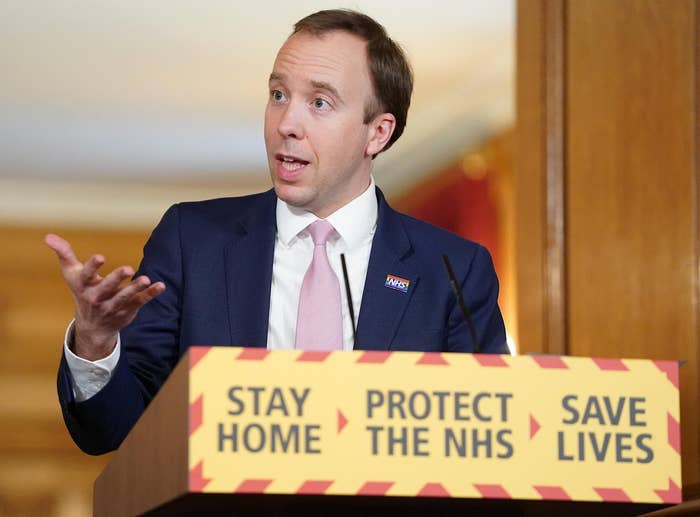 Speaking at the government's nightly press conference about the coronavirus, Hancock said critical mental health services would be being "restored" this week because of the NHS's success in managing COVID-19.

"As the number of hospitalisations from coronavirus begins to fall, I can announce that, starting from tomorrow, we will begin the restoration of other NHS services starting with the most urgent, like cancer care and mental health support," Hancock said in his opening remarks to the press conference.

The pace of "restoration" would depend on local needs, the health secretary added.
But the announcement provoked an outcry from mental health workers and service users — who pointed out that mental health services had not actually shut down during the lockdown.
Mental health services are seen as hugely important in the response to the coronavirus outbreak because of the huge psychological impact that the deadly virus — and the measures put in place to fight it — are likely to have on the public and frontline workers.
As BuzzFeed News has reported, mental health services have experienced significant disruption in recent weeks while the NHS urgently pivoted to confronting the pandemic. Community-based teams were forced to suddenly switch to seeing patients remotely rather than in-person; many nonacute services were suspended; people who were expecting to start treatment were told they would have to wait; and inpatient wards were closed to visitors.

But while this has been less than ideal for people who need support, mental health providers say they've continued doing everything they can under extraordinarily difficult circumstances to remain open and accessible — and that people who urgently need help have not been turned away.
In many cases, assessments that normally would've been done in person have been done over the phone or by video conference, providers say, but they've also still been seeing people in person if they have to — despite the risks to staff of contracting the virus.
"Locally, we continue to use face-to-face contacts where these are clinically necessary," said Michael Spencer, a consultant psychiatrist in the first response service covering Cambridgeshire and Peterborough.
BuzzFeed News sought clarification of the health secretary's announcement from the Department for Health and Social Care and NHS England.
A spokesperson for NHS England said that mental health services were not being restored this week because they had continued operating through the lockdown. They had been "pulling out all the stops" to keep services going.
The health department initially declined to elaborate on Hancock's comments on Monday but, when pressed, a spokesperson confirmed that "all urgent treatment within the NHS remained open".
Hancock had been trying to push the message that "the NHS is open", the spokesperson added.
On Thursday, in a letter to NHS trusts across the country, the head of the health service Sir Simon Stevens reiterated the importance of mental healthcare and stressed the need for crisis helplines and ongoing support for people affected by the pandemic, including existing patients, NHS staff, and black, Asian, and minority ethnic communities.

Rosena Allin-Khan, Labour's shadow minister for mental health, urged the government to provide clear details about its plans for mental health services as the pressure from COVID-19 eases.

"For people who require face-to-face talking therapies and access to group sessions, it is critical for them to be able to plan their care," Dr Allin-Khan said. "Any confusion about whether or not this will happen, does nothing but add greater stress and anxiety to an already incredibly difficult time.
"Clear communication has been key throughout this crisis, and will be crucial to help rebuild people's lives going forward. The Government should not be sending mixed messages to those who rely on clarity to shape their future — it is irresponsible."