Jacket slung over his shoulder, union jack cufflinks glinting in the afternoon sun, Liam Fox seemed relaxed as he canvassed with a Conservative candidate in a Labour-held area in South Yorkshire.

The international trade minister is one of several prominent Conservatives who have had a conspicuously low profile so far in the election campaign, as party strategists put Theresa May front and centre of their bid for a landslide victory on 8 June. While the national media's attention is focused on the prime minister – who is traveling the country in a blue battlebus with her "strong and stable leadership" slogan emblazoned on the side and the Conservative party logo barely visible – members of May's cabinet have been deployed quietly to campaign for Tory candidates in marginal Labour seats around the country.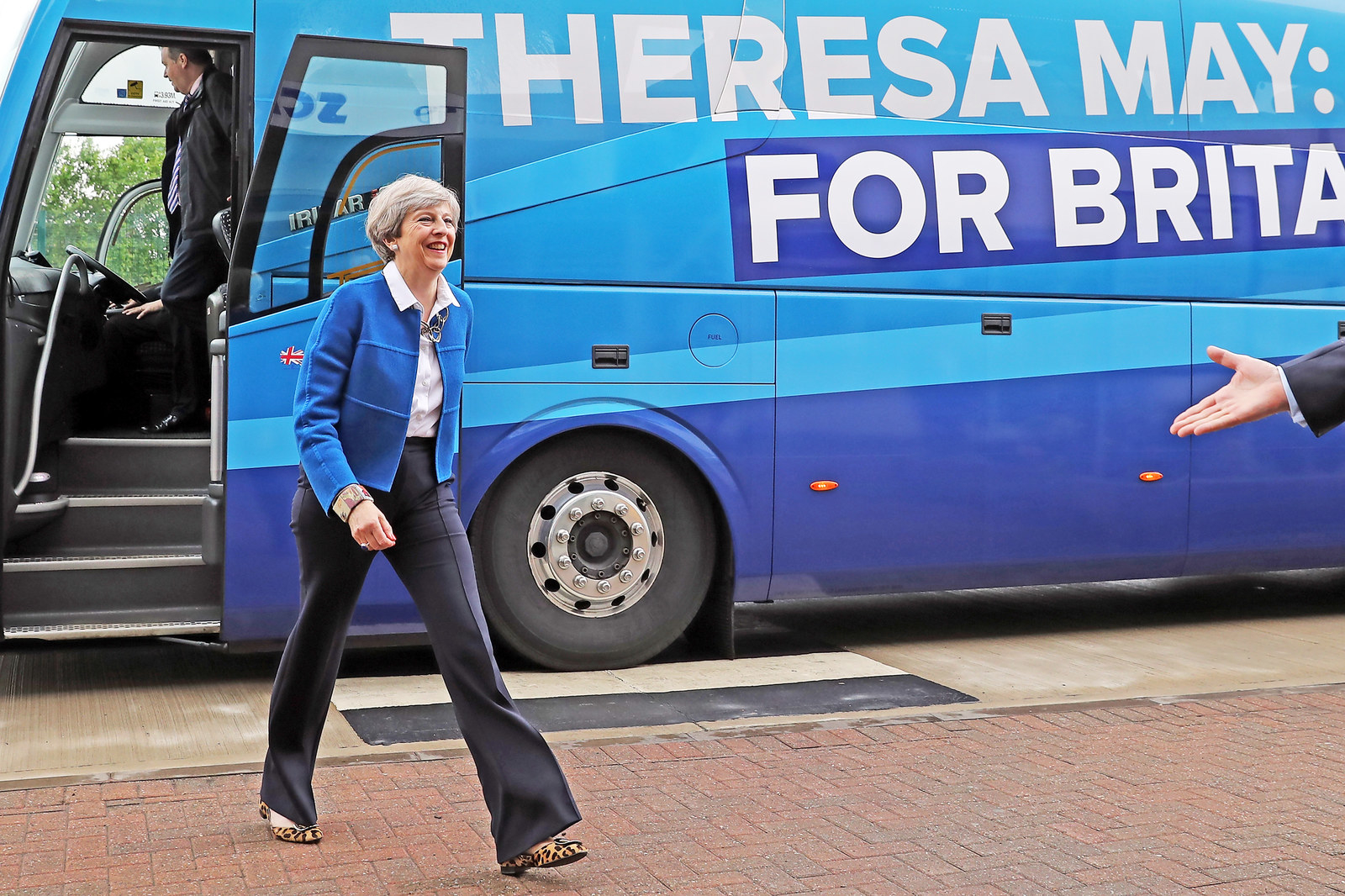 Away from the glare of the national media, some of the party's most prominent figures have been visiting seats such as Mansfield and Great Grimsby, knocking on doors, handing out leaflets, contributing to phone banks, rallying volunteers, giving interviews to local newspapers.
Four weeks into the campaign, May's pitch to voters has so far been repetitive, disciplined, ruthlessly on message, and so closely tied to May herself that it has been described as "presidential". And in a campaign almost wholly focused on the personal appeal of the leader, there's no room for other big personalities. Some of the party's best-known figures – including several who were among the most visible campaigners in the European Union referendum last summer – have been stationed with the rank and file on the front lines, out of the spotlight.

One senior MP said the Conservatives' campaign chiefs have been deliberately keeping the national attention on the prime minister and tightly restricting the profile of other senior figures. "This is the prime minister and her advisers' style," the MP said. Everything is centrally directed, with only a handful of people in the inner circle and others called upon only when strictly necessary.
BuzzFeed News searched the editorial databases of Getty Images and the Press Association, two major picture agencies, for photos of cabinet ministers on the campaign trail since 19 April (the day parliament voted for the early election), and found hundreds of May visiting schools, factories, and high streets, shaking hands with voters, having tea with steelworkers, and delivering her stump speech.
There were hardly any pictures of other members of cabinet.
The only images of Andrea Leadsom, the environment secretary, Chris Grayling, the transport secretary, Priti Patel, the international development secretary, or Karen Bradley, the culture secretary, in either database were shots of them leaving Downing Street after a cabinet meeting. The only images of Greg Clark, the business secretary, were from an appearance before a parliamentary select committee. There were no images available of Liz Truss, the justice secretary, or Sajid Javid, the local government secretary, after 19 April.

The agencies had pictures of only two ministers other than May on the campaign trail meeting voters: Boris Johnson in Newport, Wales, and James Brokenshire, the Northern Ireland secretary, accompanying the prime minister on a visit to a market in Northern Ireland on 13 May.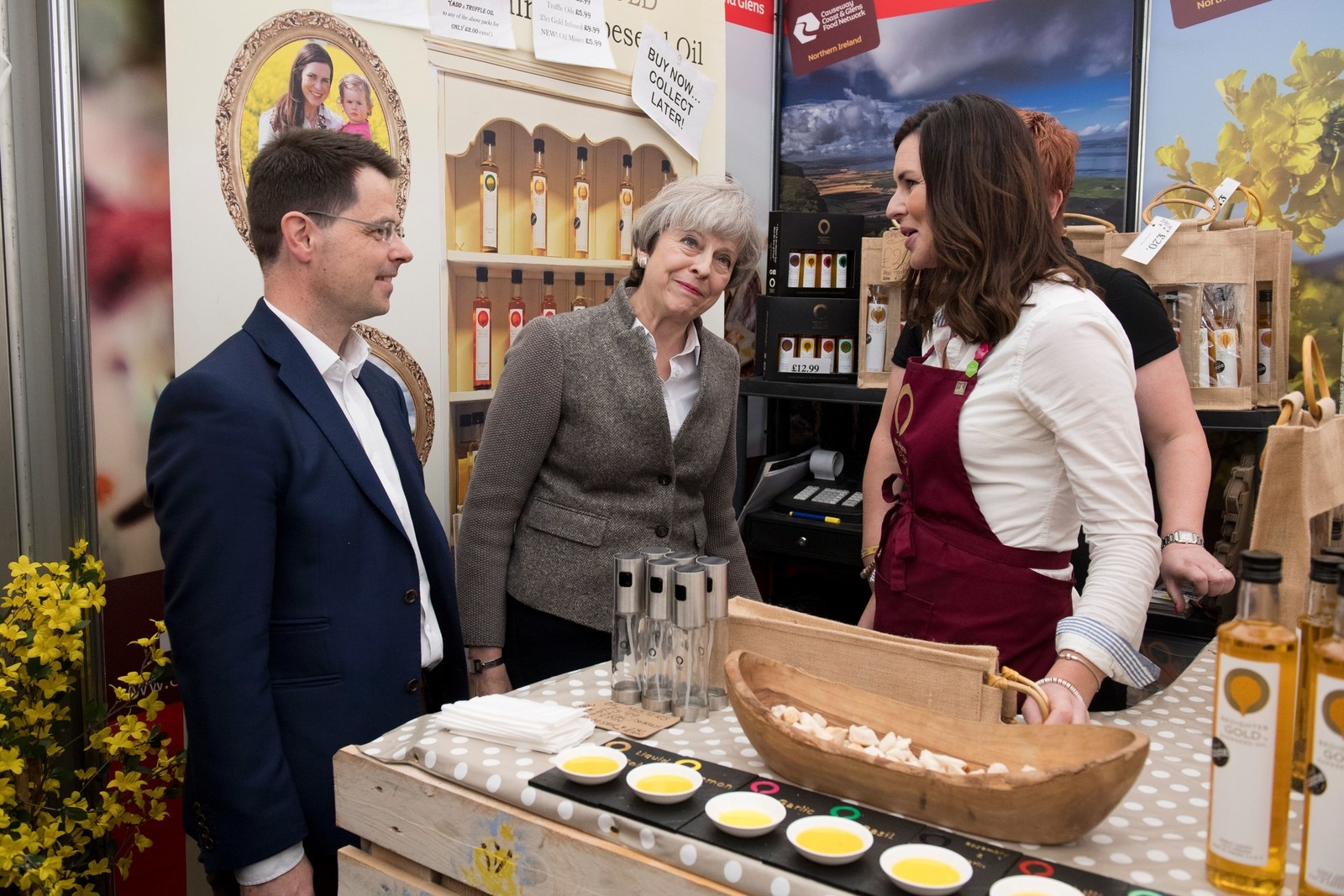 There was a similar pattern in the written coverage of the campaign, according to a search of the Nexis database for the number of times ministers have been mentioned in national newspaper articles since 19 April.

These searches are not definitive, but they indicate there is substance to the national media's complaints that senior Tories have so far been kept at arm's length. On Thursday, a spokesperson for Sky News told BuzzFeed News: "Since early in the election campaign, Sky News has not been getting live interviews on election issues with Conservative ministers."

So tightly controlled is the campaign that, as of Tuesday, MPs had not been told when the party would launch its manifesto, the MP said. "Cards are being held very close to the chest. Other people are only on a need-to-know basis." When the Conservatives finally launched the manifesto in Halifax on Thursday, more than a month after calling the early election, members of cabinet were present but seemed determined to avoid the waiting press pack and TV cameras.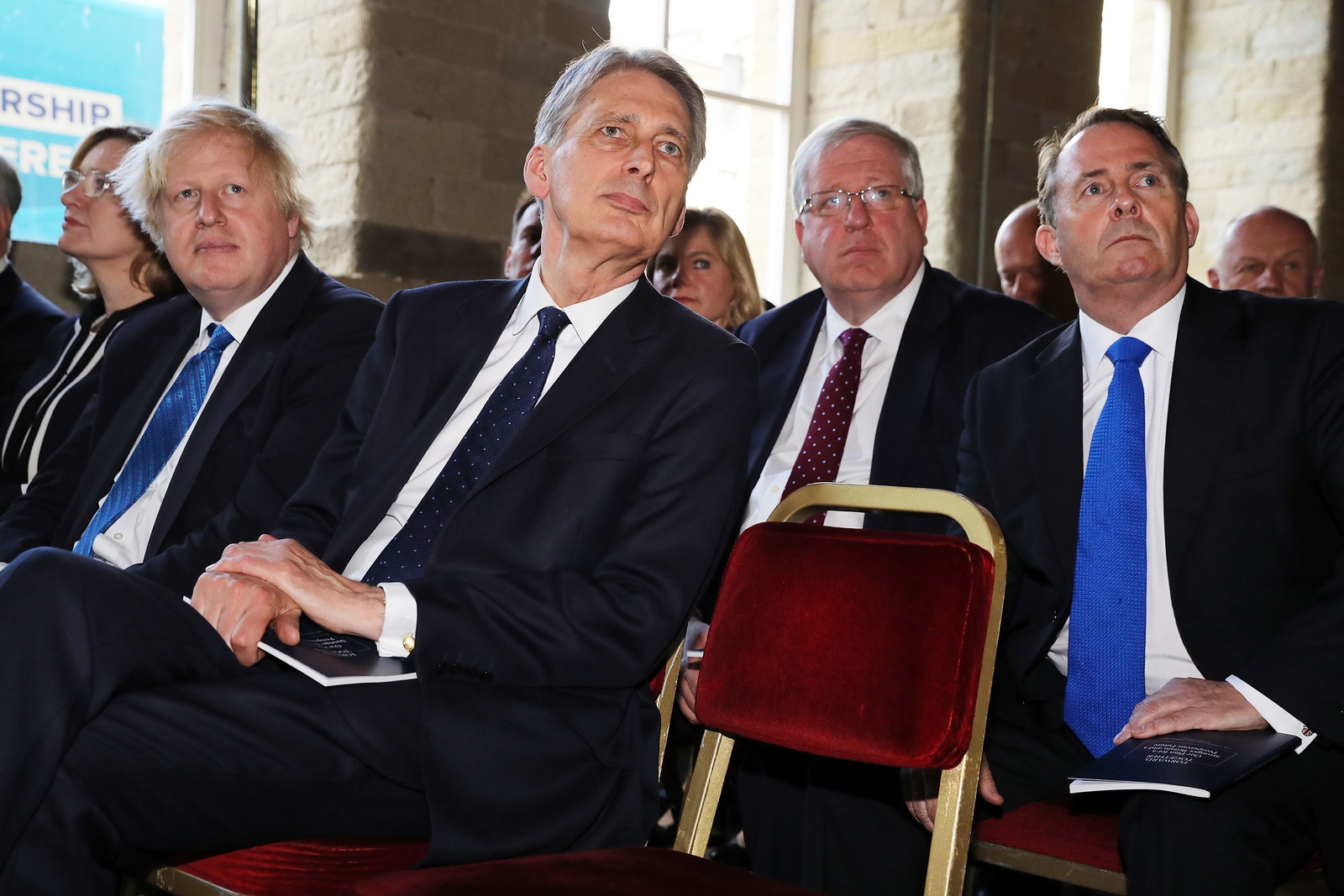 Two party sources said the campaign had been avoiding putting ministers forward for interviews because, without a policy manifesto ready, they would have had little to say. They will be more visible in the campaign from next week, now there is a policy platform to speak of, the sources said.

A spokesman for the Conservatives said it was "ridiculous" to say ministers were being kept away from the national media and that the press office was open to bids for interviews. BuzzFeed News has requested time on the campaign trail with several cabinet ministers and is yet to hear back.

This is what it means to be part of "Theresa May's team," according to Will Walden, a former adviser to Boris Johnson who is now at the public relations firm Edelman: "Highly controlled, saturation coverage nationally of her and only her. 'Theresa May' in giant capital letters. 'Conservative' in invisible ink."

And most of the cabinet dispatched to far corners of the country to loyally "shake local hands, woo local media, and tour local high streets and marketplaces", Walden added.
It's a stark contrast from the last national campaign, the referendum on Brexit last summer, when ministers were let off the leash by David Cameron to campaign for either side. As a result, senior party figures appeared in the newspapers and on the airwaves daily, frankly putting their views across and often criticising the government. There is no such leeway this time, as the Tory machine reverted to being closely, centrally controlled.
A small group of ministers are trusted to do TV interviews, rotating appearances on the Sunday morning political shows and the Today program when tough questions need to be answered or attack lines delivered. Home secretary Amber Rudd, defence secretary Michael Fallon, work and pensions secretary Damian Green, and Brexit secretary David Davis seem to be the go-to performers at the moment, and they are disciplined at sticking rigidly to the party line.
Davis was picked to introduce May's manifesto speech in Halifax on Thursday, indicating that his place on Theresa May's team is assured.
Other ministers seem to have vanished from the national political scene, traceable only by the occasional regional press interview or campaign selfies posted on their social media feeds.
Last week, the BBC's Newsnight programme ran a segment in which the reporter John Sweeney went searching for Leadsom and couldn't find her. The environment secretary's apparent absence from this campaign, after being so prominent in the EU referendum last summer, showed just how tightly controlled this short contest has been, Newsnight said.
Leadsom has been out there, but concentrating her attention locally, according to her Twitter feed. One day she was in London, handing out leaflets with the Tory candidate in Brentford and Isleworth, one of several Labour constituencies in the capital that the Tories are targeting. On another day, Leadsom was in Great Grimsby, another Labour area that voted strongly for Brexit, where she gave an interview to the Grimsby Telegraph assuring its readers that leaving the EU will strengthen the local fishing industry.
Fox, another prominent Brexiter and former leadership candidate, has also spent time in Grimsby, where he toured the docks with the local candidate and gave a bullish interview to the Grimsby Telegraph. Fox also visited the Labour seats of Don Valley and Penistone, where he stopped at a steel factory and had lunch with the Tory candidate at an Italian restaurant in Doncaster. A similar whistle-stop trip took the trade secretary to target seats in Nottinghamshire and Derbyshire.
Justine Greening, the education secretary, has also been racking up miles visiting marginal constituencies around the country. On Tuesday, dressed in jeans and a T-shirt, she canvassed with candidates in London in the marginal Labour-held seats of Brentford and Ealing Central, according to social media postings. On Monday, Greening was in Mansfield and Nottingham, where she gave an interview to the Nottingham Post.
Away from the cameras, if you know where to look, you might find on any given day Grayling campaigning with volunteers in Coventry or Lancaster. Or Patel assuring Yorkshire newspapers that Brexit will not destroy their local economy. Or Javid attending a campaign rally in Bristol East.
The Tories will not discuss their strategy during the campaign. Based on the candidates' social media posts and local newspaper reports, ministers seem to have been spending a lot of time (when they're not on the doorstep in their own constituencies) supporting Tory candidates in narrowly held Labour constituencies in the Midlands and Yorkshire. London, too, has been a strong area of focus, not just in the Remain seats in the southwest that could be vulnerable to a Liberal Democrat revival, but in areas where the party is aggressively campaigning to win ground from Labour.

Several of the cabinet's biggest players have been deployed sparingly this time around.
Johnson, the foreign secretary, is arguably the most recognizable politician in the country and was ever-present in the EU referendum campaign last summer, with journalists and TV cameras following his bus tour around the country and a weekly column in the Daily Telegraph ensuring that he was never far from the headlines. In this campaign, he made a strange intervention in the first week, attacking Jeremy Corbyn in the national media as a "mugwump," but has otherwise seemed uncharacteristically low-key.
Last week, the foreign secretary was in Newport, Wales, where he drew a large crowd and extensive coverage from regional media. The only member of the national media present seemed to be Michael Crick, of Channel 4 News, who was not invited but ambushed Johnson after getting a tip-off that he would be there.
This week started with Johnson in Nottingham, where he visited a trucking company and pulled pints in a pub with one of the party's aspiring MPs. Again, local media were invited, but not national reporters or photographers. On Wednesday, Johnson was campaigning in the Labour-held seat of Bristol East. A visit to a Sikh temple went wrong when the foreign secretary mentioned his hopes of increasing Scotch whisky exports to India after Brexit, only to be informed that alcohol was forbidden in the Sikh religion. "How dare you talk about alcohol in a Sikh temple," one woman said, according to a recording of the exchange by a BBC radio reporter. Johnson apologised for the gaffe.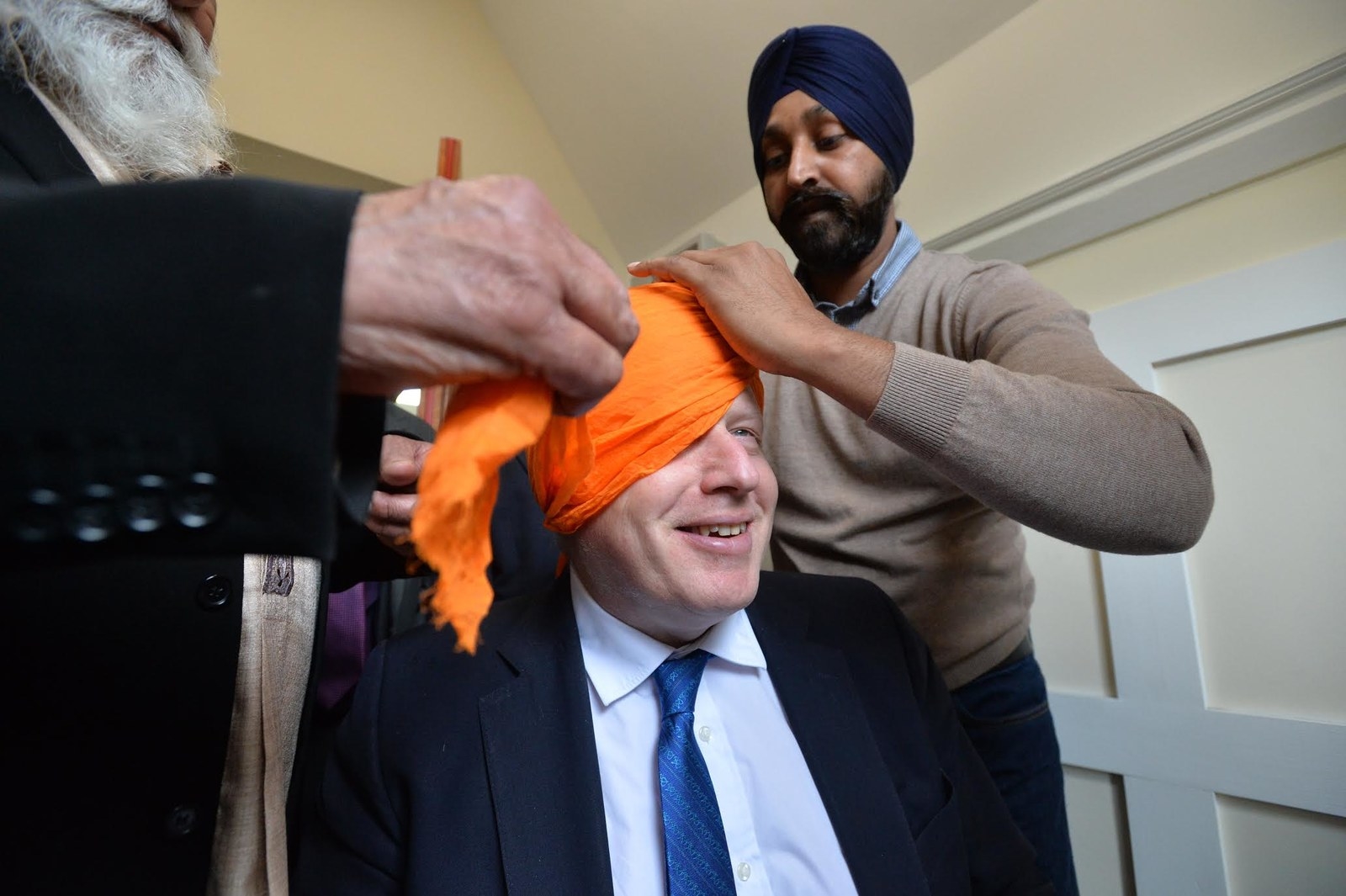 Jeremy Hunt, the health secretary, was wheeled out to appear on TV when the Conservatives wanted to promote their mental health policy, but has otherwise kept a low profile. He was notably silent for three days after 48 NHS trusts were hit by ransomware during a global cyberattack on Friday last week, with Rudd instead sent out to defend the government. After questions were raised about why Hunt wasn't taking a more visible role, he finally appeared on Sky News on Monday afternoon.

Perhaps the most perplexing figure during the campaign so far has been Philip Hammond.
The chancellor hasn't been totally absent: He did TV appearances and a joint press conference with David Davis early in the campaign. On Wednesday he appeared at a press conference with the prime minister. Some of his absence has been to due to overseas visits on government business. Even so, Tory insiders said, Hammond's role in the campaign has been surprisingly restricted given that he holds the second-most important ministerial position, and that economic competence is a central theme of the campaign.
Rumours have been swirling for weeks about Hammond's future as chancellor. Last week, while he was overseas, The Times reported that Hammond had been involved in a furious bust-up with Nick Timothy, May's influential co-chief of staff, which involved "a lot of swearing and angry phone calls". At the press conference with May on Wednesday, Hammond tried to dismiss questions about the relationship between the Treasury and Number 10, insisting it was nothing more than "media tittle-tattle". But May kept the speculation going by refusing to give a clear statement of confidence in her chancellor.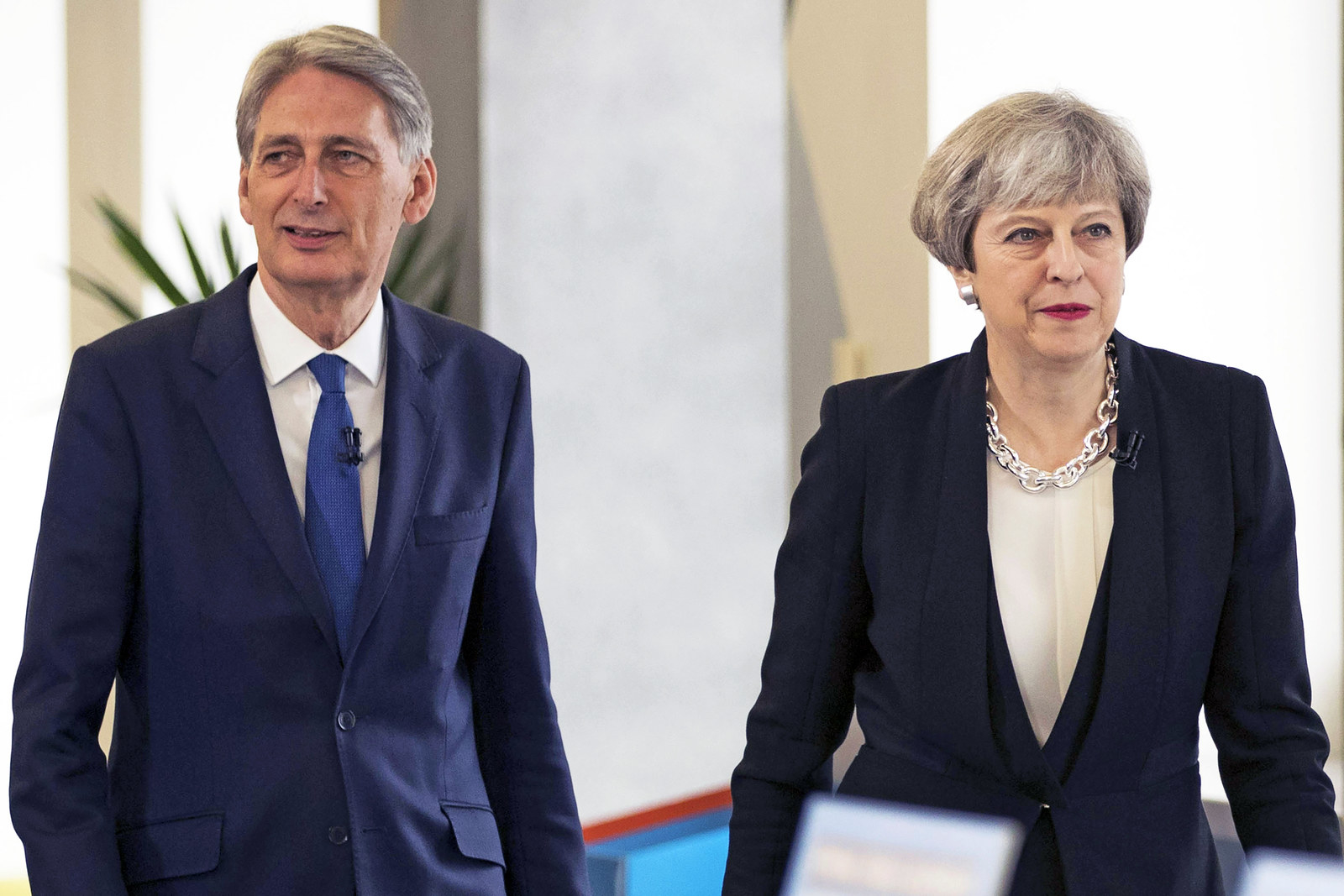 Giles Kenningham, a former communications adviser to David Cameron in Downing Street who now runs the public relations firm Trafalgar Strategy, said the Conservatives' campaign has taken a similar approach to that of the 2015 general election. Nationally, the focus is on the leader, with a small group of ministers trusted to appear on the major TV shows, and the rest of the cabinet kept out of the spotlight and deployed locally.

In constituencies where the party is expecting close races, visits from ministers can help raise the profile of candidates by getting them coverage from local newspapers and radio stations, Kenningham said. "The local media in certain pockets of the country will be much more important than the national media as the Tories aim to micro-target people in key target seats."