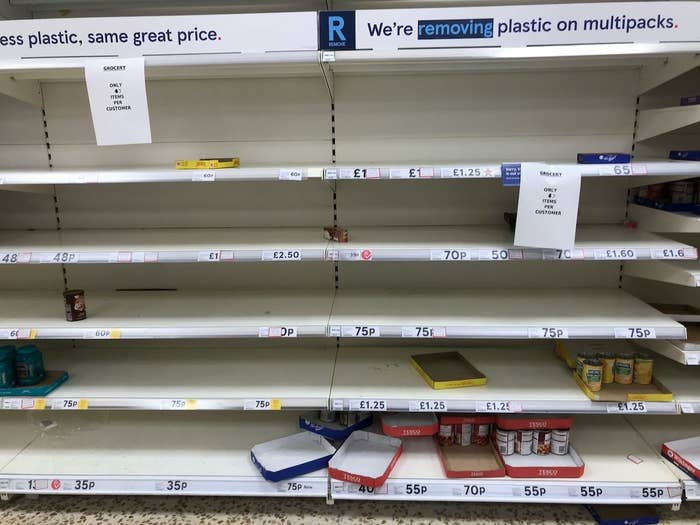 Retailers and food manufacturers insist there will be enough food to go around in the UK during the Coronavirus outbreak — despite stark scenes of empty shelves in many supermarkets.

"There isn't a shortage of food," the environment secretary George Eustice said in the House of Commons on Thursday morning, and industry representatives echoed the minister's assurances in conversations with BuzzFeed News.
Imports of food and other goods are continuing and warehouses are well-stocked, the representatives said. The alarming images of empty shelves are due not to problems with supply, they say, but because of an unprecedented surge in demand because people are panic-buying.
Items are flying off the shelves much faster than the retailers can physically get trucks out to supermarkets to restock them. They're working to speed up deliveries, but have urged customers to think of others and limit their purchases.
"This is a time for everyone to come together and support one another, particularly those who are vulnerable," said Andrew Opie, director of food and sustainability at the British Retail Consortium, which represents the big supermarket chains.
"Where people are self-isolating it is not just up to supermarkets, but also friends, family, and neighbours to support them in getting the goods they need."

"The food and drink supply chain is very flexible," said Ian Wright, chief executive of the Food and Drink Federation. "Some supply chains are facing minor disruption but there is no evidence that this is having a significant impact on food supplies just yet."

Shortages could get worse before they get better — retailers are expecting another surge in demand on Thursday after the announcement that schools will close indefinitely from Friday — but are likely to ease fairly quickly when people stop stockpiling, the representatives say.
To date, there's been a "vicious cycle", one told BuzzFeed News: Many people, worried about self-isolation because of COVID-19, bought more groceries than they usually would, which led to empty shelves, which then caused people to panic more, which resulted in people again buying more than they need.
The representatives believe it will settle down in the coming days and weeks as people get used to the idea of ongoing disruption and reach "peak stuff" in their home — in other words, when they realise that they've got more stashed in their cupboards than they'll probably need.
This is not to say that grocery shopping will soon return to normal, the representatives say. There will be fewer choices on the shelves and hours will be restricted. But there will broadly be enough grocery supplies to go around once people stop stockpiling. One pointed out that in Italy during full lockdown, families are still getting food supplies.
Ministers said they've been working "round the clock" with industry to ramp up the distribution of food and groceries to supermarkets in response to the surge in buying.

Eustice told the Commons on Thursday: "We have taken steps including setting aside delivery curfews so that lorries can run around the clock, relaxing driver hours to ensure deliveries can take place more frequently and we are in discussion with other govt colleagues in [the Ministry of Housing, Communities, and Local Government] around other support that we will deliver food locally to those who are self-isolating."