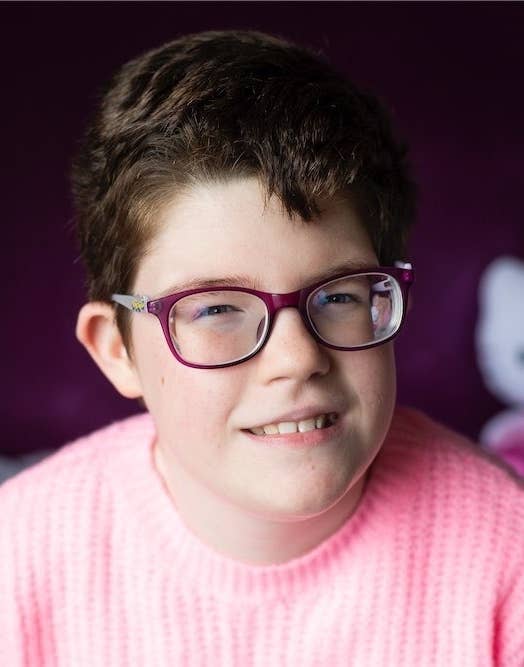 On a Thursday morning in the half-term holidays, 10-year-old Dakota Riddell is getting ready for a rare outing in the centre of Birmingham. She searches for the ear defenders she wears to control her anxiety in crowds. Her mother, Mary, helps her put on a pair of sparkly pink trainers.

"I've got stiff legs," Dakota says. "I just need help sometimes."
"I know you do, that's what mummy is here for," says Mary, a 36-year-old former hotel manager from Oldham who has been a full-time carer since her daughter was born.
In some ways, Dakota is like most kids her age. She is funny and friendly. She likes Toy Story, Minions, and Harry Potter. She goes rock climbing after school on Fridays. But she also has significant needs that distinguish her from some of her peers. She has cerebral palsy affecting all four limbs. Clonus. Dystonia. Visual impairments. Epilepsy. Her immune system is fragile, her lungs weak. She has vacant seizures which make her anxious and disoriented. She has global development delays which mean she is years behind other 10-year-olds mentally.
She needs help doing everyday things: eating, washing, getting dressed, writing. She has books specially made with extra-large type. She wears splints on her arm and leg. She uses a wheelchair to get around when she leaves the house. She requires regular sessions with physiotherapists, visual impairment specialists, and occupational therapists. Dakota will need a high level of support for the rest of her life.
The Riddells — Dakota, Mary, and her husband Rob — live in a semidetached brick house in the northern suburbs of Birmingham. It was here in Britain's second-biggest city in the summer of 2016 that Theresa May made her pitch to become leader of the Conservative party, promising to address social injustices and to ease the burden of ordinary, hard-working families who could "just about manage" to get by.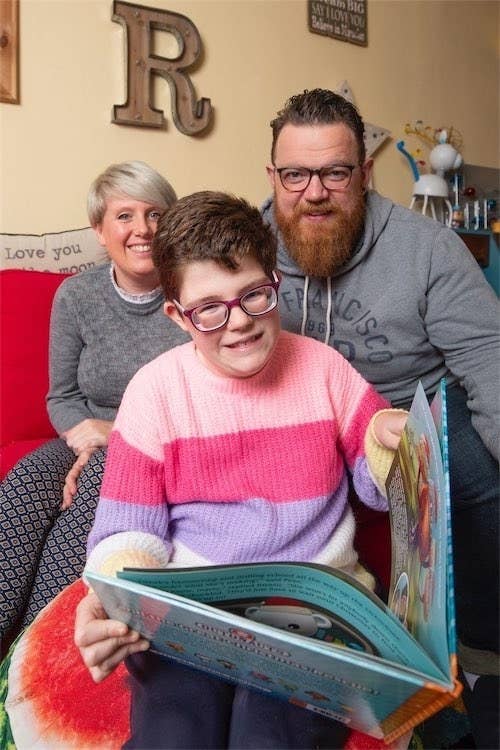 It was a vision that could've been formed with the Riddells in mind — who could be more deserving of a helping hand than young parents trying to raise a child with disabilities on a single teacher's salary? And yet, three years on, there's no sign here of May's rhetoric becoming reality. With May's time as prime minister nearly over, the burning injustices she identified are still burning, and millions of hard-pressed families are still just about managing to get by. A world away from the political melodrama in Westminster, it's people like the Riddells who are bearing the brunt of the breakdown of this Tory government.
There are few sharper illustrations of the May administration's failures on domestic policy, and the impact of its austerity measures, than the predicament of the 1.3 million British children like Dakota who have special educational needs and disabilities (SEND). The government says it's spending more money than ever on this group, with £6.3 billion allocated this year to the children with the most complex needs. But parents, teachers, charities, local officials, policy researchers, and MPs say there's a funding crisis which has pushed the system to the brink.
An overhaul of the system in 2014 was well-intentioned, these critics say, but wasn't backed by sufficient resources. There's been a sharp rise in the number of kids with high needs and the cost of supporting them. Local authorities responsible for these services are falling into deficit because they can't keep up with the demand; according to the Local Government Association, this funding shortfall will balloon to £1.6 billion by the end of the decade.
Services are being scaled back and withdrawn. Schools whose core budgets are also being squeezed are under enormous strain. "We're facing a perfect storm," says Ian Hartwright, a senior policy adviser at the National Association of Head Teachers. Children with special needs are increasingly being shut out of mainstream education, jeopardising their hopes of ever living independently.
And so their parents are fighting back.
The Riddells and two other families, in East Sussex and North Yorkshire, have launched a judicial review against chancellor Philip Hammond and education secretary Damian Hinds, accusing them of breaking equality laws by not adequately funding the special needs education system.
It's an extraordinary case that raises hard questions about how politicians allocate money to public services — questions that are now in play in the Tory leadership contest. Several prime ministerial hopefuls, including the frontrunner, Boris Johnson, have said they'll spend more on schools, but they've also promised fiscal and Brexit policies that would leave less money in the short term for public services.
In legal documents seen by BuzzFeed News, the families argue there's a direct link between this government's spending decisions on education — including at October's budget, when Hammond promised another £400 million to pay for "little extras" for schools, which critics said was desperately inadequate — and the "considerable difficulties" each of their children have had getting support.
Challenges to government funding decisions are rare. And they're hard to win. But the parents are tired of constantly battling at a local level. Rob says: "There's got to be a better way. This isn't right. How can we change it?"
---
On this morning, the Riddells' home is even more hectic than usual.

The morning started with Mary and Dakota appearing on the BBC's Breakfast TV programme to talk about the judicial review. Now they're heading into the city for a protest, where they'll join dozens of other families demonstrating for better special needs services.
Rob, a 37-year-old design and technology teacher with a fulsome beard, colourful tattoos, and a Star Wars T-shirt, loads Dakota's wheelchair into the back of their Nissan SUV. Mary fetches a placard they've made for the protest, with a picture of Buzz Lightyear above the slogan "For inclusion and beyond".
"Right, missus," Mary says to Dakota. "Go and get in the car with Daddy."
As they're driving, Dakota hunches over an iPad, playing games. Because of her visual impairments, she has to hold screens and books right up to her face to see them properly.
In the centre of Birmingham, Rob parks and retrieves the wheelchair from the boot. They help Dakota out of the car.
The Riddells tend not to go out in the heart of the city very often. It's too hard getting around with the wheelchair. Dakota gets overwhelmed by the crowds and noise. Family outings often end abruptly because she gets tired or anxious. But today is a good day. She's in a cheerful mood.
In Victoria Square, outside the Birmingham City Council headquarters, about 150 people are gathered for the protest. One of the other parents greets Mary with a hug. "You've been on the telly today!" she says to Dakota.
Dakota clutches her mother's arm as they listen to an activist address the crowd.
Dakota was born in March 2009, just 24 weeks into Mary's first pregnancy. She weighed 1 pound, 8 ounces, so small she fit into Mary's hand. Her lungs were so underdeveloped she needed a machine to breathe; she required regular blood transfusions; and at just a few weeks old she had eye surgery to save her sight from an infection. It was 17 weeks before she left intensive care and went home for the first time.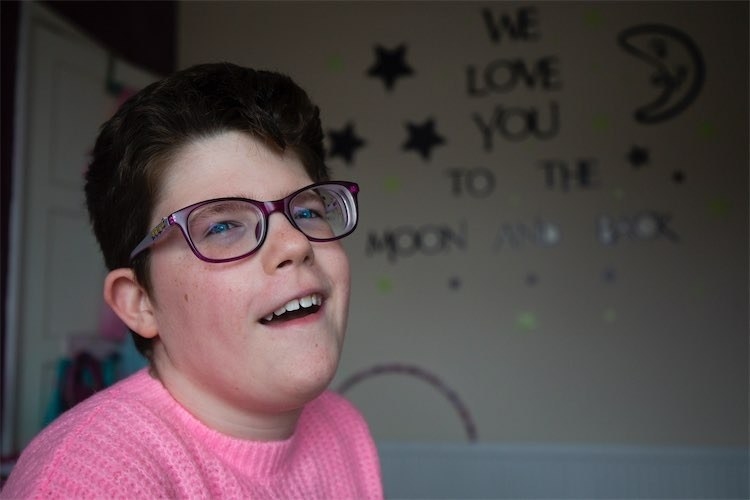 The medical staff saved Dakota's life, but that was the start of a long and testing journey for the Riddells. Mary gave up work to care for Dakota. Rob, who was a chef at a big hotel in Birmingham, retrained as a teacher. It meant racking up tens of thousands of pounds in student debt, but the hours were a lot better.
When Dakota was old enough to go to school, the Riddells sent her to a local mainstream primary which had good facilities for children with disabilities. In Dakota's first year there, she received one-to-one support in the classroom, which meant having her own teaching assistant help her follow the lessons. She had special classes in which she was taught practical skills such as getting dressed and using a knife and fork. She made good progress.
Then the cuts started.
First went the life skills classes. The company that provided them said they could continue if the Riddells put up £5,000, but they couldn't afford it. Then went the one-to-one classroom support. Without close supervision, Dakota couldn't keep up. She stopped enjoying school.
The Riddells had been determined to give Dakota a mainstream education, one in which she'd grow up with kids of all physical and mental abilities, but now they decided to move her daughter to a specialist school. After looking around, they settled on Wilson Stuart, a special academy in Birmingham.
The school is excellent, the Riddells say, and Dakota has noticeably improved since she's been there. But a good school can't protect you from cuts and delays to services provided by local authorities and the NHS. "I am still constantly having to contend with further reductions to or withdrawals of vital services for Dakota," Mary said in a witness statement submitted for the judicial review.
In September, two days before the start of the school year, Mary got a letter from a contractor to Birmingham City Council saying the chaperone who accompanied Dakota on the drive to and from school was being withdrawn.
Mary was alarmed. Dakota travels the 2.2 miles to Wilson Stuart in a minibus with five or six other children with special needs and disabilities. The journey takes about an hour by the time all the children are picked up, a long time for someone as easily fatigued as Dakota to be in a vehicle. Now the council was saying she'd have to make this journey without an adult to look after her. "It is not just inconvenient to have no chaperone for these children," Mary said in her witness statement, "it is positively dangerous."
The council reinstated Dakota's chaperone after Mary pushed back, but there was worse to come.
While she was battling the council, Mary discovered that Dakota's education, health, and care plan (EHCP) — the official document which sets out the specifics of her condition and the help she requires — hadn't been updated for nearly three years. These documents are meant to be reviewed and updated annually.
And it was riddled with errors. Dakota's surname was misspelled. Her date of birth was wrong. Some of the information was out of date. It didn't take into account that Dakota had moved to a special school. Important provisions were missing.
It was "barely worth the paper it is written on", Mary said in her witness statement.
Many other parents have had problems getting adequate support plans — long delays and mistakes are common. This is more than just a bureaucratic hassle: A deficient EHCP can lead to services being mistakenly withdrawn. "I am constantly anxious that the council will decide to withdraw services on a whim, and we will not be able to rely on the EHCP to challenge this," Mary said in her witness statement.
The council agreed to update Dakota's plan after "constant badgering", Mary said. But the revised document also contained multiple errors. Mary took control of drafting a new support plan, schooling herself in the bureaucratic process and Dakota's legal rights. Months later, they're still waiting for it to be approved.
Mary doesn't blame the local authority. "I am sure that the coordinator who is rushed off her feet dealing with a backlog of EHCPs is not trying to make things difficult for Dakota," she said in her written evidence. "Likewise, I do not believe the local authority are deliberately being slow in producing a proper assessment of Dakota's overly long journey times; this is all indicative of a chronic lack of funding from central government, and it is having a dramatic effect on Dakota's education and well-being."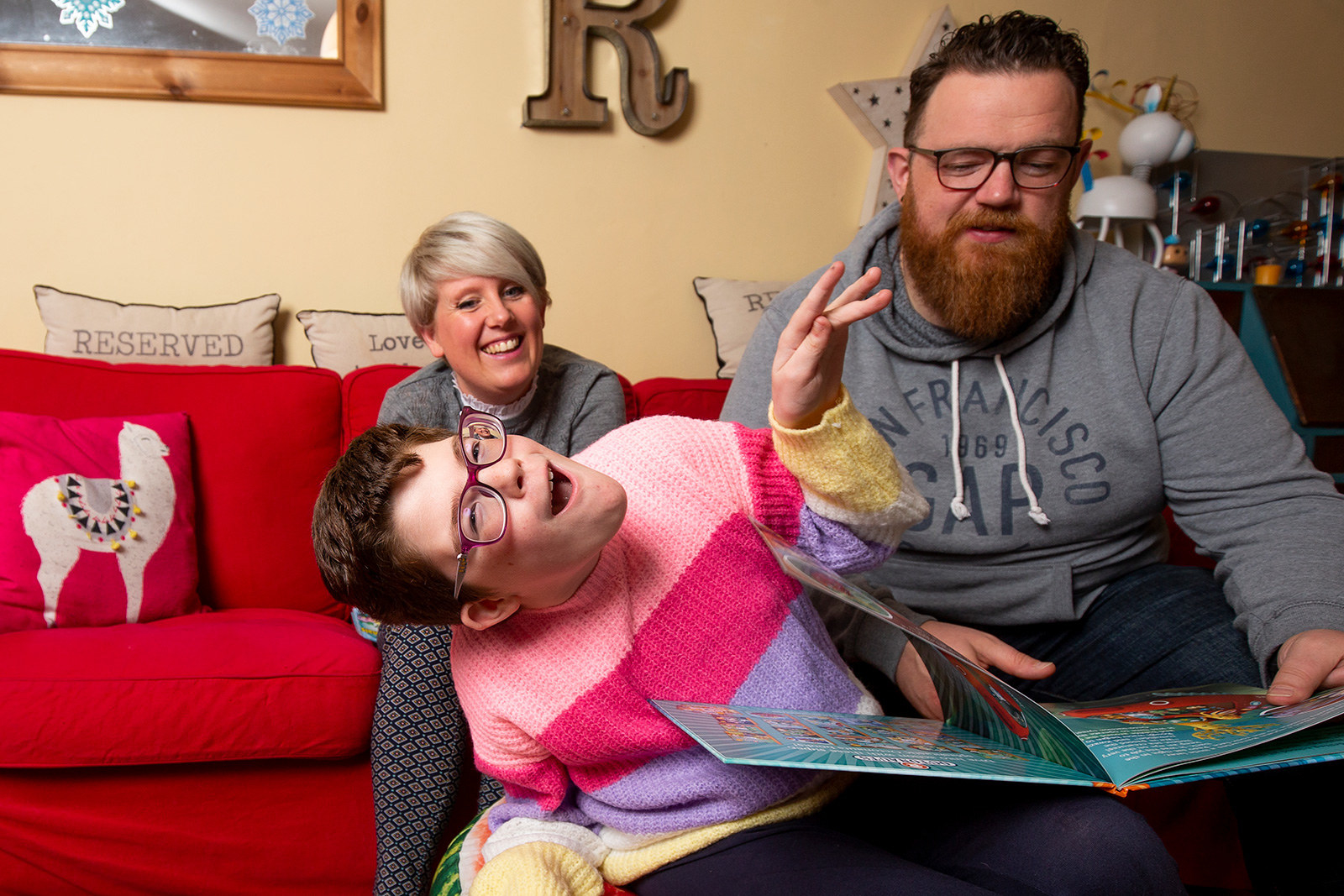 In the square, Dakota sits on a mat playing with other kids while campaigners make speeches. She bangs on a tambourine. She tucks into a chocolate-coated Krispy Kreme donut.

Addressing the crowd, one parent implores the education secretary to stop cuts in Birmingham schools: "That is down to you, Damian Hinds, and this horrendous government."
"Keep fighting," the mother urges the crowd. "Do not give up hope that you can and you will make a difference. We will get the funding that our children deserve."
It's exhausting and demoralising when you feel you're up against an unfair, broken system. One night recently, Mary wrote on Twitter:
"Today my mental health is taking a beating! I don't seem to be able to find a solution for anything!!! I'm physically and mentally exhausted and ready to throw in the towel! #sendmum #anxiety #sickoffighting #tired."
Late last year, after posting on Twitter about her fight with Birmingham City Council, Mary was approached by SEND Action, a campaign group founded by frustrated parents. Did she want to join a legal case against the government?

She didn't take much convincing.
She wasn't a natural activist. She wasn't the sort of person who ran towards conflict. "I'd never said 'boo' to a goose," Mary says. Nor had she ever paid much attention to national politics. But her family's experience had been an awakening.
She knew the grim facts, and they scared her:
That local authorities are facing a £536 million shortfall in special needs funding this year, according to the Local Government Association.
That 98% of head teachers say they're not getting enough top-up funding from local authorities, according to the National Association of Head Teachers.
That 39% of children who need EHCPs are waiting more than six months, and that support plans when they arrive are frequently inadequate and inaccurate.
That thousands of despairing parents are taking local authorities to tribunals to challenge adverse decisions, and winning four out of five cases.
That the gap is growing between children with special needs and their peers without disabilities, and that pupils with high needs are five times more likely to be permanently excluded from schools.
"I was given the option to help for the future," Mary says, "and who wouldn't take that up if you're in this kind of situation?"
"I'd like for [Dakota] not to have to fight when we're not here," Mary says. "I don't want her to have to fight as much as I do now [when she's an adult] for the services that she needs."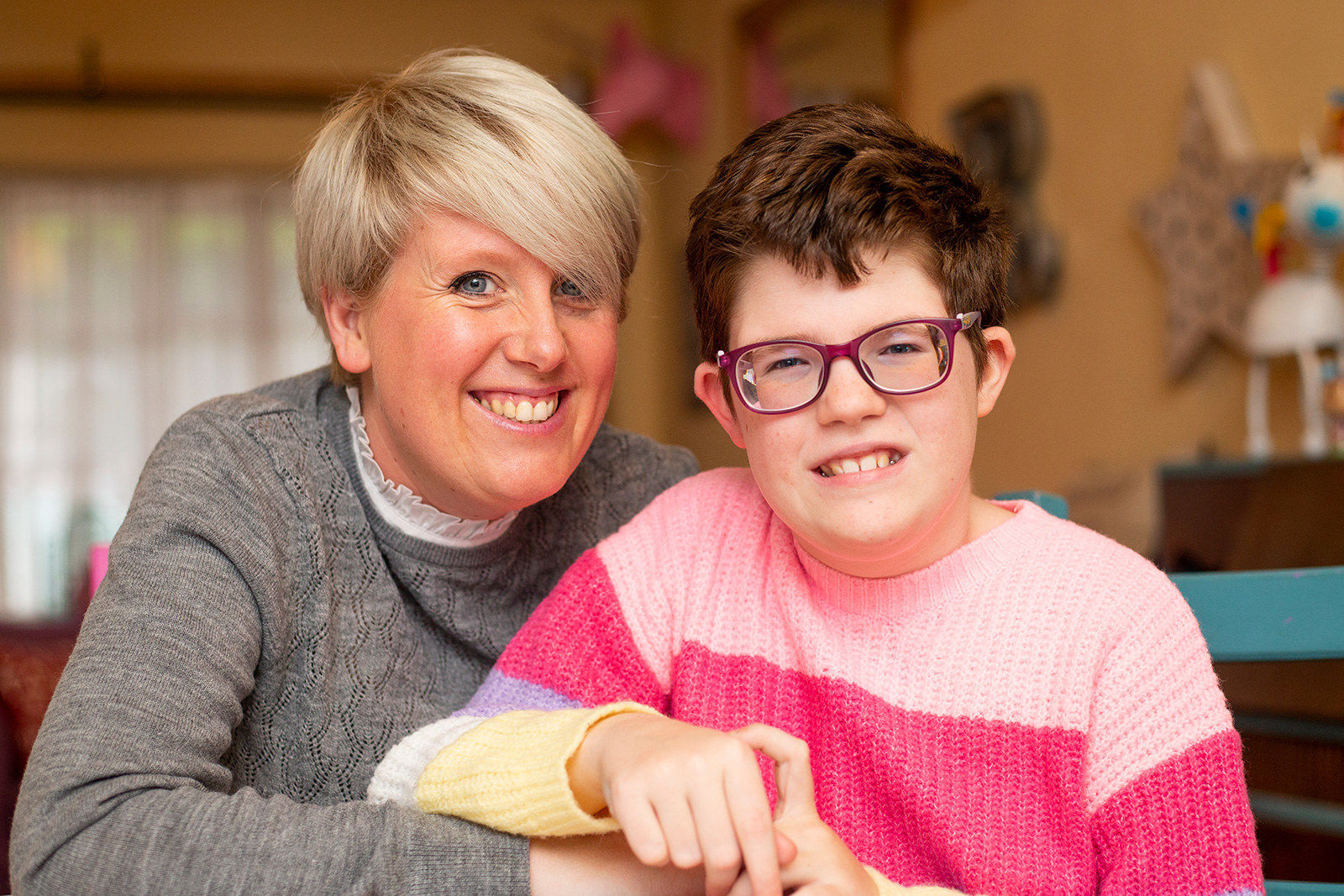 Dakota is busy scribbling in pink chalk on the paving stones. Rob leans on her wheelchair while he watches his daughter.

His mind turns to their other child.
In 2011, Mary became pregnant again. This time, after their experience with Dakota, the medical staff took extra precautions. The Riddells did everything expectant parents are advised to do. Everything seemed normal as the pregnancy progressed.
But then Mary went into labour at 22 weeks.
The Riddells knew what that meant. They knew the cut-off for a fetus to be considered viable was 24 weeks. That there was no hope of the baby surviving. The medical staff wouldn't rush to keep the child alive as they had with Dakota️.
Knowing what was to come didn't make it any easier. On the journey into hospital, Rob didn't call their families. He didn't know how to tell them. At the hospital they were offered a chaplain, but they declined.
Mary gave birth to a son.
Tobias.
Rob cut the umbilical cord, wrapped his tiny son in a blanket, and held him.
The nursing staff withdrew, leaving the Riddells alone with their son. They took turns cuddling him. Mary, exhausted, drifted in and out. Tobias stopped breathing a few hours later.
"He passed away in my arms," Rob says.
Their son's ashes rest in the Riddells' living room in a special oak box that a friend made for them. Dakota isn't aware that her baby brother is there, Rob says, but if she ever asks about it, they'll tell her.
Rob is calm and precise as he recalls Tobias's birth and death. He doesn't mind talking about it, he says. He prefers that it's out in the open.
The thing he really can't bear thinking about, he says, is the future of his surviving child. How can they make sure Dakota is able to live independently when she's an adult? What happens to her when Rob and Mary can't take care of her any more?
Increasingly her future feels out of his control.
"It really breaks me," he says.
Now it's nearly 2 o'clock, and Dakota is getting tired. It's time for lunch.

At a street stall nearby, Dakota gets a jacket potato with baked beans and cheese.
"Be careful, it's really, really hot," Mary says.
"I'm trying to cool it down," Dakota says, blowing on the food.
"Just give it a minute."
Next week, Mary will travel to London for two nights for the judicial review hearing. Rob and Dakota will stay home in Birmingham. Mary has only left Dakota overnight a few times before, including once when she went to Africa to climb Mount Kilimanjaro for her 30th birthday. Dakota is dreading her being away.
Mary isn't entirely sure what to expect from the case. The lawyers have warned her that there's a high legal threshold for success. Ministers generally have a lot of leeway when it comes to funding decisions. The government is expected to argue that it is up to them, not judges, to determine how public money is spent.
A spokesperson for the education department declined to comment on specifics of the case, but said: "The government's ambition for children with special educational needs and disabilities is no different to any other child — we want them to enjoy school and achieve to their full potential. This is why we are investing significant funding into supporting those with more complex special educational needs."
"It would be inappropriate to comment further until the judicial process has concluded," the spokesperson added.
The Riddells know that even a declaration in their favour won't be the end of their struggle. They're all too aware of the political reality. Westminster's attention next week will be on the Tory leadership contest, not the High Court. Soon there will be a new prime minister, with new ideas and priorities, but they'll inherit the same fragile majority, divided party, and intractable Brexit mess. The new administration will likely be no better positioned to end austerity and put more money into areas like special needs than May was, even if it wants to.
But merely getting the government into court to acknowledge their concerns will be a victory in itself.
"I just want them to listen," Mary says. ●