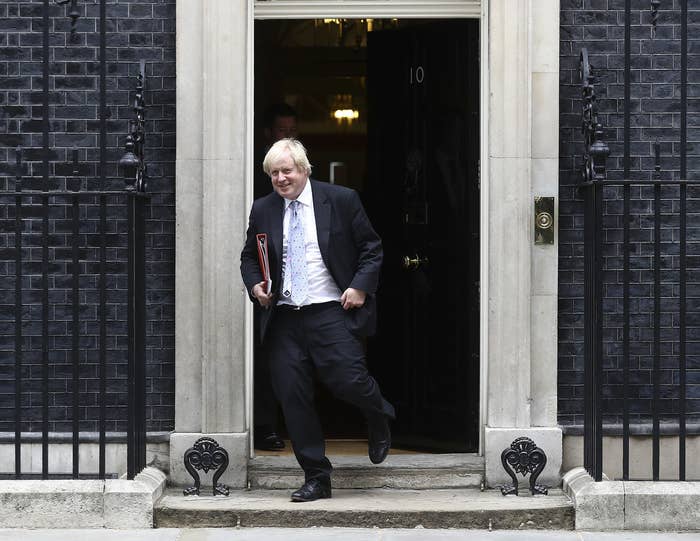 Theresa May will use the G7 summit in Canada to propose a new international "rapid response unit" to deal with Russian cyberattacks and assassinations, foreign secretary Boris Johnson divulged to a select group of Conservative activists at a private dinner on Wednesday night.
BuzzFeed News has obtained an audio recording of a closed-door gathering at the Institute of Directors in London, where Johnson treated about 20 Tories to an extraordinarily unguarded and wide-ranging assessment of the UK's foreign policy strategy – and his private thoughts about Brexit, Donald Trump, and Vladimir Putin.
In a conversation that lasted for more than an hour, Johnson revealed to members of Conservative Way Forward – a Thatcherite campaign group – that he'd spoken earlier that day to Mike Pompeo, the US secretary of state, about the situation in North Korea. The Americans want Britain to "use our nuclear expertise to dismantle Kim Jong Un's nuclear missile," Johnson divulged. "That's what he asked me to do today."
Johnson praised Trump, warned that China will "try and stiff us", and said Putin was embarrassed that Russia's economy is now smaller than that of Australia.
Boris Johnson discusses how Donald Trump would approach Britain's Brexit negotiations.
Speaking about Brexit, Johnson gave a remarkably candid rundown of the arguments that have bitterly divided May's cabinet.

At the time the dinner took place, the rest of Westminster was gripped by speculation about the future of another disgruntled Brexiteer, David Davis, but Johnson revealed to the activists that he, too, is gravely worried about the direction of the talks.
Johnson insisted he won't compromise on the final terms of Britain's future economic relationship, but said the Brexiteers were at risk of getting a deal far worse than they'd hoped for. The government is so terrified of short-term economic disruption that it's at risk of throwing away the opportunities presented by Brexit, he said. He ridiculed the concerns about disruption at the borders as "pure millennium bug stuff" and said it's "beyond belief" that the Northern Ireland border has become an obstacle in the negotiations.
Johnson was the keynote speaker at Conservative Way Forward's summer reception at the Institute of Directors on Wednesday night. Other Conservative MPs in attendance included Conor Burns and Priti Patel, the former international development secretary.

At about 8:30pm, a select group of around 20 people went to a private room for a dinner. Over more than an hour, the foreign secretary took questions from the activists and gave a characteristically ebullient and loose-lipped assessment of the most pressing policy and political matters facing the UK government. Burns was also at the private dinner.
Asked about Donald Trump, Johnson was positive about the US president and even joked that he wouldn't mind having him lead the Brexit negotiations.
"I am increasingly admiring of Donald Trump," Johnson said. "I have become more and more convinced that there is method in his madness."
"Imagine Trump doing Brexit," Johnson said. "He'd go in bloody hard… There'd be all sorts of breakdowns, all sorts of chaos. Everyone would think he'd gone mad. But actually you might get somewhere. It's a very, very good thought."
Running through the threats and opportunities for Britain's foreign policy, Johnson said he wanted a "much more energetic" approach to the UK's diplomacy.
Asked about Russia, he said the UK was taking the lead on trying to combat Kremlin-directed hostility against other countries.
"[Vladimir] Putin feels a deep sense of shame that he's leader of a country that has been so greatly reduced in its global importance," Johnson said.
"When I was a kid, Russia really mattered. It's now got an economy about the size of Australia. Yeah, they've got a lot of nuclear weapons, but its real importance in the world is greatly [diminished]. Putin's a revanchist. He wants to cause trouble. He wants to upset people like us."
The rest of the world has to be "very firm" in response, Johnson said.
He told the activists May would put forward a new plan at the G7 in Canada to deal with the Kremlin's aggression.
"On Friday, Theresa May will be in Charlevoix in Canada for the G7," the foreign secretary said. "She will be putting forward a British plan that will have global support to set up a rapid response unit to identify Russian malfeasance… whether it's cyberwarfare, assassinations, calling it out and identifying it."
"One of the problems is Russia is so good at spreading violence," he continued. "They're brilliant at it. We need to identify it and call it out."
Downing Street would not comment on the planned rapid response unit. A source from another G7 state confirmed that the proposal will be discussed at the summit, although it would not specifically mention Russia.
Asked whether China is an ally or a threat, Johnson said: "China is a rival. China is a rival, but China is a rival whose growth and whose incredible developing power can be used to our advantage."
He added: "We need to engage with China diplomatically, treat China as our friend and our partner, but also recognise that they are our commercial rivals. And they will try to stiff us."
Johnson warned that Chinese technology companies would take over from the Silicon Valley giants as the world's most powerful. "The Americans have run the tech world for decades. Microsoft, Google, Apple, blah, blah, blah — we're used to them winning. No, no, no. The Chinese are about to win. They've got 5G. They've found out a way. Everybody's going to be getting stuff on their gizmos through the Chinese system and not the American system. So watch out for that one."
On disarming North Korea, Johnson said: "Of course we've got to help the Americans do this thing... I just talked to Mike Pompeo, my counterpart in the US State Department. What they want us to do is to use our nuclear expertise to dismantle Kim Jong Un's nuclear missile. That's what he asked me to do today."
Johnson said he "would love to" visit North Korea, and believes the UK has influence there. But he said he has no immediate plans to visit.
Speaking about Brexit, Johnson told the Tory activists the talks are approaching a "moment of truth".
"I'm not going to hide it from you," Johnson told the activists. "There is an argument going on."
Brexit will happen, "and I think it will be irreversible", Johnson said. But he added: "The risk is that it will not be the one we want."
Boris Johnson describes his fears of a bad Brexit deal.
There's a high chance of Britain ending up with an arrangement that violates many of the Brexiteers' "red lines", keeping it "locked in orbit around the EU, in the customs union, and to a large extent still in the single market," Johnson said. "So not really having full freedom on our trade policy, our tariff schedules, and not having freedom with our regulatory framework either."

That outcome was being pushed particularly by the Treasury, which Johnson said was "basically the heart of Remain". It would mean the UK had left the EU without taking back control over its own affairs.
Clarifying his own red lines, Johnson said he would be willing to accept staying close to the EU beyond March 2019, when the UK formally leaves the EU, but will not budge when it comes to the final terms of the future relationship.
Boris Johnson attacks the Treasury as "the heart of Remain".
"I will be prepared to compromise over time, but I will not compromise over the destination," the foreign secretary told the activists.
The Remainers in government are so worried about the potential for short-term disruption after Brexit that they're blind to the long-term benefits, Johnson said.
"What they don't want is friction at the borders. They don't want any disruption of the economy. So they're sacrificing all the medium- and long-term gains out of fear of short-term disruption. Do you see what I'm saying? The fear of short-term disruption has become so huge in people's minds that they've turned into a quivering wreck."
"They're terrified of this nonsense," Johnson said. "It's mumbo jumbo."
Johnson gave a scathing response to warnings of chaos because of delays at Britain's borders, which have included a Treasury analysis saying that disruption at Dover could lead to shortages of food and medicines if the UK leaves without a deal.
There would be disruption, Johnson said. "Yeah, of course. There will be some bumps in the road."
But the warnings had been overblown.
The "prophecies of doom" about disruption of customs are "pure millennium bug stuff", Johnson said, referring to the hysteria about Y2K at the turn of the millennium.
"All the planes crashing from the sky. It's absolute nonsense."
Johnson dismisses concerns over customs disruption as "pure millennium bug stuff".
"It's the 21st century," Johnson continued. "You know, when I was mayor of London … I could tell where you all were just when you swiped your Oyster card over a tube terminal, a tube gizmo. The idea that we can't track movement of goods, it's just nonsense."

He added: "Unless you make the change, unless you have the guts to go for the independent policy, you're never going to get the economic benefits of Brexit. You'll never get the political benefits of Brexit."
He said the debate about solutions to the Northern Irish border had been blown completely out of proportion.
"It's so small and there are so few firms that actually use that border regularly, it's just beyond belief that we're allowing the tail to wag the dog in this way. We're allowing the whole of our agenda to be dictated by this folly."
Johnson said the technology-based customs solution favoured by the Brexiteers in the cabinet — known as "maximum facilitation" — was viable.
"Concentrate on maximum facilitation," Johnson said. "That's what we want. Solve the technical problem. We can easily find a solution that allows us to have trade that is frictionless as possible… with our continental friends and partners while still be able to do free trade deals. It's not beyond the wit of man."
Johnson disagreed with a claim by the head of HMRC that "max fac" would cost the UK economy up to £20 billion, by adding additional border checks for businesses. "No, we don't think that's realistic at all. It's out by a factor of 10 or 20," he said.
The European Commission is playing hardball in the negotiations to try to prove to the other 27 member states that it's not worth trying to leave, Johnson told the activists.
"I think Theresa is going to go into a phase where we are much more combative with Brussels," he said.
"You've got to face the fact there may now be a meltdown. OK? I don't want anybody to panic during the meltdown. No panic. Pro bono publico, no bloody panic. It's going to be all right in the end."