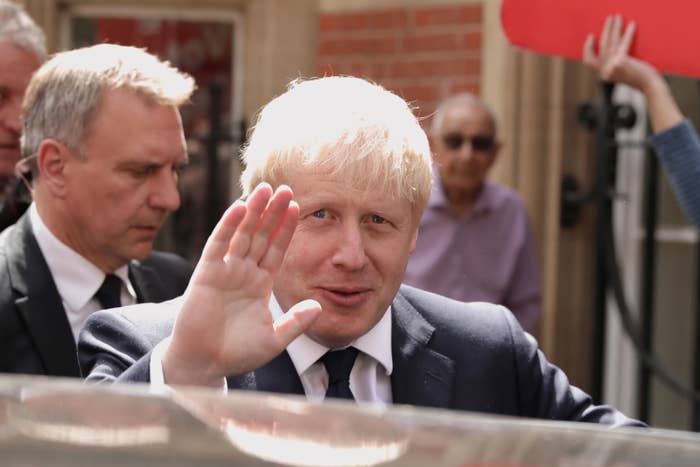 Boris Johnson will be the UK's new prime minister after being elected leader of the Conservative party today, heralding a momentous change in the country's approach to leaving the European Union.

The former foreign secretary and mayor of London will take over in Downing Street on Wednesday after comfortably winning the support of the 160,000 Tory party members who got to vote on Theresa May's successor.
Johnson, who won 66% of the votes cast, becomes leader at a pivotal moment in British history, with just 15 weeks until the UK is scheduled to leave the EU and no sign of a solution to the political crisis that crippled May's government.
He has been a leading advocate of a hard break from the EU since resigning in protest at May's Brexit strategy last July. In the leadership campaign, he insisted the UK would depart the EU on Oct. 31 one way or another, even if it means leaving without a withdrawal agreement.
Addressing the party after the result was announced, Johnson said: "We are going to energise the country. We're going to get Brexit done on October 31. We're going to take advantage of all the opportunities that it can bring in a new spirit of 'can-do'."
Responding to media reports pointing out the scale of the challenge facing the new prime minister, Johnson said to the crowd: "Do you look daunted? Do you feel daunted? I don't think you look remotely daunted."
In reality, though, Johnson inherits a divided party with a tiny working majority in Parliament, and is likely to quickly face obstacles that could hinder his administration.

One of Theresa May's Cabinet ministers, the justice secretary David Gauke, immediately indicated on Twitter that he will resign and return to the backbenches rather than serve under Johnson.
Some in Westminster have speculated that Johnson could face a no-confidence motion, while others have predicted an early general election. And Johnson has repeatedly refused to rule out suspending Parliament to stop MPs blocking a no-deal Brexit.

In Brussels, the European Commission's chief negotiator, Michel Barnier, said on Twitter that his team will work "constructively" with the new government to secure an orderly withdrawal.
Donald Trump welcomed Johnson's election:
Johnson defeated the current foreign secretary Jeremy Hunt by 92,153 to 46,656 after a long campaign that produced few surprises.

Turnout was 87%.
Hunt, who backed Remaining in 2016, sought to recast himself as a Brexiteer who would be willing to take the country out of the EU without a deal if necessary. On the campaign trail he emphasised his experience as an entrepreneur while questioning Johnson's suitability for the top job in government.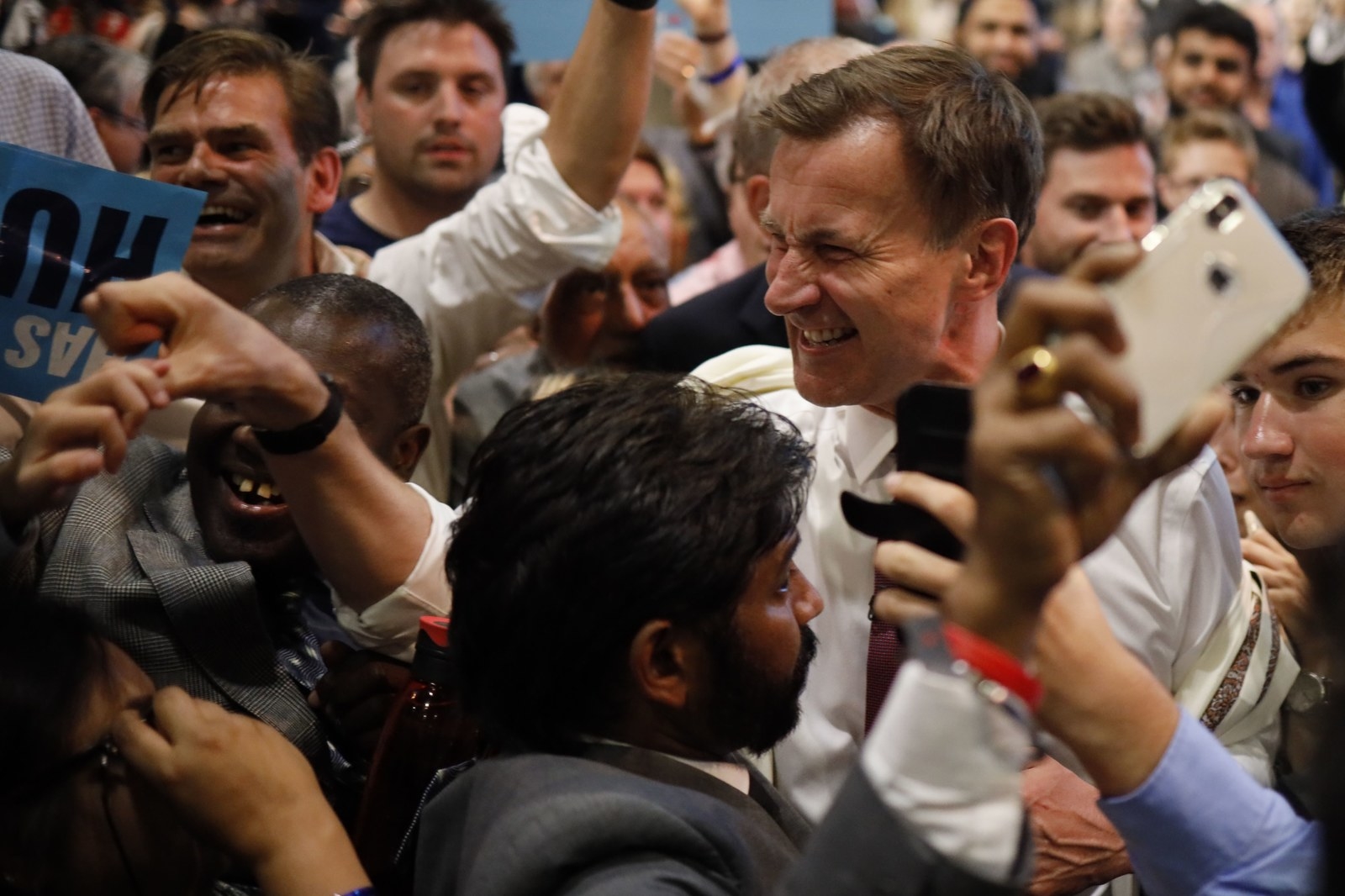 Johnson later addressed a meeting of the backbench 1922 committee on Tuesday afternoon, where both he and leadership rival Hunt were welcomed with rapturous applause.
The majority of MPs leaving the meeting said Johnson had been well received by the parliamentary party, and told reporters gathered outside that he had again assured his party that Britain would leave the EU on October 31. He also said he did not want an early general election.
Johnson also took questions on various policy matters, including the future of and the beleaguered HS2 rail scheme, and said he would be ordering a review of the project, to be carried out by engineers in Hong Kong.
Alistair Burt, formerly one of Theresa May's most loyal ministers before he resigned over Brexit, backed Hunt in the leadership race, but was still enthusiastic about Johnson's leadership when he spoke to BuzzFeed News.

"[He] answered a lot of questions, a lot of colleagues came up with things that had been very important to them, either constituency-wide or in terms of the campaign, but a huge positive response to him, of course," Burt said.
ERG spokesperson Steve Baker appeared jubilant outside the meeting and said he was "supremely confident" that Brexit would be delivered.
"I know that Boris Johnson wants to be a great British prime minister, and the only way he's going to be a great British prime minister is if we leave the EU on the 31 October," Baker said.
"If we don't leave the EU on the 31 October, we'll get wiped out when the voters vote for the Brexit party in due course."
However, not everyone was complimentary about the new leader.
"The circus has come to town. I couldn't stand any more of it," backbencher Keith Simpson said, leaving the meeting early. "You have to pinch yourself, people kept calling him the prime minister–elect."
May will finish her duties as prime minister by taking questions from the Commons on Wednesday for one last time. She will then make a statement at Downing Street before meeting the Queen at Buckingham Palace. Johnson will move into Downing Street in the afternoon and is expected to begin announcing his cabinet soon after.

Westminster is already rife with speculation about who will get the top roles in his government, with the expectation that Leave supporters will be given more prominence than they were under May. The leading Remainer in May's Cabinet, the chancellor Philip Hammond, has already announced his intention to resign if Johnson becomes prime minister.
On Monday, the Foreign Office minister Alan Duncan resigned in order to try to force a Commons debate on whether MPs supported a Johnson premiership. He said his effort was blocked by the speaker, John Bercow.
Johnson won the Tory leadership after a two-month campaign, which, by his standards, was relatively cautious.

There was controversy early in the race when the Guardian revealed that Johnson and his girlfriend, the former Tory media adviser Carrie Symonds, had a late-night row at her flat in south London which was recorded by neighbours. Johnson rode out the controversy, refusing to answer questions about his private life.
The campaign brought many other questions about Johnson's character, judgment, and track record: his handling of the imprisonment of Nazanin Zaghari-Ratcliffe in Iran, his mocking of Muslim women wearing burkas as looking like "letter boxes", his championing of expensive vanity projects like the ill-fated Thames garden bridge.
However, opinion polls suggested that, whatever his flaws, Johnson's popularity remained constant with the voters who mattered in this contest, the Tory membership.
CORRECTION
Nazanin Zaghari-Ratcliffe's name was misspelled in an earlier version of this post.