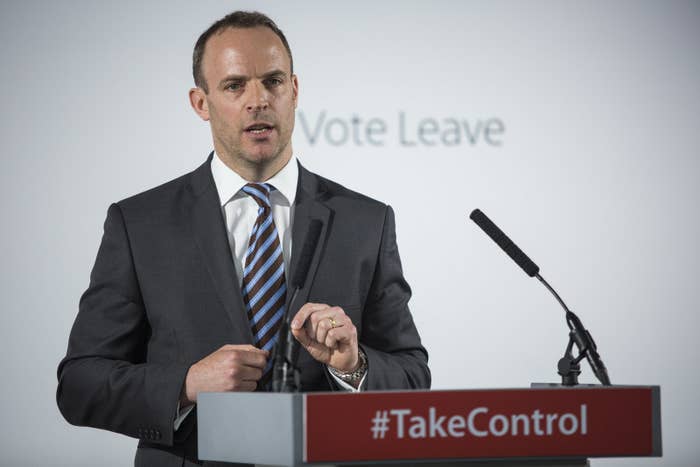 A justice minister named on the Tory "sleaze" list being circulated in Westminster has attacked the anonymous document as a "form of harassment and intimidation" against MPs.

Dominic Raab, one of 40 Conservatives on the list, adamantly denied any wrongdoing and criticised the authors of the document for sparking a "media feeding frenzy" in which the reputations of innocent MPs are being tarnished.
Another minister named on the list, Rory Stewart, said an allegation against him was "completely untrue" and "deeply hurtful". A former member of his parliamentary staff, who was allegedly targeted, also denied that Stewart had done anything wrong.
The wide circulation of the unredacted list in the last few days has sparked claims of a witch-hunt in Westminster, because several MPs have been named in connection with alleged harassment when there are no credible allegations of any improper conduct against them.
Serious allegations of sexual harassment by MPs against staff or colleagues must be properly investigated, but many of the allegations on the list appear to be a "gossip or unsubstantiated rumours rather than credible reports of abuse," the justice minister said in a statement on his website this morning.
"For anonymous individuals to compile and publish, or allow to be published, a list of vague, unsubstantiated and — in my case — false allegations is wrong," Raab said.
"It is also a form of harassment and intimidation, although of course I am not suggesting it is the same or equivalent," Raab added.
MPs should be held accountable for real accusations of abuse but those incidents should be investigated "without irresponsibly smearing those who have done nothing wrong", Raab said.

Raab, a rising star in the Tory ranks who worked as a lawyer in the City before becoming the MP for Esher and Walton, said he isn't sure why he was included on the list. Next to his name on the spreadsheet was an entry saying, "Injunction for inappropriate behaviour with a woman."
"I have never been served with an injunction for anything," Raab said in the statement. "Nor have I ever sought one. Equally, any insinuation that I have engaged in anything resembling sexual harassment, sexually abusive behaviour or lewd remarks with either Parliamentary colleagues or staff (in any job I have done) is false and malicious."
Raab said the allegation may relate to a 2011 case in which he sued the Mail on Sunday for libel. The newspaper apologised and paid damages after running an article headlined, "Payout for woman who claimed workplace bullying under Dominic Raab," according to a press release published at the time by Raab's barrister.
That press release said: "In 2007 Mr Raab had worked as David Davis MP's office manager. The article alleged that during this period he had behaved as a sexist bully towards a researcher who worked under his supervision. It further claimed that his behaviour caused her to have to leave her job." The newspaper accepted that the allegations were unfounded.
In his statement this morning, Raab said the Mail on Sunday story was "vexatious" and "smearing", adding: "In March 2012, they paid a five figure sum in compensation, and printed an unequivocal apology and retraction on page 2."
Raab said he has taken legal advice on the "Westminster list".
Stewart, the international development minister, said neither he nor his former staff member "have any idea how our names appeared on the list".
Sophie Bolsover, who worked as a parliamentary aide to Stewart from September 2015 to February 2016, according to her LinkedIn profile, posted a statement on Twitter denying that Stewart had acted improperly.

"While I recognise the seriousness of the allegations of inappropriate sexual behaviour, sexual harassment and worse, I wish to emphasise that nothing of the kind implied by my name being included on this spreadsheet ever took place," Bolsover said.
She added: "During my time working in Parliament, Rory Stewart was never anything other than completely professional and an excellent employer. Moreover, the inclusion of my name on this list, by parties unknown to me and without my permission, has caused deep distress and anxiety."