75 Tower Blocks Have Failed Urgent Safety Tests Ordered After The Grenfell Tragedy
Updated: The Local Government Association says a delay in the number of samples sent for testing is down to social and other landlords – not councils.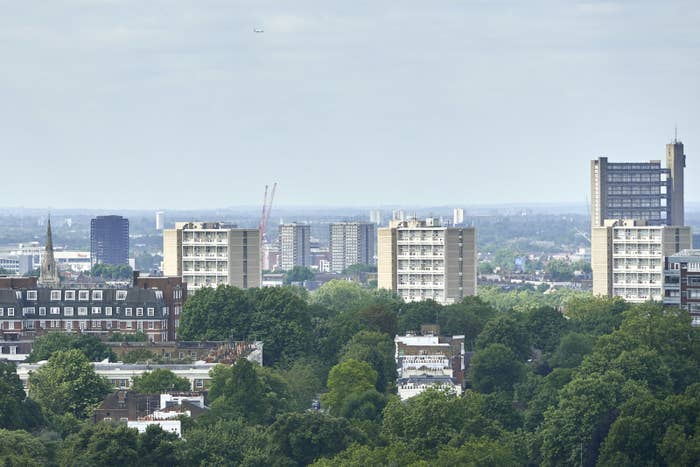 The government has urged landlords of tower blocks to accelerate their submissions of cladding samples for fire-safety testing after the number of failed high-rises jumped to 75.

More than a week after the government urged local authorities to urgently carry out tests of cladding on high-rise residential buildings, after 79 people were killed in the Grenfell Tower tragedy, hundreds of buildings across England still have to be checked.
Sajid Javid, the communities secretary, told the House of Commons on Monday evening that government experts can test at a rate of 100 samples a day but local authorities aren't sending them in quickly enough.
"I am concerned about the speed at which samples are being submitted," Javid told parliament. "I would urge all landlords to submit their samples immediately."
So far, 100% of the cladding samples tested by the government's experts have been found to be combustible, but there are still more than 500 high-rises for which councils across England are responsible that have used some form of cladding and haven't yet been tested.
Earlier in the day, the housing minister Alok Sharma appeared to point the finger of blame for the delay in testing at councils, telling Radio 4 Today: "Certainly some councils are acting very quickly and we want all of them to be acting urgently on this."
However, a spokesperson for the Local Government Association said: "The LGA has contacted all of the local authorities which government officials were still expecting samples from. Of the overwhelming majority we have been able to speak to so far today, they have either already sent a sample for testing or informed government officials that they do not own any high-rise buildings with ACM cladding in their area.
"It seems that samples expected by government officials from councils are, in many cases, due to actually arrive from other housing providers. As community leaders, councils are working with social and other landlords in their area to make sure all cladding samples are sent for testing as quickly as possible."
They added: "Our advice to any council, social and other landlord waiting for cladding test results remains that they should be preparing contingency plans so they can implement mitigating measures quickly.
"We also continue to press the Government to ensure councils have the funding they need to support residents and carry out any new safety measures."
The government has broadened the scope of the buildings being tested, urging schools and hospitals to carry out urgent examinations of their buildings to identify whether they need further safety tests.
Officials have also urged private landlords to check their buildings and have said they will make their testing facilities available to them.
"It is obvious the problem of unsafe cladding may not be unique to social housing or residential buildings," Javid said.
John Healey, Labour's shadow housing secretary, responding to Javid's statement in the Commons, said the government's response to the crisis was still inadequate.
"Hundreds of thousands of residents in 4,000 other tower blocks around the country are still wondering if their homes are safe, worried about sleeping at night, and wondering what the government is doing to ensure they're safe," Healey said.
"Why five days into the programme have only 75 tests been done so far? Why have all failed so far?"
Javid said the government has set aside another £1 million to support charities that have been responding to the Grenfell fire, in addition to the £5 million the government allocated for residents of the tower who have been displaced.
Earlier in the day, Theresa May told a meeting of the taskforce set up in response to the Grenfell fire that local authorities needed to be faster at sending samples.
The prime minister's official spokesman said: "As soon as we get the samples, we can test them pretty quickly. We can turn them around normally in a few hours. Our appeal to landlords who haven't sent the material yet is to send it urgently, so we can get the tests done."
Landlords have also been urged by the government to take interim safety measures on their properties such as installing sprinklers and appointing fire wardens.
The Department for Communities and Local Government wrote to all councils and housing associations in England last Sunday ordering them to carry out urgent inspections of cladding on high-rise residential buildings under their authority. From responses to that directive, the department estimates that 600 such buildings have used some form of cladding.
Testing began a few days later. On Thursday, Downing Street announced that three high-rises had been found to have combustible cladding, and the number began rising quickly – to hit 60 by Sunday evening.
However, with a failure rate of 100% and hundreds of high-rises left to check, it is likely that the current figure of 75 will rise again as more samples are submitted.
A failed test in itself does not indicate that the building is unsafe. Once the cladding is deemed a risk, residents of the building concerned are informed and the fire service is called in to carry out further checks. It is then up to fire officials to determine whether it is safe for residents to stay.
In the case of the Chalcots estate in Camden, about 650 flats were evacuated on Friday night after the fire department said the combination of combustible cladding – made up of aluminum panels with a polyethylene core – and concerns about insulation around gas pipes made the building unsafe to inhabit.
Inspection of the buildings discovered that around 1,000 fire doors were missing from the Camden tower blocks, Javid said.
No other buildings are known to have been evacuated.
Despite being asked repeatedly, neither the DCLG nor Downing Street will say how many of the 75 buildings that have failed cladding fire-safety tests have then been fully assessed by the fire department and deemed either safe or dangerous.