1.
Of course Rita Ora is that girl with the ostrich feather bathmat train.
2.
When you need a guy to carry your train at the MTV VMAs, you've gone too far. 3.
Here are three more dresses that are all, in their own special way, a bit too much. L–R: Holland Roden, Sarah Hyland, and Iggy Azalea.
4.
As a counterpoint, here's the ethereal Ciara explaining how to do VMA red carpet glamour just right.
This dress also represents Ciara's audition for next season's Dancing with the Stars, because you know she's got both the time and the affinity for sequins.
5.
In other moments when Iggy Azalea failed in the fashion stakes: when she presented an award alongside LIL' KIM.
6.
Not that it is remotely possible to best a look as well put together as this. 7.
This dress looks like tacos. TLC also used to have hair like this, back in the day.
9.
In fact, let's just keep remembering TLC how they were. 10.
In other Miley Cyrus clothes, this is a glitzy swimsuit with a teddy bear on it. Pretty textbook, for an MTV awards show performance, that is. 11.
Now her backup dancers have borrowed old Destiny's Child costumes, which is nice. 12.
And then: twerking heard around the world (part 1). 13.
But just about everything in these photos, fashion and beyond, is all wrong.
Apart from Miley's brothel creepers. Those are cute.
14.
A Shaleine Woodley waxwork was wheeled onto the red carpet to pose with her Divergent co-stars Theo James and Miles Teller.
15.
At the 2007 VMAs, one of Ashanti's R&B star rivals shoved her into an alternate dimension. 16.
Also visiting from 2007: Foxy Brown! 17.
As their nonchalant outfits suggest, Willow and Jaden Smith are far too cool to be caught posing with their dad. 18.
Rihanna was not too cool to pose with Daddy Will, however. 19.
Rihanna was not too cool to pose with Harry Styles either (because she probably doesn't know who he is, sorry to say so). Bonus: Niall's nonplussed expression in the photo on the left.
Prepare for the inevitable rumors that Rihanna and Harry Styles hooked up, because goodness knows Harry's reputation precedes him.
20.
And prepare for Joy Division fans to rage silently over Louis Tomlinson's "Love Will Tear Us Apart" tee. 21.
Also, what do you think they and Vampire Weekend are talking about? 22.
GLAMOURPUSS WEDGES! 23.
And you do you, Daft Punk. You do you too.
24.
BIG ANG! Along with fellow Mob Wives Drita and Renee. Re the latter: what would catch fire quicker, their hair or shiny, shiny polyester blouses? This GIF says it all: 25.
This photo is here for one reason and one reason only: Because the dance moves, just briefly, resemble the wonderful puppetry in the "It's Gonna Be Me" music video:
26.
You'd think it'd be Chris Kirkpatrick showing up to the NSYNC reunion in a fedora, but NO. 27.
It's Justin Timberlake, who is now apparently apprenticing under Barry Weiss from Storage Wars. 28.
In other fedoras: Bruno Mars. Who looked very short compared to Taylor Swift. 29.
And in other people made to look short: A$AP Rocky vs. Jason Collins. 30.
One more Bruno Mars moment, just so we can all savor this silky leopard print. It's a good thing Bruno and Big Ang were texting beforehand, otherwise she'd have shown up in leopard print too. 31.
Oh wait, 2 Chainz and Grimes do!
32.
Here's a much better example of whimsical headgear: on DJ Cassidy, who's also famous for his background role in the carousel scene from Mary Poppins.
33.
Worse than a fedora, however: this beanie.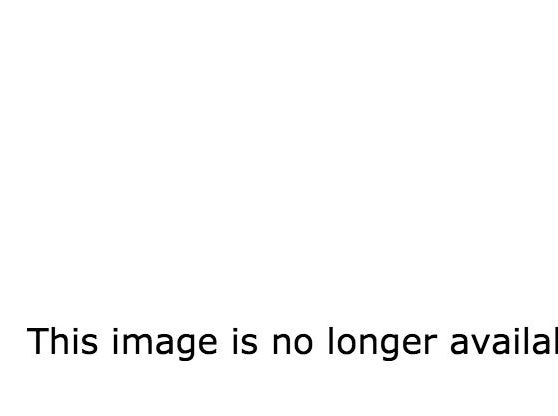 34.
Meanwhile, I still have nothing to say about Austin Mahone.
Other than this caption, that is. Which doesn't really count.
35.
Incidentally, this is how to wear a tank top for your performance.
36.
Drake's philosophically casual pre-show red carpet look. 37.
Katy Perry rescues a pre-worn red carpet look with an ostentatious grill.
I think her shoes are also a size too small.
Here's model Coco Rocha in the same dress (a full-length version, granted) at this year's Met Ball.
38.
And here's Coco at the VMAs too. She is angry but who knows why.
39.
Perhaps she is annoyed that her fellow model Chanel Iman's dress is getting smushed up in A$AP Rocky's embrace.
40.
Or perhaps she is actually shocked because she has just seen her other fellow model Erin Wasson in this fascinating sheer body-con gown. 41.
Joseph Gordon-Levitt looks dapper. 42.
And Naya Rivera looks beautiful. 43.
The Jersey Shore contingent came and did their thing. It's nice of MTV to keep inviting their reality starlets of years past.
L–R: Jionni LaValle, Nicole Polizzi, Ronnie Ortiz-Magro, and Sammi Giancola.
44.
Here's Jenni Farley and her fiancee Roger. 45.
And in other oddly-attractive-but-certainly-out-of-place New Jerseyeans, here's Real Housewife Melissa Gorga and her Real Husband Joe. 46.
Ellie Goulding, being British, has come up with a genius solution to all that quintessentially American awards show overfamiliarity. 47.
It's probably a bit too hot for a furry scarf, but Macklemore has a stylist with a very consistent vision. 48.
A fun guessing game to play with group photos: girlband or excited fans granted a brief red carpet photo op? 49.
Also see: this boy band called The Neighborhood, maybe? 50.
And in other embarrassing boy band looks, here's Jared Leto and his 30 Seconds to Mars bandmates. 51.
Ariana Grande can't believe her quinceañera party is clashing with the VMAs.
52.
And I can't believe Busta Rhymes is wearing a sleeveless shirt straight out of Versace's fast fashion line for H&M. 53.
A question for the ages: Is Selena Gomez's dress falling down a bit? 54.
You can tell Jordin Sparks and Jason DeRulo are a couple because their pleather zip-up shirts co-ordinate so nicely.
55.
A better all-pleather ensemble: Jennifer Hudson. 56.
And somewhere that's not the VMAs, Mac Miller is wondering — wistfully — if he should have tried harder.
Case in point: This is the rapper Riff Raff, who is trying too hard.
57.
And here are some other guys in snakeskin pants, because that was a real trend last night. I mean, as always.
L–R: Lil Duval and Andrew Schulz (with comedienne Melanie Iglesias).
58.
Between the four members of Danity Kane present, there are probably enough separates for one regular person's outfit. 59.
Ed Sheeran continues to be red carpet security guards' nightmare. Who could believe this is a legitimate celebrity attendee? 60.
Then, the obligatory red carpet rebel.
This is Travis Scott, wearing a sweater that wishes it were Givenchy.
61.
Again with the middle finger, and a T-shirt with some strangely positioned zippers. 62.
And here's the also-requisite casual knitwear contingent: Kayne and Kendrick.
63.
Now it's time for some Gaga fashion moments. Here she is representing Morticia Addam's gutterpunk* phase. 65.
And this look inspired by the Pope enjoying one of those fun "put your face in the hole and you'll be a bodybuilder" photo opportunities at seaside resorts.
66.
However, even considering her status as a Drag Race fangirl, Gaga didn't get the RuPaul-sanctioned memo that you should NEVER take off your wig mid-lip-synch. 67.
You're thinking the best part of this photo is Lady Gaga, sure, but it's actually the lady sat behind her one to the left. LOOK AT THAT HAIR.
69.
Richard Simmons' activewear clearly inspired Perry's show-closing performance.
Are her backing dancers actually that sweaty, or are fake perspiration stains a new thing? I need to know ASAP, so I can start attending social engagements right after hitting the gym (spoiler: I don't actually go to the gym) and explain that Katy Perry said my look was OK.
70.
GAME OVER, but good show, MTV!