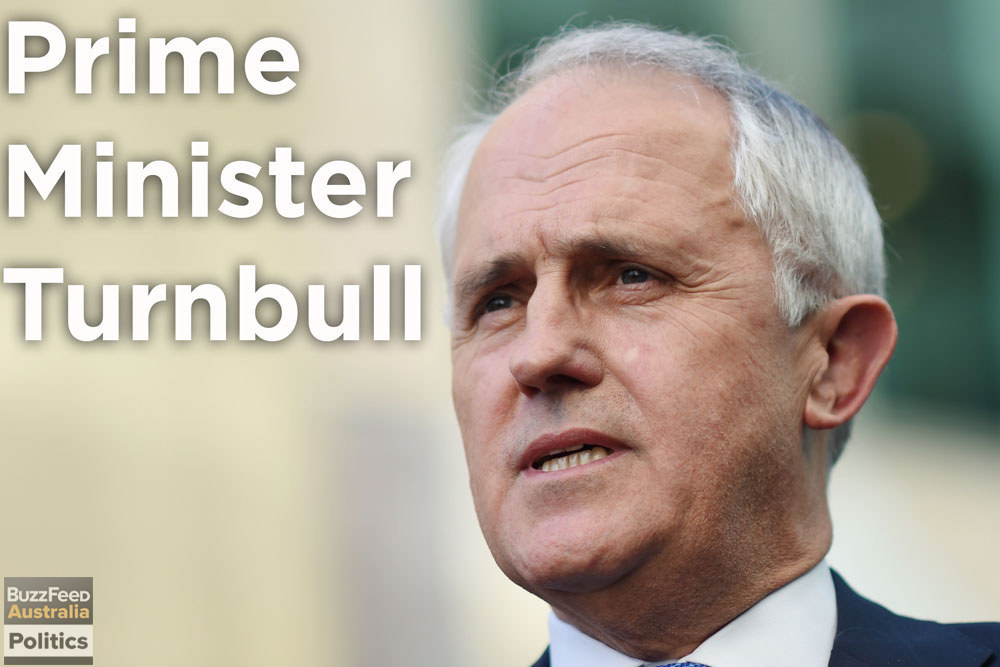 After a dramatic day in politics, Australia has a new prime minister.
Malcolm Turnbull defeated Tony Abbott in a leadership ballot, 54 - 44. In Australia, the leader of a sitting government can be changed by a party room vote.
See how the event unfolded below.
Updates
Malcolm Turnbull has given his first speech as incoming prime minister. He pledges to lead a "thoroughly Liberal government" that is better at explaining its policies.
This has been a very important, sobering experience today. I'm very humbled by it. I'm very humbled by the great honour and responsibility that has been given to me today. We need to have in this country and we will have now, an economic vision, a leadership that explains the great challenges and opportunities that we face.This will be a thoroughly Liberal government. It will be a thoroughly Liberal government committed to freedom, the individual and the market.It'll be focussed on ensuring that in the years ahead as the world becomes more and more competitive and greater opportunities arise, we are able to take advantage of that.The Australia of the future has to be a nation that is agile, that is innovative, that is creative. We can't be defensive, we can't future proof ourselves. We have to recognise that the disruption that we see driven by technology, the volatility in change is our friend if we are agile and smart enough to take advantage of it.There has never been a more exciting time to be alive than today and there has never been a more exciting time to be an Australian.
Here's Tony Abbott as he left the party room, having just been ousted by his colleagues as prime minister. It is not yet known if he will be holding a press conference.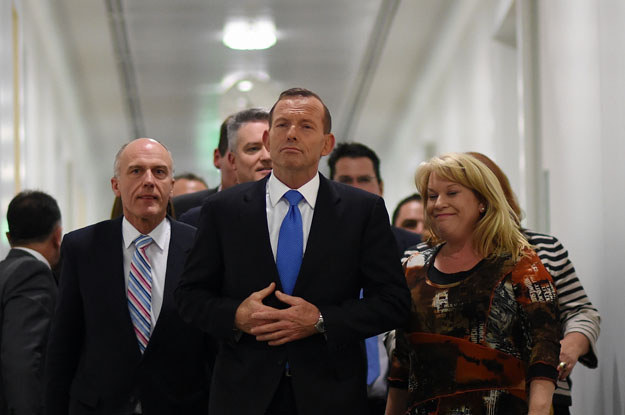 Well, some people are upset about the result. This person chopped up their Liberal membership card and changed their bio to "former Liberal".
Media mogul Rupert Murdoch has weighed in to the debate, calling for an election by the end of the year.
The Liberal party has voted in Malcolm Turnbull as its leader.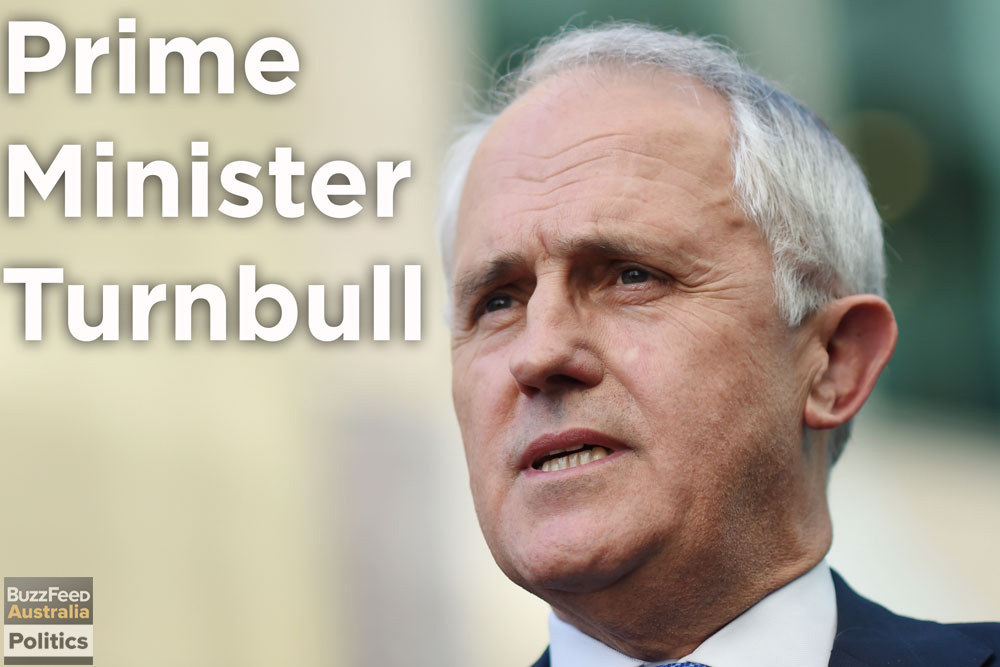 Turnbull won the vote 54-44.
Julie Bishop will remain as deputy prime minister.
She won the vote 70-30, defeating Kevin Andrews.
(For those of you counting, there were 100 votes in total for the deputy vote because senator Ronaldson only arrived after the vote for PM was complete.)
Ninety-nine Liberal MPs are voting right now. It's a great time for fans of live footage of empty corridors.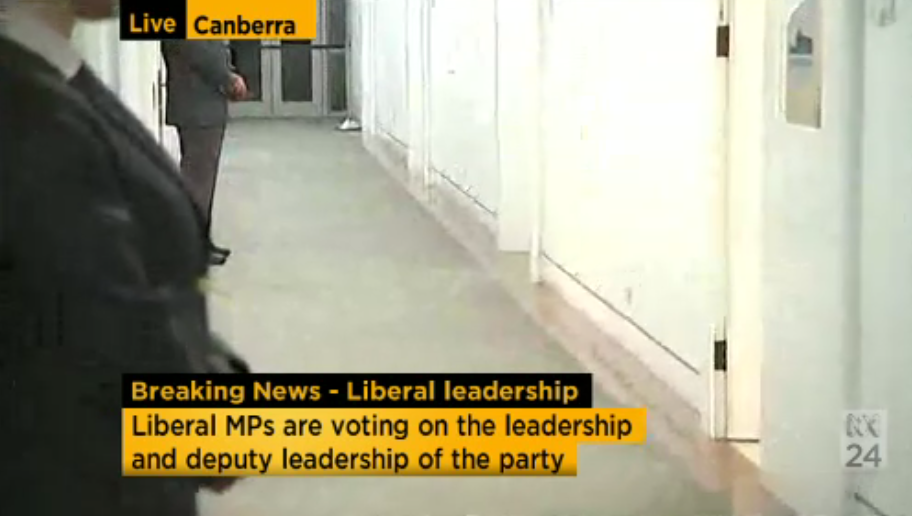 Turnbull arrives with Sinodinos, Fifield, Roy, Brough. Bishop walks in alone. Abbott enters with Cormann by his side.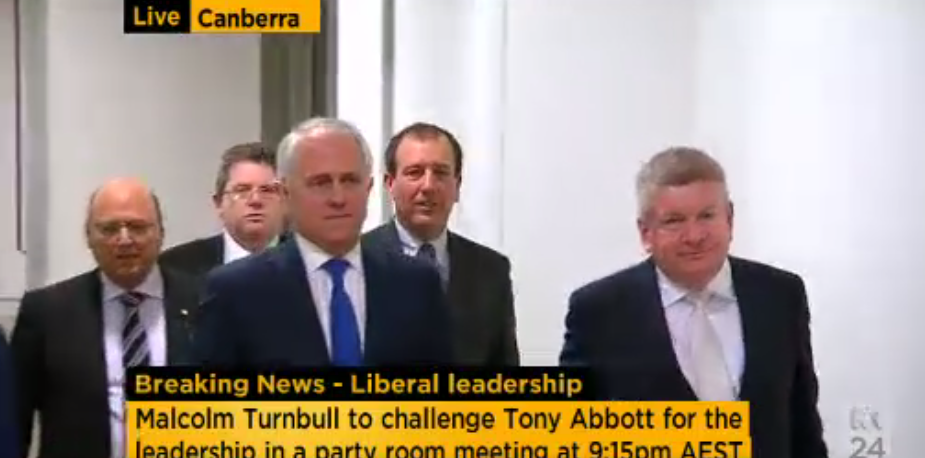 Prime minister Hotdogs. Imagine.
Well, that was a bit exciting! Government whip Scott Bucholz had tweeted out a notification for a "joint" party room meeting, which implied that the Nationals would get a vote too. Everyone freaked out for exactly six minutes.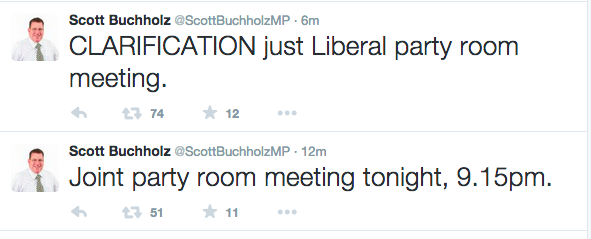 The countdown is on! The spill will be on at 9:15pm AEST. Australia could have a new prime minister shortly after that.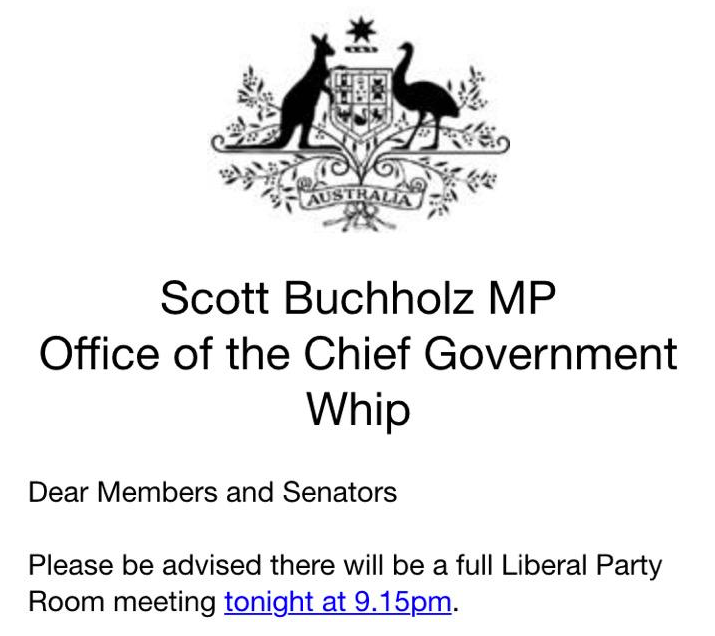 Four days off his second anniversary as prime minister on 18 September, if Tony Abbott is ousted tonight, he will miss out on his prime minister's pension.
Seems as though our nation's political antics this evening have disturbed our colleagues in the UK.
Senior backbencher Arthur Sinodinos says he will back Malcolm Turnbull because the Abbott government broke promises. He believes it is the only way to regain the trust of the Australian public.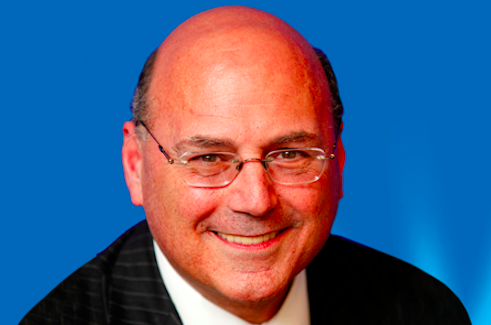 On the virtues of Turnbull: "I believe Malcolm Turnbull can bring real substance to the economic debate. He will lead from the front. He has a real passion and commitment about where the jobs of the future are going to come from. He understands economics. He understands building businesses. He understands the way the world works."
On trust: "We destroyed much of the trust that the Australian people reposed in us in 2013 by the way we went about the 2014 budget. If we'd been less cavalier about breaking our promises we wouldn't have lost the trust of the Australian people and then had to spend nearly 9 months, 10 months picking up the pieces from that budget. We made very strong promises at the 2013 election, and that's why people today do not trust us, and that's why we need a change at the top."
Nationals leader Warren Truss says his deal is with prime minister Abbott. So if there is a change of leadership, Turnbull will have to negotiate a new coalition agreement with him. No promises.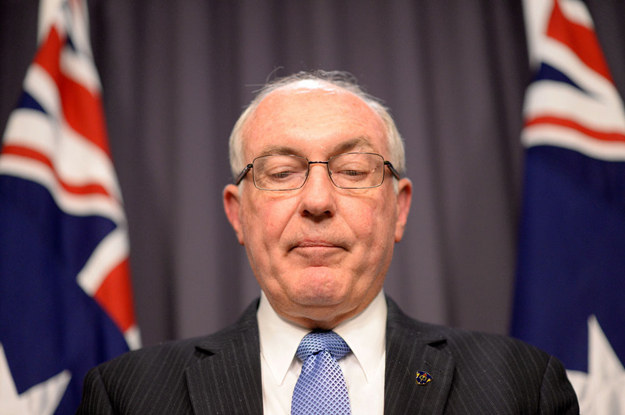 We welcome his continuing commitment to work with the Nationals on matters of importance, particularly to regional Australia. My coalition agreement is with Tony Abbott. While the leadership is a choice for the Liberals, any change would require a new coalition agreement and a new message of support to the governor-general from me. It's been a tough couple of years in government, and no one said it was going to be easy.

The coalition has worked constructively to deliver better government for all Australians. Tony Abbott has been a very inclusive leader and we've achieved a great deal together. The progress and the processes of government have been constructive and well-organised. The Nationals have remained steadfast and united in delivering our agenda with new gains for regional Australia, and we want that to continue into the future.
Earlier, it was looking like Turnbull had the numbers to defeat the PM. Now we've heard ministers Scott Morrison and Peter Dutton will support Tony Abbott. Both of them said they will not stand for deputy.
Coming up, statements from Nationals leader Warren Truss, defence minister Kevin Andrews, and the leader of the government in the Senate, Eric Abetz.
Treasurer Joe Hockey says Turnbull is disloyal and denies his claim that the government has had poor economic leadership.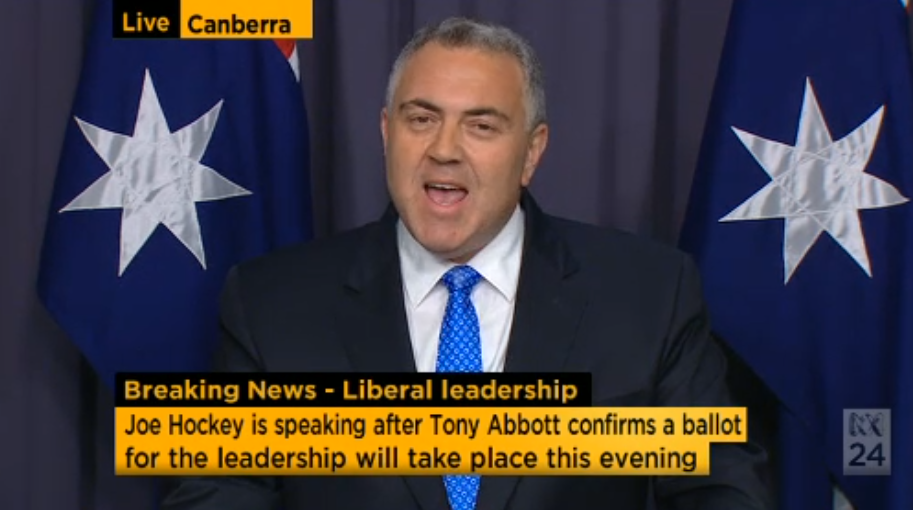 "Mr Turnbull made a number of claims about economic leadership that are completely unfounded. He has never said to me or to the cabinet that we are heading in the wrong economic direction. The disloyalty of some has been outrageous. We have an economic plan that is being delivered and is working, an economy that is $68 billion bigger than the one that we inherited from Labor.
"The position of prime minister is a gift of you, the Australian people. You have the right to hire and only you have the right to fire. we cannot, we must not, become a carbon copy of the Labor party. We cannot and we must not make the same mistakes that were made in the Rudd and Gillard years. The Australian people deserve better. We must put the national interest ahead of any self-interest.
"The PM has my absolute loyalty as I have his."
"We are not the Labor party," says furious prime minister Tony Abbott. A leadership ballot will be held tonight, around 9pm AEST.
"I have been most heartened by the messages of support flooding in to Liberal MPs' offices saying most emphatically, 'We are not the Labor party.'
"The prime ministership of this country is not a prize or a plaything to be demanded. It should be something which is earned by a vote of the Australian people.
"I am dismayed by the destabilisation that's been taking place now for many, many months and I do say to my fellow Liberals that the destabilisation just has to stop. I firmly believe that our party is better than this, that our government is better than this and, by god, that our country is so much better than this."
Aussie, Aussie, Aussie! #LibSpill is the number one trending topic worldwide. Guys, Australia has won the Twitter Olympics. Or lost, depending how you look at it.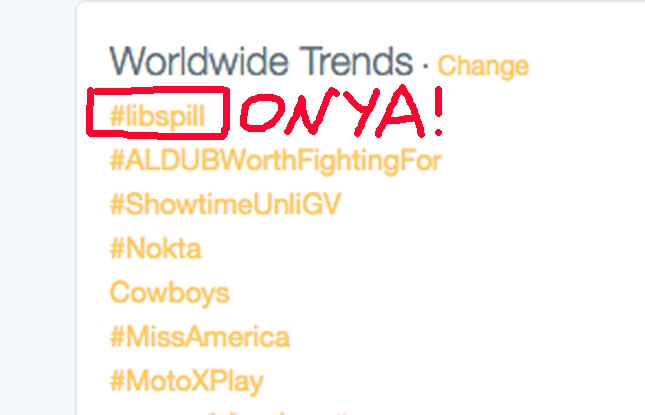 Bill Shorten says "Australians know Malcolm Turnbull is ambitious but he's ambitious for himself, not our nation".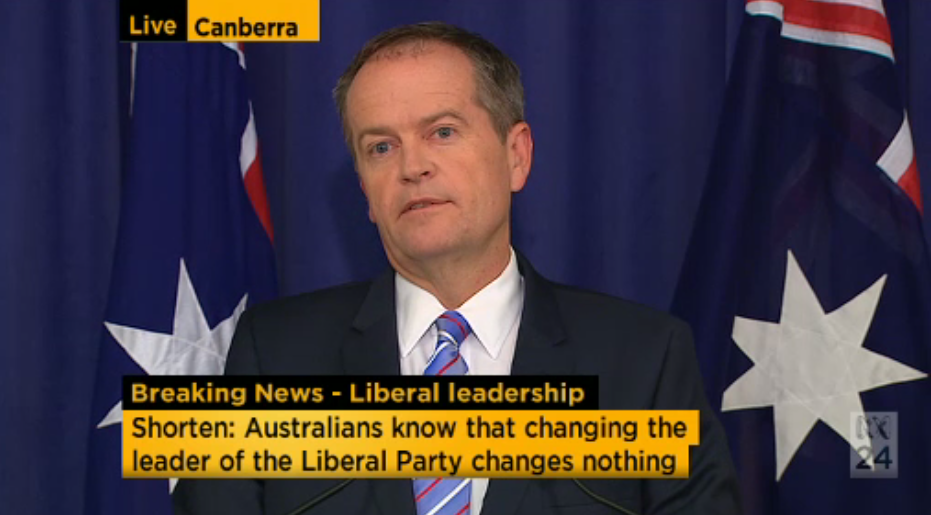 Bill Shorten:
Malcolm Turnbull is right that Australia has been going nowhere for the last two years with this chaotic, dysfunctional, divided Liberal government. And Malcolm Turnbull is right when he says the last two years has been one of a Liberal government with slogans not substance.

A government of rising unemployment, of cuts to essential services, and a collapse in our growth. But Malcolm Turnbull is wrong when he says he is part of the solution. He has been an active member and minister of the Liberal government for the last two years.

Malcolm Turnbull, along with all of his cabinet colleagues, have supported Tony Abbott and the Liberal government with two bad budgets, presided over rising unemployment, the same unfairness, the cuts to pensions, the cuts to schools, the cuts to hospitals, the $100,000 degrees, and the collapse of confidence in our economy. This is a minister who has presided over a slower, second-rate NBN whilst managing to double the cost of the NBN.

Australians know that Malcolm Turnbull is ambitious but he's ambitious for himself, not our nation. With Malcolm, it will always be about Malcolm.

Australians rejected Malcolm Turnbull when he was opposition leader because he was out of touch and he was arrogant and he hasn't changed. Australia does not need another out of touch, arrogant, Liberal leader. Australia needs a change of government. And Labor will be up for the fight no matter who the Liberal party select, we will stand up for a better, brighter future for all Australians.
Opposition leader Bill Shorten is set to hold a press conference soon. The prospect of progressive Malcolm Turnbull as PM is pretty much Labor's worst-case scenario, so he's probably sweating it hard right now.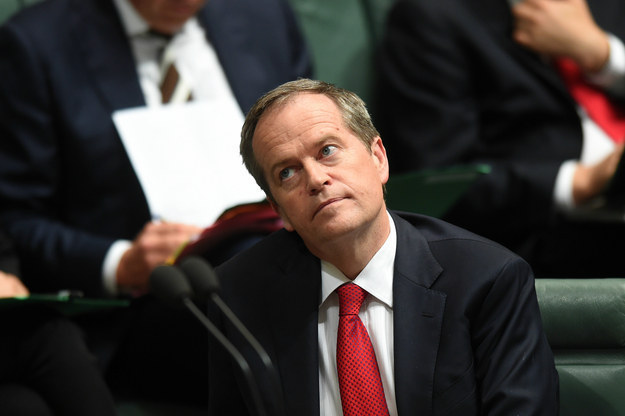 People are putting their onions out for Tony Abbott in a show of mock support for the prime minister.
On the weekend, he said the "Twitter storm" over Peter Dutton's climate change joke was "Australia at its worst", so perhaps it's no surprise that there is not a lot of sympathy for the PM on social media right now.
Text ur mums, see who's keen .
General consensus in Canberra is that Turnbull will win a leadership ballot.
Malcolm Turnbull has the support of parliament's youngest MP, Wyatt Roy. "The way in which we communicate needs to be done differently," he told ABC Radio Brisbane.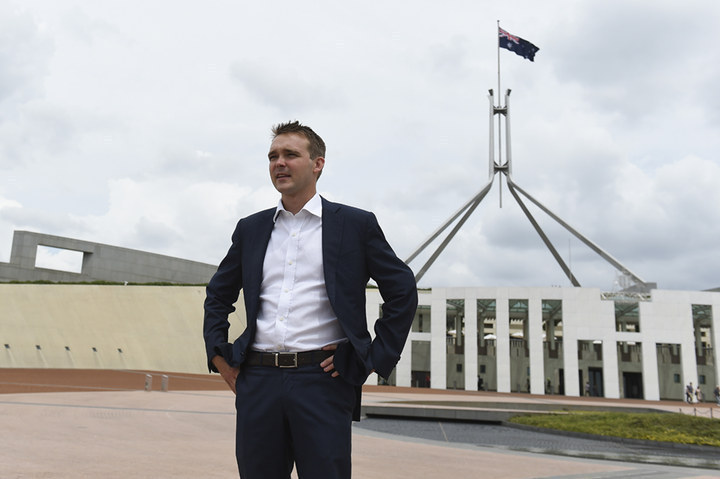 We talked to the guy who registered libspill.com and made it re-route to Malcolm Turnbull's website. Read all about it here.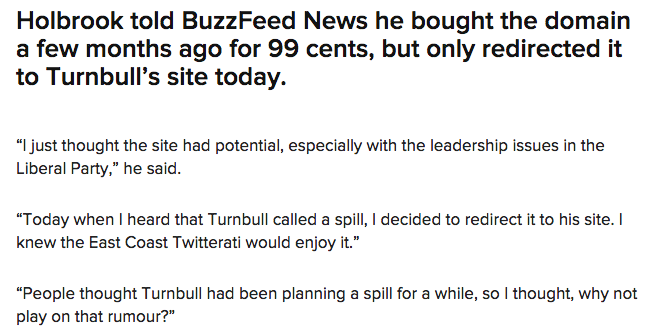 We're hearing that if elected leader, Turnbull will stick with the government's existing policies on climate change and same sex marriage. In other words, direct action instead of an emissions trading scheme and a plebiscite instead of a conscience vote.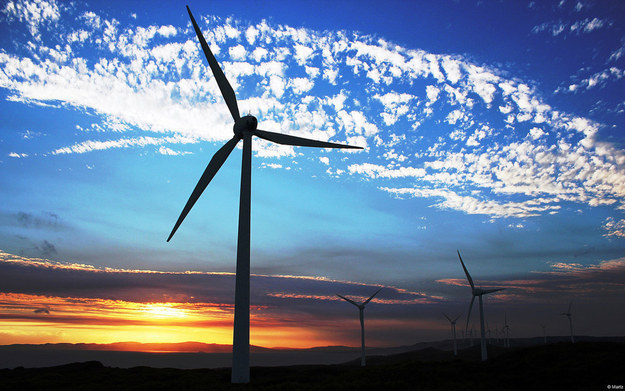 Tell us what you really think, Jeff Kennett.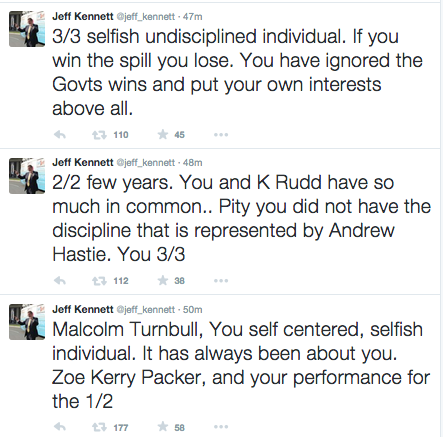 But the former Victorian premier has had it in for Turnbull for a while now.
In 1999 he said: "I'm not a great fan of Malcolm Turnbull."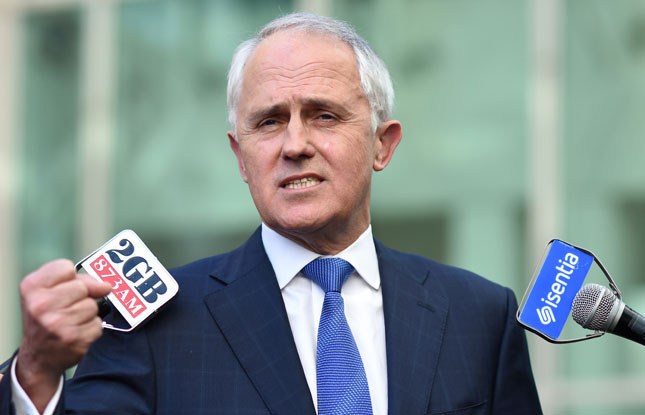 Well done, Senator Muir.
Never fear, Craig Kelly is here!
He's the only MP who has made his alliances known on Twitter so far. But with several outlets reporting that Turnbull has the numbers, the support of the member for Hughes might not be enough to save the PM.
Meanwhile, the opposition are making sure everyone knows that Turnbull denied a leadership change two years ago. This from Bill Shorten's office:
So if you type libspill.com into your browser, it redirects to Malcolm Turnbull's website. ¯\_(ツ)_/¯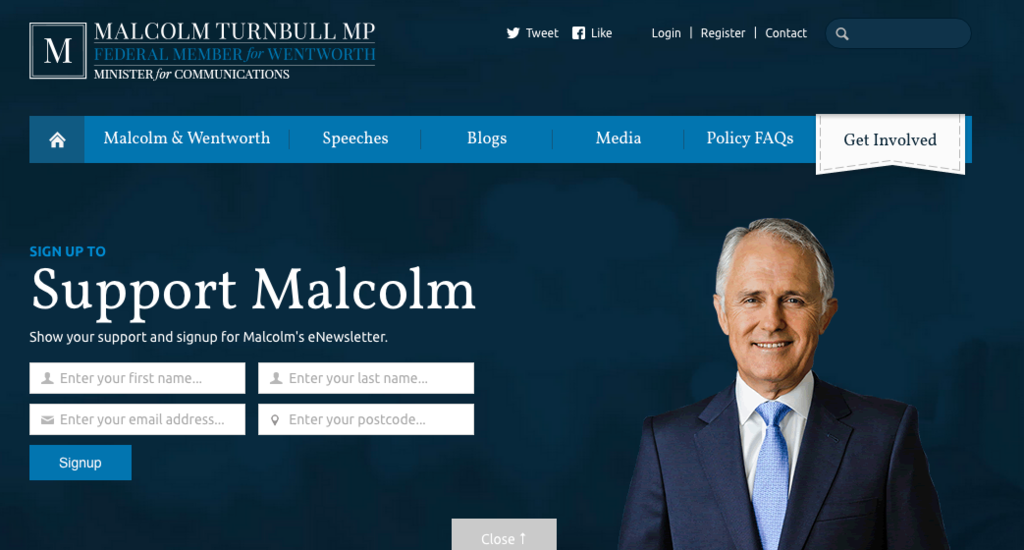 Turnbull promises a new style of leadership:
A style of leadership that respects the people's intelligence, that explains these complex issues and then sets out the course of action we believe we should take and makes a case for it. We need advocacy, not slogans. We need to respect the intelligence of the Australian people.

Now if we continue with Mr Abbott as prime minister, it is clear enough what will happen. He will cease to be prime minister and he'll be succeeded by Mr Shorten. You only have to see the catastrophically reckless approach of Mr Shorten to the China-Australia free trade agreement, surely one of the most important foundations of our prosperity, to know he is utterly unfit to be prime minister of this country and so he will be if we do not make a change.
Malcolm Turnbull is speaking to the media. He says the government is not providing the economic leadership that the country needs.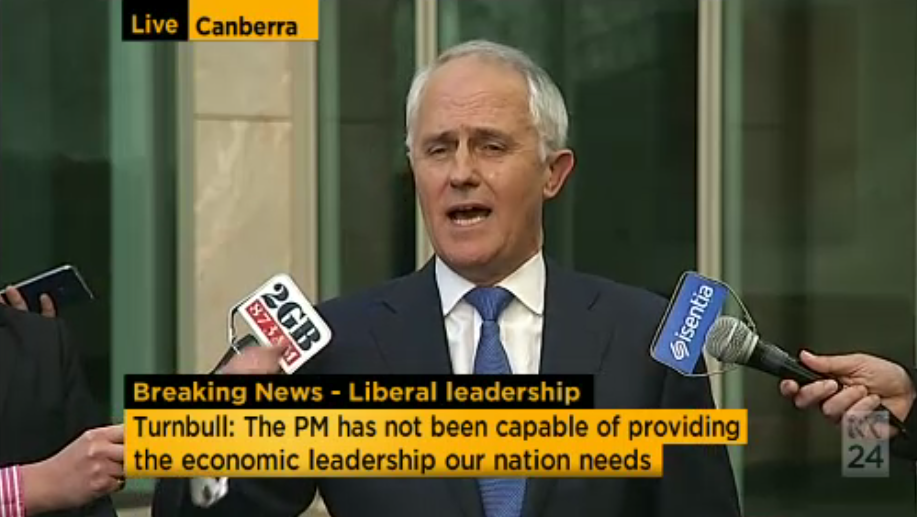 A picture of Tony Abbott and Malcolm Turnbull at the conclusion of Question Time, just before he visited him in his office and requested a leadership ballot.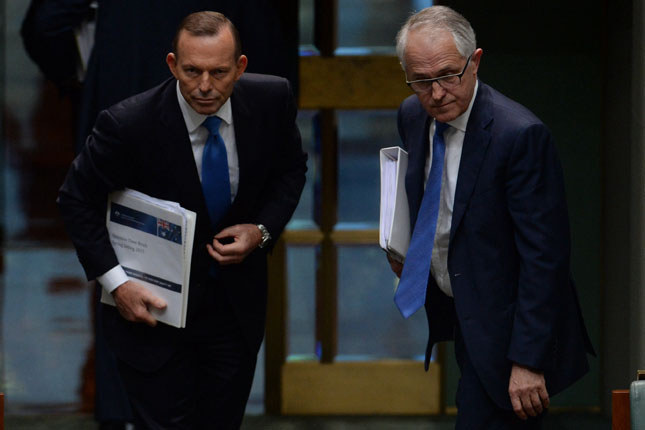 Malcolm Turnbull and Julie Bishop have reportedly met with prime minister Tony Abbott to request a ballot for the leadership of the Liberal party. Turnbull is expected to make a statement at 4pm AEST.
Looks like there are no comments yet.
Be the first to comment!