Late Wednesday night, attorney-general George Brandis decided to spend a Senate estimates hearing of the Foreign Affairs, Defence and Trade Committee kicking back with a copy of Our Country, a collection of classic Australian bush poems.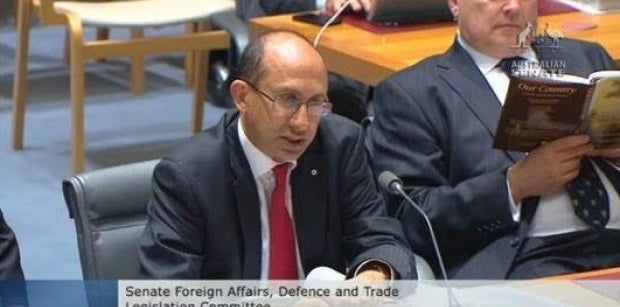 Brandis of The Overflow
I am sitting in my dingy little Senate, where a stingy
Ray of sunlight struggles feebly down between the buildings tall
And the filtered air and gritty of the Estimates Committee
Through the open window floating, spreads its foulness over all
And in place of lowing cattle I can hear the fiendish rattle
Of the journos' fingers tapping on their iPads and their phones
And the language uninviting of the senators a-fighting
With ambassadors and secretaries and all those DFAT clones
With other senators a-leading, Brandis caught up on his reading
Let his mind drift back, to an Australia far away
And he'd joined the wild bush poets - bookshelf worth 15 thousand pound
While all the flaks had gathered to the fray
And he thought it's such a failure, that we've lost this old Australia
Times were simple then, and everyone worked hard
And if he had his time over, he'd spend his days as a rover
And at night go see the great works of the Bard
He got a lovely shiver from The Man From Snowy River
And George prayed that he could go back to that time
When a man could fund the ballet without another bloody rally
When poets didn't ask for money, and wrote poems that could rhyme
A land of movement at the station, not of passing legislation
About the internet and all that other rot
When all the arts were better, and the data wasn't meta
And no one gave a bloody rats arse if you looked at it or not
And it'd be the grandest, if I could somehow change with Brandis
Like to catch up on some poems as the questions come and go.
While he swept up the litter on the Facebook and the Twitter
But I'd doubt he'd suit the office, Brandis of the Overflow.