federicomarsicano / Via Thinkstock

federicomarsicano / Via Thinkstock
What DIY Hair Treatment Should You Use?
You got:

Yogurt and Honey Mask!
A yogurt and honey mask is great for restoring shine to dull hair. The enzymes in the yogurt (make sure you use the probiotic kind) eat through product buildup and the honey softens even the brittlest strands. To make this mask, mix one-half cup of plain yogurt with one tablespoon of honey. Shampoo your hair, then work the mask in and leave it on for 15 minutes. Rinse and condition as usual.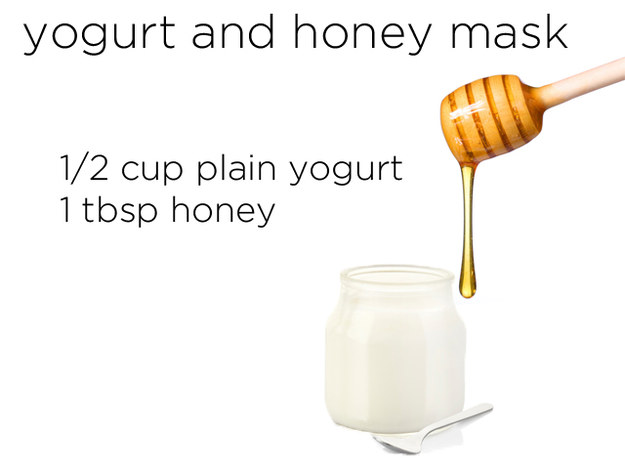 You got:

Apple Cider Vinegar Rinse!
Apple cider vinegar is great for stripping oil from hair because the slightly acidic pH level of vinegar is similar to that of hair. Most of the products we use are not acidic, so apple cider vinegar acts like a reset button for your hair's pH. To use the rinse: Shampoo, then pour the apple cider vinegar and water mix over your hair. Condition afterward.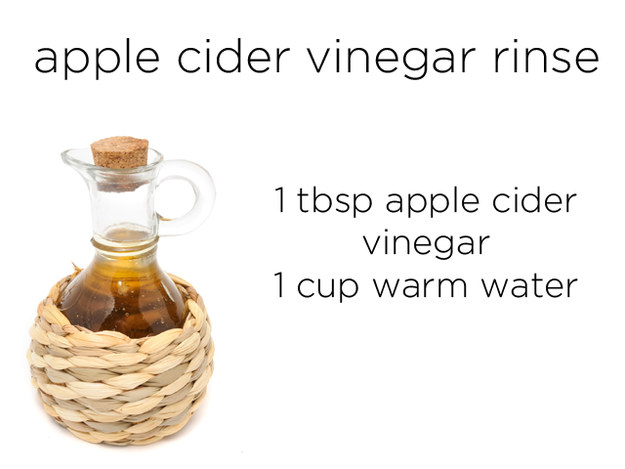 You got:

Baking Soda Scrub!
Baking soda cleans absolutely everything, even your hair. When you have lots of product buildup on your scalp, this simple scrub functions as a clarifying shampoo — without all of the chemicals that usually come with that label. To make it: Mix one-quarter of a cup of baking soda into three-quarters cup of water. Use this mixture instead of shampoo, making sure you really scrub it into your scalp. For best results, follow it up with an apple cider vinegar rinse, then condition.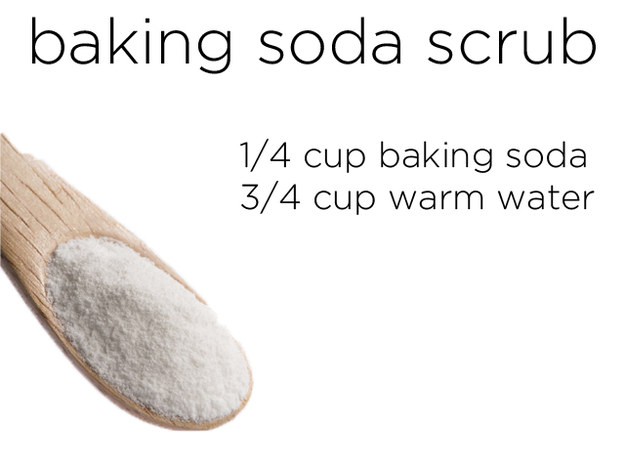 You got:

Avocado and Egg Yolk Mask!
Avocados and eggs yolks are both packed with proteins and fats that can smooth down and restore shine to puffy, frizzy hair. In order to absorb all of the necessary nutrients, use this mask in the shower and leave it on under a cap for 15 minutes — the steam will open the cuticles of your hair and help it absorb the protein. To make the mask, smush half an avocado and one egg yolk together and apply it starting at the ends of your hair.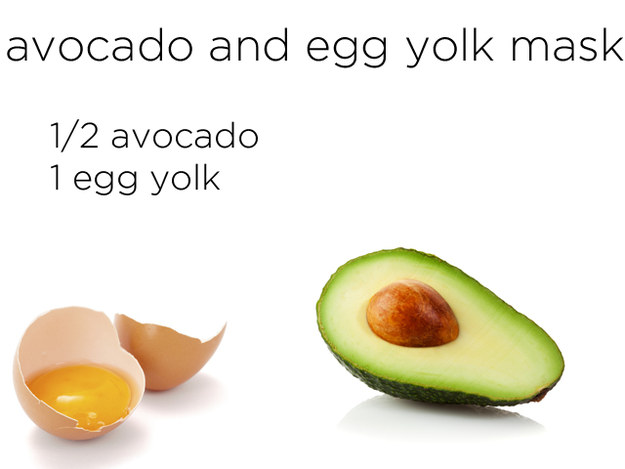 You got:

Coconut and Olive Oil Mask!
Coconut and olive oil are both used to infuse dry hair with much-needed moisture and shine. You can apply it directly to your hair before shampooing because the coconut oil is uniquely suited to penetrating the shaft of dry hair. To make it, mix roughly double the amount of coconut oil to olive oil together and heat the mix up in the microwave. While it's still warm, massage it into your scalp and work it down to the ends. Leave it on for at least 15 minutes, but longer is better! Wash your hair as usual afterward.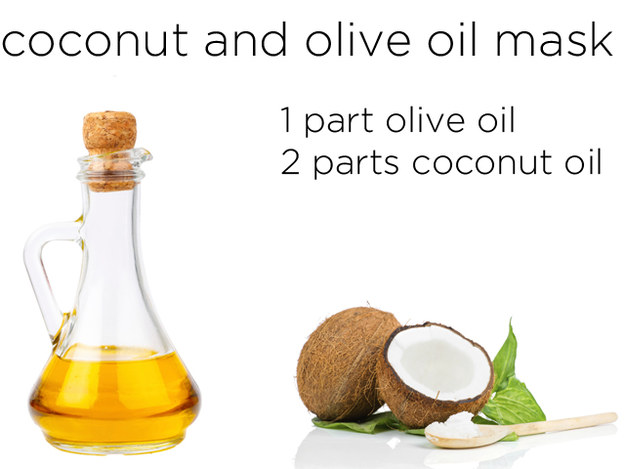 You got:

Banana and Olive Oil Mask!
Bananas contain amino acids that help hair stay strong in the face of sun and heat damage, and olive oil is a natural moisturizer for burnt-out tresses. When you make this mask, make sure the banana is very well blended, or else it might clump up in your hair. To make the mask, blend one banana with a tablespoon of olive oil. Apply it to dry hair and keep it on for 30 minutes to an hour, then shampoo and condition as usual.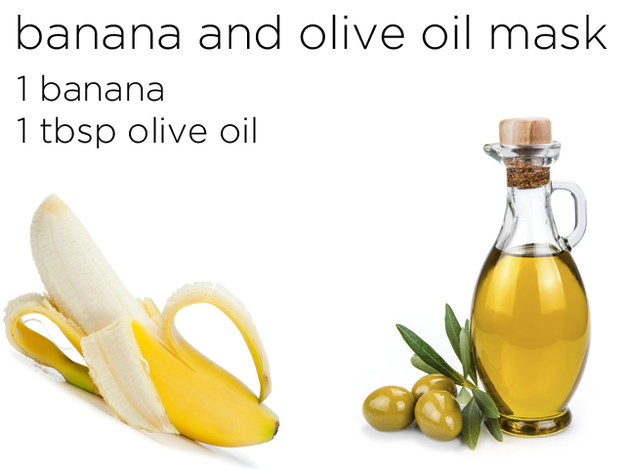 You got:

Mayonnaise, Egg, and Olive Oil Mask!
Mayo coats your hair with a layer of moisture that both protects your hair against heat styling and damage, eggs give broken hair a burst of much-needed protein, and olive oil makes even burnt, broken hair look shiny. Put them all together and you have the perfect mask to treat and manage split ends! Make this mask by mixing 5 tablespoons of mayo with two whole eggs. Beat those two ingredients together until smooth and add a teaspoon of olive oil at the end. Apply to your hair and apply heat with a blow dryer for 20 minutes, then shampoo and condition as usual.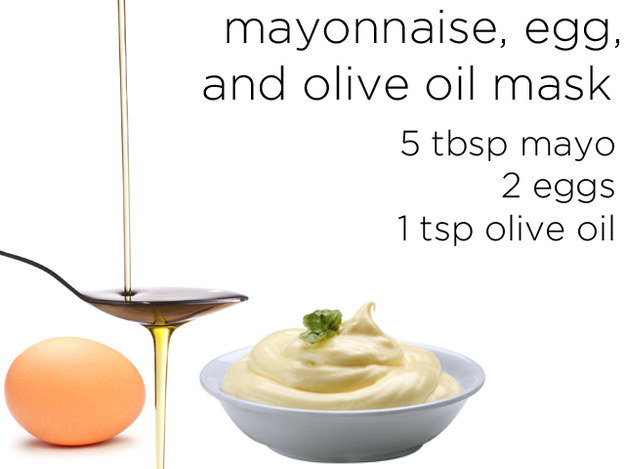 You got:

Mustard Powder and Egg Mask!
Irritants in mustard powder increase blood flow to the scalp, which some studies show will result in increased hair growth. If you're looking to boost your scalp's productivity, use this mask 1-2 times a week. To make the mustard and egg mask, mix two tablespoons of mustard powder into 2-4 tablespoons of warm water. Add one egg yolk and a tablespoon of any vegetable oil to the mixture. Work the mix into your scalp and cover with a shower cap; leave it on until you get tired of the tingly heat from the mustard, but don't keep it on for more than an hour. Rinse with water (but keep it out of your eyes). If you didn't feel any heat the first time, add a tablespoon of sugar to your next batch.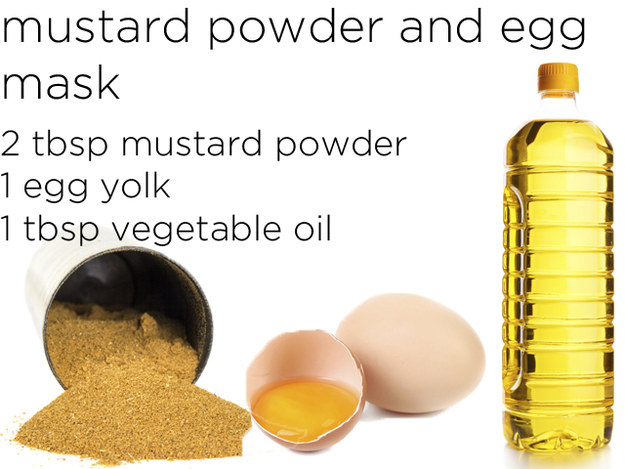 The protein in beer can plump up and re-hydrate limp, lifeless hair. Make sure you use flat beer, though, because the carbonation in fresh beer makes the process less effective; it's best to use beer you've poured in a bowl overnight (for another tip, choose a beer that doesn't smell overly strong). To use: Shampoo your hair first, then rinse with water. Follow that rinse with the flat beer. Condition as usual afterward.